After four seasons on "The View," Meghan McCain announced Thursday that she's leaving at the end the season.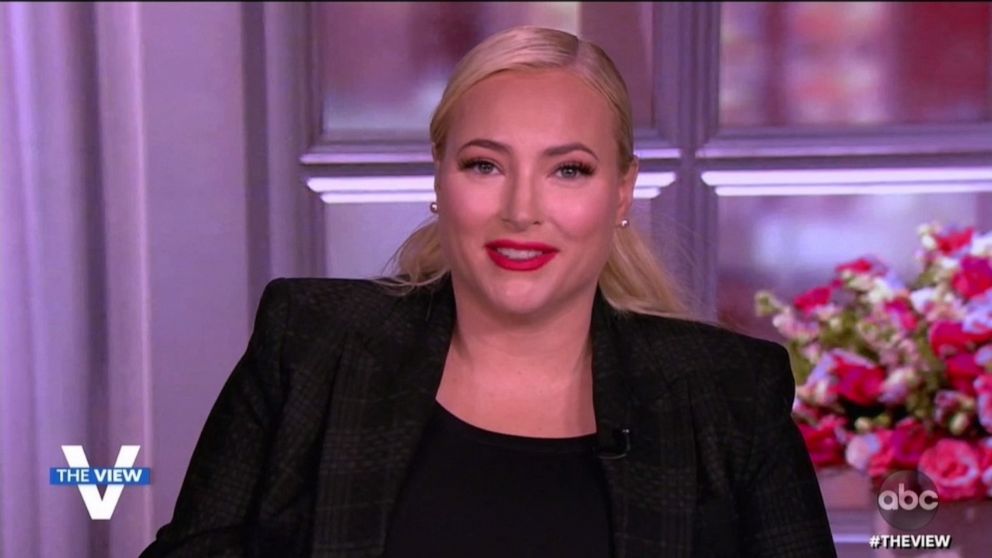 "I am just going to rip the band-aid off. I am here to tell all of you, my wonderful co-hosts and the viewers at home, that this is going to be my last season here at 'The View.' I will be here through the end of July to finish out the season with all of you, which I am grateful for," McCain said at the top of the show. "This was not an easy decision. It took a lot of thought and counsel and prayer and talking to my family and my close friends."
At the height of the COVID-19 pandemic on March 22, 2020, McCain shared the news that she was pregnant with her first child, Liberty Sage McCain Domenech, on the show.
"COVID has changed the world for all of us, and it changed the way -- at least for me -- the way I am looking at life, the way I'm living my life, the way I want my life to look like," she said on Thursday. "When I said goodbye to all of you in the studio over a year-and-a-half ago, I had just found out I was pregnant. I left [New York City] very quickly because my OB-GYN wanted me to leave because he wasn't sure about how COVID could possibly impact pregnant women."
McCain then moved to the Washington D.C. area with her husband, Ben Domenech.
"We have this incredible life here. We're surrounded by my family, his family, by friends, by this incredible support," she said. "As any new mom knows, when I think about where I want Liberty to have her first steps and her first words, I just have this really wonderful life here that ultimately I felt like I didn't want to leave."
"On a professional note, this show is one of the hands-down greatest, most exhilarating, wonderful privileges of my entire life, and I have had so many amazing experiences in my life, and this is definitely one of the top," McCain said. "It is a privilege to work alongside such strong, brilliant, intelligent, incredible broadcasters like the four of you. You are the most talented women on all of television, hands-down, and it has been so incredible to be able to do this with you."
McCain, 36, joined as a co-host of the Emmy Award-winning daytime talk show in October 2017.
"Before I came onto the show, I didn't want to join the show as I think I've talked about in the past, and it was my dad who encouraged me to do it," she said on Thursday. adding that her father, Sen. John McCain, told her that she "could never give up an opportunity to work on such an iconic show and to work with Whoopi Goldberg."
"He was right," McCain said. "It was one of the last things he told me before he died."
"It is not easy to leave, but I feel like this is just the right decision for me at this moment," McCain continued. "I just want to thank all of you... Whoopi, Joy, Sunny, Sara."
She also thanked former co-host Abby Huntsman, who departed from the show in January 2020 to help her father, Jon Huntsman Jr., during his gubernatorial campaign in Utah. "[She] has really helped me with many decisions and ushered me through this process."
"The View's" executive producer Brian Teta was also on McCain's list of thank yous, calling him an "incredible leader" and "the heart and soul and Morpheus" of the show.
"I would not have had any success on here without you. Your leadership is paramount. We are grateful to have you," McCain said.
McCain also thanked ABC News president Kim Godwin "for being so respectful and understanding" of her situation.
"Good luck to all of you and to this show," McCain said in her announcement. "I'm just eternally grateful to have had this opportunity here. So, seriously, thank you from the absolute bottom of my heart."
"I will still be here another month, so if you guys want to fight a little bit more, we have four more weeks," she joked.
"My final note to the world watching: This show will continue; this show will probably be on ... when we are long gone," McCain said. "The media needs to do a better job of covering the women on this show in general."
"We are covered with deep misogyny and sexism by the media," she continued. "If five men were doing what we do every day, I really do believe that we would have a Pulitzer Prize at this point, and it's always reduced to really reductive coverage, and I implore the media to do better as they cover the rest of you going forward."
ABC News gave the following statement on McCain's departure from "The View."
"For the past four years, Meghan McCain has brought her fierce determination and vast political knowledge and experience to 'The View.' She recently came to us with her decision to depart the show at the end of this season, a difficult choice that she made for her and her family that we respect and understand. We wish the best for Meghan as she plans her next chapter, and thank her for the passion and unique voice that she shared with us and our viewers each day."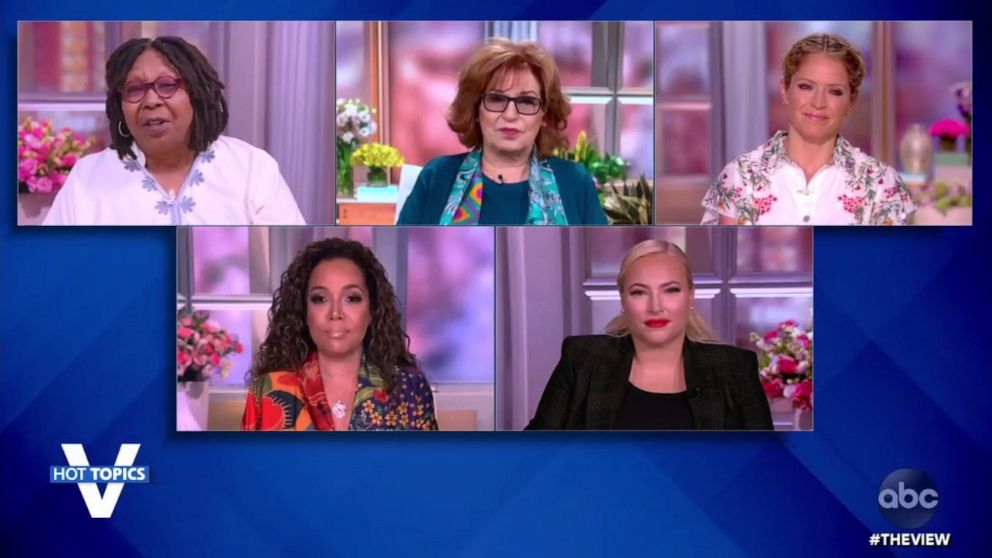 "The View" co-hosts Whoopi Goldberg, Sara Haines, Joy Behar and Sunny Hostin reacted to her leave on the show.
"It has been quite wonderful to sit across from you. Your dad was very smart. He wanted you to be here with us because I think he thought we could help toughen you up for what was coming," Goldberg said.
"When you leave here, you can take on anything. Everything possible has been fired at you," she continued. "When you leave here, you're a better person, better woman, better mother, better friend."
"We've got a month together. Let's make the most of it," Goldberg added.
Hostin reflected on some words that John McCain told her when his daughter first joined the show. "He told me to take it easy on Meghan, that I would learn to love her and understand her, and that she would be a pain in the ass, and he was right about all of those things."
"Meghan and I probably talk every day. After the show, we text during the show, and I'll miss those conversations," she continued. "You have a really important point of view, and it's just been wonderful. Wonderful getting to know you."
Haines called McCain's departure a "full circle moment."
"To know so much of your dad's words brought you here, and yet you're calling for your daughter and your family is what takes you away. I think it's beautiful," Haines said. "It speaks to the paradigm shift that is the world now on the heels of 2020, and it has been an honor to sit here with you."
"You are tough -- that's all I can say on daytime TV," Haines joked.
Behar looked back on her times with McCain on and off the show.
"You and I have had our disagreements. We've had our fights. We've also had some drinking moments, which were rather fun and interesting."
"You and I have in common -- as do all of us here -- that we're on a show where we stick our necks out," she continued. "We take the blowbacks. We take a lot of hits on this show, and we stick by our points of view. You have done that brilliantly for four years."
"I really, really appreciated the fact that you were a formidable opponent in many ways and that you spoke your mind," Behar added. "You're no snowflake, missy. That's the truth."
When McCain first came onto the show on Oct. 9, 2017, she said, "It's such a privilege to be on the show. It's such an iconic show. It's so iconic to be in this chair that [Elisabeth Hasselbeck] made so great."
"I watched Elisabeth in college and to be the conservative on this show is something I take very seriously, and I'm excited to bring a different perspective to the show," she added.
On Sept. 28, 2020, McCain gave birth to baby girl Liberty and returned from maternity leave on Jan. 4.
Upon her return, McCain reflected on the time she had to recover from her emergency cesarean delivery and postpartum preeclampsia. She soon called for mandatory paid maternity leave.
"As I thought about it, the more angry I got that there weren't women in the rest of America that had the same kind of luxury that I had working here at 'The View,'" she said.
"We are leaving women in this country without [that] capacity and ability -- unless you have an employer that allows you to take care of your child -- to heal physically, which is something that needs to happen," she added.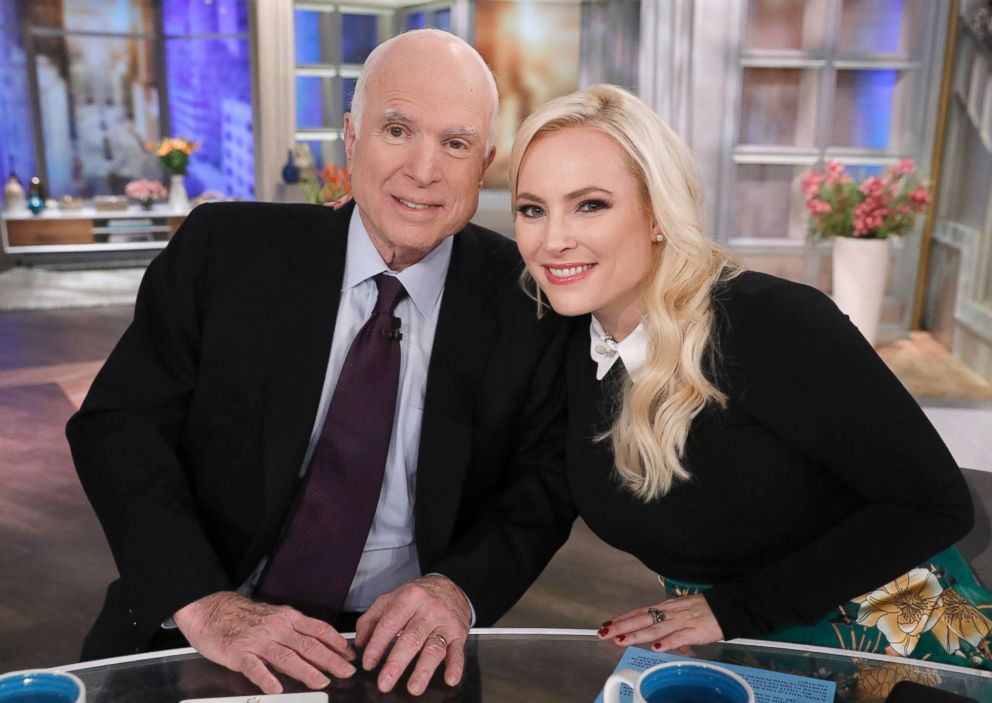 McCain, who was born and raised in Phoenix, was propelled into the national spotlight at an early age as the daughter of Sen. McCain. She is a respected Republican voice and is passionate about a wide range of topics, from women's and social issues to marriage equality.
Before joining her father's 2008 presidential campaign, McCain graduated from Columbia University with a degree in art history and ambitions to pursue a career in music journalism. She completed internships at Newsweek and "Saturday Night Live."
Every episode of ABC's award-winning talk show "The View" is now available as a podcast! Listen and subscribe for free on Apple Podcasts, Google Podcasts, TuneIn, Spotify, Stitcher or the ABC News app.