Oksana Grigorieva told CNN's Larry King this evening that she recorded her ex-boyfriend, Mel Gibson, berating her - not to extort the actor, but because she feared for her life.
"I started taping it around 11 o'clock because I thought, 'I'm actually not going to live through the night," she said on "Larry King Live." "I wanted my mother to be able to prove that if I'm dead that this is who did it."
She told King that Gibson called her 30 to 40 times in one night, and that she recorded about eight of those calls.
The interview originally was to be broadcast next Monday which, reported TMZ.com, "not-so-coincidentally happens to be the same day Grigorieva was supposed to be grilled on the stand in her custody case with Mel Gibson."
Grigorieva, 40, and Gibson have a daughter, Lucia, born a little more than a year ago.
Grigorieva has alleged, according to RadarOnline.com, that last January, at his mansion in Malibu, Gibson "punched out two of her front teeth, leaving her bloodied, bruised and with a concussion."
"I forgave him in a couple of weeks' time after the first severe beating that he struck me twice with his fist." Grigorieva told Larry King. "And then he was choking me and whilst I was holding Lucia and not protecting myself."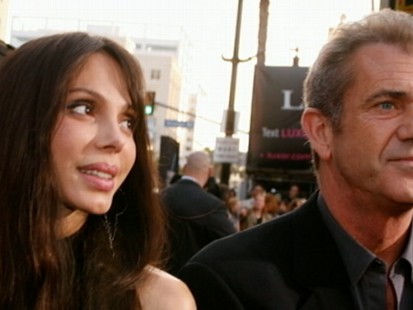 Girgorieva told King throughout the interview that Gibson did not drink around her -- "no liquor, not once."
Grigorieva said last July that Gibson was "trivializing domestic violence." In a video interview with RadarOnline.com, she said, "It is unfair that by standing up to somebody -- and speaking out -- I am being victimized all over again."
Grigorieva now is taking another opportunity to speak out. The interview on "Larry King Live" is her first major television interview about her domestic violence accusations against Gibson.
In a court document available on TMZ.com, Gibson attested that on that January evening he had asked Grigorieva to leave his house as an argument became increasingly heated.
"Suddenly, Oksana stormed in to [sic] the room where Lucia was, grabbed her out of her bassinet and yelled at me 'stop yelling or you will make her into a retarded brain damaged idiot!'" Gibson says in the document.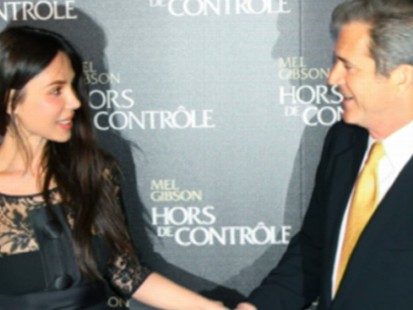 Gibson claims that Grigorieva "held Lucia between us, literally placing our two-month baby in the middle of our argument."
The argument escalated, says Gibson.
Claiming he was "increasingly afraid for Lucia's safety, I slapped Oksana one time with an open hand in an attempt to bring her back to reality."
In the document, Gibson says, "I did not slap her hard, I was just trying to shock her so that she would stop screaming, continuing shaking Lucia back and forth."