— -- Prince George has made his debut on his first Royal Mail stamp to honor his great-grandmother, Queen Elizabeth II, on the special occasion of her 90th birthday.
The Royal Mail photographed the queen and the three heirs to the British throne -- Prince Charles, Prince William and Prince George -- last August in the White Drawing Room at Buckingham Palace.
The four generations of the Windsor family are the centerpiece of 10 stamps being released to honor the Queen on her special milestone. Prince George, who will turn 3 in July, is perched on a set of blocks, grinning between his great-grandmother and his father, the Duke of Cambridge
Ranald Mackechnie was chosen to shoot the special photo of the four generations. The royals initially planned to shoot the iconic photo in Buckingham Palace's Yellow Drawing Room but later decided that the White Drawing Room would capture the moment more effectively.
Six of 10 planned stamps will depict Her Majesty's life and work. The set includes the queen with her father, attending the state opening of Parliament, with her then-young children Princess Anne and Prince Charles, visiting New Zealand in 1977 during her Golden Jubilee, with her husband, Prince Philip, in 1957, and with Nelson Mandela in 1996.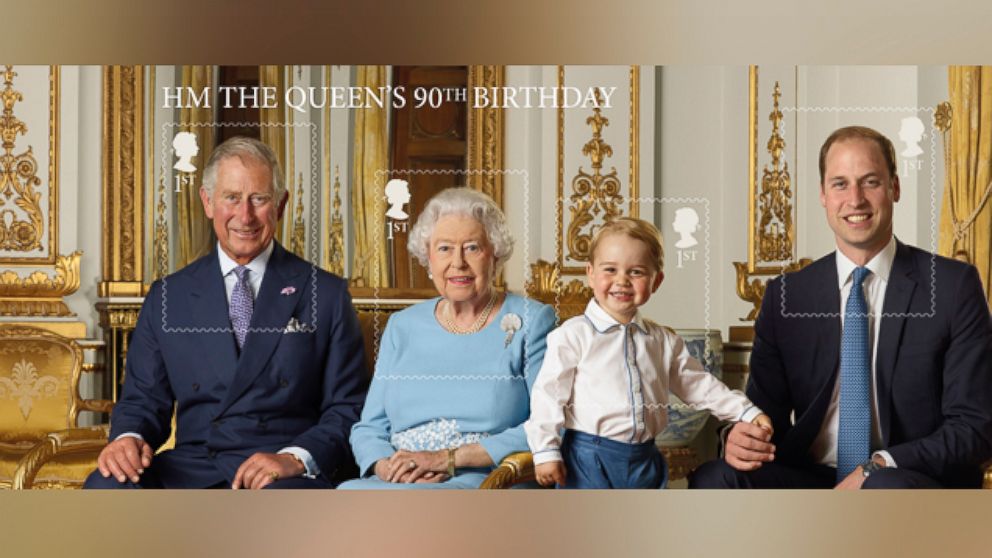 The queen will make a special visit to the Royal Mail near her home at Windsor Castle today with Prince Philip to mark the 500th anniversary of the Royal Mail.
The special stamps go on sale Thursday.