— -- India got its own taste of glamour tonight as Bollywood royalty met real life royalty at a glittering gala to honor the Duke and Duchess of Cambridge, who are spending their first full day in India.
"It has been a wonderful and colourful evening, and a real treat to be welcomed to India in this way," Prince William told 200 of India's most famous stars from the film, fashion and sports community.
The duke and duchess were the guests of honor at a charity gala with some of the wealthiest and most well known members of Indian society. Anil Kapoor, the star of "SlumDog Millionaire" and one of Bollywood's biggest celebrities, along with Aishwarya Rai, who was once called the most beautiful woman in the world, were among the celebrities who spent the evening with the royal couple.
"When Catherine and I were married, India was the first place on Catherine's list that she told me that she wanted to visit," William told the guests. "Two children and five years later, we have finally made it –- and we are both honored to be here.
"It seems fitting that Catherine and I start our journey from here, a short distance from the place marked by the famous Gateway of India, where so many people, including my great-great-grandfather, have arrived," he said.
Kate dazzled the crowd in a cobalt blue Jenny Packham gown with beading added in India. She accessorized the dress with chandelier drop earrings by Indian jeweler Amrapli. The duchess, whose charitable work is often overshadowed by interest in her wardrobe, again had the country guessing what and who she might wear on her first full day in the country's most populated city. In the end Kate, chose to play it safe and stick with some of her favorite UK designers, who added an Indian flare to the dresses.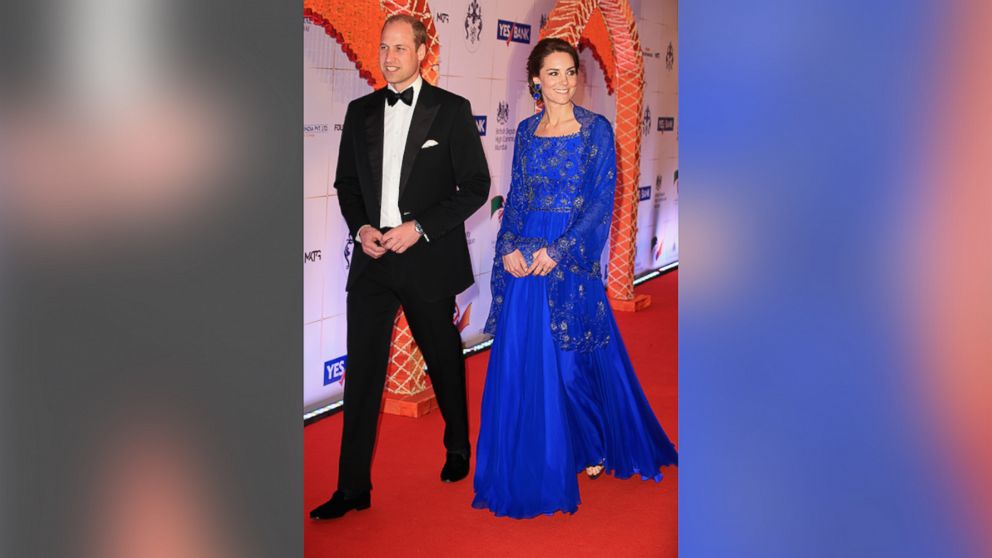 Bollywood superstar Shah Rukh Khan was so delighted to meet Kate and William he invited them out on the town with him.
Asked what his first impressions of the duchess were, Khan said: "Is it OK to say she's extremely beautiful and elegant? Well she is."
"If they spend more time here I think they'll love it," he Khan said. "I could definitely show them a good time. I'll take them out."
Guests at the gala were encouraged to donate to three charities -- Childline India, Magic Bus and Door Step School, all of which help the poorest and most vulnerable children of India, many of whom are living in squalid conditions in the nation's vast slums.
"On a personal level, Catherine and I are full of admiration for this diverse and democratic society. No one can come here without being awed and amazed; no one can come without a sense of excitement about all that India has achieved in the past and the extraordinary promise it holds for the future," William told guests
Earlier in the day the couple paid a visit to the Malabar Hill Area where many of the city's "SlumDog" children reside next to the city's wealthiest.
The residents couldn't have been prouder that their famous visitors made it among their first stops in the sprawling country, many commenting that they had never been visited by their own country's celebrities or politicians, yet the world's most famous couple felt it critical to highlight their plight.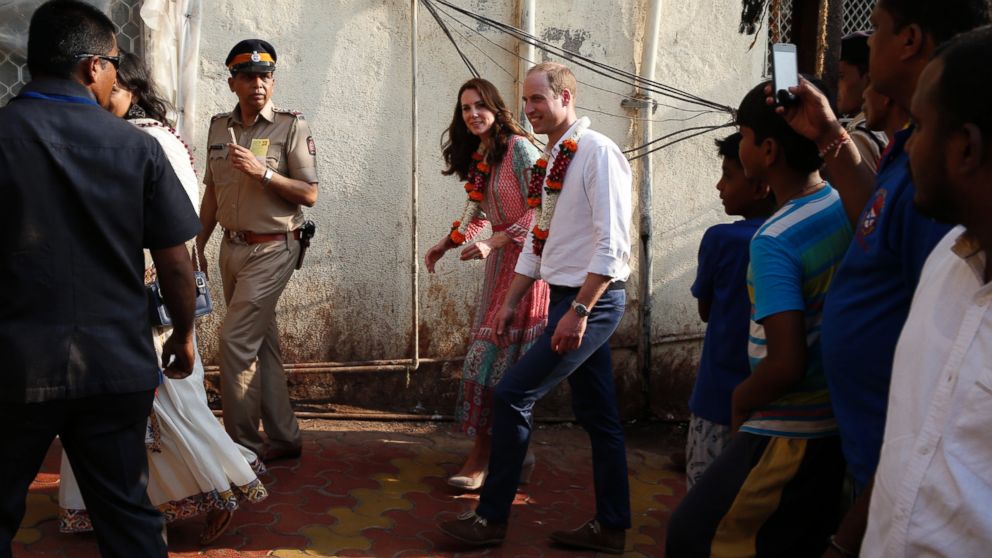 William challenged one young man, Siddesh, who came from the slums and is now studying dance with a college degree in commerce, to a hip hop dance competition. But William then chickened out, despite ribbing from his wife.
Kate joked with the the young dancer, who said he hoped to make it to Bollywood one day, that maybe he could help William learn some moves.
"You'll have to give William some lessons," she said.
After Siddesh wowed the crowd with his moves, Kate nudged her husband, saying, "Now you."
The duke and duchess chose to visit the slum to highlight a charity called SMILE that focuses on giving skills and opportunities to young people and their parents.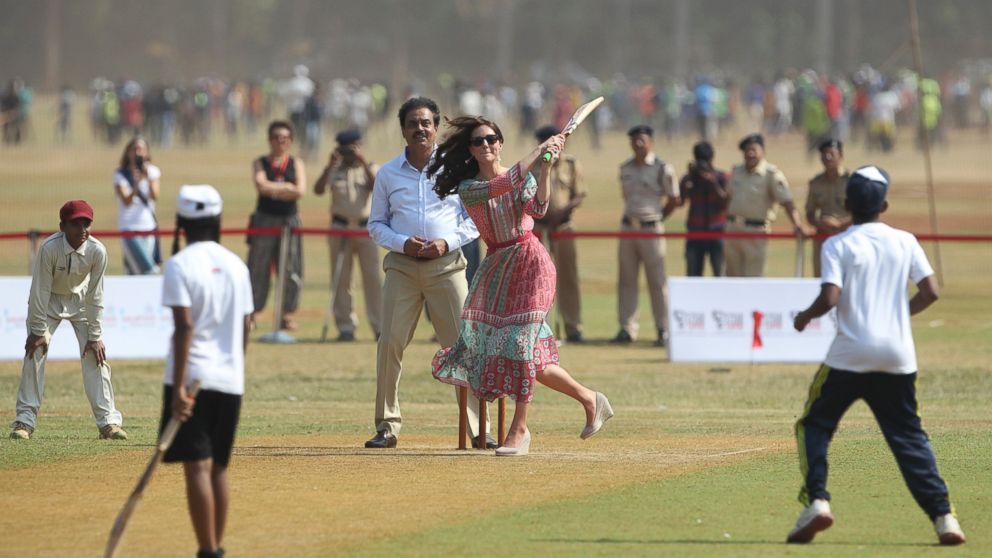 Earlier in the day the Royal couple met young children at a cricket ground, where Kate proved she's a natural and then participated in some drills kicking a soccer ball in her favorite wedges.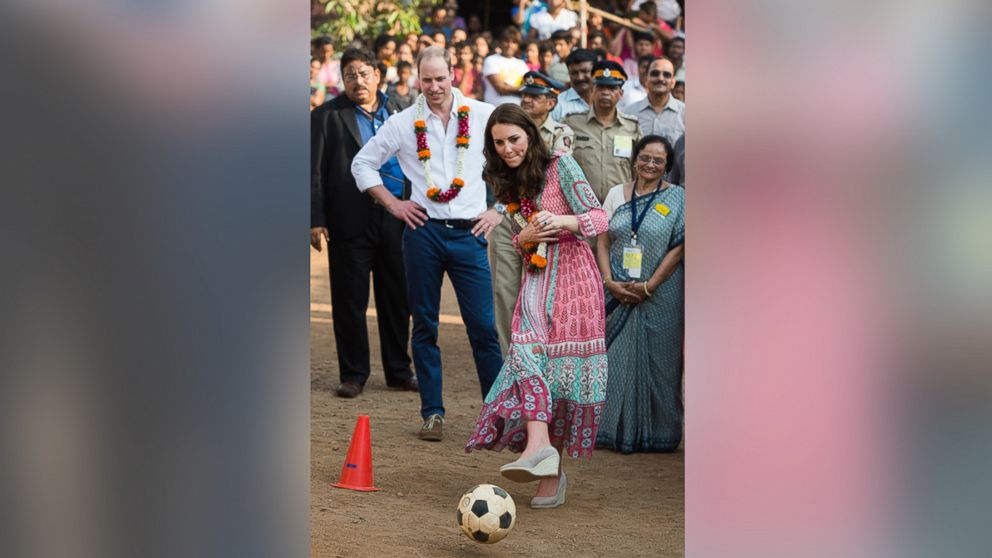 The couple's first stop was in Mumbai, to lay a wreath in honor of those killed in the 2008 Mumbai siege, when multiple hotels were attacked by ten terrorists. The ten terrorists carried out a series of 12 coordinated shooting and bombing attacks lasting four days across Mumbai. 164 people were killed and more than 300 were wounded.
The couple have decided to stay at the Taj Palace hotel, one of the hotels attacked, to show solidarity with the victims and those who courageously helped. Thirty-one people were killed at the hotel.
The Duke and Duchess placed a wreath of white lilies between 32 burning candles with the message, "In memory of those who lost their lives and those injured in the senseless atrocities at the Taj Mahal Palace Hotel. William, Catherine."
The memorial is located next to a waterfall in an atrium of the hotel, where the victims' names are inscribed on a wall, under the words: "For now and forever you will inspire us."
Security has been tightened ahead of the visit, following an announcement last week by the Punjab police that a potential threat existed.
The Royal couple was introduced to the hotel's chef, Raghu Deora, who was shot in the stomach during the siege, but also helped guests to safety. He recounted how he underwent his final surgery two years ago -- six years after the attacks.
Deora also cooked a vegetarian lunch for the Royals, consisting of lentil curry with rice, okra and ricotta cheese and vegetable kebabs.
The Duchess of Cambridge wore an Alexander McQueen dress for her first engagement in Mumbai. The crimson dress with a paisley pattern drew parallels to designs of the nation that is hosting her on her first visit. Sarah Burton designed Kate's wedding dress and has been a go to favorite for many of her most important engagements.