— -- Prince William and Princess Kate touched down in Paris today and kicked off a two-day charm offensive ahead of Brexit. The couple met with French President Francois Hollande inside the Elysee Palace and attended a black-tie reception and dinner at the British Embassy.
William, 34, reassured the French in his speech at the British Embassy that the partnership remains between Great Britain and France.
"This partnership will continue despite the United Kingdom's recent decision to leave the European Union," William said.
William and Kate, 35, will be front and center in Paris at a series of events to honor and celebrate the French for their resilience in the wake of the Paris and Nice terrorist attacks and to celebrate French arts and culture. The royal couple's visit to Paris has enormous political significance in the wake of the U.K.'s Brexit decision to withdraw from the European Union.
"I have been reminded over the last few years, as Catherine and I have attended commemorations of the two World Wars, how much we have experienced together and have stood together in moments of great crisis," William said today. "Our relationship is just as strong and enduring today. Our hearts went out to the people of France when you responded so bravely to the awful terrorist attacks of the last two years."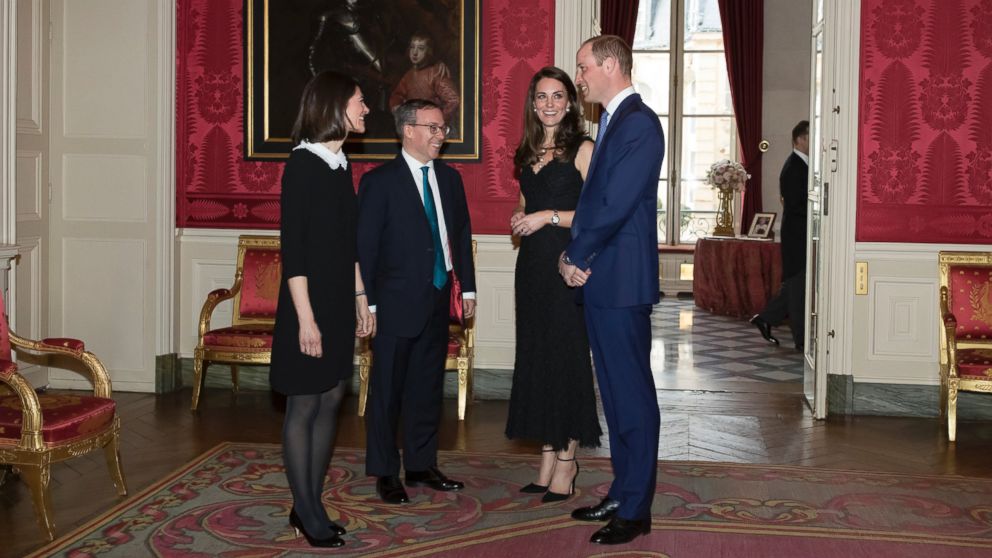 The royal family has scheduled a series of visits to European countries in the months ahead -- including William's and Kate's July visit to Germany and Poland -- to remind Great Britain's European neighbors that they are still allies and partners after last summer's Brexit vote.
"Before I came here, Her Majesty The Queen reminded me of how much she has enjoyed her many visits to France," William told the gathered dignitaries and guests. "It is a feeling that Catherine and I entirely share, and look forward to this and many more visits in the years to come – to France our ally, our friend, our neighbor."
Kate wore a black, tea-length Alexander McQueen dress accessorized with a pearl drop necklace and pearl cocktail for a reception and black-tie dinner hosted by Britain's ambassador to France, Edward Llewellyn. Guests expected to attend the evening reception include actresses Kristen Scott Thomas, who played Queen Elizabeth II "The Audience" on Broadway, and Audrey Tatou and actor Jean Reno.
William and Kate were greeted for a series of photographs outside the Elysee Palace before they met with President Hollande for bilateral discussions inside the palace. Hollande later escorted the couple around the terrace for a view of the grounds.
William joked with President Hollande that he will be "cheering the Welsh" on Saturday when the French take on Wales in rugby at Stade de France. William, who will attend the match with Kate, is royal patron of the Welsh Rugby Union, a position he took over from his grandmother, Queen Elizabeth, in December 2016.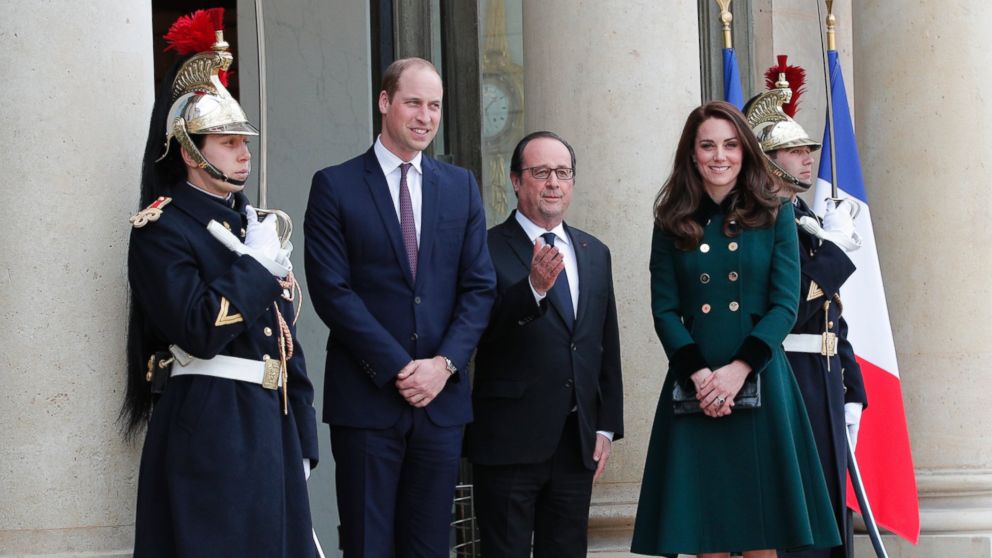 William famously showed his solidarity with the French people just days after the November 2015 terror attack in Paris, which targeted Stade de France. William attended the England versus France soccer match at London's Wembley Stadium and sang the French national anthem in support.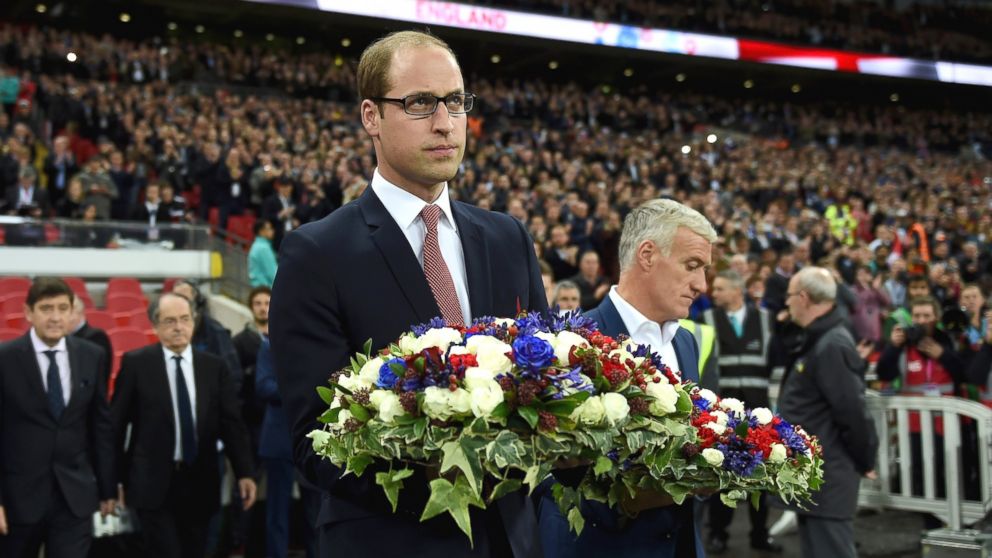 Before departing London for Paris, William and Kate attended a traditional St. Patrick's Day event to honor the Irish Guards.
William, who is colonel of the Irish Guards, and Kate visited the 1st Battalion Irish Guards at their base and later joined officers and their families for a pint of Guinness.
The event was William's first official engagement since a weekend-long break in Switzerland where he was caught "dad dancing" at a nightclub and criticized for missing an important Commonwealth Day service at Westminster Abbey attended by other members of the royal family.
William and Kate left their two young children, Prince George and Princess Charlotte, at home during their Paris visit.
The couple is reportedly staying at the British ambassador's residence during their visit. The residence, built in the 18th century, is one of the best known buildings in Paris and is located close to Elysee Palace.
On Saturday, William and Kate will also visit Les Invalides, a Paris landmark known for its golden dome that includes the Tomb of Napoleon, to highlight its work with veterans. They will also meet with survivors and first responders from the July 2016 terror attack in Nice, France, and the November 2015 terror attack in Paris.