— -- Princess Kate performed her first solo foreign engagement today, meeting with King Willem-Alexander of the Netherlands at his Villa Eikenhorst residence.
Kate dazzled the crowds in a pale blue peplum Catherine Walker suit and a pair of pearl drop earring borrowed from Queen Elizabeth II. Kate, 34, received no special accommodations when traveling to the Netherlands for her one-day trip. She boarded a scheduled British Airways flight from London City Airport, much to the surprise of many of her fellow passengers.
Kate greeted King Willem-Alexander with a curtsy and later lunched with him inside his residence.
The second stop for Her Royal Highness in the Netherlands was to the Mauritshuis Museum to view "At Home in Holland: Vermeer and His Contemporaries from the British Royal Collection." Kate, who has a degree in art history and is patron of the National Portrait Gallery in London, was there to support an exhibition of 22 works on loan from Her Majesty Queen Elizabeth's II's collection.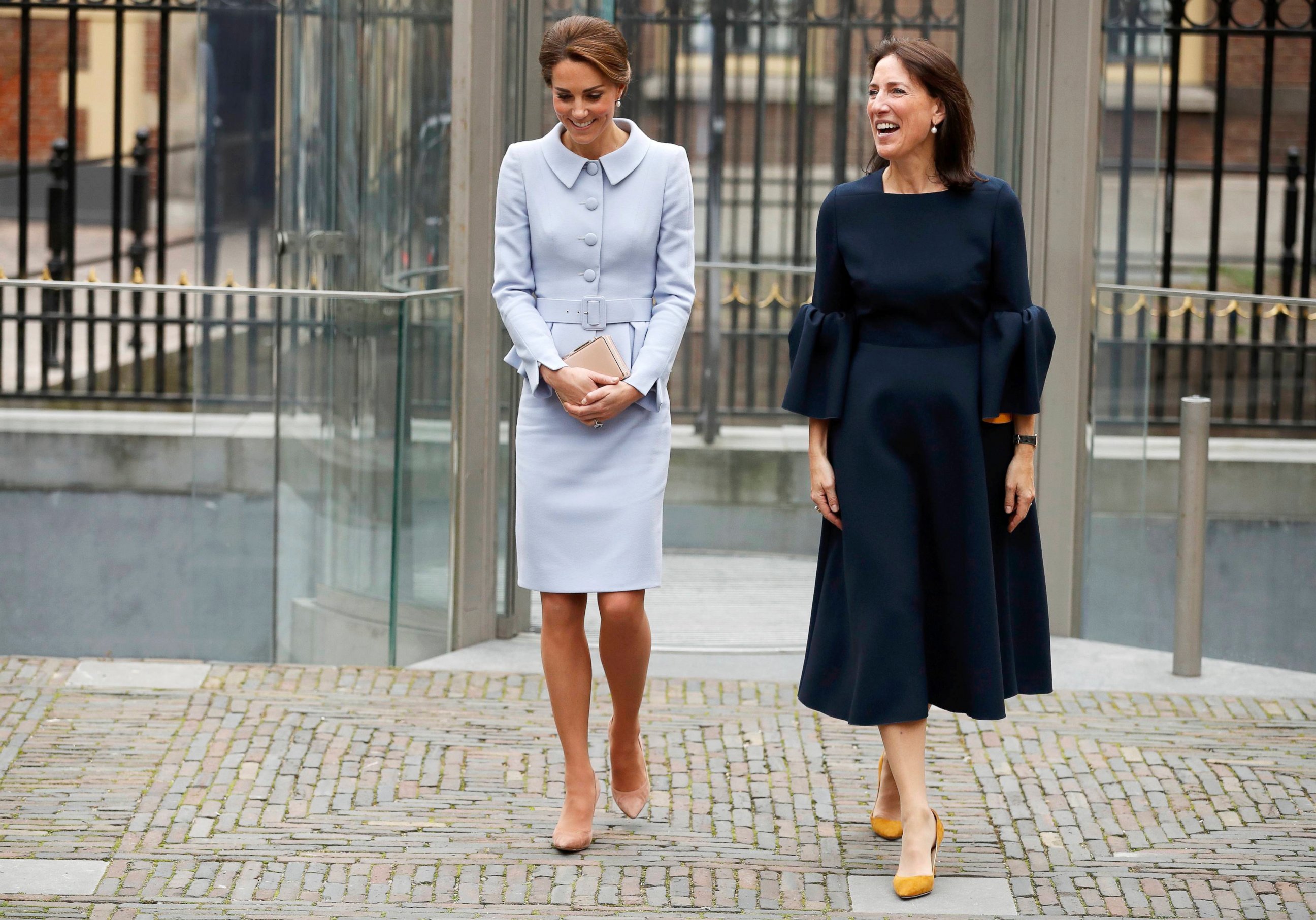 Kate spent time admiring the gallery's permanent collection, lingering at Johannes Vermeer's "Girl With a Pearl Earring," before visiting the royal collection works on display. She also greeted a group of young children participating in one of the gallery's educational programs and attended a short reception.
Arts education for children is one of the main components of Kate's charitable work, along with mental health and addiction.
Kate also attended a roundtable discussion at the British ambassador's residence in The Hague to hear about programs on addiction and mental health in Holland. The roundtable featured professionals from the Netherlands' highly regarded Trimbos Institute and specialists from Action on Addiction and the Anna Freud Centre, two charities of which Kate is patron.
Kate's visit came a day after British Prime Minister Theresa May also paid a visit to Holland to negotiate a favorable Brexit deal. Several reports suggested Kate's visit was part of an effort to use "soft diplomacy" as Britain negotiates new trade terms; however Kensington Palace aides insisted it was a coincidence and that Kate's trip had been planned before the landmark vote Britain made to leave the European Union.
The Duchess of Cambridge had been scheduled to make her first solo trip abroad in 2014 to Malta when she was pregnant with Princess Charlotte, but severe morning sickness forced her to cancel the visit. Prince William later made the trip on her behalf.