Editor's note: ABC News correspondent Clayton Sandell was invited to a comprehensive behind-the-scenes look at Star Wars Galaxy's Edge at Disneyland, a 14-acre land opening this summer in California and in the fall at Walt Disney World in Florida. Warning: this piece contains spoilers, from a certain point of view.
Get ready for ALL the Star Wars feels, friends.
Walking the winding streets of the nearly-complete Black Spire Outpost on the planet Batuu, there's a key point when you round a corner and see … IT.
For this longtime Star Wars fan, it's a moment that packs such power and reverence that suddenly the noisy clatter of a busy construction site seems swept away by a rousing John Williams fanfare.
Right in front of you sits the fastest hunk of junk in the galaxy. Not on a screen. Not a toy. This is a full-size Millennium Falcon, in all its grungy glory. So realistic, it looks like it might just suddenly lurch skyward, making a hasty escape while dodging a hail of stormtrooper blaster fire.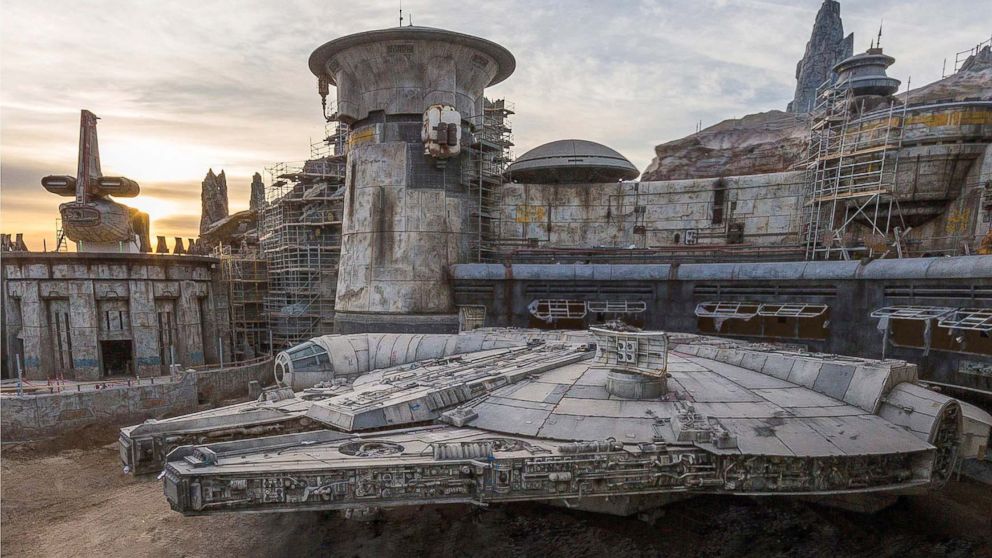 Along with my colleagues (and fellow Star Wars nerds) Ryan Parker of The Hollywood Reporter and Germain Lussier from Gizmodo, it may have been the moment three grown men openly wept. (I cannot confirm.)
As a scissor lift hoisted a construction worker to the top of the Falcon, I suppressed the urge to shout up in my best Han Solo voice: "No! THIS one goes here. THAT one goes there." (Extra points if you get that "Empire Strikes Back" reference.)
The way visitors will discover the Millennium Falcon for the first time is a carefully planned moment Disney Imagineers call a "hero reveal." Even the angle of the ship is designed to match how it first appeared onscreen 42 years ago in the original "Star Wars" movie.
Naturally, there's a lot of Star Wars nostalgia baked into every part of Galaxy's Edge, drawn from years of movies, animated shows, books and comics. The visual language of Star Wars, largely inspired by George Lucas' original concept artist Ralph McQuarrie, is everywhere. And it's glorious. From the distinctive shapes of the pale brown, orange and green buildings, to the moisture vaperators and cables running down laser-cut tunnels and -- of course -- a cantina, the incredible design details bring us as close to that galaxy far, far away as most of us will ever physically get.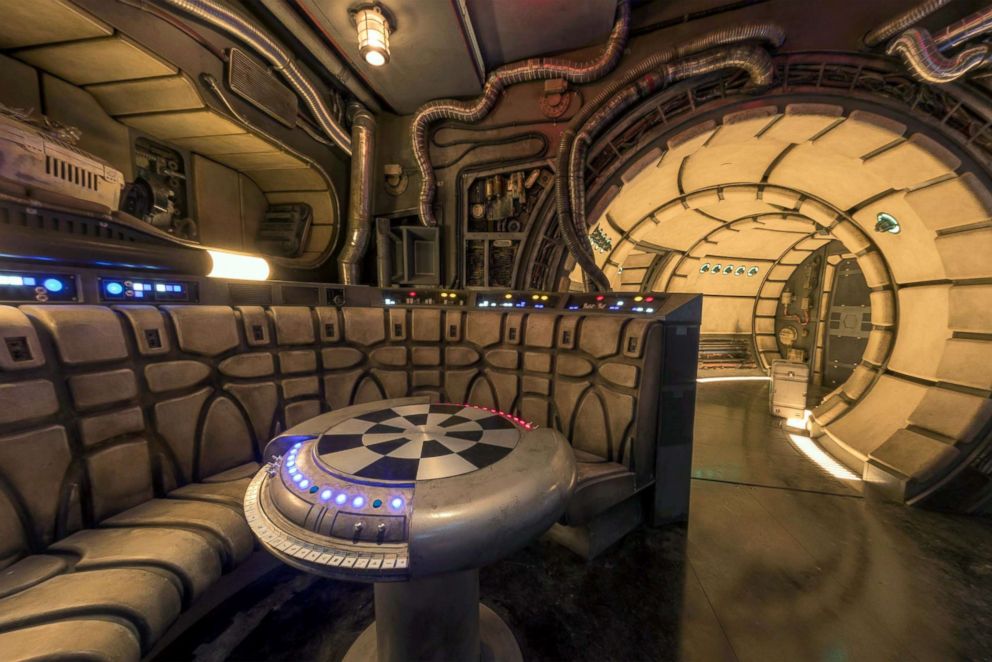 One of the most important aspects of Galaxy's Edge is that, other than a few mentions (so far, more are coming) in books and the Han Solo movie, Batuu and Black Spire Outpost don't come with a story that's already been told. That too is by design. Audiences already know what happened on, say, Hoth or Endor. On Batuu, Disney wants guests who aren't necessarily huge fans to have a blank story slate, able to create and live out their own "Star Wars" adventure.
So in that way, it's exciting to think that at Black Spire, there won't be just one set narrative. There will be as many Star Wars stories as there are guests, which is to say, a LOT. It will be interesting to see Disney's plans for dealing with the massive amount people Galaxy's Edge will attract. How the parks plan to manage the crowds to preserve a great "Star Wars" experience for everybody during peak load is a critical question. So far Disney is mum on the specifics but says it's a top priority.
Quick disclosure. This might be a good time to mention that The Walt Disney Company is the corporate parent of ABC News and also owns Lucasfilm and Star Wars.
OK, if you're still with me, let's take a slightly-nerdy walking tour of a very busy Galaxy's Edge construction site and I'll point out a few of my favorite things. You'll need goggles, a hard hat and sturdy boots. And be mindful of a treacherous hive of obstacles along the way: scaffolding, beeping trucks and holes in the ground that -- thanks to a recent California rainstorm -- are filled with muddy water.
The 14-acre land is in various stages of completion but still an incredibly impressive sight. The scene here is highly-organized chaos. Hundreds of workers in neon-orange safety vests are laboring around the clock to finish before summer. (There's still no official opening date.) Many walkways haven't been paved. Large trees sit unplanted. (One sapling destined for a spot next to a pair of Rebel fighters has a sign warning that the replacement cost is $9,000.) Two parked landspeeders are wrapped in protective plastic, including a classic X-34 model identical to the one that once carried Luke Skywalker on errand runs to Tosche Station.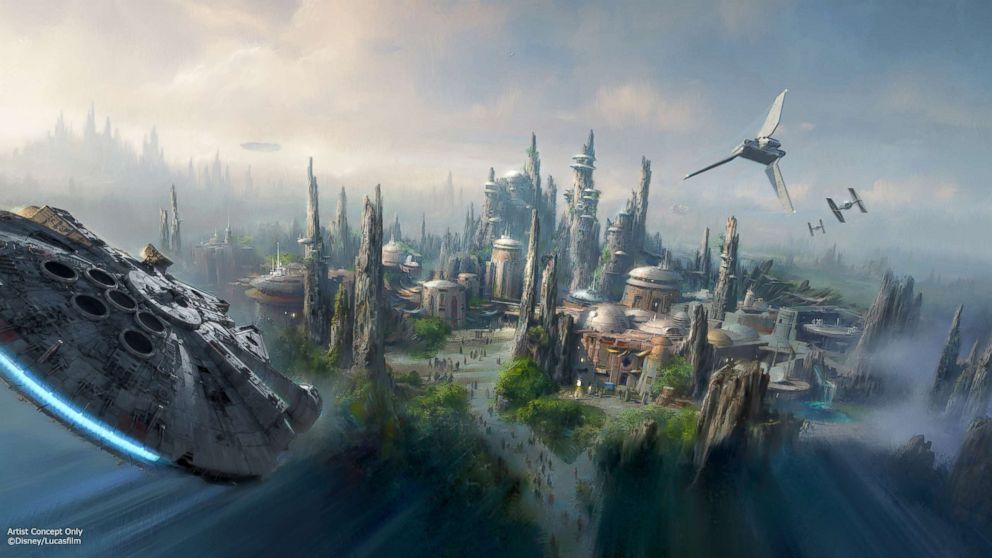 Parts of some buildings are still unpainted while others are already adorned with Aurebesh characters (the Star Wars alphabet) that Lucasfilm and Disney creators say contain some fun Easter eggs when translated. Various large outdoor props still need to be installed but we did get the first look at a sweet life-size TIE Fighter (a brand new model that might just show up in a future movie) parked in a hangar bay.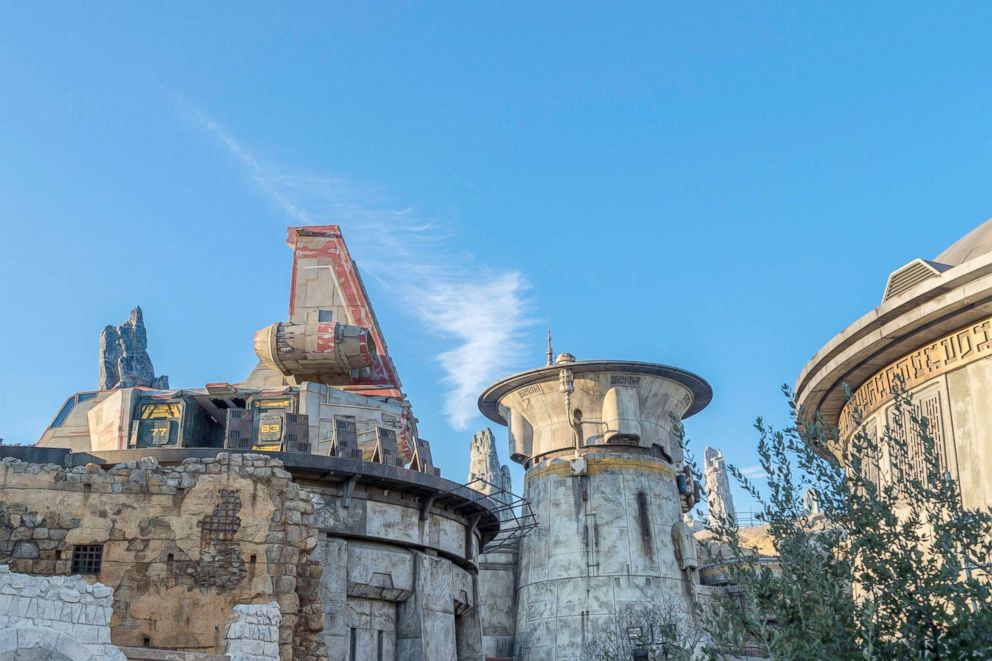 Inside the buildings, crews are just as busy as they begin to install props around Oga's Cantina, instantly recognizable as the kind of place where a dispute might lead to lightsabers and lost limbs. The cantina is smaller and more intimate than I expected, with only one main entrance and eight alcoves around the bar, perfect spots to negotiate a shady deal. Unlike Tatooine's cantina that refused to allow droids inside, Oga's has its own droid DJ named Rex. Fans of the Star Tours ride that first opened at Disneyland in 1987 know Rex as the original Starspeeder 3000 pilot. (Now, as then, Rex is voiced by Pee Wee Herman actor Paul Reubens.)
Just up a curved walkway from the Cantina and the Falcon is Dok-Ondar's Den of Antiquities. Imagineers are starting to fill the alcoves of the two-story shop with Star Wars-y inventory like vibro-axes and other Jedi and Sith artifacts. I spotted an animatronic, interactive Dok already in place at the rear of his shop, still hidden in layers of plastic wrap.
From there, we walk through what will soon be a bustling marketplace corridor that evokes the streets of Jedha City in the film "Rogue One." At one end, there's a restaurant built around a giant pod racing engine that will appear to cook meat. One market stall will be filled with "live" creatures from across Star Wars lore, including a furry animatronic Loth Cat from the "Rebels" animated series. Other shops will let you build a droid or a fancy lightsaber.
Now to the two new E-ticket attractions in Galaxy's Edge: "Millennium Falcon: Smuggler's Run" and "Rise of the Resistance." Rise—codenamed "Alcatraz," to give you a hint at its escape theme, is not yet fully operational. Days before our visit a sharp black and orange X-Wing fighter belonging to a certain hot-shot Resistance pilot had just been anchored in place. The queue, which Imagineers admit will be loooonng, is filled with cool stuff to check out while you wait, from the weapons room with Rebel blasters, to flight suits and special props keen-eyed guests will recognize from the movies. There's even a Gonk droid or two and look for Rey, Poe and Finn along the way.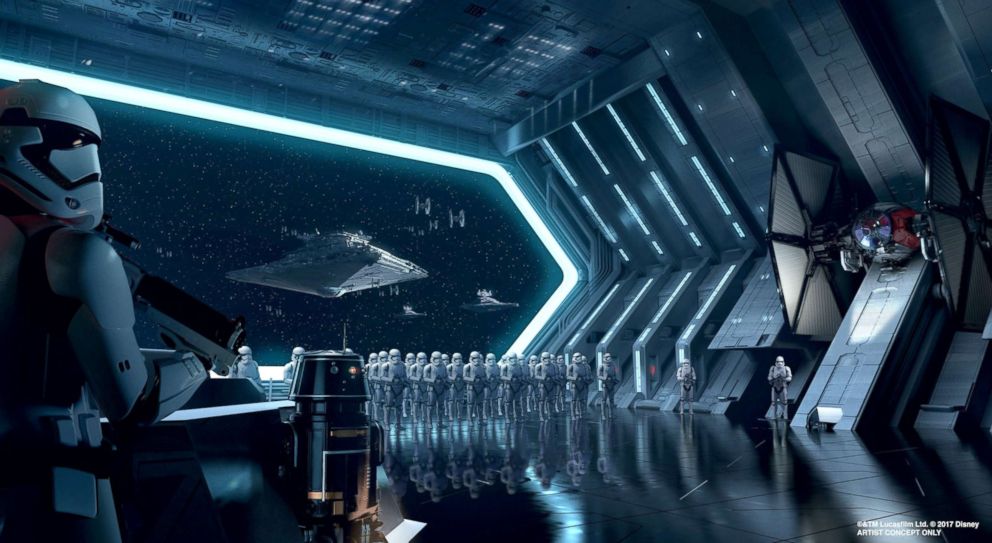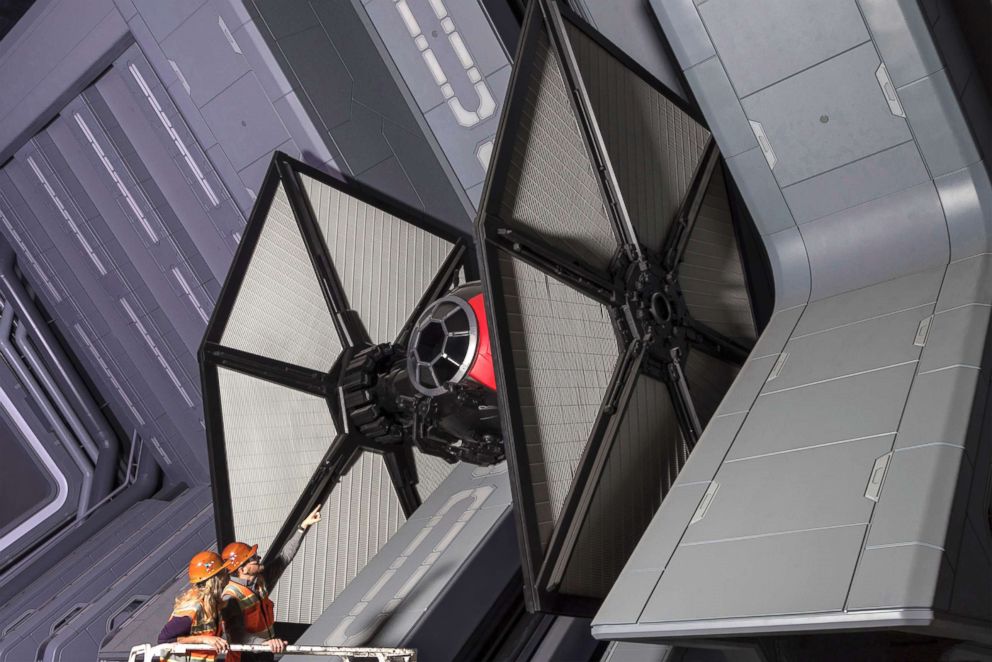 Disney has already revealed an artist rendering of a big set piece in Rise of the Resistance: a stormtrooper-filled Star Destroyer hangar. And let me just say: in person, even in its unfinished state, the scale and scope of the hangar took my breath away. There's no illusion here. It's a real, massive physical space. You will absolutely feel like you've just been tractor-beamed into an actual Star Destroyer. I won't give away the clever engineering sleight-of-hand that gets you from the surface of Batuu into space, but I can't wait to see people's faces when that door opens and they're greeted by all the sights, special effects and sounds for the first time.
The Millennium Falcon ride appears to be mostly complete, though on our visit the hallways were crowded with ladders and giant toolboxes. The queue area here is impressive too, designed to give visitors an up-close view of the Falcon parked just outside. The path winds its way up through a maintenance bay filled with ships and equipment, leading to a second-floor overlook of the Falcon. Then, we head into a holding room where we meet the smuggler and space pirate Hondo Ohnaka. The story here is that guests are part of a six-person Falcon crew working for Hondo on a smuggling mission. He's a convincing animatronic, brought to life thanks to the most advanced Disney Imagineering humanoid yet, the model A-1000. Hondo's voice is provided by actor Jim Cummings, who also plays the character in his animated form. As we passed by, three men huddled behind computer screens programming Hondo's movements.
And then comes the best part, Falcon fans. Your crew will be able walk into the Falcon crew area we all know from the movies and get to explore around a bit before entering the cockpit. That means you'll be able to sit at the Dejarik (holographic chess) table, flip switches at the engineering station, check out the bunk in the corner and presumably take a million selfies along the way. I suspect more than a few fans won't want to leave.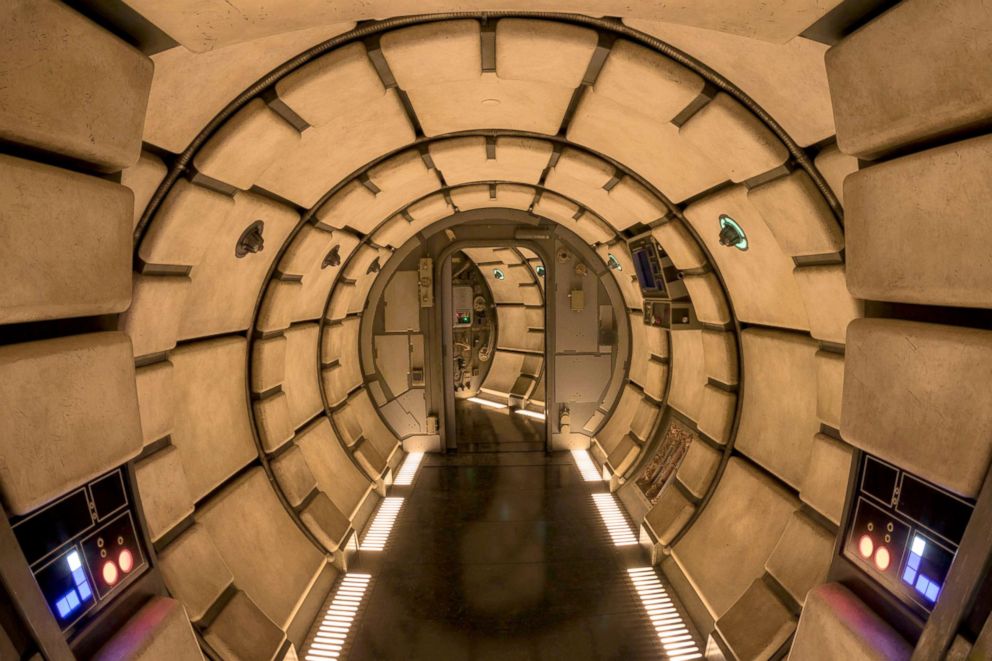 Finally it's time to fly. Here's where I got a little emotional again. Walking from the Falcon holding area down that tubular hallway leading to the cockpit, then sitting down at the controls is completely surreal. I've had four decades to imagine what that moment might be like, and in complete honesty, it lived up to every expectation.
Even after walking the streets of Black Spire Outpost for nearly two hours, we've only just scratched the surface. There's a ton more to talk about as we get closer to summer, Star Wars friends. Can't wait to share it all with you and hear what you think.
May the Force Be With You.
The Walt Disney Co. is the parent company of ABC News.