— -- Salma Hayek has added her voice to the growing chorus of women speaking out about Harvey Weinstein, saying he "is my monster too."
In a new New York Times op-ed piece, Hayek wrote about her experience making "Frida," her 2002 film about famed Mexican artist Frida Kahlo, which she produced and starred in for Weinstein's now-former company Miramax.
After Weinstein said yes to making the film, she wrote, "It would become my turn to say no."
She said the disgraced movie mogul continually harassed her, showing up at her door "at all hours of the night, hotel after hotel, location after location." She wrote that he allegedly repeatedly propositioned her to take a shower with him or let him watch her take a shower, give him a massage or let him give her oral sex, and more.
"And with every refusal came Harvey's Machiavellian rage," she wrote. "I don't think he hated anything more than the word 'no.'"
Weinstein has been accused by dozens of women, including Gwyneth Paltrow, Annabella Sciorra and more, of sexual misconduct and, in some cases, assault.
A spokesperson for Weinstein issued a lengthy statement to ABC News on Wednesday night, refuting Hayek's claim. (See the statement at the bottom of this article.)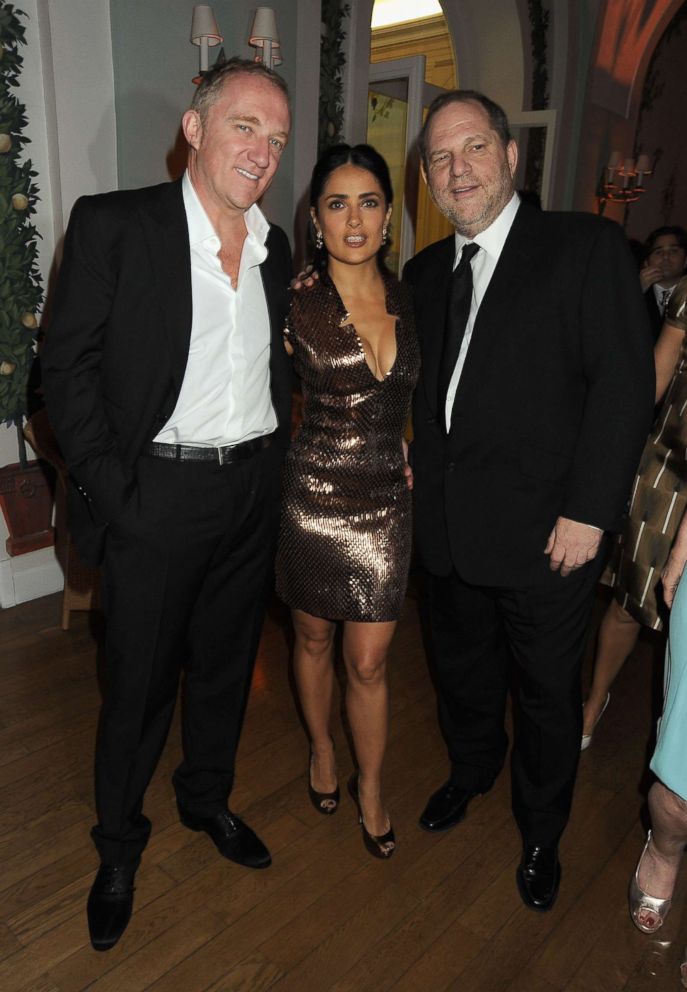 Hayek said Weinstein then threatened to take away her script and role in "Frida." She said he made impossible demands, including that she raise $10 million and find an A-list director, all of which she met in order to move forward with the film.
After filming began, she said, "The sexual harassment stopped but the rage escalated."
Hayek said Weinstein threatened to shut down production if she did not agree to do a fully nude sex scene with co-star Ashley Judd. "It was clear to me he would never let me finish this movie without him having his fantasy one way or another."
The actress agreed but said she suffered a nervous breakdown while shooting the scene and had to distance herself from the film when shooting wrapped. The film went on to earn six Academy Award nominations and two Oscars. Weinstein, she said, never offered her another starring role for the remainder of her contract with Miramax.
"Why do so many of us, as female artists, have to go to war to tell our stories when we have so much to offer? Why do we have to fight tooth and nail to maintain our dignity?" Hayek wrote, adding that women in the industry have been "devalued artistically to an indecent state."
She concluded that "until there is equality in our industry, with men and women having the same value in every aspect of it, our community will continue to be a fertile ground for predators."
A spokesperson for Weinstein issued the following statement:
Mr. Weinstein regards Salma Hayek as a first-class actress and cast her in several of his movies, among them "Once Upon a Time in Mexico," "Dogma," and "Studio 54." He was very proud of her Best Actress Academy Award nomination for "Frida" and continues to support her work.
While Jennifer Lopez was interested in playing Frida and at the time was a bigger star, Mr. Weinstein overruled other investors to back Salma as the lead. Miramax put up half of the money and all of the P&A; the budget was over 12 million. As in most collaborative projects, there was creative friction on "Frida," but it served to drive the project to perfection. The movie opened in multiple theaters and was supported by a huge advertising campaign and an enormous Academy Awards budget.
Mr. Weinstein does not recall pressuring Salma to do a gratuitous sex scene with a female costar and he was not there for the filming. However, that was part of the story, as Frida Kahlo was bisexual and the more significant sex scene in the movie was choreographed by Ms. Hayek with Geoffrey Rush. The original uni-brow used was an issue because it diverted attention from the performances. All of the sexual allegations as portrayed by Salma are not accurate and others who witnessed the events have a different account of what transpired.
Ed Norton, who was Ms. Hayek's boyfriend at the time, [worked with Mr. Weinstein on the rewrite of the script in Mexico] did a brilliant job of rewriting the script and Mr. Weinstein battled the WGA to get him a credit on the film. His effort was unsuccessful to everyone's disappointment.
By Mr. Weinstein's own admission, his boorish behavior following a screening of "Frida" was prompted by his disappointment in the cut of the movie—and a reason he took a firm hand in the final edit, alongside the very skilled director Julie Taymor.