— -- Seth Rogen and on-screen wife Rose Byrne are tapping back into college party mode. Just two years after the successful premiere of their frat-house comedy, "Neighbors," the duo is going for the laughs again.
Their newest film, "Neighbors 2: Sorority Rising," takes on a female twist. Rogen told ABC News his creative team tossed around quite a few ideas about what would work best as a new storyline.
"We talked a lot about what it could possibly be," Rogen said. "And it really came from an emotional story idea which was that we have a daughter, we'll probably have another daughter. And like the idea that we don't want to party anymore didn't seem that relevant because we kind of dealt with that [in the first film].
"So the idea that we're afraid that our daughter will hate us one day and that we won't be able to talk to her, that became entertaining to us. And then the sorority just seemed like kind of a good metaphor for that, and so it all worked pretty well we think."
The film centers on young parents (Rogen and Byrne), struggling to be parents but enjoying life. That is until a sorority, the sisters of Kappa Kappa Nu, move in next door and chaos ensues. Both Rogen, 34, and Byrne, 36, confessed to Peter Travers that it was during filming when they realized they'd moved away from the youth culture.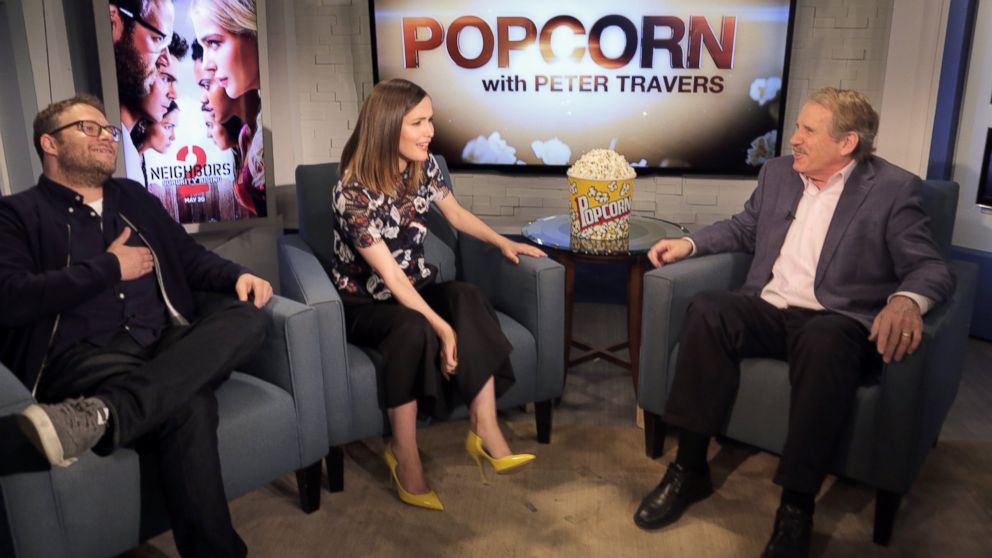 "It was when we were confronted with the girls. Because they were just a little younger than the guys were. And that makes all the difference," Byrne said.
Rogen agreed that it was a little easier to communicate with the older actors in the first film portraying the frat guys.
"It made a big difference because Zac [Efron] and Dave Franco and those guys, we were able to talk to them," Rogen said. "They knew all of our references. They weren't quite with it. But they at least knew it. But when we talked to Kiersey [Clemons] and Chloe [Grace Moretz] and Beanie [Feldstein], it's literally like we're speaking a different language."
But fans of the film franchise will likely appreciate and enjoy how the different generations come together on the screen.
"Neighbors 2" hits theaters today.