The stars came out in Manchester Sunday night for a concert to benefit the victims of the terror attack there last month at an Ariana Grande concert -- pledging resilience in the face of fear and honoring the victims of the ill-fated show.
Grande took the stage for the first time since the May 22 attack that claimed the lives of 22 people and injured more than 100 others, recognizing a teen victim of the attack and singing an emotional rendition of "Somewhere Over the Rainbow."
Megastars such as Coldplay, Liam Gallagher of Oasis, Katy Perry, and Pharrell Williams joined the show. Also, those those who attended Grande's show on May 22 were given a special spot in front of the stage.
Grande, 23, wore a white sweatshirt with the words, "One Love Manchester" written on the front, jeans and her signature pony tail.
The singer admitted that after meeting with the family of 15-year-old victim Olivia Campbell, she decided to change the tone of her concert.
"Olivia would've wanted to hear the hits [today,]" Grande told the crowd. "We had a totally different show planed. We changed everything."
Grande performed her hit songs, "Be Alright," "Break Free," "My Everything" and "The Way." She also helped Victoria Monet perform her song, "Better Days," helped the Black Eyed Peas sing their hit, "Where Is The Love?" and aided her boyfriend Mac Miller when he perform his hit, "Dang!"
The singer blew kisses at her fans who attended last month's fateful concert, who stood in a special reserved section at the front of the T-shaped stage, as she performed.
"I love you so so much. Thank you so much," Grande said inside Manchester's Emirates Old Trafford venue to the crowd. "Tonight is all about love."
British artists, including Marcus Mumford and Robbie Williams, took the stage in honor of Manchester, performing their hit songs such as "Timshel" and "Shine," respectively. Niall Horan, Little Mix and Liam Gallagher also performed.
Grande also performed a sentimental duet with her friend, Miley Cyrus, singing, "Don't Dream It's Over."
"I love this girl very much," Cyrus said to a screaming crowd. "For me, the most important responsibility we have on this entire planet is to take care of one another and look what we're doing today and how amazing that is."
Before that, however, Cyrus performed with Williams, helping him sing, "Happy." The Grammy Award-winning producer also performed, "Get Lucky."
Pharrell Williams: "Despite all the things that have been going on...I don't feel or smell or hear or see any fear in this building." pic.twitter.com/5Uz9FmWcaB

— ABC News (@ABC) June 4, 2017
"I don't feel or smell or hear or see any fear in this building," Williams said onstage. "All we feel here tonight is love, resilience, positivity."
There were a number of celebrities who sent taped messages of encouragement, including Stevie Wonder, Paul McCartney, Demi Lovato, Jennifer Hudson, Chance the Rapper, The Chainsmokers, DJ Khaled, Kendall Jenner, Kings of Leon, Sam Smith, Rita Ora and David Beckham among others.
Pop stars Katy Perry and Justin Bieber also took the stage. Before performing his hit, "Love Yourself," Bieber told the crowd, "You guys are so brave."
Beiber, who at times got emotional, then instructed the crowd to put both hands up to "take a moment to honor the people who were lost -- no, that were taken. We love you so much."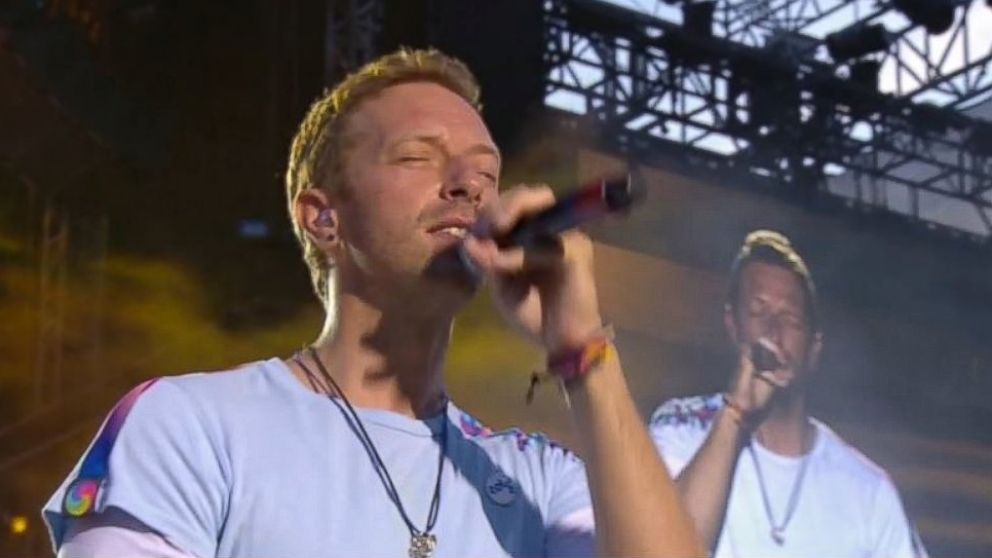 And in a memorable moment, Coldplay instructed the crowd of 50,000 fans to sing to Grande. The arena then sang the Oasis song: "Don't Look Back in Anger." The song's lyrics were flashed on the screen so the entire venue could join in as night fell on the city of Manchester.
The British band also performed "Fix You," "Viva la Vida," and "Something Just Like This."
Grande, with tears in her eyes, concluded the three-hour benefit concert by performing her 2014 hit "One Last Time" surrounded by all of the artists who took the stage that night.
Grande's "One Love Manchester" benefit concert ended with her singing an emotional cover of "Somewhere Over the Rainbow." The singer broke down into tears, barely being able to finish the song.
The British Red Cross had raised nearly $9 million before the concert had even concluded, according to the Associated Press.
Emily Shapiro and Joshua Hoyos contributed to this report.