Two of the three people arrested in the Bahamas last week in connection with an alleged extortion scheme targeting John Travolta claimed to have been by the Travoltas' side in the moments leading up to and right after the death of their son, Jett.
Bahamian authorities have said little this morning about the alleged extortion scheme that targeted John Travolta. But, according to previous media reports, a group of people wanted as much as $25 million in exchange for a cell phone picture taken of Jett on the way to the hospital minutes before his death from a seizure Jan. 2.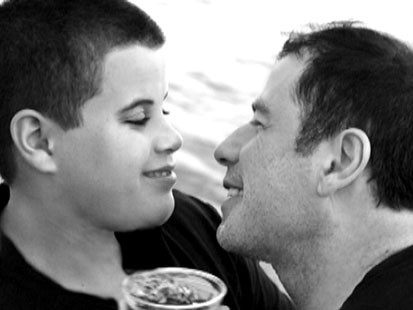 Two prominent Bahamian citizens and a paramedic were
detained last week in the Bahamas
in connection with the alleged plot. One was Tarino Lightbourne, 47, the paramedic who drove the ambulance to the hospital after Jett collapsed.
Monday, Lightbourne plead not guilty to charges of attempting to extort and conspiracy to extort from Travolta.
"It was me, him and Jett," Lightbourne told ABC's "Good Morning America" on Jan. 5. "I'll never forget this day. I saw him lean over and hug his son and kiss his son and tell him he loved him and I did everything I could. I saw love in his eyes, I saw love. [Travolta] hugged him, put his arm around him, kissed him on the forehead and the cheek and told him he loved him. He then turned to me and gave me a hug and said, you guys did a wonderful job."
Lightbourne was detained Friday for attempted extortion and, according to news reports, was still in custody Sunday. Last Thursday, police arrested local lawmaker and attorney Pleasant Bridgewater, a Bahama senator, and charged her with "conspiracy to extort." She has denied the charges and was released on $40,000 bail Friday. Her connection, if any, to the Travolta family is unknown.
But perhaps most surprising is the arrest of former Tourism Minister Obie Wilchcombe, who said he was a close friend of the Travolta family. In the days after the tragedy, he even called himself the "family spokesman."
On Jan. 5, he described to ABC's "Good Morning America" in great detail his time with the Travolta family in the hospital the day Jett died.
"They came out, and John gave me a real hug, a bear hug, and that was an expression of how he was feeling at the time," Wilchcombe said. "He sat with police authorities and talked to them about the circumstance, and they escorted him into the room where his son was and glass separated them. And he was asked to identify his son and his words were, 'That's my son.'"
The Senator Resigns
Wilchombe was arrested and released without being charged with any crimes. Bridgewater resigned from her post and told reporters this is all a "nightmare" and that her "innocent actions" were misconstrued.
Wilchcombe told US Weekly that he "did a noble thing" in trying to help the Travolta family after he was approached last week by Bridgewater. She alerted him that "someone was doing something untowards," he said. "She knew I was close to the Travoltas. She wanted to bring something to my attention."
Wilchcombe said he passed that information to Travolta's lawyers, Michael Ossi and Michael McDermott. He added that investigators later questioned him about the information.
Travolta's attorneys did not respond to repeated requests for comment. His publicist told ABCNews.com Sunday that there were no plans to release a statement.
When US Weekly asked Wilchcombe if he'd ever sought any compensation from the Travoltas, he replied: "Never once, asking for anything. Never once, expecting anything. This is ridiculous and absurd. The Travoltas are suffering, it's just outright foolish. Never did I ask for anything, no one can say that. We had a friend in my country who lost a son. It was one single individual [who tried to take advantage of the family]. The Bahamian people have been very kind to the Travoltas."