5 Things to Know About Chadwick Boseman, Marvel's 'Black Panther'
He didn't ever intend to be a big-time actor!
October 29, 2014, 1:29 PM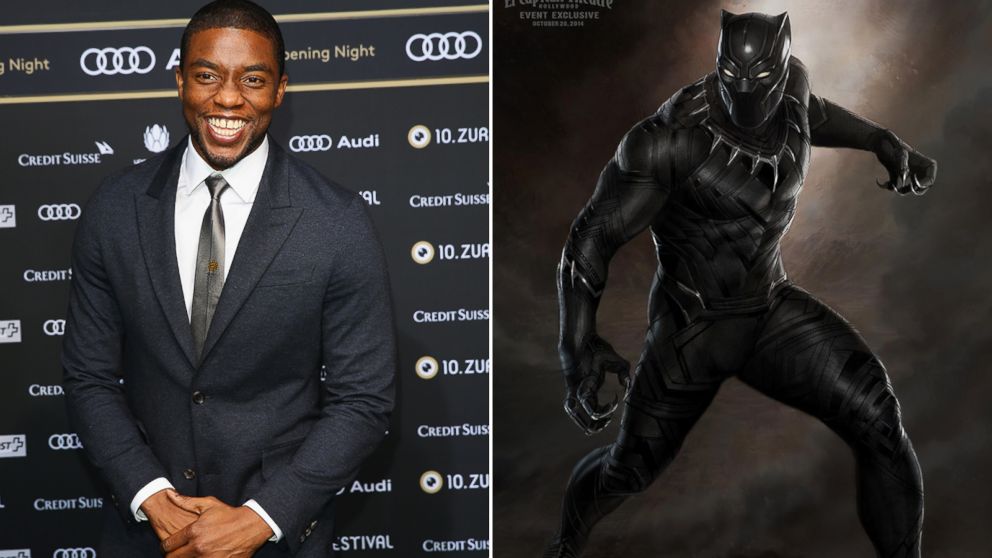 — -- Marvel basically informed superfans that they'd better give up the next five years of their lives as it revealed a whole new slate of 9 films, which will feature the likes of Captain America, Iron Man and a superhero who is new to the big screen: the Black Panther.
Marvel Executive Editor and senior VP Tom Brevoort told ABC News today that Black Panther is what Batman would be if he were a king of a country. Basically, "He's the whole package."
"The Black Panther, he was the first superhero of color in 1966," Brevoort said. "At the time, it was still considered daring. ... He is the latest in a long line of Black Panthers. His father was a Black Panther before him and his father before him, and so forth."
The Black Panther is the prince and ruler of the African nation of Wakanda, a tiny, yet supremely powerful nation-state.
"They are more technologically advanced and wealthier than any other nation on Earth," Brevoort said.
The Panther himself is fast, strong and has great vision, but he is also "a learned man, a scientist, a world traveler, a man of culture, a man of great dignity and respect," Brevoort said.
Cast as the Panther is Chadwick Boseman, who may look familiar for good reason. You may not know his name, but you definitely know or have seen some of his movies.
Here are five things to know about Marvel's newest superhero!
1 -- His Roles Have Been Iconic
He starred as Jackie Robinson in "42" in 2013 and as James Brown in "Get on Up" earlier this year. Black Panther is in pretty good company.
2 -- You are Going to See a Lot of Him
Marvel has signed on Boseman for five films, including "Captain America: Civil War" and his own flick, "Black Panther," according to the Washington Post.
3 -- He's a Southern Gentleman
Boseman, 37, was born in Anderson, South Carolina. He graduated from Howard University in Washington D.C.
4 -- He's Just as Good Behind the Camera
According to IMDB, Boseman has directed two shorts, "Heaven" and "Blood Over a Broken Pawn," which he also wrote.
In fact, Boseman never considered being an actor until a TV legend Phylicia Rashad dropped by his university to teach a class as a guest professor, according to the Hollywood Reporter.
"Clair Huxtable is my acting mom," Boseman told the magazine. "The way she taught acting opened up things for me. I would have to take acting classes, but it was purely as director to know what the actors were doing. But when she taught it, it became something where I was like, 'I want to experience that. I want to know, really, what that feels like.'"
5 -- Boseman's Preparation for Roles Is Second to None
While speaking to ABC News earlier this year, Boseman said he trained with a choreographer five to eight hours a day for "Get on Up."
In fact, the film's director, Tate Taylor, said "Chadwick Boseman" was never on set. It was always James Brown.
"The people around Chad would call him Mr. Brown. When he was picked up in the morning it was, 'Mr. Brown in the car. Mr. Brown is on-set,'" Taylor said. "He was working so hard, he would make a rare appearance out to dinner, and it would just be odd that Chad was there."