5 Things to Know About Scarlett Johansson's Fiance
Actress is engaged to Frenchman Romain Dauriac after 9 months of dating.
September 5, 2013, 10:38 AM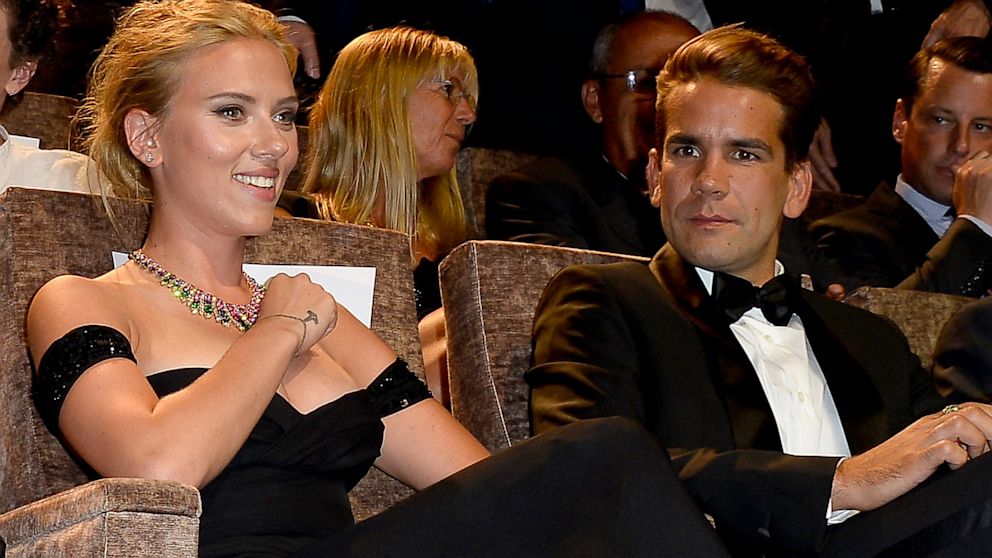 Sept. 5, 2013— -- intro: Now that the news is out that Scarlett Johansson is engaged to her boyfriend Romain Dauriac, many are wondering just who is the man who got her to say yes to marriage for a second time.
Though Dauriac and Johansson, 28, have been dating for about nine months, little is known about the Frenchman. The pair have mostly stayed mum about their relationship and, according to People, managed to keep their engagement secret for about a month.
Scarlett Johansson Is Engaged, Rep Confirms -- See the Ring!
At the 70th Annual Venice International Film Festival on Tuesday, Johansson proudly displayed a vintage Art Deco ring on her left hand. Her rep confirmed to ABC News that the couple are engaged, though they haven't yet chosen a date for their wedding.
Johansson, who was previously married to actor Ryan Reynolds from 2008 to 2011, recently told Elle UK that marriage was "really not important to me."
"To me, being in a functioning relationship doesn't mean you have to be married," she told the February issue.
Meet the man who got Johansson to change her mind. Click through to see five things about Romain Dauriac.
quicklist:title: He's Creativetext: Dauriac, who has been referred to as a journalist, is the former editor of Clark, a French urban art magazine. According to E!, he currently manages a creative agency. His creative leanings must appeal to Johansson, who told Elle, "I like people that have a colorful way of looking at things, that are inspiring, and like art, music and film."media: 20165511
quicklist:title: They Share a Love for Inktext: According to Paris news site Pure People, the pair were introduced by a mutual friend, tattoo artist Fuzi Uvtpk. He inked Johansson's recent "Lucky You" horseshoe-shaped tattoo. Dauriac and Johansson first stepped out together Nov. 18 at the New York City premiere of "Hitchcock," just weeks after the actress split from her boyfriend of one year, ad exec Nate Taylor. They were then spotted at several trendy clubs in France and New York. media:
quicklist:title: He's Not Into Twittertext: For a journalist, Dauriac doesn't seem very interested in social media. He hasn't tweeted from his Twitter account in three years. That probably suits Johansson just fine. The actress shared her feelings about social media with the May issue of Marie Claire: "All of it drives me crazy. I don't understand this need to 'share.' We almost exploit ourselves in order to be seen."media: 20165197
quicklist:title: He's Got Wide-Ranging Taste in Musictext: What we can surmise from Dauriac's dormant Twitter account, though, is some of his taste in music. In 2009 he tweeted, "a Monday morning with Jay reatard," about the late punk and garage rocker, and "Slick Rick, the best rapper ever?" about the 90s rap star.media:
quicklist:title: He Must Be a Secure Fellatext: Johansson has made it clear that she doesn't like jealous men. She told Marie Claire, "I don't mind an occasional check-in, but when somebody is passive-aggressively jealous, it's really unattractive because it shows a sort of insecurity…. Oh, controlling behavior is awful. Nobody's going to say they love that." That doesn't appear to a problem for Dauriac.media: 20166461