— -- If you've been following Tracee Ellis Ross' career since 2000, when she stepped into the role of Joan Clayton in "Girlfriends," you might've assumed that she had already earned a Golden Globe nod.
But despite playing the beloved quirky, marriage-obsessed lawyer turned restaurant owner for eight years, she was only nominated and went on to win her first Golden Globe this year.
Ross became the first black actress to win Best Actress in a TV series, comedy or musical since 1983 thanks to her role in "Black-ish," another character that seems quite perfect for Diana Ross' daughter.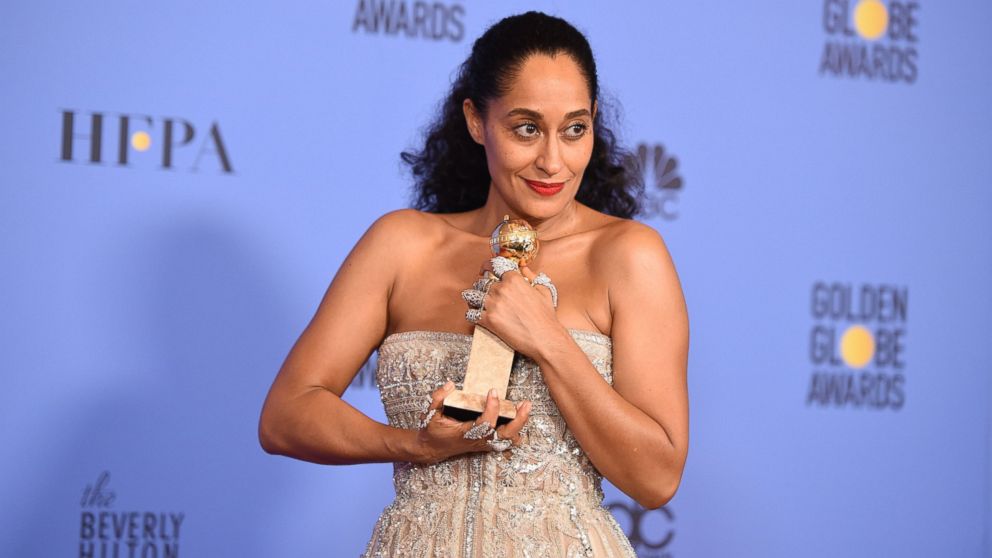 "If you had told me at 23 ... that I was going to win a Golden Globe, I don't know that I would've believed you," Ross told ABC News' "Celeb 101." "But I also don't know that I would've believed you [if you said] that I would be single, 44, and loving myself more than I ever thought possible.
"I feel like so much of what culturally, societally -- both patriarchy and misogyny -- sort of told me I needed in order to feel whole or full has not happened, and yet everything that has happened has been so perfect and hard at the same time," she continued. "But the gift has been that I actually love who I am."
Ross doesn't mind sharing casually that she's single. But it doesn't mean she'll open up about who she's dating.
"I was born into a very public family and so I gained a relationship for myself to what is important ... [and] what is sacred in my life," she said.
"I don't make a decision [that] 'I will never talk about my relationships' or anything like that," Ross said. "That's certainly not a decision that I've made or anything like that, but there are certain things that are sacred to me that are not for public consumption. They are mine."
Ross' road to shame-free acceptance of who she is and where she is in her life is why MOTRIN tapped her to be one of the spokespeople for their new #WomanInProgress campaign. It's about "empowering a person in their own experience as opposed to be taken down by it," she explained.
"I learned and sort of gained this idea that pain is not a stopping point," Ross continued. "Pain is actually apart of the journey. It's a very important and pivotal moment in a blossoming, in all honesty."