Less than two months after giving birth to a baby girl, international supermodel Heidi Klum wowed audiences when she took to the runway for Victoria's Secret fashion show in December.
"I have four children so they keep me very busy. I eat very healthy," she said of her post-baby svelte figure. "I jump on the trampoline, run after them."
But even before that near super-human bounce back to model shape, Klum kept the glamour up during her pregnancy with some fetching maternity clothes.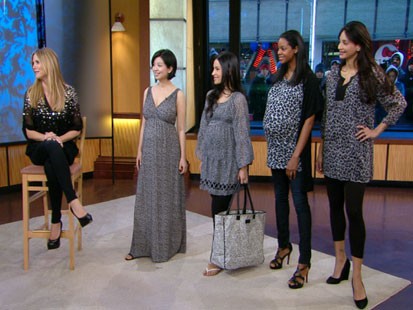 Klum, who said her family is now complete, wanted to create a maternity line that gave women options to look stylish despite their growing figures.
"It's so hard when you go in the morning, you go in the closet and you don't know what to wear," she said.
The mother of four and co-host of "Project Runway" appeared on "Good Morning America" today to share some the best styles from her line of maternity clothing.
Check out the looks you saw on the show below and click here to visit Klum's Web site.
Sneak Peak at Heidi Klum's Maternity Line
Klum is working with A Pea in the Pod and Motherhood Maternity to create two new maternity lines: Lavish by Heidi Klum and Loved by Heidi Klum for Motherhood Maternity, both arriving in stores and online Feb. 12.
From Lavish by Heidi Klum
Leather pants: $550

Leopard-print tunic: $78

Black domlan sleeve shrug: $78

Klum said she liked these leather pants because they are a stretch, soft leather that fits closely while remaining comfortable. And rather than the thick band that accompanies most maternity pants, Klum said her pants sit comfortably below the woman's stomach.
Animal prints are very trendy right now, Klum said. The leopard print tee is a softer fabric that drapes beautifully over the belly, no matter how far along you are.
Unitard: $98

Leopard print tunic (silk): $98

This silk version of the leopard tunic can be worn over the one piece, functional unitard. Klum said the unitard is a must-have for any maternity wardrobe.
Loved by Heidi for Motherhood Maternity
Georgette tunic: $39.98

Second skin jeans: $34.98

The floral pattern on the tunic is hand-painted and the oversized, playful sleeve makes it great top to pair with anything from heels to flip flops, Klum said.
Have no fear of the sexy, low rise jeans. They hug all the right curves but keep you comfortable throughout the day.
Jersey knit maxi dress: $39.98
A dress like this transitions easily from day to night, Klum said.
Click here to return to the "Good Morning America" Web site.