If there's one night when every woman wants to sparkle, it's New Year's Eve. But you don't have to spend a lot of money to get some high-wattage looks. Tia Williams, the Style Expert for Essence.com, shared four ways to accessorize for the shiniest night of the year. The best part? All of the accessories are under $30.
"For New Year's Eve, it's all about statement jewelry," Williams says. When it comes to accessorizing, she says it's also important to have a theme and stick with it.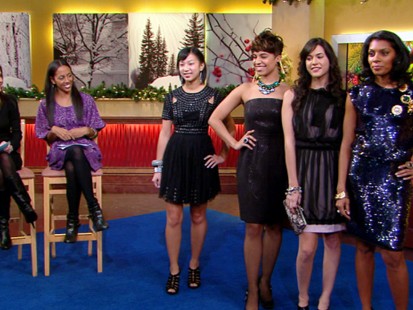 The Vintage Look, With Statement Ring and Bangle Bracelets
This look highlights the statement ring with vintage flavor. Williams says lots of lace and old-world style jewelry layered together brings a modern edge to classic pieces.
"Keep it as artful as you can," Williams said. "You can really get that vintage chic look without breaking the bank." All of the bangle bracelets are in the $20-$30 range.
The "vintage moment" was completed with "a lace clutch from Target, and a beautiful ribbon bracelet."
To Buy:


Victor by Victor Alfaro shoes, Kohl's, $29.00


Target lace clutch, $16.99


The Limited rhinestone statement ring, $26.50


Jessica Simpson multi bangles, at select Macy's, $28.00


Betsey Johnson studs, at select Macy's, $28.00


House of Deron ribbon and crystal bracelet, $28.00


Simply Vera jet black multi-link bracelet, Kohl's, $19.50
Spotlight on Statement Necklaces
Williams says you can wear a statement necklace with everything from jeans to a cocktail dress and it takes your whole look up a notch.
"Anything that sparkles is amazing for New Year's," Williams said, adding that a bib necklace is a "huge trend."
"Keep the rest of your outfit pretty simple," she advises.
To Buy:


Macy's bib necklace, $30.00


Wooden chunky ring, H&M, $18.50

New Year's Eve: Sparkle With Brooches and Big Earrings!
All About Brooches
"Brooches actually look even better when you put more than one on," Williams said. A collection of gold brooches and other "fabulous gold accessories" can truly transform an outfit.
"We call it our gold-rush moment," she said. "When you're really wearing a lot of accessories, the important thing is to pick a theme. That's the focal point. If you're wearing gold jewelry make sure you pick golds that complement each other."
To Buy:


Black strappy sandals, H&M, $30.00


Isaac Live brooches, $25-30


Iman Global Chic Brooch, HSN $30.00


Iman Global Chic Top, Shop.com


Crystal Ring, HSN, $30.00


Iman Global Chic crystal clusters earrings, HSN, $25.00


Charlotte Russe vintage style pendent ring, $25.00
Big Earrings
The big earring look is "all about feminine hardware," Williams said.
"We're talking about zippers and studs … it gives it kind of a touch of flirty, but tough," she added.
To Buy:


Black peep toe pump, Topshop.com, $30.00


Bangles, Topshop.com, $30.00


Studded cuffs,Topshop.com, $30.00


Zipper bracelet, Topshop.com, $15.00


Crystal ring, Topshop.com, $18.00


Rhinestone/metal ring, Topshop.com, $30.00


Macy's zipper earrings, $28.00
Get more great style tips from Essence.com.