Imagine this: it's the night before your family holiday gathering, office party or that special holiday date you've been looking forward to and you have one question on your mind other than "Should I bring a gift?"
What on earth are you going to wear?
Luckily, "Good Morning America" teamed up with Glamour magazine executive fashion editor at large Suze Yalof Schwartz to find the best deals for dresses to rock any occasion.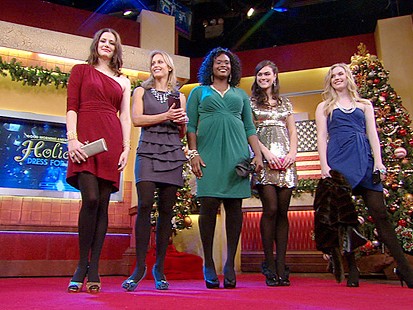 The Go-To Party Dress
If you're looking for a high class, but flirty, look, search no further than the party dress, Schwartz said. Adding a big pearl necklace and faux fur stole gives the look a touch of sophistication without dipping into pretention.
As seen on "GMA":
Dress from H&M, $40
Bag from Marshall's, $17
Shoes from LuLus.com, $37
Faux fur stole from Target, $39
All jewelry from HSN -- "Rose in Bloom" Three-Row Simulated Pearl 24" necklace, $44.95; Sunburst Cocktail Ring, $39.95; "Sparkling Scarab" Green Adventurine Ring with Crystal, $59.95; Big Bold Ring, $59
The Vintage Find
Schwartz said that vintage shopping is one of her favorite fashion pastimes, and for good reason. Just a quick trip to New York's Housing Works and she nabbed a rare dress by Jovani.
"Not only does it pay to hunt for deals with vintage shopping, but you'll have a look that no one else does at the party," Schwartz said.
As seen on "GMA":
Dress from ShopHousingWorks.com, $40
Bag from TJ Maxx, $17
Shoes from DSW, $50
All jewelry from HSN -- "Let's Wrap It Up" Crystal-Accented Ribbon Ring, $59.95; "Suit Your Taste" Crystal-Accented Bold Ring, $99.95; "Serpentis" Goldtone Pave Snake Earrings with Stone Drop, $49.95
Affordable Holiday Party Dresses
The Little Black Dress Alternative
Every woman should own an LBD (little black dress), Schwartz said, but there's a time to give it a rest. A little black dress alternative can be another solid color with a classic shape. The look can be changed up with accessories, depending on the event.
As seen on "GMA":
Dress from Chadwicks, $29
Bag from Target, $17
Shoes from Zappos, $99
All jewelry from HSN -- "Go To" Beaded Chandelier-Style Drop Earrings, $18.95; "Old Hollywood" Stretch Bracelet, $69.95; Lulu's Bellini Necklace in Gold, $28; Wrap Yourself in Luxury Crystal Circle Ring, $19.95; Wrap Yourself in Luxury Dazzling Crystal Cuff Bracelet, $64.95
Going From Day to Night
Sometimes there's just not enough time to head home before the day's deliberations turn into the night's festivities.
But Schwartz knows there are some dresses that are perfect for both the office and the party, thanks to a few easy adjustments. A belted cardigan can help with a more conservative look for the day that can be ditched at night and replaced with some shiny jewelry for nighttime sparkle.
As seen on "GMA":
Dress from LuLus.com, $48
Bag from DSW, $29
Shoes from Charlotte Russe, $27
All jewelry from HSN -- The Hollywood Vintage Glamour Crystal Bracelet, $39.95; "Cocktail Party" Colored Stone Ring, $34.95; Clear Stone Station 18" Drop Necklace, $99.95
Affordable Holiday Party Dresses
Wear One Dress, Eight Ways
Designer Norma Kamali made a jersey dress for Walmart that can be worn eight different ways, depending on the occasion. It can be worn as a strapless dress, a halter top, with long sleeves or even as a skirt.
"Talk about bang for your buck," Schwartz said.
As seen on "GMA":
Dress from Walmart.com, $24
Bag from DSW, $27
Shoes from Zappos, $66
All jewelry from HSN -- Brilliantly Bold Large Crystal Knock Out Cuff, $129.95; Vintage Glamour Crystal Swirl Circle Earrings, $39.95; "Cocktail Party" Colored Stone Ring, $34.95