Three hundred and fourteen days after becoming a mother, tennis champion Serena Williams earned her spot in the finals at Wimbledon.
The 23-time Grand Slam champion beat out German player, No. 13 seed Julia Goerges, Thursday in a 6-2, 6-4 victory to advance to the women's final.
This will be Williams' 10th final at the All England Club, according to Wimbledon, putting her in position to tie Margaret Court's all-time record of 24 Grand Slam titles.
"It's crazy. I don't even know how to feel, you know, because literally, I didn't expect to do this well in my fourth tournament back," Williams, 36, said, according to the Associated Press. "I just feel like when I don't have anything to lose, I just can play so free, and that's kind of what I'm doing."
In Saturday's final, Williams, 36, will compete against another German player, No. 11 seed Angelique Kerber, herself a two-time Grand Slam champion. The two faced-off in the 2016 finals, where Williams was victorious.
"Whatever happens, honestly it's an incredible effort from me.... and good motivation to keep going for the rest of my career," Williams added.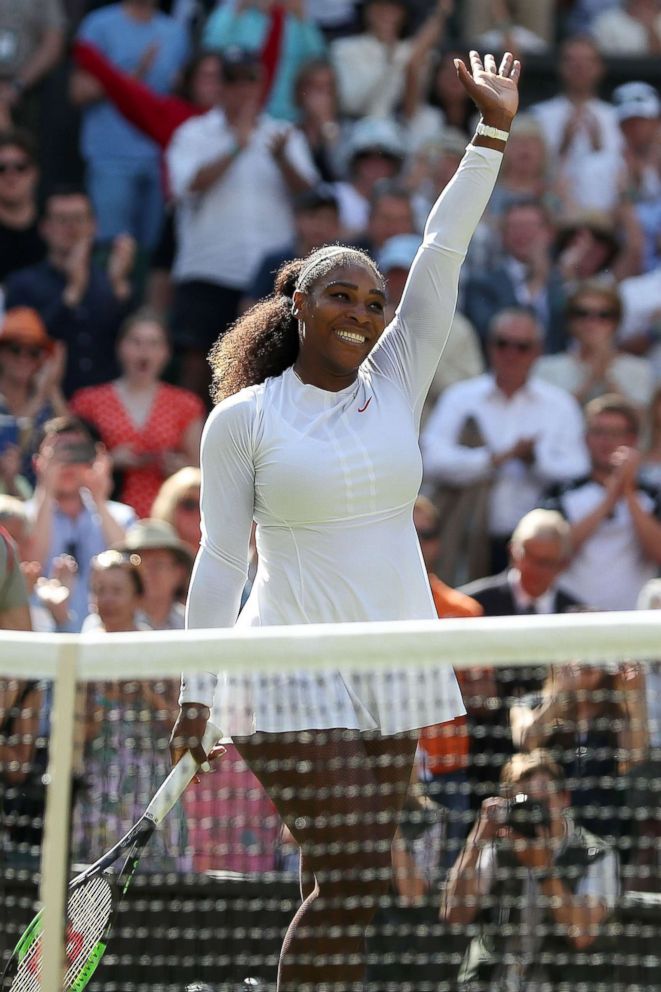 Williams was ranked 25th in this year's tournament after giving birth to a baby daughter in September. The All England Club amended the rules and seeded her, instead of following the ranking list that doesn't take into account players' taking a break for maternity leave. She was ranked No. 1 when she took her maternity leave and was ranked 183rd in the world after returning to the tour in March.
The tennis champion and her husband, Reddit co-founder Alexis Ohanian, welcomed a daughter named Alexis Olympia Ohanian Jr. Three months later, Williams and Ohanian, 35, wed in an intimate New Orleans ceremony.
Ahead of the tournament in London, Williams told "Good Morning America" that her body had changed after the baby.
"It wasn't as tight as I was used to," she said last month. "I've played tennis for over 30 years, so I'm so used to [being] incredibly fit. But I realized everyone is different."