The fight for trans rights is coming to a head.
GLAAD, the world's largest LGBTQ+ media advocacy organization, released an open letter Wednesday signed by over 465 feminist leaders in advocacy, business, entertainment, media, politics and social justice standing in solidarity with transgender women and girls in honor of Women's History Month and Transgender Day of Visibility.
Organized by GLAAD and Black transgender activist, Raquel Willis, the letter comes in response to the ongoing hateful and discriminatory rhetoric and attacks facing trans people, especially trans women and represents a clear and loud statement of solidarity between cisgender women, trans women and feminist allies.
The letter reads in part: "We all must fight against the unnecessary and unethical barriers placed on trans women and girls by lawmakers and those who co-opt the feminist label in the name of division and hatred. Our feminism must be unapologetically expansive so that we can leave the door open for future generations."
It goes on to say, "It is time for the long history of assaults (legislative, physical, social, and verbal) against trans women and girls to end. For far too long, lawmakers have worked to strip trans women of their civil liberties—in 2021, once again, we've seen a wave of bigoted governmental policies and legislation. Many of these laws target the rights of girls to play school sports or criminalize doctors for treating trans youth and their families. The women's movement has seen doctors targeted before for providing us with necessary medical care and services, and we refuse to let youth endure that now."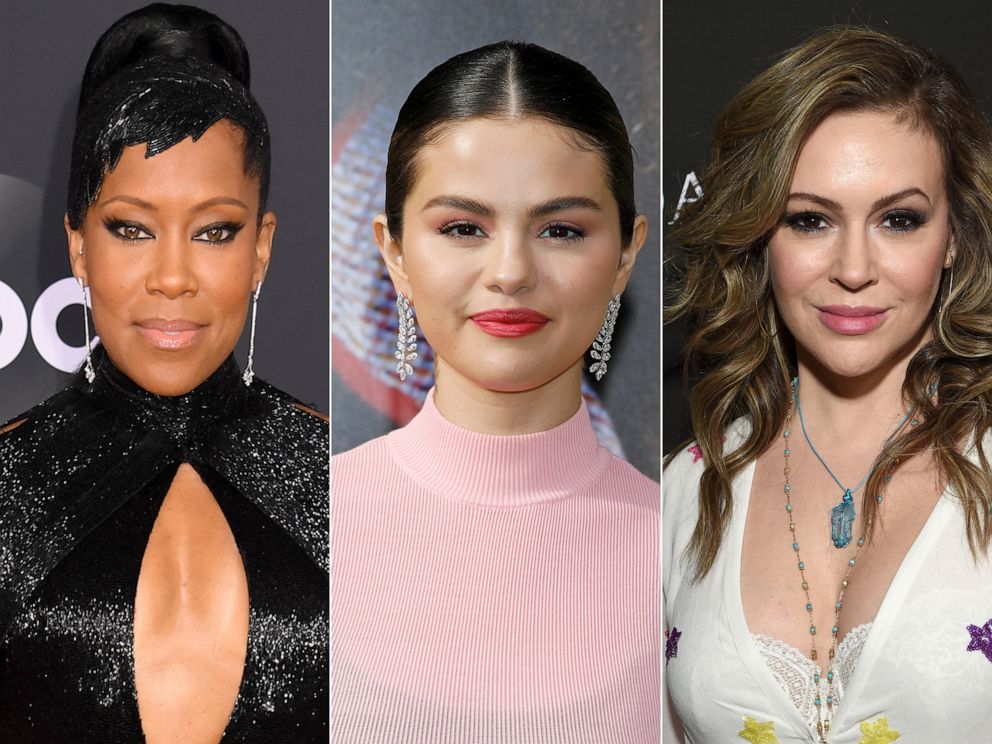 So far in 2021, state and federal lawmakers have introduced a number of bills to restrict the rights of trans women, people, and youth, most notably in terms of education, health care and youth sports.
As of today, there are 93 anti-trans bills across 28 states and some states are considering multiple bills, according to the Human Rights Campaign. In a report provided by the Human Rights Campaign to "Good Morning America" and ABC News, 48 anti-trans sports bills are currently in play, 29 anti-trans medical bills are up for consideration, along with 23 religious refusal bills, 12 bathroom-locker room bills, 5 conversion therapy protection bills, and 15 other bills across the U.S. related to anti-LGBTQ+ marriage, adoption, education and bills related to requiring birth certificates to reflect ones biological sex.
At the federal level, President Joe Biden shared his support for the transgender community, saying in part: "Transgender rights are human rights," while calling on Americans to uplift "the worth and dignity of transgender Americans."
GLAAD President & CEO Sarah Kate Ellis told "GMA,": "As the epidemic of violence facing trans women continues to grow, and while lawmakers relentlessly attack the rights and dignity of trans youth across this country, this letter is a loud and powerful statement of solidarity with trans women and girls that needs to be heard right now."
"On Trans Day of Visibility, this letter, signed by some of the biggest names across industries, sends an unwavering message to trans women and girls around the world that they are seen and loved for exactly who they are: women and girls," she added.
Here's the full list of who signed the open letter as of March 31:
The 3% Movement
Adrienne Hayes
Adsit Media, LLC
Aesha Rasheed
Afua Addo
Ai-jen Poo
Aisha C. Mills
Akilah Hughes
Alana Mayo
Alexandra Cotutiu
Alexis McGill Johnson
Alicia Garza
Alice Wong
Alison Brie
Alison Mariella Désir
Alison Turkos
Allana Giesbrecht
The Alliance of AIDS Services-Carolina
Allie X
Alana Mayo
Alex Johnson
Alexis Flanagan
Alexis McGill-Johnson
Aleyamma Mathew
Ali Krieger
Alma Har'el
Alyson Stoner
Alyssa Milano
Amanda Lindell
Amber Tamblyn
Amelie Zilbur
America Ferrera
American Association of University Women
Aminatou Sow
Amiyah Scott
Amoretta Morris
Amy Poehler's Smart Girls
Amy Schumer
Ana Romero
Anandrea Molina
Andrea Jenkins
Angela Kayleigh
Angela Yannelli
Anna Julia Cooper Center
Anna Maiche
Anna Wintour
Annika Gifford
Annise Parker
API Chaya
Ariadne Getty
Aria Sa'id
Ariel Wengroff
Asanni Armon
Ashlee Marie Preston
Ashley Belanger
Ashley Holland
Ashley Judd
Ashley Romans
Ashlyn Harris
Astraea Lesbian Foundation for Justice
Athlete Ally
Auburn Seminary
Barbara Simon
Barbara Smith
Beanie Feldstein
Beautiful Ventures
Becca McCharen-Tran
Beckie Masaki
Bella Hadid
Bevy Ross
Black and Pink, Inc.
Black AIDS Institute
Black Feminist Future
Black Futures Lab
Black Trans Femmes in the Arts
Black Trans Woman, Inc.
Black Visions Collective
Black Women Radicals
Blair Imani
Borealis Philanthropy
Bozoma Saint John
Brave Space Alliance
BreakOUT!
Brie Larson
Brianna Turner
Bridget de Gersigny
Brittany Packnett Cunningham
Brown Boi Project
A Call to Men
Cara Delevingne
Carlie Hanson
Catherine Beane
Catherine Lutes
Cathy Renna
Cecile Richards
Celinda Lake
Center for Advancing Innovative Policy
The Center for Hope and Healing, Inc
Ceyenne Doroshow
Chani Nicolas
Charlotte Clymer
Charlene Carruthers
Charlie Jane Anders
Chelsea Clinton
Cheryl Dunye
Christel Miller
Christian Nunes
Christina Ricci
CHROMAT
Cindi Leive
Cleo Wade
COLLECTIVE FUTURE FUND
Colleen Psomas
Collette Carter
Community EsTr(El-La)
CONNECT, Inc.
Cristin Milioti
Curtis Stauffer
Curve Magazine
Cynthia Erivo
Daisy von Scherler Mayer
Daniella Carter
Daniella's GuestBook
Danielle Moodie
Daroneisha Duncan-Boyd
Darra Gordon
Dawn Dalton
Dawn Ennis
Dawn Prestwich
Deborah Edel
Denise Beek
Destiny Ekaragha
Diamond Stylz
Diana Bang
Diana Rodriguez
Diane Anderson-Minshall
DC Coalition Against Domestic Violence
Dominique Morgan
Donnetta Lavinia Grays
Eileen Cadena
Elena Vera
Eliza Clark
Ella Hunt
Elliot Fletcher
Emergent Strategy Ideation Institute
Emily Fuller
Emily Tisch Sussman
Erin Hershey
Erin Jontow
Erin Wruk
Eva Longoria
Evonne Kaho
Familia: Trans Queer Liberation Movement
Felicia Davis
Felicia Day
FEMINIST GIANT
For The Gworls
Francine Stark
Free The Work
Freedom Inc.
Futures Without Violence
Gabrielle Union
GALECA: The Society of LGBTQ Entertainment Critics
Gathering Strength Collective
Geena Rocero
Gender Benders
Georgia Coalition Against Domestic Violence
Gianna Porcaro
Gillian Branstetter
Girls for Gender Equity
Giselle Byrd
GLAAD
GLITS, Inc.
GLSEN
Gloria Steinem
GO Magazine!
Grace Bonney
Gwendolyn Pointer
Haitian Women for Haitian Refugees
Halle Berry
Haley Videckis
Hand in Hand: The Domestic Employers Network
Hani Ali
HEART Women & Girls
Hey, King!
House of GG
House of Tulip
Ianne Fields Stewart
ID PR
Idaho Coalition Against Sexual & Domestic Violence
Ilana Glazer
Imani Rupert-Gordon
Imara Jones
Indigenous Idaho Alliance
Iowa Coalition Against Domestic Violence
Isa Noyola
Ivy Hill
Jaimee Swift
Jamilah Lemieux
Jane Doe Inc.
Janelle Monáe
Jasmine Burnett
Jazmine Walker
Jeannette Pai-Espinoza
Jenna Wortham
Jennifer Barnes-Balenciaga
Jennifer Finney Boylan
Jennifer Kaytin Robinson
Jennifer Morris
Jennifer Schuur
Jenny Slate
Jessica Hartley
Jessica Tillyer
JingleTown Films, Inc.
JJ Mejasic
Joan Nestle
Joanna Hoffman
Joanne N. Smith
Joey Soloway
John Wells Productions
Jordyn Jay
Judith Light
Julianne Moore
Justin Tranter
Kabzuag Vaj
Kalayo Pestano
Karen Tronsgard-Scott
Karimah Dillard-Mickey
Kat Cunning
Kat Gordon
Kat Graham
Kate Kelly
Katie Edgerton
Katie French
Kathryn Hahn
Kathy Godwin
The Katz Company
Kayla Gore
Kayli Carter
Kelly Bush Novak
Kelly Miller
Kentucky Coalition Against Domestic Violence
Kiersten Stewart
Kifu Faruq
Kimberlé Crenshaw
Kimberly Drew
Kira Kelly
Klarissa Oh
Koa Beck
Lake Research Partners
Laraine Newman
Rev. Latishia James-Portis
Lauren Conk
Lauren Groff
Lauren Hamilton
Lauren Wolkstein
Laverne Cox
Layshia Clarendon
Leanne Pittsford
Legal Momentum, the Women's Legal Defense and Education Fund
Lea DeLaria
Lena Dunham
Lena Waithe
Lesbian Herstory Archives
Lesbians Who Tech and Allies
Leslie Mac
NY Attorney General Letitia James
Lexi Underwood
Lisa Anderson
LGBTQ Victory Fund
LGBTQ Victory Institute
Li Ann (EStrella) Sanchez
Liat Olenick
Liliahn Majeed
Lilly Singh
Lindsay Peoples Wagner
Lisa Anderson
Lisa Silverberg
Lisa Turner
Liz Jenkins
A Long Walk Home
Lori Lindsey
Love Me Unlimited4life
Lovelace Consulting Services, Inc.
The Loveland Foundation
LPAC
M Adams
Madison Bailey
Madison Hinton
Madison Werner
Maggie Chieffo
Maggie Lindemann
Maine Coalition to End
Domestic Violence
Masada Jones
Miss Major Griffin-Gracy
March On
Mari Jo Winkler
Mariah Moore
Marilyn Willis
Marin Ireland
Marsha's Plate Podcast
Mary Filar
Mary Emily O'Hara
Matahari Women Workers' Center
Maura Bairley
Maurissa Tancharoen
Maxine Wolfe
Maya Wiley
Mayim Bialik
Medicine Bowl
Megan Rapinoe
Mekong NYC
Melanie Willngham-Jaggers
Melinda Weekes-Laidlow
Melissa Etheridge
Melissa Haithcox-Dennis
Melissa Harris-Perry
Men As Peacemakers
Meredith Walker
The Meteor
Me Too Movement
Michelle Gislason
Mijente
Minnesota Indian Women's Sexual Assault Coalition
Miriam Shor
Mj Rodriguez
Molly Bernard
Mona Eltahawy
Monica Dennis
Monica Simpson
Morgan Gwenwald
Morgana Kelly
Munroe Bergdorf
Ms. Foundation
My Sistah's House
Nadiah Mohajir
Nagma Shrestha
Natalie Gold
Natalie London
Natalie Pratt
Natasha Cloud
Natasha Lyonne
National Center for Lesbian Rights
National Crittenton
National Domestic Workers Alliance
National LGBTQ Task Force
National Network to End Domestic Violence
National Resource Center on Domestic Violence
National Women's Law Center
Nervous Circus
New Jersey Coalition to End Domestic Violence
New York City Anti-Violence Project
NYS Coalition Against Domestic Violence
Nicole Eisenberg
Nicole Matthews
Nicole Morella
Noor Tagouri
Oaasis
Ohio Domestic Violence Network
The Okra Project
Olga Trujillo
Olivia Spradlin
Organizacion Latina Trans In Texas
Outsports
Pamela Jacobs
Pamela Stewart
Paola Mendoza
Parenting for Liberation
Paris Hatcher
Rep. Park Cannon
Patrisse Cullors
Miss Peppermint
The Perception Institute
PFLAG National
Planned Parenthood Federation of America
Pride Media
Pride Live
ProcessMatters, LLC
RALIANCE
Ramp Your Voice!
Range Media Partners
Raniyah Copeland
Rachel Cargle
Rachel Carmona
Raquel Willis
Rebecca Bass
Rebecca Cokley
Rebecca Ferguson
Rebecca Livengood
Rebecca Macias
Red Canary Song
Reductress
Regina King
Re-inc
Renee Bracey Sherman
Resonance Network
Rinku Sen
Root. Rise. Pollinate!
Rosie Abriam
Rosie Perez
S.O.U.L. Sisters Leadership Collective
Sage Dolan-Sandrino
Saleka
Sandra Bernhard
Sarah Kate Ellis
Sarah McBride
Sarah Pappalardo
Sarah Paulson
Sarah Sophie Flicker
Scheherazade Tillet
Selena Gomez
Serena Sonoma
Sesali Bowen
The Sex Workers Project of the Urban Justice Center
Shar Jossell
Soko
Solutions NOT Punishment Collaborative
Sonya Taylor
South Carolina Coalition Against Domestic Violence and Sexual Assault
Southern Fried Queer Pride
Southerners On New Ground (S.O.N.G.)
SpecialGuest Co.
Suma Mathai
Supermajority Education Fund
Suzy Nakamura
Tahirih Justice Center
TAKE Resource Center
TAYLOR ALXNDR
Taylor Plecity
Tatiana Maslany
TEAM Mag
Tegan and Sara
Teresa C. Younger
Tess Holliday
Tewa Women United
TGIJP
Theresa McClellan
The Trevor Project
Three Point Strategies
Tiffany Boone
Tiffany R. Warren
TIME'S UP Foundation
Toni-Michelle Williams
Topple
TRANScending Barriers Atlanta
Trace Lysette
Tracy Gilchrist
Tracy Weitz
Transgender Law Center
Trans Lifeline
The Trevor Project
Trina Brown
Trish Bendix
Universal Music Group
Uzo Aduba
ValorUS
Veena Sud
Vermont Network Against Domestic and Sexual Violence
VietLead
Viveka Chen
Wanda Sykes
Washington State Coalition Against Domestic Violence
We Testify
Whembley Sewell
Women for Economic Justice
Women's March
YWCA USA
Zoe Kazan
Zoe Lister-Jones