High five! Want to laugh out loud? No worries. Borat is back. Comic revolutionary Sacha Baron Cohen has cruelly made us wait 14 years for "Borat: Subsequent Moviefilm," the sequel to his global smash about Borat Sagdiyev, the shamelessly offensive TV journalist from Kazakhstan. Maybe this British virtuoso, currently showing his dramatic chops in "The Trial of the Chicago 7," was holding back until he could use his scathing wit to confront the horrors of a global pandemic, a divisive presidential election, the Black Lives Matter movement, arguments over abortion rights and #MeToo, a resurgence of homophobia and Holocaust denial, plus the ugly implications of social media. The targets keep coming. You'll laugh till it hurts, which is Cohen's point, which has always been the point of the great satirists from Jonathan Swift to Lenny Bruce, John Oliver and, yes, Cohen. He's that good.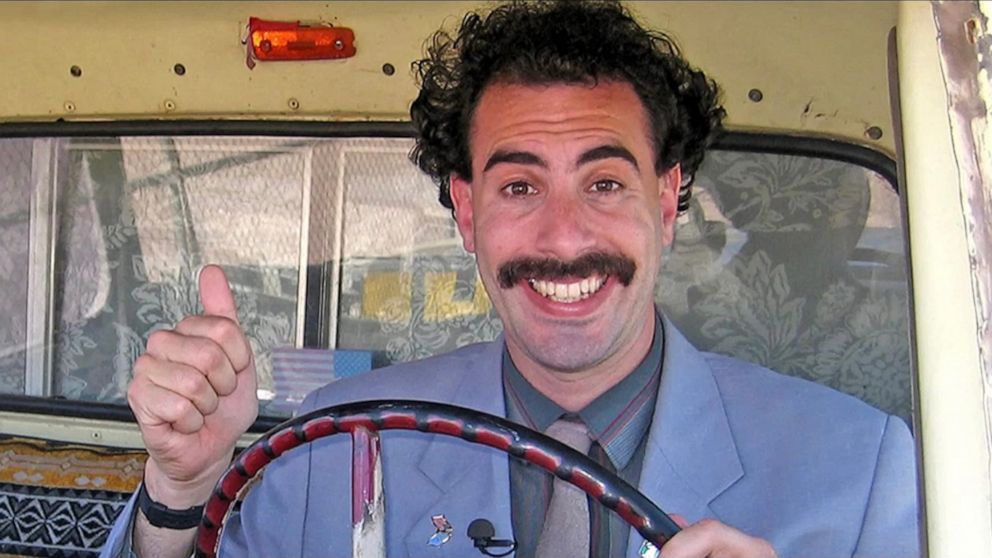 Of course this new "Borat," filmed in secret during the pandemic, can't recapture the cathartic shock of the first. Borat, in his rumpled gray suit, is now a recognizable icon. He must resort to disguises such as a fat suit to look like "McDonald Trump." After working on a chain gang as punishment for disgracing his country, Borat is offered a reprieve by the Kazakhstan premier if he can return to America and bribe Vice President Mike Pence with a gift so the premier can join "the strongman club." Borat suggests his underage daughter, Tutar, played with scene-stealing, Oscar-worthy gusto by Maria Bakalova. In Borat's eyes, Tutar—raised in a cage, per tradition—merely needs breast implants and debutante training to be worthy of the conservative politician, whom Borat deems "America's most famous ladies' man." It's at a Pence rally that Borat, in a Trump fat suit, tries to deliver his daughter to what looks like a vastly unamused vice president.
Getting it worse than Pence is Rudy Giuliani, Trump's personal lawyer, who submits to an on-camera interview with Tutar, who claims she's a foreign journalist. Giuliani smiles and flirts embarrassingly with the self-proclaimed 15-year-old reporter during and after the interview in his adjoining bedroom. Giuliani has since taken to Twitter to claim that at no time, despite the editing of the scene, "was I ever inappropriate."
As directed by Jason Woliner ("Parks and Recreation") from a script credited to eight writers, this "Borat" sequel is frustratingly hit-and-miss. What's new is the touch of empathy that edges into Baron Cohen's usual pitiless approach. Something near genuine feeling creeps into Borat's relationship with his daughter. And that's genuine shame Borat feels after entering a Georgia synagogue wearing a prosthetic nose and carrying a bag of money only to be comforted by two elderly Jewish women. Has Baron Cohen gone soft, or is he speaking to his own history as a devout Jew who wrote his thesis at Cambridge on the role of Jewish people in the civil rights movement? Baron Cohen dedicates his film to one of those women, a Holocaust survivor who died this year and whose family is suing to remove her from the movie. The rap against the filmmaker is that audiences might mistake his satire for support of our worst instincts as humans. In "Borat: Subsequent Moviefilm," streaming on Amazon starting Oct. 23, Baron Cohen continues to walk that tightrope. And we're all the better for it.
Download the all new "Popcorn With Peter Travers" podcasts on Apple Podcasts, Spotify, Tunein, Google Play Music and Stitcher.