'Dancing with the Stars' pro Sharna Burgess opens up about childbirth, her postpartum recovery
"I am in love with the experience," she said about motherhood.
"Dancing with the Stars" pro Sharna Burgess says she's "recovered" following the birth of her son, Zane Walker Green.
She opened up about life after pregnancy and gave a glimpse into parenthood during an interview with ABC News' Kayna Whitworth that aired Friday on "Good Morning America."
"I am in love with the experience," Burgess said. "I'm doing great. I feel amazing. I'm grateful for the way that I've recovered and I'm so grateful for our little boy."
Burgess and her partner, "Beverly Hills, 90210" star Brian Austin Green, welcomed Zane in June. Burgess shared the news in an Instagram photo showing the baby clutching Green's finger.
Zane is the couple's first child together, but Green's fifth boy.
"I love being a parent. It's amazing," Green told "GMA." "Some people are cut out for other aspects of life, and I just love parenting."
Burgess chimed in, adding: "Knowing that he's so experienced, it keeps me calm. You imagine all the things that can go wrong with your baby, and I thought, gosh, am I crazy? And he was like, 'No baby, it's normal.'"
Childbirth and 'intense' postpartum recovery
Nearly a month after giving birth, Burgess took to Instagram to share her experience with having a C-section -- something she wasn't expecting to go through.
"I went into it saying, 'I don't want a birth plan because I don't want to go in and have it suddenly changing on me.' But I also didn't, for some reason, think I was going to have a C-section," she told "GMA." "I didn't research it. I didn't know what my recovery would be."
After more than 30 hours of labor, not dilating enough and having a little scare from Zane with his heart rate dipping too much, Burgess's doctor suggested a C-section. "That first week, I couldn't ... you couldn't get out bed on your own," she noted.
"That's not true," Green cut in. "She's an athlete. She got up and was walking around her hospital room the next day."
Green, who competed on season 30 of "DWTS" with Burgess by his side, was also on the mend at the time after suffering from ulcerative colitis, an inflammatory bowel disease that irritates and ulcerates the lining of the large intestine and rectum, according to the National Institute of Diabetes and Digestive and Kidney Diseases.
The organization states that symptoms gradually worsen over time in some cases, but can start suddenly in others. Most commonly, symptoms include diarrhea, abdominal pain and cramping, rectal bleeding, weight loss and fatigue. In some cases, however, the disease can cause "serious complications that develop quickly and be life-threatening."
"I'm feeling great. I'm feeling really good, and I haven't had any sort of flare-ups or anything like that," Green said. "I was bedridden while she was pregnant. She's doing all these things and I can't help with any of them. I obviously didn't mean to get sick but, man, what an inopportune time."
Life as parents
These days, the couple is enjoying parenthood. They told "GMA" that Green's sons have also embraced having Zane around.
"They are obsessed with him," Burgess said.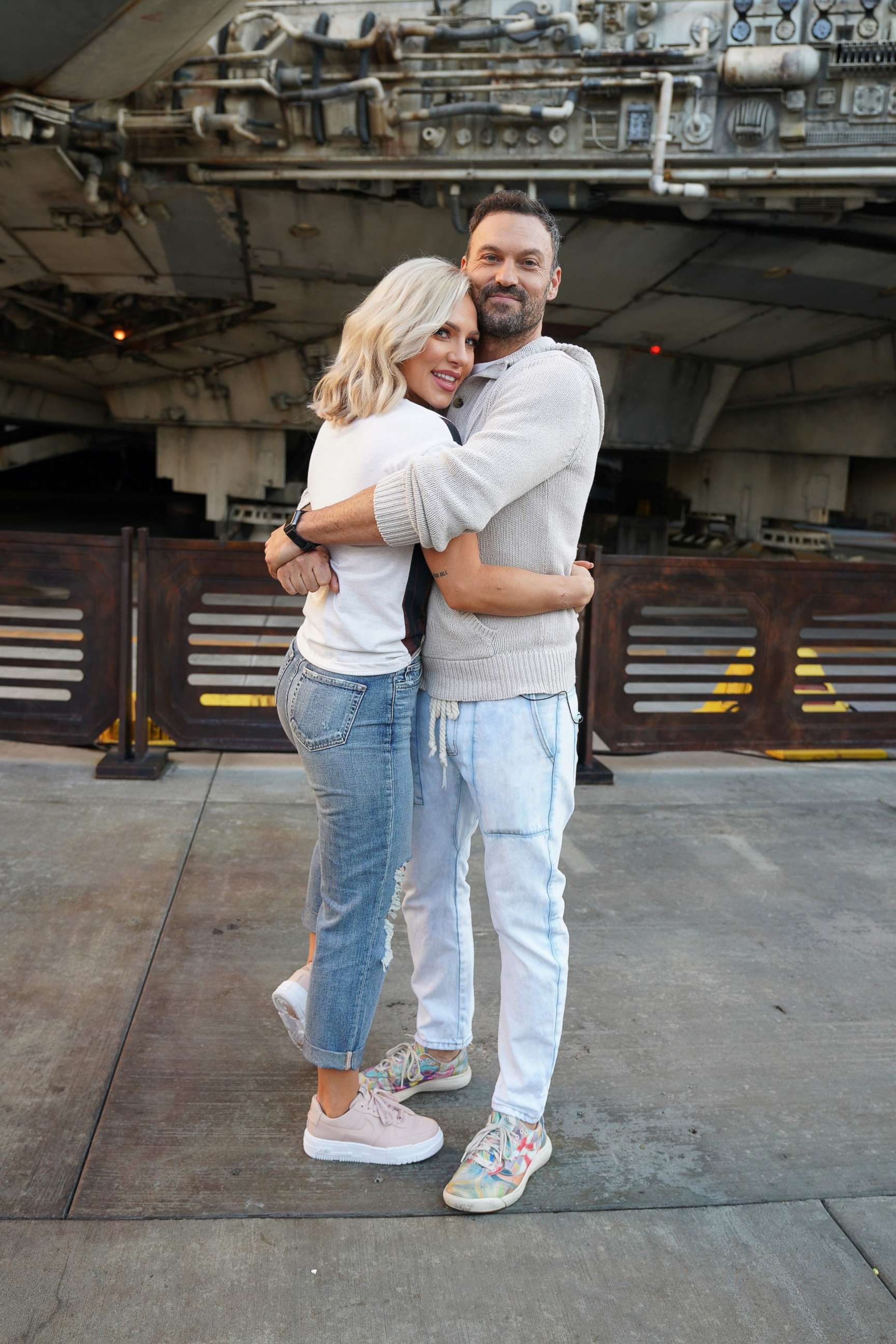 While Green said there are "no new kids on the horizon right now" for then, the "DWTS" pro reflected on the positive changes motherhood has had and will continue to have on her life.
"I'm so excited for this new version of me that is a nurturing, caring, dedicated mom," she said. "I love this new blend of me, and I'm so excited to see where that takes me."