Kim Kardashian West has gone from working to free inmates whom she feels are wrongly imprisoned to helping those recently-released to get back on their feet.
Interested in
Kardashians?
Add Kardashians as an interest to stay up to date on the latest Kardashians news, video, and analysis from ABC News.
The reality star, businesswoman and activist posted a slew of behind-the-scenes images from her visit to the White House earlier this month, where she and President Trump spoke about her ongoing work with criminal justice reform.
"Since the passage of the First Step Act in December, I've been speaking with people coming home from prison and learning about the challenges they are facing," Kardashian West wrote on Monday. "While I have been able to offer support to some of the individuals I have met, the obstacles to success are an everyday struggle for thousands and more needs to be done."
She continued, "It was an honor to take part in the announcement that the administration and private sector will be stepping up to create opportunities for these men and women to succeed once home."
Earlier this month, Kardashian West touted her partnership with the ride sharing company Lyft which will help provide former inmates with transportation services.
In her latest post, she's asking for other companies to step up to the plate and also help the less fortunate.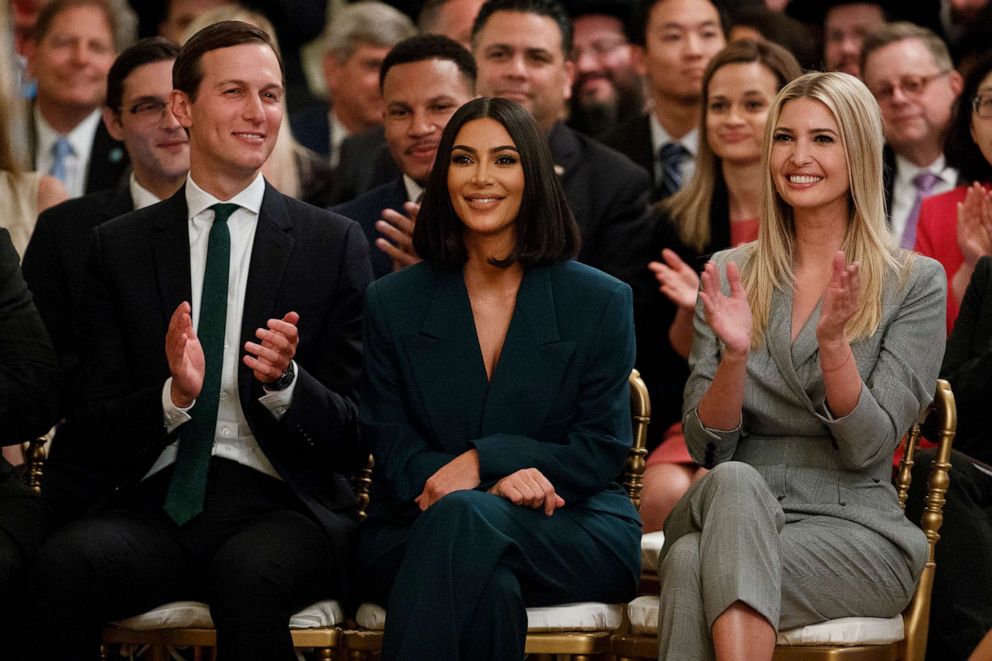 "If there are any other companies who would like to step up, we would welcome the support," she added. "At the moment we have a particular need for cell phones and minutes so that these people can communicate with potential employers and with their loved ones."
Kardashian West spoke at the White House in early June about the new initiative to help those just getting out of prison. The event also featured employers who give former inmates "second-chance jobs," including former inmates talking about the advantages they've had from the new program.
Kim Kardashian West speaks at White House event: "It really is such an honor to be here today, so thank you. My whole journey with criminal justice reform started about a year ago when I came to see the president" https://t.co/iCt3nF3csg pic.twitter.com/i0O26rhifA

— ABC News Politics (@ABCPolitics) June 13, 2019
"I just wanted to thank the president for standing behind this issue," she said, turning toward Trump who was looking on beside her.
Trump called her remarks "beautiful."
This is just part of ongoing work Kardashian West has done in the effort to help reform our justice system.
In a widely-reported interview for Vogue earlier this year, Kardashian West reveals she's reading tort law books as she is enrolled in a four-year apprenticeship with plans to take the bar exam in 2022. The reality star-turned-icon is working with Van Jones, attorney Jessica Jackson and others on criminal justice reform beyond the Johnson case, and it's that work that prompted her to pursue the study of law.