October is the month for scary movies and there are plenty of them coming to streaming services.
From classics like "The Shining" on Netflix and "The Amityville Horror" on Amazon to scary originals like Hulu's monthly horror franchise "Into the Dark," which launches Oct. 5, and Netflix's "The Haunting of Hill House," which debuts Oct. 12.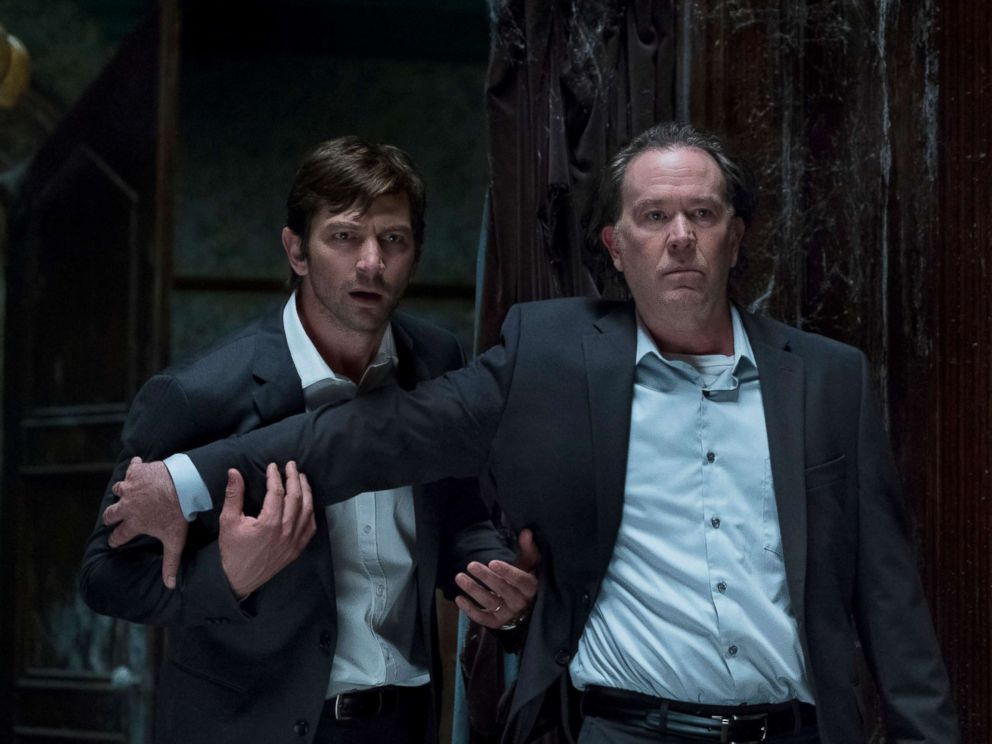 If scary isn't your thing, there are the original Netflix films "Private Life," starring Kathryn Hahn and Richard Paul Giamatti as a couple desperate to have a child, and "22 July," Paul Greengrass' ticktock of the 2011 Norway attacks. Amazon also launches its new original series, "The Romanoffs."
As always, there are plenty of beloved films including "Platoon" on Hulu and "Blazing Saddles" on Netflix.
For all of October's Netflix, Hulu and Amazon listings, see the roundup below.
Netflix
Oct. 1
10,000 B.C.
Angel Eyes
Anger Management
Billy Madison
Black Dynamite
Blade
Blade II
Blazing Saddles
Empire Records
Gotham: Season 4
Kevin Hart: Laugh at My Pain
Kevin Hart: Seriously Funny
Must Love Dogs
My Little Pony Equestria Girls: Rollercoaster of Friendship
Mystic River
New York Minute
Once Upon a Time in America
Pay It Forward
Pee-wee's Big Adventure
Robin Hood: Prince of Thieves
Rumble in the Bronx
She's Out of My League
Sommersby
The Dead Pool
The Devil's Advocate
The Green Mile
The Lake House
The NeverEnding Story
The Shining
V for Vendetta
Zack and Miri Make a Porno
Oct. 2
Joe Rogan: Strange Times-- NETFLIX ORIGINAL
MeatEater: Season 7-- NETFLIX ORIGINAL
Monty Python: The Meaning of Live
Monty Python's Life of Brian
Oct. 3
Oct. 4
Creeped Out-- NETFLIX ORIGINAL
The Haunting of Molly Hartley
Violet Evergarden: Special: Extra Episode
Oct. 5
Big Mouth: Season 2-- NETFLIX ORIGINAL
Dancing Queen-- NETFLIX ORIGINAL
Élite-- NETFLIX ORIGINAL
Empire Games-- NETFLIX ORIGINAL
Little Things: Season 2-- NETFLIX ORIGINAL
Malevolent-- NETFLIX FILM
Private Life-- NETFLIX FILM
Super Monsters Save Halloween-- NETFLIX FILM
Super Monsters: Season 2-- NETFLIX ORIGINAL
The Rise of Phoenixes-- NETFLIX ORIGINAL (Streaming Every Friday)
YG Future Strategy Office-- NETFLIX ORIGINAL
Oct. 6
Oct. 8
Disney's Sofia the First: Season 4
Mo Amer: The Vagabond-- NETFLIX ORIGINAL
Oct. 9
Terrace House: Opening New Doors: Part 4-- NETFLIX ORIGINAL
Oct. 10
22 July-- NETFLIX FILM
Pacto de Sangue-- NETFLIX ORIGINAL
Oct. 11
Salt Fat Acid Heat-- NETFLIX ORIGINAL
Schitt's Creek: Season 4
Oct. 12
Apostle-- NETFLIX FILM
Errementari: The Blacksmith and the Devil-- NETFLIX FILM
Feminists: What Were They Thinking?-- NETFLIX ORIGINAL
FightWorld-- NETFLIX ORIGINAL
ReMastered: Who Shot the Sheriff-- NETFLIX ORIGINAL
Tarzan and Jane: Season 2-- NETFLIX ORIGINAL
The Boss Baby: Back in Business: Season 2-- NETFLIX ORIGINAL
The Curious Creations of Christine McConnell-- NETFLIX ORIGINAL
The Haunting of Hill House-- NETFLIX ORIGINAL
The Kindergarten Teacher-- NETFLIX FILM
Oct. 15
Octonauts: Season 4
The Seven Deadly Sins: Revival of The Commandments-- NETFLIX ORIGINAL
Oct. 16
Ron White: If You Quit Listening, I'll Shut Up-- NETFLIX ORIGINAL
Oct. 19
Accidentally in Love-- NETFLIX ORIGINAL
Ask the Doctor-- NETFLIX ORIGINAL
Best.Worst.Weekend.Ever.: Limited Series-- NETFLIX ORIGINAL
Derren Brown: Sacrifice-- NETFLIX ORIGINAL
Distrito salvaje-- NETFLIX ORIGINAL
Gnome Alone-- NETFLIX FILM
Haunted-- NETFLIX ORIGINAL
Hip-Hop Evolution: Season 2-- NETFLIX ORIGINAL
Illang: The Wolf Brigade-- NETFLIX FILM
Larva Island-- NETFLIX ORIGINAL
Making a Murderer: Part 2-- NETFLIX ORIGINAL
Marvel's Daredevil: Season 3-- NETFLIX ORIGINAL
The Night Comes For Us-- NETFLIX FILM
Wanderlust-- NETFLIX ORIGINAL
Oct. 21
Robozuna-- NETFLIX ORIGINAL
Oct. 23
ADAM SANDLER 100% FRESH-- NETFLIX ORIGINAL
Oct. 24
Bodyguard-- NETFLIX ORIGINAL
Oct. 25
Oct. 26
Been So Long-- NETFLIX FILM
Castlevania: Season 2-- NETFLIX ORIGINAL
Chilling Adventures of Sabrina-- NETFLIX ORIGINAL
Dovlatov-- NETFLIX FILM
Jefe-- NETFLIX FILM
Shirkers-- NETFLIX ORIGINAL
Terrorism Close Calls-- NETFLIX ORIGINAL
Oct. 27
Girl from Nowhere-- NETFLIX ORIGINAL
Oct. 28
Patriot Act with Hasan Minhaj-- NETFLIX ORIGINAL (Streaming Every Sunday)
Oct. 30
Fate/EXTRA Last Encore: Illustrias Geocentric Theory-- NETFLIX ORIGINAL
Girl from Nowhere-- NETFLIX ORIGINAL
Oct. 31
Goldie & Bear: Season 2
GUN CITY-- NETFLIX FILM
Amazon
Available for Streaming on Prime Video
Oct. 1
Series

Growing Pains, Seasons 1-7
Happily Never After, Season 1
Paradox, Season 1
Pushing Daisies, Seasons 1-2
Ravenswood, Season 1
Scorned: Love Kills, Season 1
Silent Witness, Seasons 1-21
Spaced, Seasons 1-2
The Thick of It, Seasons 1-4
Trust, Season 1
V., Seasons 1-2
Movies

88
[REC] 4: Apocalypse
5up 2down (Getting High
A Boy Called Hate
Adventure Scouts
Almost Mercy
America: Imagine the World Without Her
American Meltdown
Among Thieves
An Affirmative Act
An American Werewolf in Paris
An Eye for an Eye
Appetite
Assassins' Code
Bad Karma
Being Canadian
Beta Test
Betrayal (Lady Jayne: Killer)
Bitter Moon
Blue Ridge Fall (End of Innocence)
Blue Steel
Boricua
Break A Leg
Bulletproof Monk
Call Me
Candyman: Farewell to the Flesh
Caroline?
Carrie
Casting Couch
Child's Play
Cold Deck
Comic Book Villains
Connecticut Yankee in King Arthur's Ct
Counter Measures
Creator
Curse of Chucky
Dark Blue
Deadly Blessing
Deadly Closure (Armed and Deadly)
Death Wish 2
Deceptions
Destination Wedding
Diabolique
Dirty Work (Bad City)
Driving Force
Duress
Election
Extreme Justice
Flatliners
Flyboys
Foreign Fields
Frank and Jesse
Frankie & Johnny
Frauds
Full Metal Jacket
Funny Money
Game Changers
Get Smart
Go Against the Flow
Gods and Monsters
Gone Dark
Good Enough
Handsome Harry
Happy Event
Henry's Crime
Homage
Honeymoon
Hot Tub Time Machine
I am Dina
Il Sogno Nel Casello
Imagine a School....Summerhill
Imagine I'm Beautiful
In Her Defense
Intimate Affairs
It Ain't Pretty
Jackboots on Whitehall
Jeepers Creepers 2
Jigsaw Man
Jim Norton: Please Be Offended
Joe the King
Judgement in Berlin
Kalamity
Kalle and the Angels
Kettle of Fish
Kicking and Screaming
La Mission
Leading Man
Leave Me Behind
Legend
Let Me In
Life of Significant Soil
Love & Rage
Marine Life
Meeting Spencer
Men Without Jobs (Planet Brooklyn)
More Than a Game
Mulholland Drive
My Heroes Have Always Been Cowboys
My Name is Water
Nightbreed
No Vacancy
Nora
Once Bitten
Once Upon A Scoundrel
Orange County
Oxenfree
Pieces of April
Poltergeist lll
Ponchao
Prancer
Prince Brat and the Whipping Boy
Psychoanalysis
Raging Bull
Rap Sheet: Hip Hop and the Cops
Reasonable Doubt
Recipe for Love (A Mi Me Gusta)
Regresa
Resurrecting the Champ
Return of the Living Dead
Road from Erebus
Robocop
Robocop 2
Robocop 3
Sample People
Satan's Little Helper
Saving Banksy
Second to Die
September Morning
Sexting
Silver Hawk
Six Weeks
Something to Cheer About
Somewhere Slow
Spin
Split Image
Stage Beauty
Stand Up Guys
Starship Troopers
Strange Bedfellows
Sugar Mountain
Texas Chainsaw Massacre II
The Amityville Horror
The Arrival
The Black Knight Returns
The Breakup Artist
The Cell
The Eyes of Laura Mars
The Face of an Angel
The Fog
The General
The Guilty
The Hard Ride
The Hustle
The Illusionist
The Long Riders
The Myth of the Male Orgasm
The Number 23
The Peacemaker
The Perfect You (Crazy Little Thing)
The President's Mistress
The Presidio
The Rage: Carrie 2
The Raven
The Rescue of Jessica McClure
The Second Arrival
The Secret Life of Archie's Wife (Runaway Heart)
The Serpent's Kiss
The Skeleton Key
The Strangers
The Uninvited
The Way of the Gun
Threshold
Throttle
Tim Tebow: On a Mission
Train Driver's Diary
Trees Lounge
Wild Bill
Winter Break
Winter Passing
Year of the Gun
Zombies of Mass Destruction
Oct. 2
Series

*Extrano Enemigo (Prime Original series), Season 1
Barbelle, Season 1
Birth Stories, Season 1
Movies

Mighty Good: The Beatles
Never Goin' Back
Oct. 5
Series

*The Man in the High Castle (Prime Original series), Season 3
Oct. 6
Movies

A Prayer Before Dawn
Night of the Living Deb
Oct. 11
Series

Movies

Monster's Ball
Strangers: Prey at Night
Oct. 12
Series

*The Romanoffs (Prime Original series), Season 1
Oct. 13
Movies

Oct. 14
Movies

Oct. 16
Movies

Devil
Manieggs: Revenge of the Hard Egg
Oct. 17
Movies

Donnie Darko
The Daniel Tiger Movie: Won't You Be Our Neighbor?
Oct. 18
Movies

Oct. 19
Series

*Lore (Prime Original series), Season 2
*Tumble Leaf Halloween Special (Prime Original series), Special
Oct. 20
Movies

Oct. 25
Movies

Oct. 26
Movies

Bad Samaritan
*You Were Never Really Here (Prime Original movie)
Oct. 31
Movies

Hulu
Oct. 1
60 Days In: Complete Season 4
America's Book of Secrets: Complete Seasons 1 & 2
American Pickers: Complete Season 18
Ancient Aliens: Complete Season 4
Bob's Burgers: Season 9 Premiere
El Clon: Complete Season 1
Escaping Polygamy: Complete Season 3
Family Guy: Season 16 Premiere
Hoarders: Complete Season 9
Hunting Hitler: Complete Season 3
Intervention: Complete Season 20
Kingpin: Complete Season 1
Little Women: Atlanta: Complete Season 4
Little Women: LA: Complete Season 6
Married at First Sight: Complete Season 5
Nightwatch: Complete Season 3
The Simpsons: Season 30 Premiere
Storage Wars: Complete Season 11
The Curse of Oak Island: Complete Season 5
Undercover High: Complete Season 1
Ace Ventura: Pet Detective
Ace Ventura: When Nature Calls
American Psycho
American Psycho 2
An Eye for an Eye
Anaconda
Anacondas: The Hunt for the Blood Orchid
The Armstrong Lie
The Arrival
Barbie Presents: Thumbelina
Beacon Point
Bees Make Honey
Bitter Moon
The Blair Witch Project
The Blair Witch Project: Book of Shadows
Blue Steel
Bulletproof Monk
Call Me
Capture
Charlotte
Child's Play
Children of the Corn II: The Final Sacrifice
Cinderella Man
Closer
Cocaine Godmother
Comic Book Villains
Daddy Day Care
Dark Blue
Deadly Blessing
Death Wish 2
Double, Double, Toil and Trouble
Election
Evangeline
Extreme Justice
Flyboys
Frank and Jesse
Frank & Johnny
Frida
Galaxy Quest
The Glass Shield
Gods and Monsters
Gordy
Guess Who's Coming to Dinner
Heist
Hot Tub Time Machine
The House of Spirits
How to Get Girls
Insomnia
Jayne Mansfield's Car
Jim Norton: Please Be Offended
Joe the King
Kicking & Screaming
The Long Riders
More than a Game
Mullholland Drive
Music and Lyrics
The Music Never Stopped
The Night We Never Met
No Vacancy
Once Bitten
The Others
Pawn Shop Chronicles
The Peacemaker
Pieces of April
Platoon
Prancer
The Presidio
The Prophecy
Raging Bull
Reasonable Doubt
Rec
Rec 2
Rec 3
Rec 4
Robocop
Robocop 2
Robocop 3
Rust and Bone
Scary Movie
The Second Arrival
The Simone Biles Story
Six Weeks
The Son of No one
Split Image
Stage Beauty
Stand Up Guys
Starship Troopers
The Tailor of Panama
Texas Chainsaw Massacre II
Trees Lounge
Valley of the Dolls
The Way of the Gun
Wes Craven Presents: They
Wild Bill
Zombies of Mass Destruction
Oct. 2
The Nightmare Before Christmas
Oct. 3
Dheepan
Ma Ma
RBG
The Eye
Oct. 4
Cardcaptor Sakura: Clear Card (Dubbed): Complete Season 1
The Real Housewives of New Jersey: Complete Season 8
The Gospel According to Andre
Oct. 5
Into The Dark: The Body: Series Premiere (Hulu Original)
La Diosa Coronada: Complete Season 1
The Real Housewives of Atlanta: Complete Season 10
Station 19: Season 2 Premiere
Superstore: Season 4 Premiere
Will & Grace: Season 10 Premiere
Oct. 6
Child Support: Season 2 Premiere
Dot.: Complete Season 2A
Fresh Off The Boat: Season 5 Premiere
Speechless: Season 3 Premiere
Lowlife
Pyewacket
Oct. 8
Alguien Te Mira: Complete Season 1
Shark Tank: Season 10 Premiere
Oct. 10
Miles from Tomorrowland: Complete Season 3
What We Become
Oct. 11
The Quest of Alaine Ducasse
Oct. 12
Light as a Feather: Complete Season 1 Premiere (Hulu Original)
Oct. 13
Blindspot: Season 4 Premiere
Oct. 14
Basilisk: The Ouka Ninja (Dubbed): Complete Season 1
The Miracle Season
Oct. 15
The Alec Baldwin Show: Series Premiere
Birthday Girl
Next Stop Wonderland
Oct. 16
El Fantasma de Elena: Complete Season 1
Oct. 17
Black-ish: Season 5 Premiere
Splitting Up Together: Season 2 Premiere
The Conners: Series Premiere
The Kids Are Alright: Series Premiere
The Rookie: Series Premiere
Oct. 19
Darling in the Franxx (Dubbed): Complete Season 1
Oct. 22
Oct. 24
Overlord (Dubbed): Complete Season 2
Oct. 25
Oct. 26
Oct. 27
Midnight, Texas: Season 2 Premiere
Oct. 29
*The following are available with the SHOWTIME premium add-on:
Ray Donovan: Season 6 Premiere (10/28)