A plane carrying Prince Harry and Meghan Markle was forced to abort its landing as it carried the royal couple from Tonga to Australia.
The pilot on the Quantas charter plane aborted the initial landing due to another plane on the runway at Sydney Airport, according to ABC News' James Longman, who was traveling on the flight.
The plane was minutes from landing on the runway and immediately had to climb into a steep ascent to avoid the other aircraft.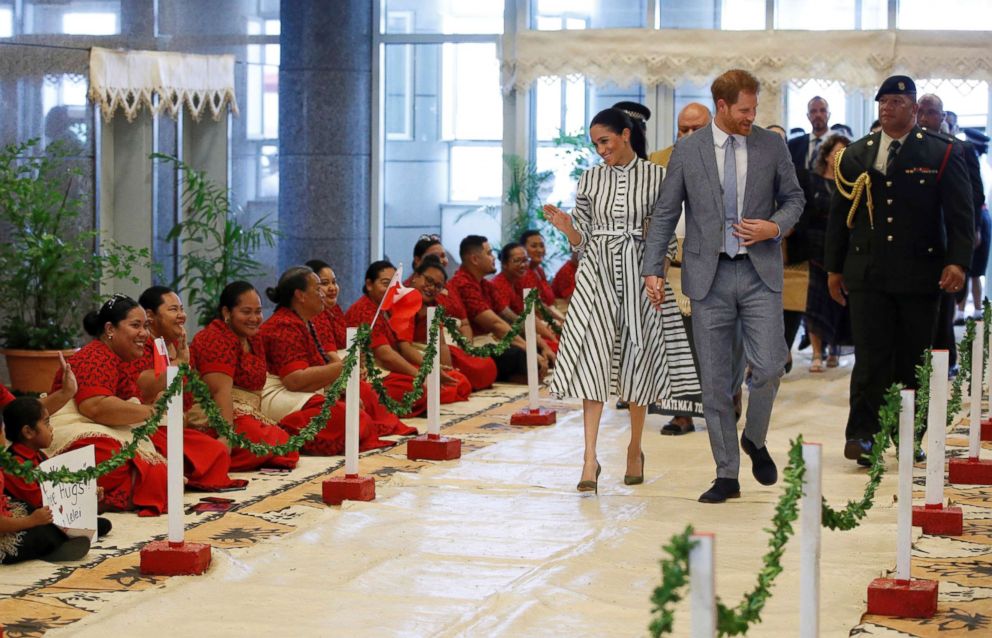 "There was an aircraft on the runway that was a little bit slow to roll, [that] unfortunately hadn't cleared the runway," Capt. Nigel Rosser, one of the plane's pilots, told passengers after the plane landed safely. "We were too close, so the decision was made to abort the landing. It was what we call a missed approach."
The pilots' professionalism caused no panic aboard the plane, even as the plane's passengers -- journalists and the royal party -- knew something was amiss. Prince Harry is a trained Apache pilot who served two tours of duty in Afghanistan.
The pilot joked the diversion allowed the royals and the press a second view of Sydney as Meghan and Harry returned to attend the closing days of the 2018 Invictus Games.
After arriving safely in Sydney, the Duke and Duchess of Sussex attended the Australian Geographic Society Awards, an "annual gathering of Australia's brightest and best in exploration, science and conservation," according to Kensington Palace.
Meghan stunned in an Oscar de la Renta gown as she and Harry presented awards to young people with achievements in conservation and adventure.
Earlier in the day, Meghan and Harry met with local traders and craftsmen and attended a traditional Tongan dance ceremony during their visit to the tiny island nation of Tonga.
The royal couple, on a 16-day tour Down Under tour, were given a warm Tongan welcome when they visited an exhibition at the Fa'onelua Center on Thursday. They were greeted by dancers bearing traditional Tongan garlands to put around their waists and necks.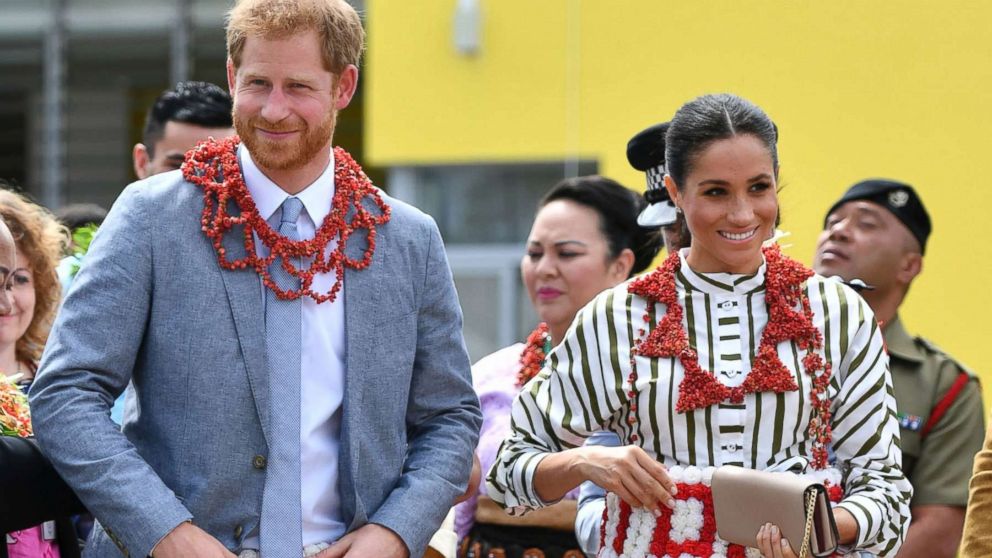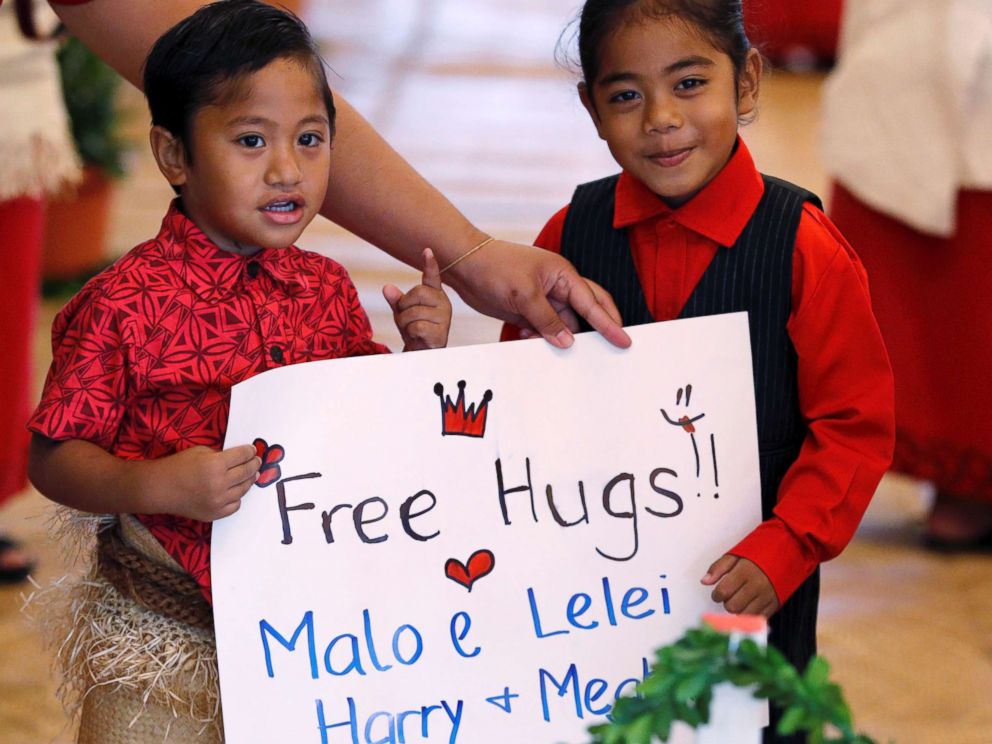 The couple was also treated to a traditional solo dance performance known as the "Taulunga," according to Kensington Palace.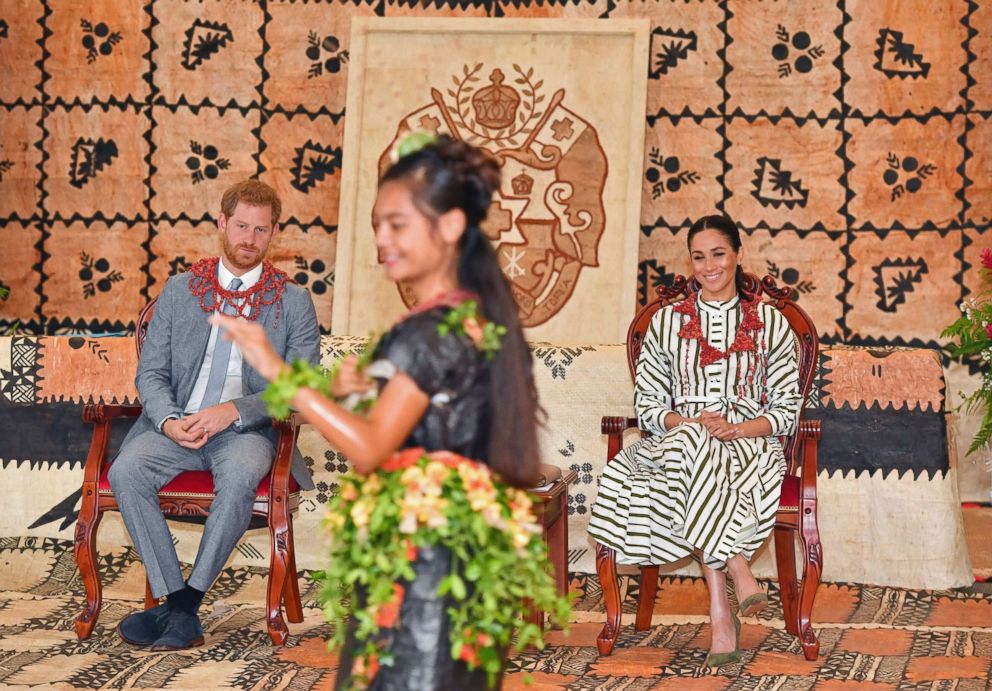 Harry and Megan met with Tongan Prime Minister S. Akilisi Pohiva, as well as members of the cabinet.
Meghan began her last day in Tonga wearing a sleek pony tail and a striped dress from Australian designer Martin Grant, before she changed into a blue Veronica Beard dress during a midday outfit change.
The couple ended their Tonga trip with a visit to Tupou College, a secondary school founded by a British missionary in 1866.
There they dedicated two forest reserves to the Queen's Commonwealth Canopy initiative, which was started in 2015. The two forest areas are the Toloa Forest Reserve, the final forest reserve on the main island of Tongatapu, and the Eua National Park Forest Reserve on the island of Eua.
"Planting trees and conserving forests helps us in so many ways," Harry said during the ceremony. "It is a simple but effective way to restore and repair our environment."