Prince Harry opens up about rift with royal family and whether he can return to royal role
Prince Harry speaks to "GMA"'s Michael Strahan about his new memoir "Spare."
By
Katie Kindelan
,
Amanda McMaster

,
Erin Brady
,
Zoe Magee
,
Kate Hodgson

,
Adriana Pratt
,
Taylor Behrendt-Rhodes
, and
Cleopatra Andreadis-Esterly
Prince Harry is sharing new details about his fractured relationships with his father King Charles III and brother Prince William, and how his hope for a "reconciliation" has led him to speak out.
"If we can get to the point of reconciliation, that will have a ripple effect across the world," Harry told "Good Morning America" co-anchor Michael Strahan in a new interview about his memoir "Spare." "I genuinely believe that, and that's kind of what is pushing me. And if that doesn't happen, then that's very sad."
"Spare" -- a nod to Harry's birth order as the younger brother of William, heir to the throne -- will be released on Jan. 10, nearly three years to the day that Harry and his wife Meghan, the Duchess of Sussex, shocked the world announcing their plans to "step back" as senior members of Britain's royal family.
Since then, the couple has moved to California, where they now live with their two children, and separated themselves almost completely from royal life, becoming financially independent and pursuing their own careers.
In the wake of their departure, Harry told Strahan he does not believe the details he shares in "Spare" can make things any worse with his family.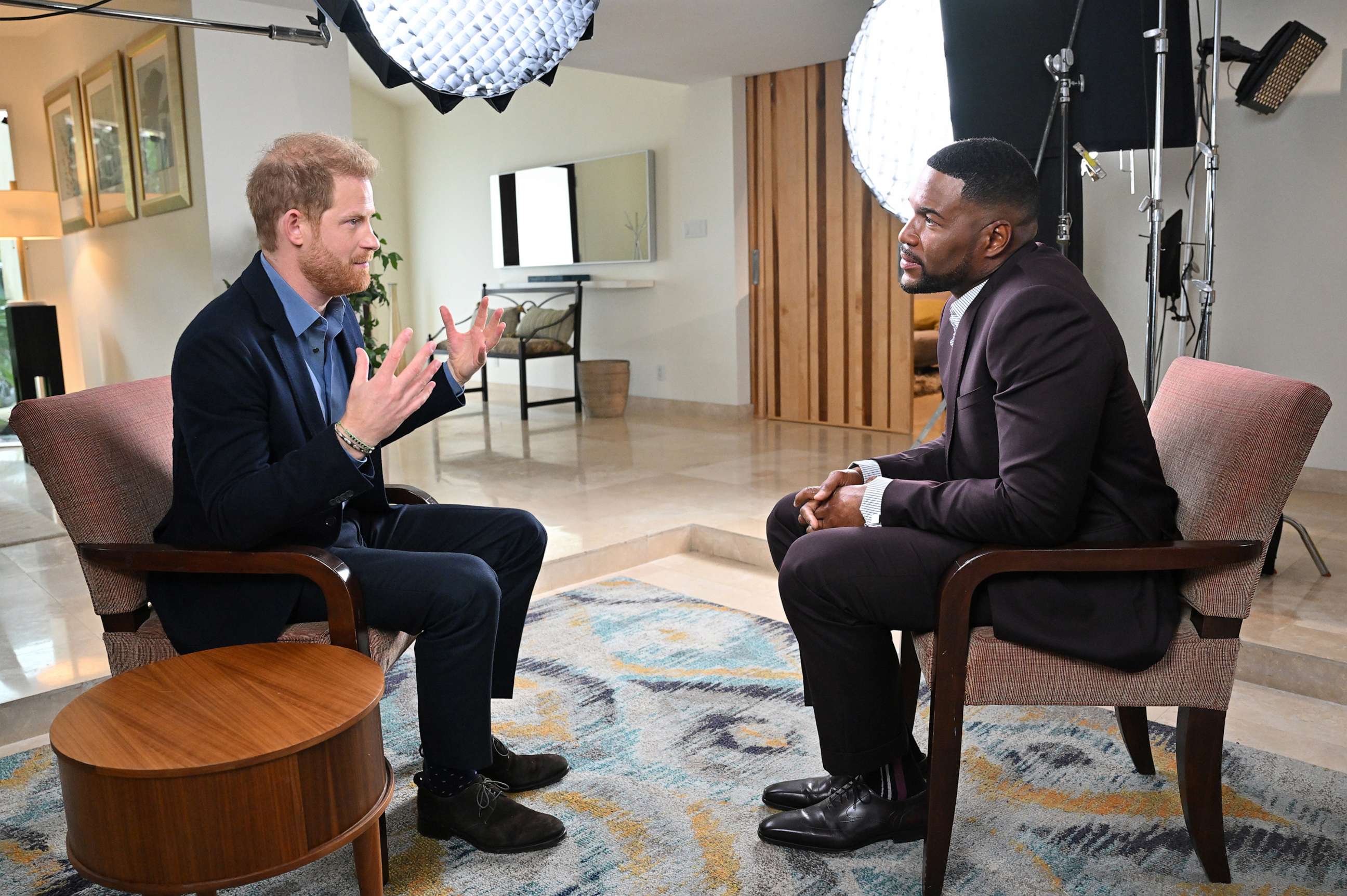 "I have thought about it long and hard," Harry said. "And as far as I see it, the divide couldn't be greater before this book."
Prince Harry in His Own Words: Michael Strahan Reporting
With the release of his memoir "Spare", Prince Harry opens up about his life in the royal family, the loss of his mother Princess Diana, the rift between him and his family, his battle with the British press and so much more.
William, 'beloved brother and arch nemesis'
To the outside world Harry, 38, and William, 40, always appeared close, seemingly bonded by the death of their mother Princess Diana when Harry was just 12 and William was 15.
Harry told Strahan that privately, there was more to the brothers' story. In his memoir, Harry refers to William as his "beloved brother and arch nemesis" and recalls verbal and even physical disputes between them.
"There has always been this competition between us weirdly," Harry said. "Again, I think it really plays into, or is played, by the heir/spare."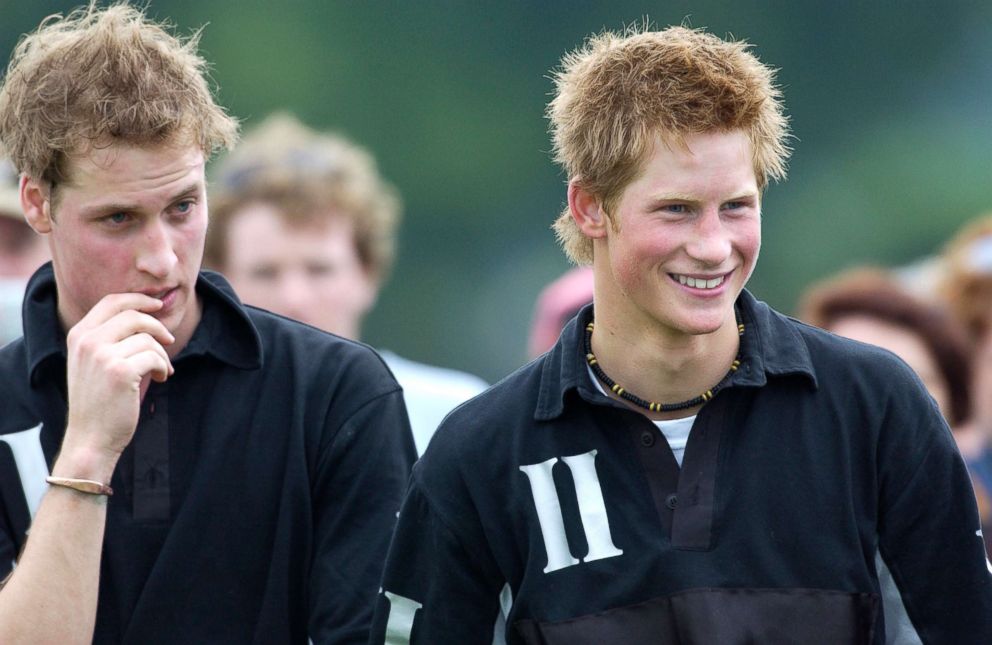 When asked whether he thought William was jealous of his position as the spare, Harry said yes.
"But I have more freedom than he does, right?" Harry said. "So his life is planned out for him. I have more flexibility to be able to choose the life that I wanted."
WATCH: Prince Harry through the years
The Duke of Sussex has grown up before our eyes. Here's a quick look back at his life.
Harry said that while the typical path for the spare is to sit "in the monarch's shadow," he wanted to carve a different path.
As Harry moved further down that path and eventually married Meghan, he claims William broke a longstanding "pact" between the brothers to not let their offices fight or brief the press against each other.
In "Spare," Harry claims members of the royal institution fed stories to the press and refused to set the record straight on false reports, especially about Meghan, thereby shifting the negative spotlight on her in order to protect other royals.
"The people that he employed broke that," Harry said of his self-described pact with William. "But again, within the family, it's hard because you are led to believe that if you don't play the game, that you will be destroyed. And again, I'm the one who's proving that that is true, right? Chose not to play the game, but they're trying to destroy me."
Watch the special, "Prince Harry: In His Own Words | Michael Strahan Reporting" on Monday, Jan. 9, at 8:30 p.m. EST on ABC News Live.
In one example, Harry claims palace officials failed to correct tabloid stories alleging Meghan made William's wife Kate, the Princess of Wales, cry in the run-up to the Sussexes' 2018 wedding. Harry writes in "Spare," and Meghan has said in a previous interview, that it was Kate who upset Meghan and later apologized.
"[The press] pitched the Waleses, which Kate and William are now, against the Sussexes, me and my wife. They always pitched us against each other," Harry said. "They pitched Kate and Meghan against each other."
When asked whether press reports of Kate and Meghan fighting disrupted the women's relationship, Harry replied, "Without question."
"If you read [the press coverage], it very much feeds into how you function, operate, and behave. Without question," Harry said. "But the moment you don't read it, you can live a truly authentic life."
Harry said he believes the British press continues to try to "drive a wedge" between him and William, but hopes that he can reconcile with his brother.
"I hope that we will be joined at the hip again," he said. "Because, you know, if there's something that will terrify the British press more than anything, it's William and I being aligned."
Harry said he "without question" shoulders some of the responsibility for the breakdown of his relationship with William. But he added, "What people don't know is the efforts that I've gone to [in order] to resolve this privately, both with my brother and with my father."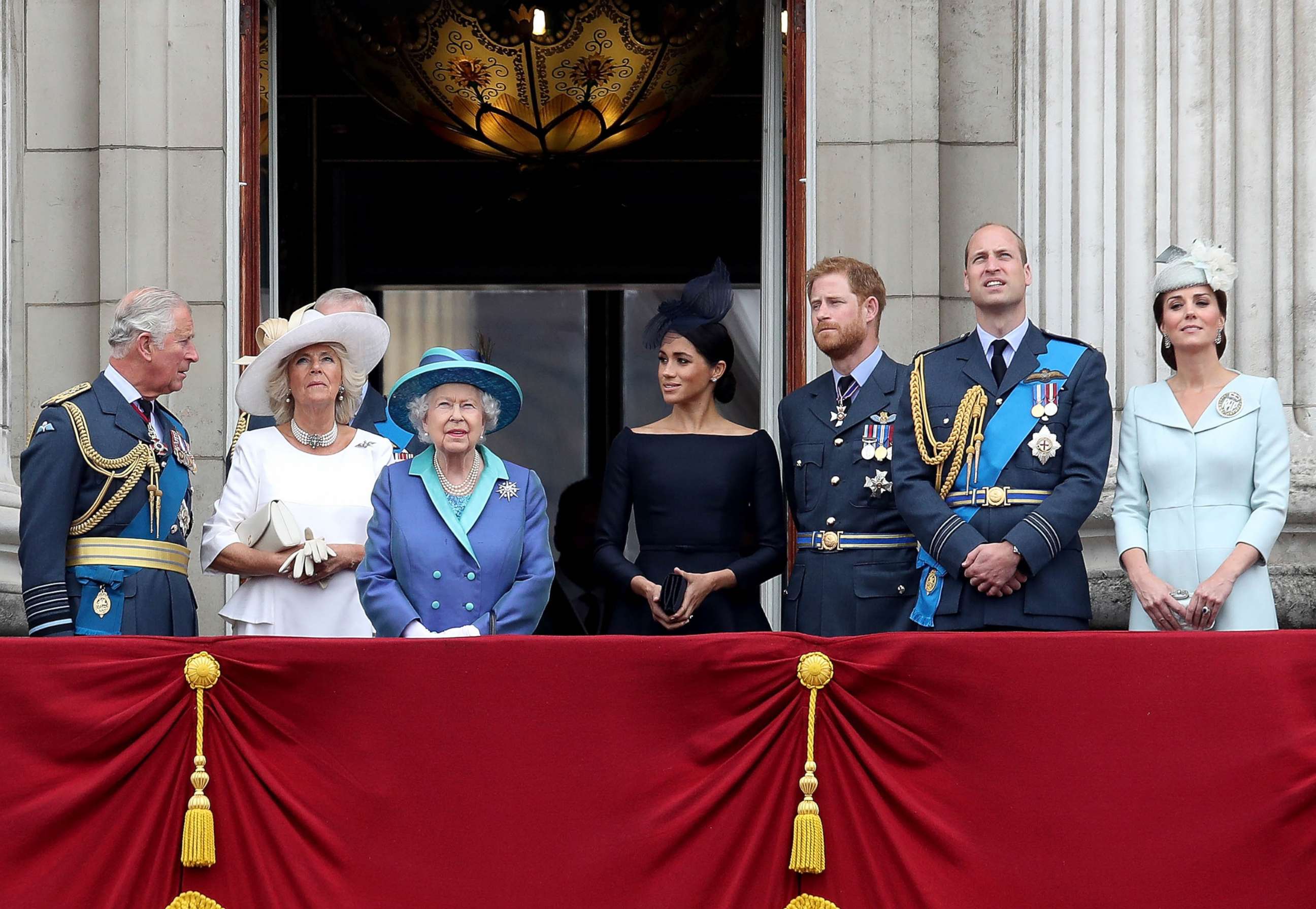 Neither Kensington Palace -- William and Kate's office -- nor Buckingham Palace, the office of Charles and Camilla, the Queen Consort, have commented on the claims Harry makes in "Spare."
ABC News reached out to Kensington Palace and Buckingham palace for response to Harry's remarks in our interview. Kensington Palace declined to comment.
ABC News received a response from the law firm representing Buckingham Palace Monday saying that the palace needed to "consider exactly what is said in the interview and the context in which it appears," and asked that we supply them immediately with a copy of the entire interview. We do not do that as a news organization as a matter of policy.
Harry describes how his and Meghan's hope for a different royal life collapsed
According to Harry, intense press coverage and security concerns played a large part in his and Meghan's quest to carve out different royal roles for themselves that would allow them to split their time between Canada and the U.K. while still serving the monarchy.
When the proposal was brought to the royal family, Harry said there was "zero compromise." He added that an agreed-upon 12-month transition period completely fell apart when his own family's security was pulled.
"I was stunned that my family would allow security to be taken away, especially at the most vulnerable point for us," said Harry, who was living with Meghan and their son Archie in Vancouver Island, Canada, at the time. "And maybe they didn't understand the concerns that I had. I mean, I listed them. I laid them out."
When asked whether he thought his family didn't understand his security concerns, or didn't care, Harry replied, "I think probably a little bit of both."
Harry expressed that neither he nor Meghan wanted to leave their senior royal roles, saying, "We were based in Windsor. That was where we genuinely thought we were going to spend the rest of our lives."
Describing his and Meghan's ideal life, he said they wanted to continue to represent the monarchy but to do so mainly outside of the U.K. so that their work wouldn't go through what he called "the filter of the tabloids."
"We were trying to find a different way to work, but for one reason or another, despite the fact that it already exists within the family, we weren't allowed to do things slightly differently," Harry said. "To still perform and work and support and represent the monarchy, but to be financially independent, to remove the supposed public interest, which the tabloids had used repeatedly to invade every single element of our life."
A return to the U.K. and a working royal role?
Though Harry's memoir "Spare," rips open his view of the royal institution and his family, he said he thinks telling his story is what is needed to make peace.
"I don't think that we can ever have peace with my family unless the truth is out there," he told Strahan. "There's a lot that I can forgive, but there needs to be conversations in order for reconciliation, and part of that has to be accountability."
Harry said he also hopes to have a candid, private conversation with family members.
"I just hope that there's a way that we can have a conversation that is trusted within that conversation that isn't then spilled to the British press," he said. "That's where I am."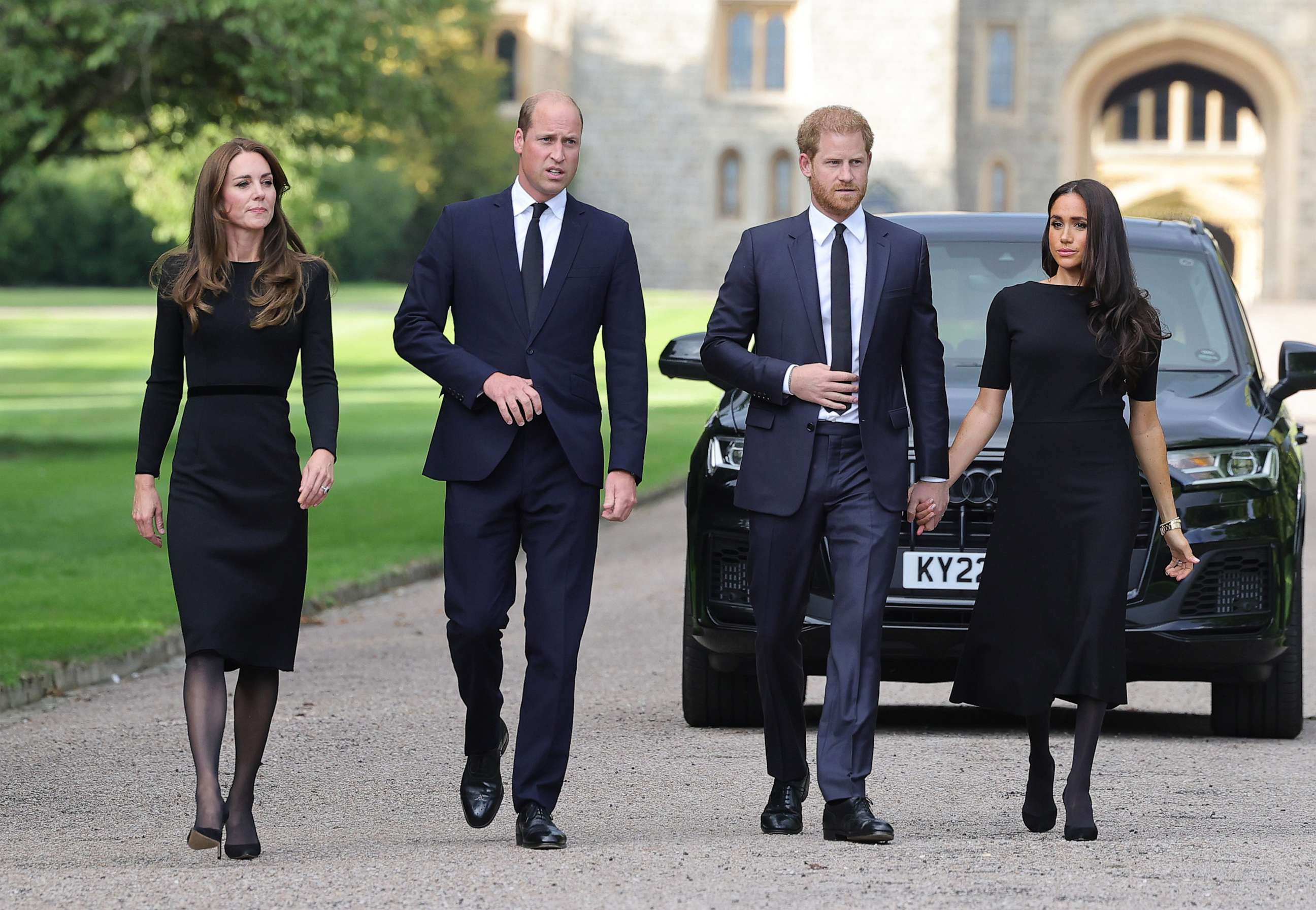 When describing how he chose the personal, behind-the-scenes details he shares in "Spare," Harry said he thought more about the family he has created with Meghan.
"As [with] everybody who has a large family, a family that you've been born into, there becomes a point when the family that you've created ... becomes the priority over the family that you were born into," said Harry, who wed Meghan in 2018. "So, not to say it wasn't hard. It was very hard. But that was my thinking and the process in which I went through."
Harry has only returned to the U.K. a handful of times since his exit in 2020, including for the funerals of his grandfather Prince Philip and, more recently, his grandmother Queen Elizabeth II.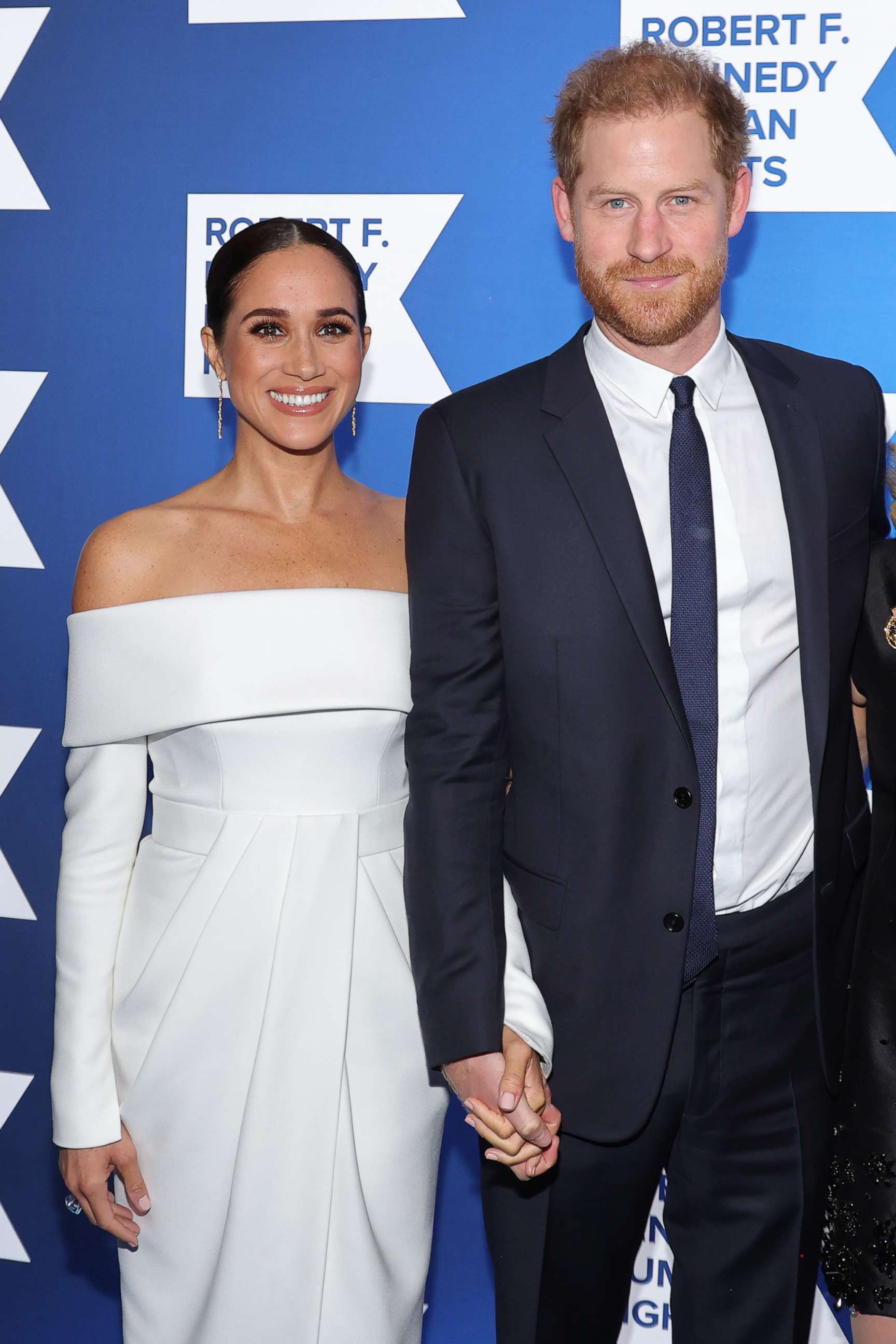 According to Harry, the queen never told him she was angry with him for wanting to change his royal role, but he believes she was "sad" his situation had reached that point.
"I had many, many conversations with her both in the U.K. over the years and in the run-up to the point of this change, so it was never a surprise to anybody, least of all her," Harry said. "She knew what was going on. She knew how hard it was. I don't know whether she was in a position to be able to change it."
When asked whether he saw himself, Meghan and their children ever returning to the U.K. and becoming working royals again, Harry said he doesn't think so.
"Even if there was an agreement or an arrangement between me and my family, there is that third party that is going to do everything they can to make sure that that isn't possible," Harry said, referring to the British press. "Not stopping us from necessarily going back, but making it unsurvivable, and that's really sad because that is essentially breaking the relationship between us."
He added, "If there was something in the future where we can continue to support the Commonwealth, then that's of course on the table, but there's so much that needs to happen between now and then, and so much that can happen."
Harry says he's speaking out to help protect other generations of royals
The Duke of Sussex said he "genuinely" believes the British monarchy should continue, and that there is a place for it in the 21st century as long as it modernizes.
"I think the same process that I went through regarding my own unconscious bias would be hugely beneficial to them," he said. "It's not racism, but unconscious bias if not confronted, if not acknowledged, if not learned and grown from, that can then move into racism. And the way that I understand it is that we all want to be part of the solution rather than part of the problem."
Harry said the royals missed a "huge missed opportunity" in modernizing the monarchy through what Meghan represented as a biracial woman.
"It's what she said to me from right from the beginning, representation," Harry said of his wife. "And I, as a privileged white man, didn't really understand what she was talking about."
With his memoir, Harry said a large part of his drive to speak out stems from a hope to "change the media landscape" in the U.K., giving less status to tabloid newspapers.
"In this instance, the most popular, most read and therefore most influential newspapers in our country are tabloids," he said. "That affects the country. That affects the construct of the country."
Prince Harry in His Own Words: Michael Strahan Reporting
With the release of his memoir "Spare", Prince Harry opens up about his life in the royal family, the loss of his mother Princess Diana, the rift between him and his family, his battle with the British press and so much more.
Harry described also wanting to more specifically change what he described as a "codependency" between U.K. tabloids and the royal family.
"There are some people, especially in the U.K., who have been led to believe that because you are a member of the royal family, somehow everyone owns you or has a stake in you," he said. "And that's a message that has been purely pushed out by the British tabloids, and it creates real problems within that family and that relationship."
Harry added, "Of course, there has to be some sort of relationship, but where it's got to now is incredibly unhealthy."
Believing that the monarchy should continue, Harry said he hopes his efforts can help his own two children as well as current and future generations of royals.
"I also worry about other young kids within that family if this continues," he said, referring to the royal family. "Because who's to say that someone else doesn't fill my shoes and that their partner, whether it's a husband or a wife or boyfriend or a girlfriend, doesn't get treated exactly the same as Meghan did?"