Actor Ashley Hamilton and singer Macy Gray were the first dancers voted off "Dancing With the Stars" tonight.
The judges found Hamilton's foxtrot lackluster, giving him some of the night's lowest marks.
While the others tried to be kind to the son of actor and one-time contestant George Hamilton, judge Bruno Tonioli remarked that Hamilton had "a total lack of showmanship."
Grammy Award winner Gray looked awkward and ill-prepared during her Viennese waltz.
Watch Ashley Hamilton and Macy Gray live on "Good Morning America" Thursday.
Judge Carrie Ann Inaba said Gray's dancing was "beautiful in its own bizarre way." Still, the chanteuse received low scores from the judges.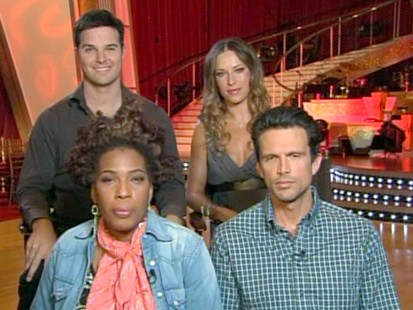 The ninth season of
"Dancing With the Stars"
began this week with a live three-night event.
On Monday night, the male contestants gave their first performances, followed by the female contestants Tuesday night.
Aaron Carter and Donny Osmond led the way among the male performances, but all eyes were on former House Majority Leader Tom DeLay.
"My biggest fear is I might embarrass myself," DeLay said during rehearsals.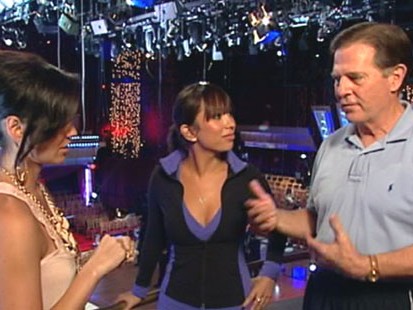 He and partner Cheryl Burke -- a two-time "DWTS" champion who said she didn't know who DeLay was and had to Google him -- danced their cha cha to the song "Wild Thing."
Tonioli said DeLay, who lip synced along with the song and wore a sequined vest, was "crazier than Sarah Palin."
"The little cha cha cha you did was not bad," he added.
"I've got bigger critics than those judges," DeLay said after his performance.
Among the female contestants on Tuesday's Ladies Night, model Joanna Krupa finished in first place based on the judges' scores. She was followed by Kelly Osbourne, who surprised many by coming in second. Proud parents Ozzy and Sharon Osbourne were in the audience.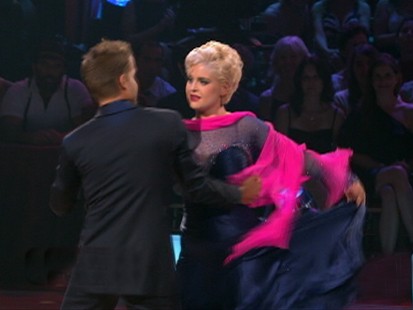 CLICK HERE
for more information about "Dancing With the Stars" from ABC.com.
'Dancing With the Stars' Tribute to Patrick Swayze
Wednesday night's results show also featured a tribute to actor Patrick Swayze, who passed away Sept. 14 after a long battle with pancreatic cancer.
Swayze was best known for his role as dance instructor Johnny Castle opposite co-star Jennifer Gray in the hit movie "Dirty Dancing." A lifelong dancer, Swayze, whose mother was a dance instructor and choreographer, took lessons as a child in his hometown of Houston.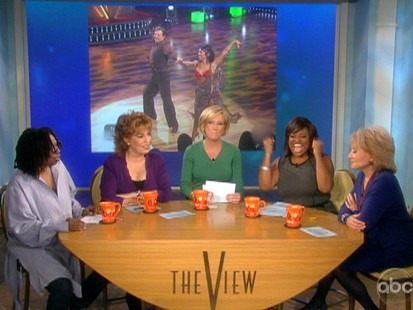 This season boasted the largest
"Dancing With the Stars" cast
ever, with 16 celebrities vying for the Mirrorball Trophy.
Before the premiere, "GMA" special contributor and former "Dancing With the Stars" finalist Melissa Rycroft went behind the scenes to bring "GMA" an exclusive, all-access preview.
The celebrities and partners practiced for a month at gyms and dance studios all around Los Angeles.
Osmond trained while doing his show in Las Vegas and Macy Gray practiced every day while on her European tour.
"Sometimes we would practice at the show at one, two in the morning," she said.
"We practiced in hallways behind the stage, in conference rooms at the hotel," said her partner Jonathan Roberts.
Tom DeLay's 'Cute' Dancing Shoes
Former Dallas Cowboy Michael Irvin was worried about what his appearance would do for his image.
"It took me years to build this tough man persona, and she wants me to lose it with a few hips and cha cha," Irvin said of partner Anna Demidova, who won the professional dance competition tryout and made her first appearance on the show this season.
Injuries are common during training for "Dancing With the Stars." Rycroft sustained one last season, and there were so many injuries that the show was forced to scale down on training time. This year, DeLay has already taken a hit, and he has the special shoes to prove it.
"They call it a prestress fracture," DeLay said of his injury. "They put me in these hiking boots. Aren't they cute?"
The day after he was announced as a contestant, DeLay told "Good Morning America" co-anchor Chris Cuomo that he "jumped at the chance" to appear on the show.
"I love dancing ... you've got to love dancing if you're from Texas," DeLay said. "Conservatives can have fun too. Conservatives can let their hair down ... and put on some dancing shoes."