Blended families see themselves in Kamala Harris as she becomes 1st stepmom vice president
Harris became a stepmother of two when she wed Douglas Emhoff.
When Kamala Harris took the oath of office Wednesday to become vice president, she became the first woman and first woman of color to serve in that elected position.
Harris also made history as the first stepmother to be America's vice president, a moment that blended families across the country said they were planning to watch with joy.
"What I've seen is that regardless of political affiliation, stepmoms are thrilled that a woman who is a stepmom and has her family front in her journey got elected to this position," Beth McDonough, a certified stepparent coach who runs a website focused on stepmom inclusivity, told "Good Morning America." "Because when I work with clients, the number one thing they want is to be accepted and to feel like they belong."
She went on, "The whole nuclear, 'Leave it to Beaver,' picket fence family wasn't the majority for very long but we still act like it's the common thing. The people I talk to are really excited for [Harris' election] to start to attach normalizations to blended families."
McDonough, 33, of Meadville, Pennsylvania, planned to watch Wednesday's inauguration of Harris and President Joe Biden with her wife and her 9-year-old stepdaughter, Mia.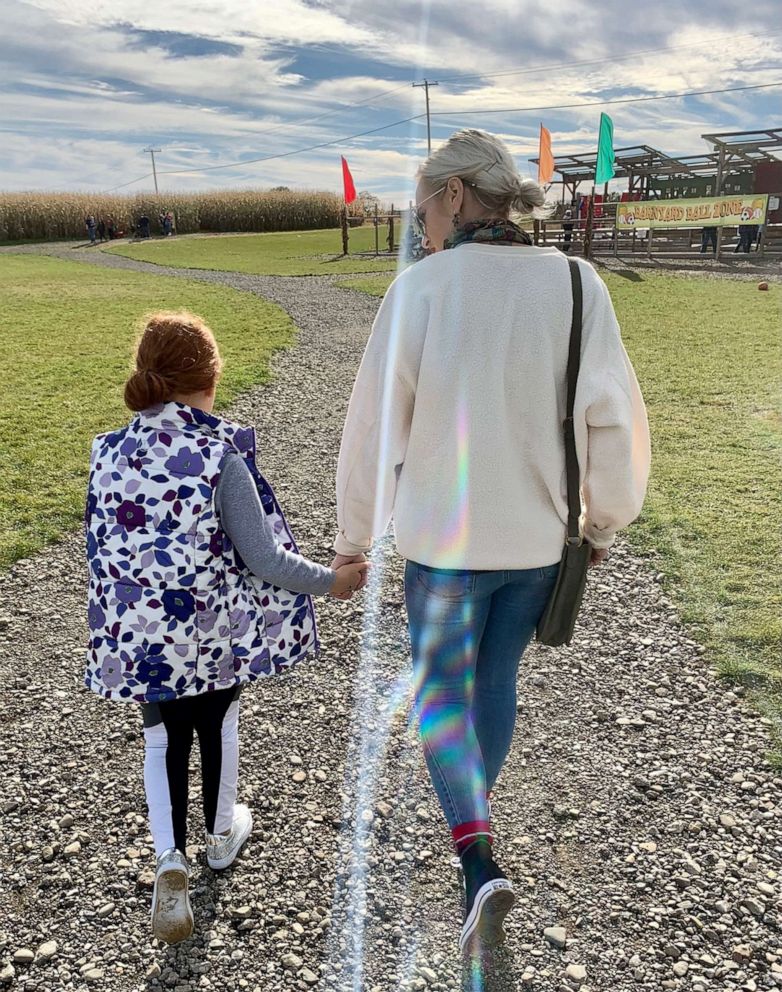 "I was so excited to tell her about Kamala because that is a woman who was elected to this position, who has a family that looks a lot like hers, and she thought it was the coolest thing," McDonough said of Mia. "As adults we realize that it's good to stand out and not all families have to look the same, but when you're little, you want to see yourself."
"You look for a reflection of yourself in people who are on TV or in movies and also people who reach positions of power, CEOs, vice presidents," she added.
Harris represents not only a blended family, but a multicultural one as well.
Vice President-elect Kamala Harris virtually celebrated the new year with her family.
She is the daughter of a Jamaican father and an Indian mother, who both immigrated to the United States. Harris's parents divorced when she was 7-years-old and after that she and her sister, Maya Harris, were primarily raised by their working, single mom.
Harris's husband, Doug Emhoff, is white, Jewish -- the first Jewish spouse in any presidential administration -- and has two children from a previous marriage. Emhoff's children, Cole, 26, and Ella, 21, call Harris "Momala" and describe a "very healthy" co-parenting relationship that exists with their mother Kerstin Emhoff, who attended Wednesday's presidential inauguration along with her kids.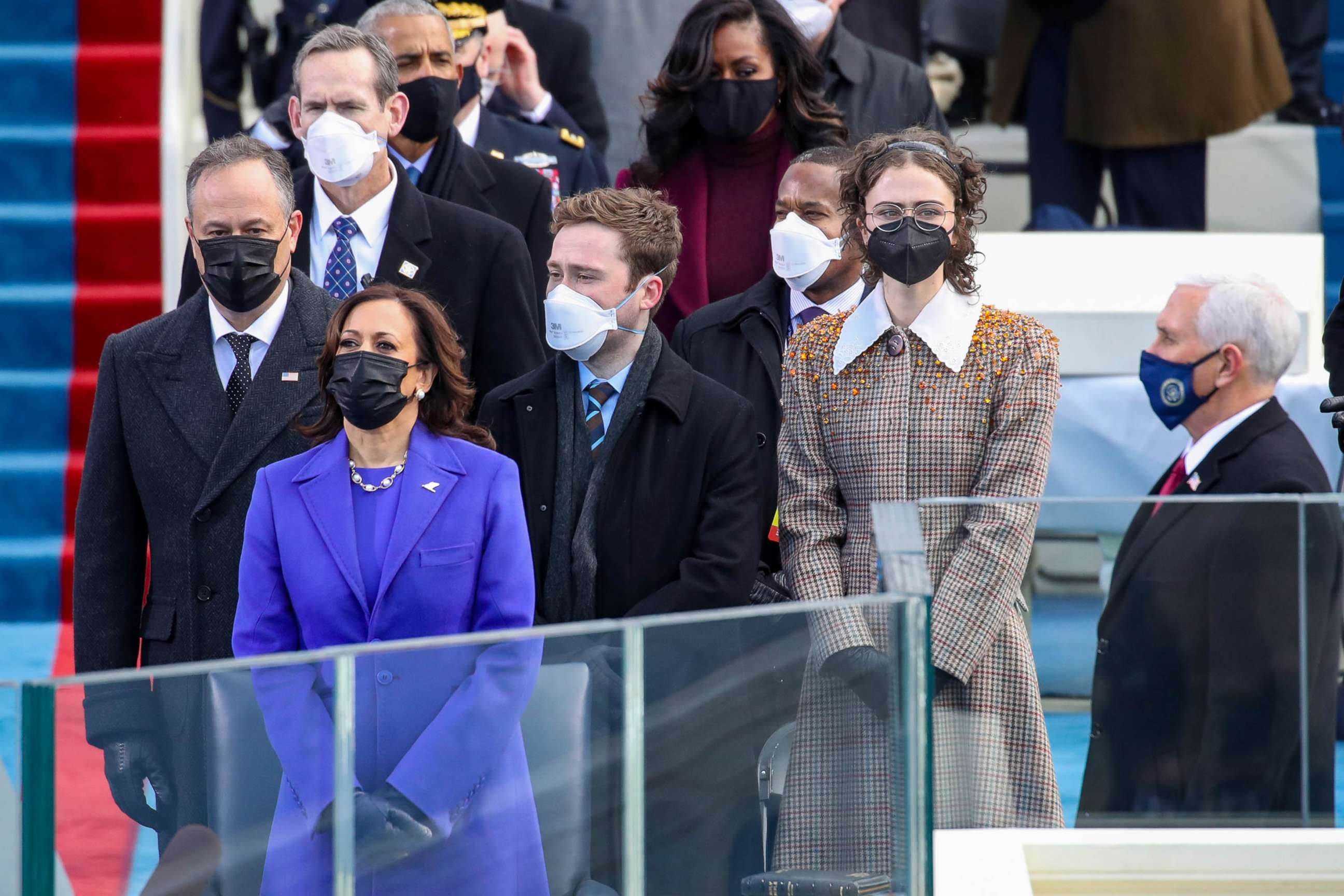 "They have good communication between the three of them," Ella told The New York Times. "They are really a unit, like a three-person parenting squad. It's really cool."
"It's a cool dynamic we all have. And I think it is a good model to show that you can have this and this isn't weird," she said. "Like it's not weird to be friends or have a good relationship with your ex. It's actually very healthy."
Harris, who wed Emhoff in 2014, also wrote about their coparenting relationship in an essay last year for Elle magazine.
"To know Cole and Ella is to know that their mother Kerstin is an incredible mother," she wrote. "Kerstin and I hit it off ourselves and are dear friends. She and I became a duo of cheerleaders in the bleachers at Ella's swim meets and basketball games, often to Ella's embarrassment. We sometimes joke that our modern family is almost a little too functional."
Seeing a healthy coparenting relationship on the national stage is something that Brittany Chatman, of Tampa, Florida, says has helped her come into her own as a stepmom. Like Harris, Chapman has no biological children of her own but is a stepmother to three, including a 7-year-old girl also named Kamala.
"Society has always viewed blended families and step-motherhood as the 'evil stepmom' stereotype and just seeing the manifestation of what blended families can be on such a national platform has just been great," Chatman told "GMA." "I was really insecure about [being a stepmom] for the longest time, but in the past nine months or so I would say I've really come out of my shell and accepted that this is my calling."
In addition to Harris, Chatman said she also relates to future first lady Dr. Jill Biden, who became a stepmom to Joe Biden's then-young sons Hunter and Beau when she and the president-elect wed in 1977, five years after his first wife and young daughter died in a car crash.
A few years after the Bidens married, Jill gave birth to their daughter, Ashley, in 1981.
"She gave me back my life; she made me start to think my family might be whole again," then Sen.-Joe Biden wrote of Jill in his 2007 memoir, "Promises to Keep: On Life and Politics."
Chatman entered Kamala's life when she was around 17 months old, after the girl's mother had passed away.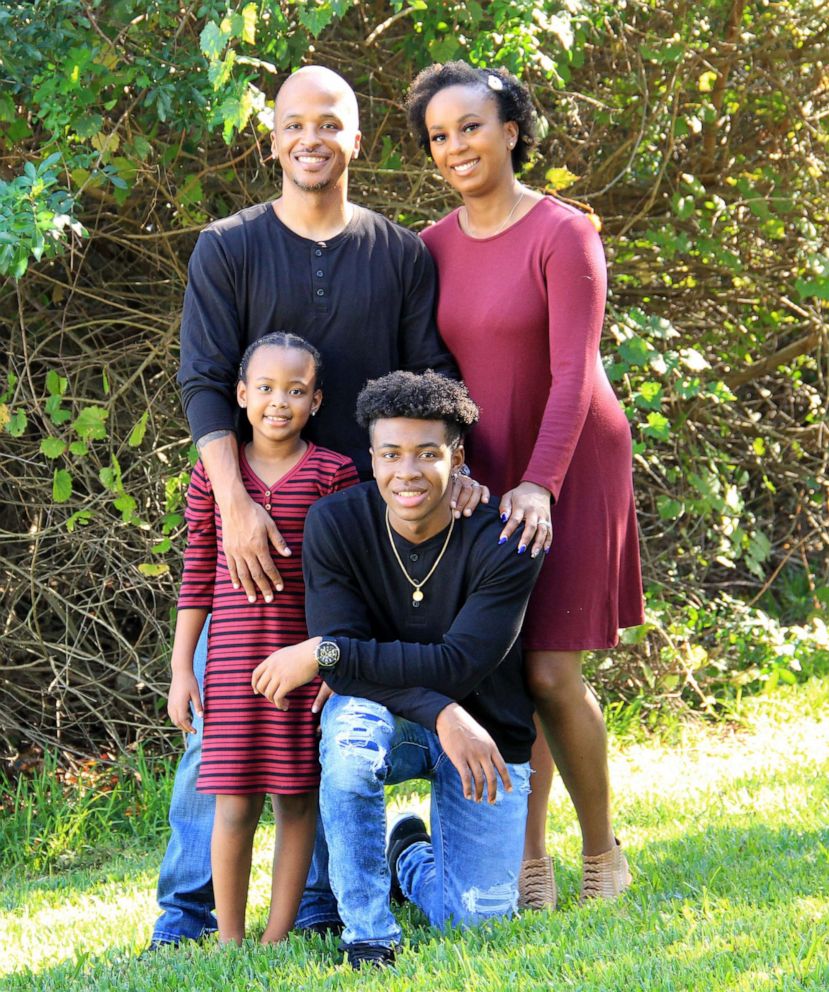 "I didn't really know what I was doing," said Chatman, who started a blog about her journey as a stepmom. "As much as there's no parenting handbook, the lack of a stepparenting handbook is scarier."
The White House reflects an America of blended families
The Bidens will mark the second consecutive time a blended family has filled those hallowed halls -- following President Donald Trump, a father of five children from three wives -- and the first time in modern history that both the First and Second Families are blended families.
"People say you can't be what you can't see and I think that goes for these social types of issues too," said Kate Anderson Brouwer, the author of several bestselling books on the White House and First Families. "When so many people come from homes where there parents are divorced and they have had to navigate more complicated family situations, I think it's so important for those kids to see that [in the White House] and to know that it's OK."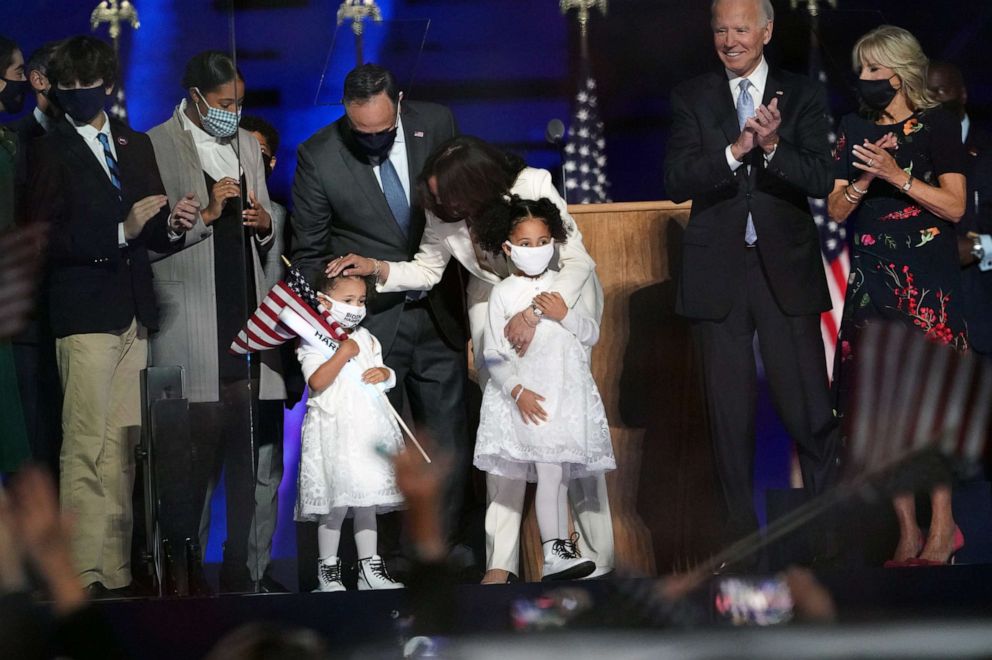 Across the U.S., less than half of kids are living with two parents who are both in their first marriage. As many as 16% of children are living in a blended family, or a household with a stepparent, stepsibling or half sibling, according to 2015 data from the Pew Research Center, a nonpartisan think tank focused on public opinion polling and demographic research.
The Stepfamily Foundation, a nonprofit organization that offers counseling, estimates 1,300 new stepfamilies are forming every day, citing U.S. Census Bureau data.
"When I started working with blended families back in the 1990s, it was very difficult to even have the conversation in public forums and there was this strong feeling that some people have embarrassment or shame about that narrative in their lives," said Ron Deal, a licensed therapist and bestselling author on books about stepparenting, including "Building Love Together in Blended Families."
"That has shifted quite a bit and I think even more so in the future given the profile of these two families in the White House," he said.
"I hope that makes it easier for people to say, 'Yes, that's my life. Yes, I'm them, and now I can get some help,'" said Deal, also the director of FamilyLife Blended and president of SmartStepfamilies.com, a blended family educational organization.
Building a cohesive blended family can take five to seven years, on average, according to Deal.
Harris described in her essay for Elle the process that went into just her first meeting with her now-stepchildren.
"Doug and I put a lot of thought into when and how I would first meet the kids. And that meant waiting," she wrote. "As we waited, anticipation grew. When the day finally came, I had butterflies in my stomach."
"On my way to meet Doug, I picked up a tin of cookies and tied a ribbon in a bow around them. I took a few deep breaths. I was excited, and I was nervous. I rehearsed what I would say," Harris wrote. "Would the kids think the cookies were really nice or really weird? Was the ribbon too much? (The ribbon was probably a little extra, but over the years Cole and Ella have spared me by not telling me that.)"
So while people may look to the blended families in the White House as role models, they should also recognize the years of work that has most likely been put into those relationships, according to Deal.
"When you come to understand how your family functions and then you apply stepfamily solutions to your family, you get better answers, but if you don't do your homework, then you just kind of stay blended-family naïve," he said. "Today there is more accessible, practical training for families than ever before."
Naja Hall, a New York City-based life coach and blended family expert, founded her companies, Blended and Black and VIP Stepmoms, to help provide those types of resources for families after she became a stepmom to her husband's three children.
"No matter what a stepmom's life looks like today, we know that this role is born because something just failed, it did not work, so our roles are kind of already born out of strife," said Hall. "We represent the second chances, which is kind of what everybody deserves."
Hall described being a stepmom as a "sisterhood" that now includes both the first lady and the vice president of the United States.
Both Hall and Deal said Harris will enter her vice presidential role well-equipped with tools to help her navigate a deeply divided country.
"As a stepparent, you're an outsider trying to merge into a family system that has tradition and history and relationships and you're coming in and some people are open to you entering that space immediately and others have to warm up to you, and others never warm up to you, and the stepparent has to have a tolerance for each of those different levels of relationship," said Deal. "It seems to me that politics is a lot of this, especially given the great political and emotional divide that is taking place in our country right now."
"[Some people] are not open to you walking into that leadership role. How do you navigate that? How can you be a presence in the midst of that climate and eventually try to earn trust or at least a little respect?" he said of questions that will confront Harris. "My guess is if she looks deep back into her journey as a stepmother, there were moments when she really felt unsure of herself, felt unsure of the future, and yet she kept going and pressed in and everything I can see right now seems like [her stepchildren] adore her and they have a wonderful relationship."
When Harris was formally nominated at the Democratic National Convention in August, she said in her acceptance speech, "I've had a lot of titles over my career, but 'Momala' will always be the one that means the most."
ABC News' Averi Harper contributed to this report.