One bride who wanted to remember her late father found a way to incorporate him during her big day.
Kait Olidis dried flowers from her father Jim's funeral and then used them as confetti at her wedding to longtime boyfriend, Benett Hallas.
After being diagnosed with stage IV lung and brain cancer back in October 2014, Jim Olidis passed away five months later. He was 56.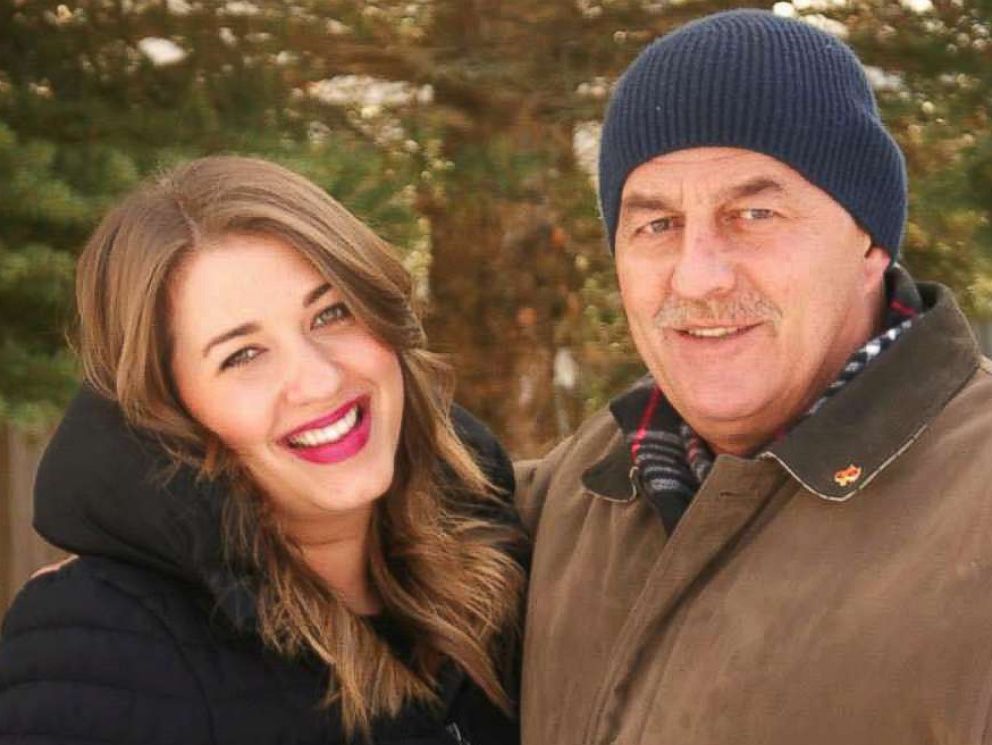 Kait Olidis, 28, told ABC News that after his passing, "in the back of my mind" she thought about how he wouldn't be able to walk her down the aisle.
"Growing up -- for everyone -- having your dad walk you down the aisle is a pretty big moment, and that was something that he and I would be missing out on," she continued. "Knowing that he's not going to be there, that ... was really hard for me to wrap my head around."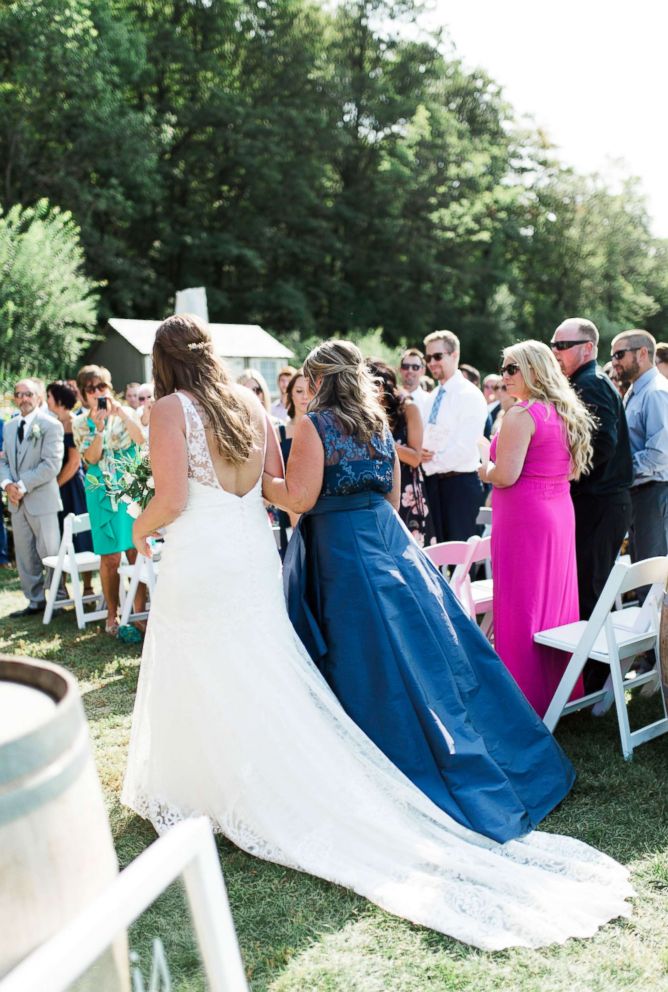 Luckily for the bride, when her boyfriend of nine years proposed to her, she thought to all of those dried roses she and her mother dried out after her father's funeral. She had the perfect way to include them in her wedding -- by making it confetti.
"Roses were one of my husband's favorite flowers," Kait Olidis' mother Cathy told ABC News. "And there were just so many flowers [after the funeral], roses in particular."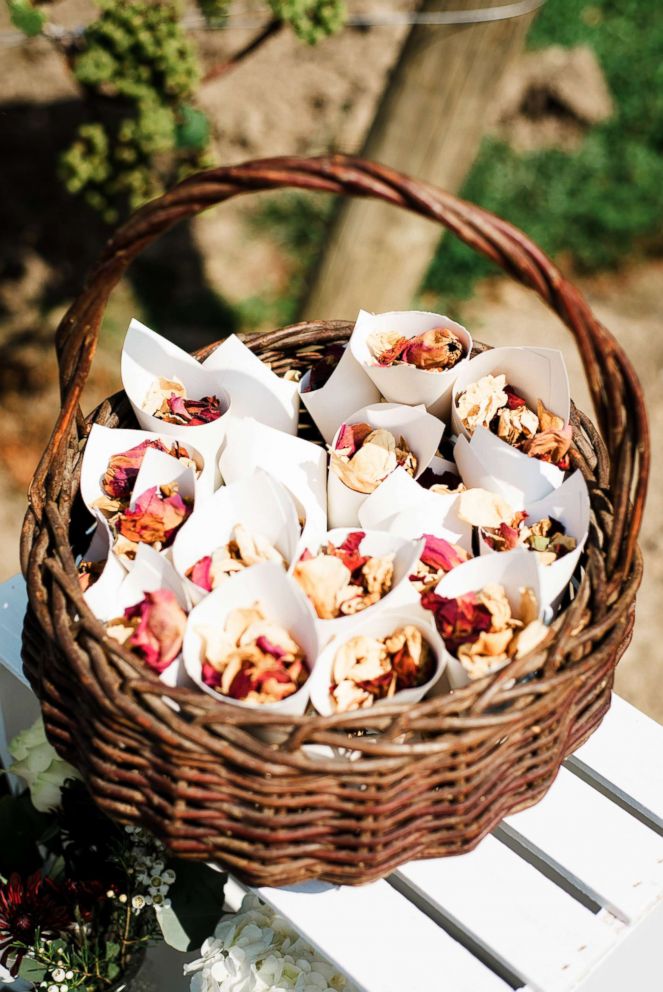 "We just decided, let's just pull all the petals off and we just put them in boxes ... just to store them for the time being," Cathy Olidis, 58, added.
And although the two considered throwing the dried petals down the aisle, Kait Olidis instead chose to throw them in the air. Photos of the thrown flowers at their wedding ceremony recently went viral on Facebook.
It was a perfect idea, her mother said.
"When you think about it, all of those flowers were sent to Jim's funeral from the love of family and friends," she explained, "and now that same love got thrown back at them."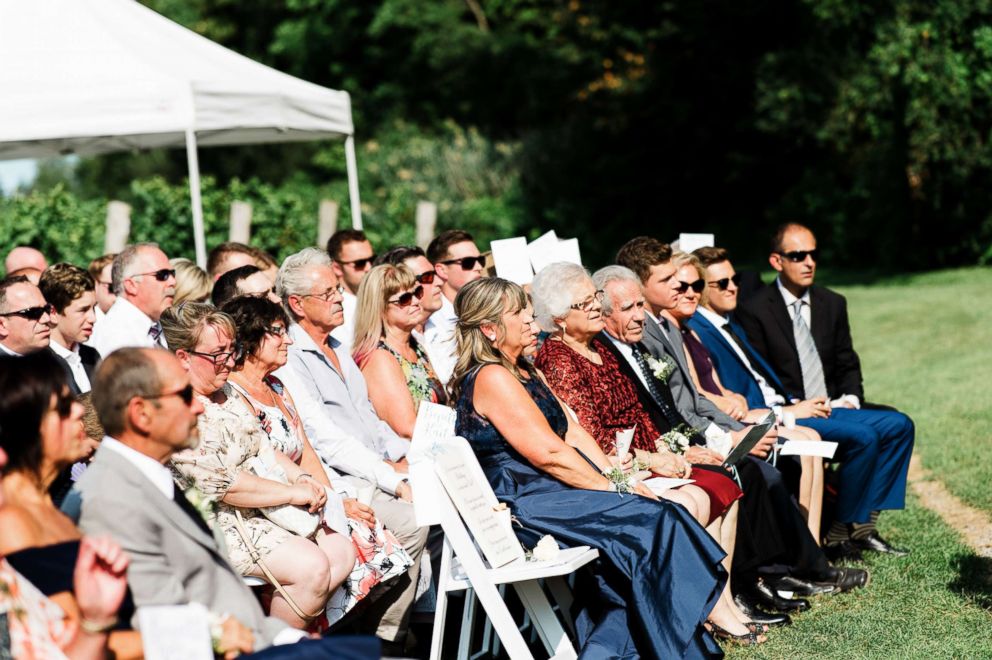 Last August when Kait Olidis and Hallas, 32, walked down the aisle at Inn On The Twenty in Ontario, Canada, in front of 100 guests, they were constantly reminded of Kait Olidis' father.
After her mother walked her down the aisle, Cathy Olidis sat next to an empty chair reserved for her late husband. Along with the confetti, the bouquets and boutonnieres also included flowers from Jim Olidis' funeral two years earlier.
"As hard as it was the whole day, it was kind of comforting in some respect too," Kait Olidis said.