Natalie Crockett Jimenez said she thought of many ways to honor her late father at her Aug. 12 wedding, from walking down the aisle holding a white balloon to a slideshow of her father at the reception, in lieu of the traditional father-daughter dance.
Just before the wedding, however, Jimenez's mom surprised her with a sentimental "something blue" from her dad.
Jimenez, 25, of Missouri, said she was doing the final fitting for her wedding dress when she noticed something blue on the bottom of the dress.
After looking at it more closely, Jimenez saw that it was a blue heart made from an old t-shirt belonging to her dad, Bruce Crockett, who died unexpectedly in 2015.
On the heart, in her dad's handwriting, were the words, "I love you Natalie, Daddy."
"He had written me that in my yearbook," Jimenez told "Good Morning America," adding that for years she had searched for her dad's handwriting and hadn't found anything. "I've tried to find all these pieces of my dad just to hold on to, and I didn't even think of yearbooks."
Jimenez said her mom Devona Crockett came up with the idea on her own to surprise her daughter with the tribute to her dad. She found the yearbook signature, digitized it so it could be put on a shirt, pulled out one of her late husband's blue t-shirts from storage, cut out a heart shape and took it to Jimenez's wedding seamstress in a town over an hour away, all without her knowing.
"I remembered exactly what his handwriting looked like, so as soon as I recognized it, obviously tears," recalled Jimenez, who shared a video of the surprise on TikTok, where it now has 3 million views. "I couldn't stop crying. I cried probably for 30 minutes after [the surprise]."
Jimenez said the location of the blue heart on the inside of her wedding dress was especially meaningful because it made the remembrance more private and made her dad feel closer to her on her wedding day.
When her dad died suddenly of complications from a blood clot when she was in high school, Jimenez said first thing she thought about was how he wouldn't be there with her on her wedding day.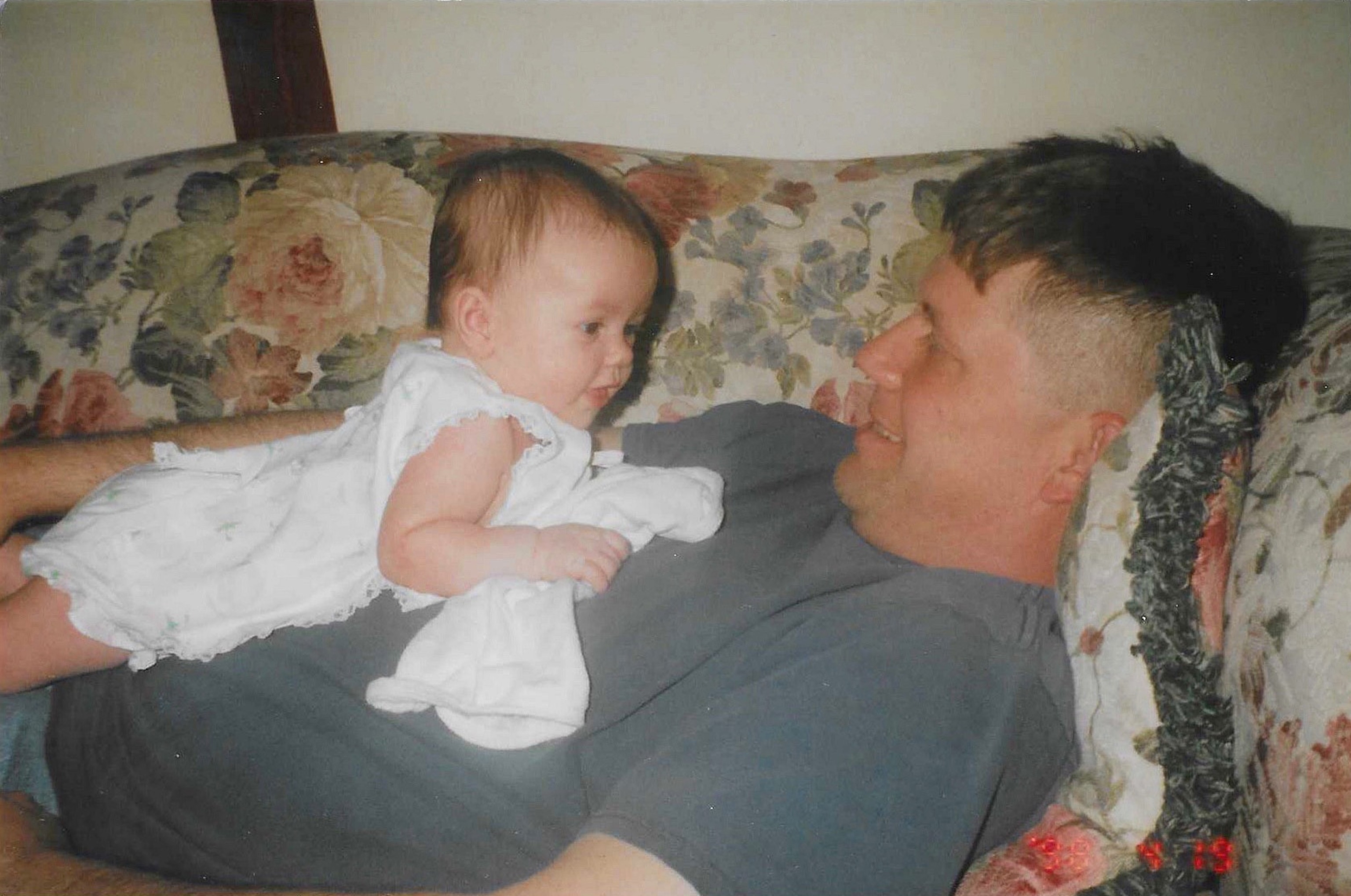 Once she met her now-husband, Uriel Jimenez, and started to plan their wedding day, she said she felt the absence of her dad even more profoundly.
"I was like, 'Oh, I'm really going to have to do this without him,'" Jimenez said. "I was personally trying to find ways to incorporate my dad into my wedding, and I did that in several ways, but I never would have thought to do what my mom did for me, with the heart in my dress."
Of her mom, who was by her side on her wedding day, Jimenez said, "It's been hardest on her to lose my dad and she has been the one to pick up everything and glue it back together, so none of this would be possible without her, and I love her so much."
On her wedding day, Jimenez carried a locket from her dad around her bridal bouquet, in addition to honoring him with the heart on her dress, a white balloon and a slideshow of photos of him at their reception.
Her brother-in-law also painted a special portrait of Jimenez in her wedding dress alongside the most recent photo they have of her dad before his death.
Jimenez said those efforts all made her feel her dad's presence on her special day.
"It was comforting," she said, adding, "It all made the day a lot better."