New York-based celebrity chefs Carla Hall and Josh Capon turned up the heat in Times Square and went head-to-head for part three of "GMA's" Grill Master Challenge.
Executive chef and owner of El Toro Blanco dished up his guajillo chile marinated steak tacos against Hall's Buffalo chicken burger.
After putting their packed with flavor food to the test, the judges made their decision and announced Chef Capon as the "GMA" Grill Master.
Check out the full recipes below, because to be honest, they're both winners.
Josh Capon's marinated skirt steak tacos with fresh tomatillo salsa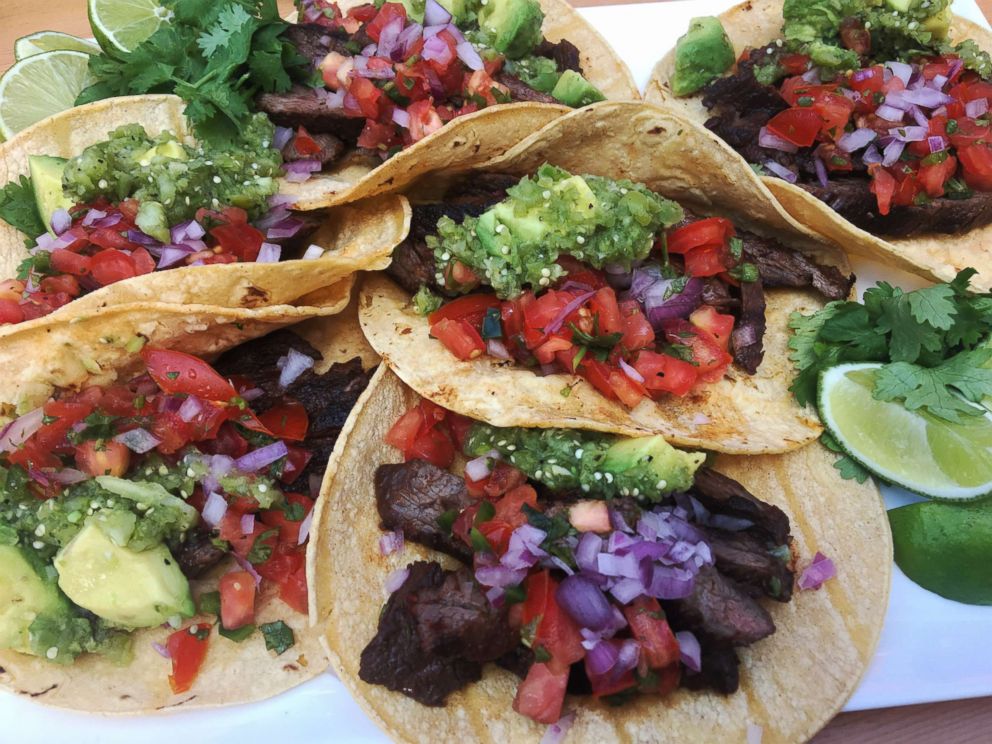 Ingredients:
Tomatillo salsa
5 lbs tomatillos fresh
1/4 cup fresh mint
3 pc garlic
1 white onion chopped
2 pc fresh jalapeños
Salt and pepper to taste
Pico de Gallo
2 cups diced tomatoes
1 cup diced red onions
1 jalapeño diced
Juice from 2 limes
2 tablespoons extra virgin olive oil
Salt and pepper
1/4 cup chopped cilantro
Skirt steak marinade
200 grams Guajillo chile
50 grams Arbol chile
2 grams black pepper
1 grams clove
20 grams garlic
1 grams oregano
20 ml soy sauce
80 ml sherry vinegar
80 ml canola oil
Instructions:
Boil both chilies for five minutes, then cool and remove seeds and stems. Toast black pepper and cloves in a dry pan, then blend to powder. Add all remaining ingredients except oil and blend until smooth. Whisk in oil, then marinade beef lightly.
Marinate skirt steak for a few hours or overnight in the fridge.
Season steaks with salt and pepper.
Grill over high heat until cooked through. Let meat rest before slicing.
Warm the corn tortillas and add a few slices of steak. Add some of the tomatillo salsa with the avocado folded in, a little Pico de Gallo and a squeeze of fresh lime.
Carla Hall's Buffalo-style burger with celery and blue cheese slaw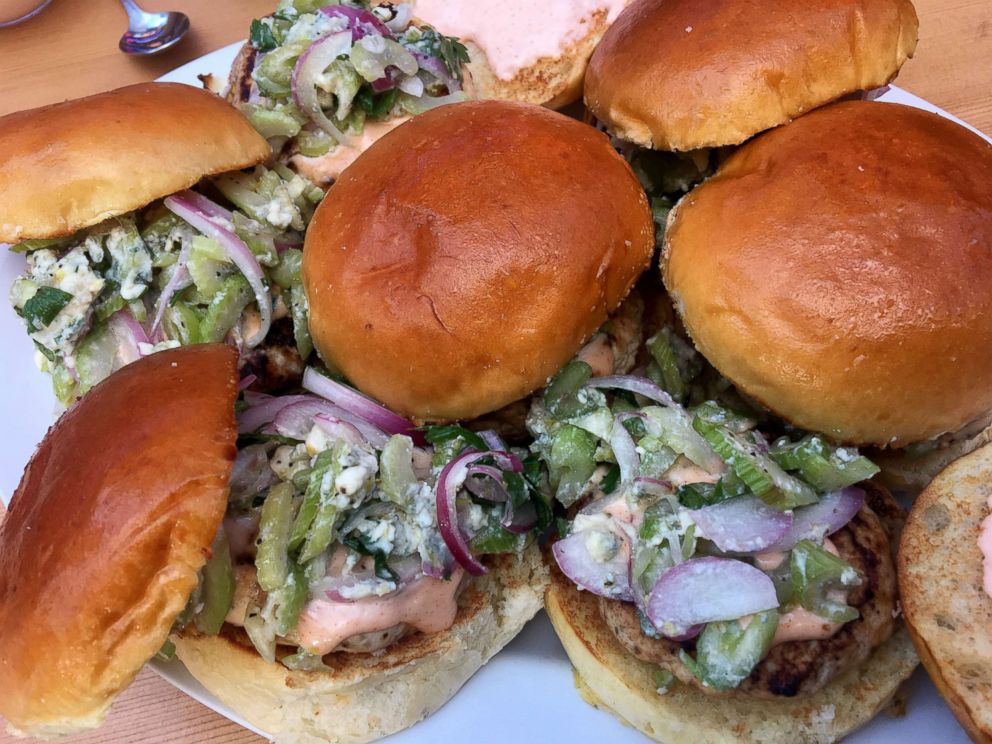 Ingredients:
1 tablespoon butter
1/3 cup yellow onion, minced
2 cloves garlic, minced
2 teaspoons hot sauce
1/2 teaspoon dried thyme
1 teaspoon kosher salt
1 1/2 teaspoons freshly ground black pepper, or to taste
1/2 teaspoon chile flakes
1 1/4 pounds coarsely ground chicken or turkey breast meat

Celery and Blue Cheese Slaw
4 stalks of celery, 1" pieces thinly sliced on the bias
1/2 cup red onions, very thinly sliced
1/4 cup parsley leaves, roughly chopped
1 tablespoon red wine vinegar
2 tablespoons olive oil
1/2 teaspoon lemon zest
1/2 cup blue cheese, crumbled
1/2 teaspoon salt
1/4 teaspoon freshly ground black pepper

Spicy Mayo
3/4 cup mayonnaise
1 tablespoon lemon juice
1 tablespoon hot sauce
1-2 teaspoons honey
1/2 teaspoon cayenne pepper

Instructions:
For the burger:
Melt butter in small skillet on medium-low heat. Cook onions and garlic until translucent and sweet, about three minutes.
Add hot sauce, thyme, black pepper, and chile flakes.
Fold onion mixture into ground chicken. Gently form 4 patties.

For the slaw:
Combine ingredients in the order they appear. Place on burger or use as a side.
For the mayo:
Mix all of the ingredients together. Spread on burger bun.