Celebrity chef, restaurateur and star of the latest Food Network competition show Alex Guarnaschelli shared her recipes for two classic dishes that are perfect for a picnic.
The culinary competitor joined "Good Morning America" on Wednesday in tandem with the start of her second season on "Alex vs. America."
She hailed this crispy, tender and flavorful chicken sandwich the perfect sandwich for summer and picnics and gave it an Italian upgrade by using fried sage, pancetta and parmesan cheese.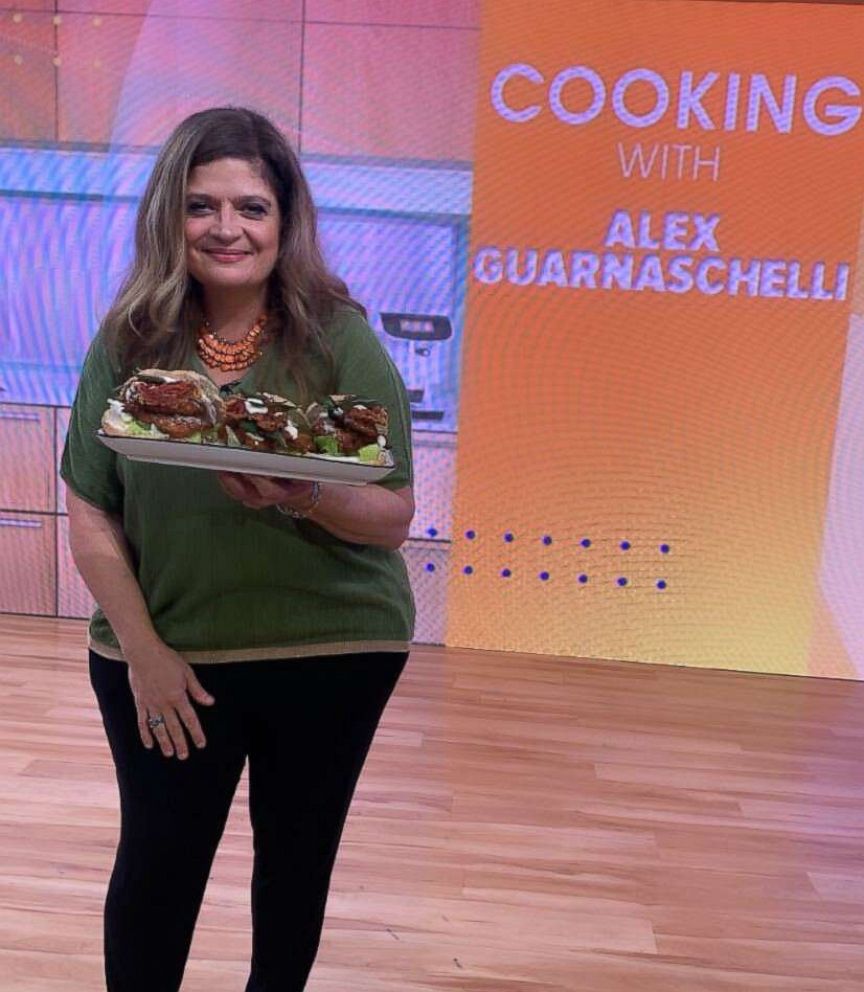 Check out the full recipes below.
Chicken Cutlet Sandwich with Fried Sage and Crispy Pancetta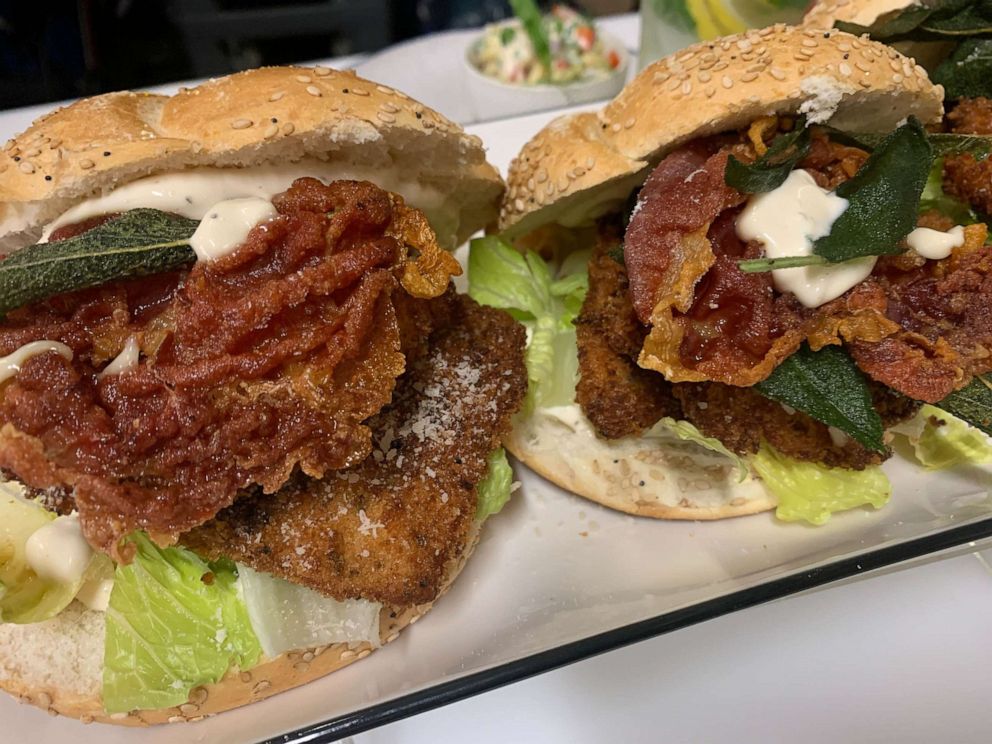 Yield: 4 servings
Total time: 40 minutes
Ingredients
1 cup canola oil
8 slices prosciutto
16 to 24 fresh sage leaves, stemmed
Kosher salt
1/2 cup mayonnaise
1/4 cup red wine vinegar
1 to 1 1/2 pounds whole skinless, boneless chicken breast, cut into 1/4-inch-thick pieces and pounded very thin
1 heaping tablespoon dried oregano
3 eggs, lightly beaten
4 cups plain breadcrumbs
4 large crusty, seeded rolls, split
2 romaine hearts, cut into 1/2-inch rounds
1/4 cup grated Parmesan
Directions
1. Cook the prosciutto and sage: Prepare a baking sheet fitted with a kitchen towel. In a large skillet, heat about 1/2 cup of the oil over low heat. When the oil begins to smoke lightly, add the prosciutto slices to the oil in the pan and cook until crispy, 1 to 2 minutes. Use a slotted spoon or spatula to remove them. Place them on the kitchen towel to drain. Next, add the sage leaves and cook until they pale in color and become crispy, 30 seconds to 1 minute. Remove and season them with salt. Set aside.
2. Make the sauce: In a small bowl, whisk together the mayonnaise and red wine vinegar.
3. Prepare the chicken cutlets: Prepare another baking sheet fitted with parchment paper. Sprinkle both sides of the chicken cutlets with the oregano and salt. Put the eggs in one bowl and the breadcrumbs in another. Dip each piece of chicken in the egg (on both sides) and then the breadcrumbs. Shake any excess off each one.
4. Cook the chicken cutlets: Add the remaining oil to the pan used to fry the prosciutto and heat it until it smokes lightly. Use a pair of tongs to carefully add a couple of the chicken cutlets to the oil in a single layer. Cook over medium heat on the first side until golden brown, 3 to 5 minutes. Turn on their second side and cook 3 to 5 additional minutes. Cut a small incision in the middle of each cutlet to make sure they are completely cooked. If any are underdone, place in a warm oven to cook for a few additional minutes. Repeat the process with the remaining cutlets.
5. Assemble the sandwiches: Spoon a generous helping of the mayonnaise mixture on the bottom half of the roll. Top with a mound of lettuce. Top with the chicken cutlets, some Parmesan, sage leaves and prosciutto slices. Drizzle with additional mayonnaise if desired. Top with the other half of the roll.
Classic Macaroni Salad
Yield: 4 to 6 servingsTotal Time: 45 min (plus soaking)
Ingredients3/4 cup mayonnaise1 tablespoon Dijon mustard1 tablespoon red wine vinegar2 teaspoons soy sauce1 teaspoon hot sauce (such as Tabasco)1 small red onion, diced, soaked in ice water at least 1 hour and up to 12 hours1 large red bell pepper, diced3 scallions (green parts only), thinly slicedKosher salt12 ounces elbow macaroni1 sprig dill, leaves finely chopped4 sprigs basil, leaves torn
Directions
1. Make the dressing: In a large bowl, whisk the mayonnaise, mustard, vinegar, soy sauce and hot sauce until smooth. Drain and dry the red onion and stir it into the dressing along with the bell pepper, scallions and a generous pinch of salt.
2. Make the pasta: In a large pot, bring 4 quarts of water to a rolling boil. Add a generous amount of salt. Add the pasta and cook, stirring from time to time, until al dente (chewy but not hard or raw tasting), 6 to 10 minutes. Drain; do not rinse the pasta. Spread it out on a large baking sheet to cool slightly, 5 to 10 minutes.
3. While the pasta is still warm, add it to the bowl with the dressing and let sit at room temperature, 10 to 15 minutes. Cover and refrigerate until ready to serve. Stir in the dill and basil just before serving and taste for seasoning.