Two chefs joined "Good Morning America" to share some Thanksgiving staples and included a way to turn two classic sides into a tasty leftover meal.
Chef Andrea Anthony, owner and chef at Lobster Roll, made two fruit-forward recipes for a sweet and tart side and a simple dessert.
Cran-Raspberry Sauce with Mandarin Oranges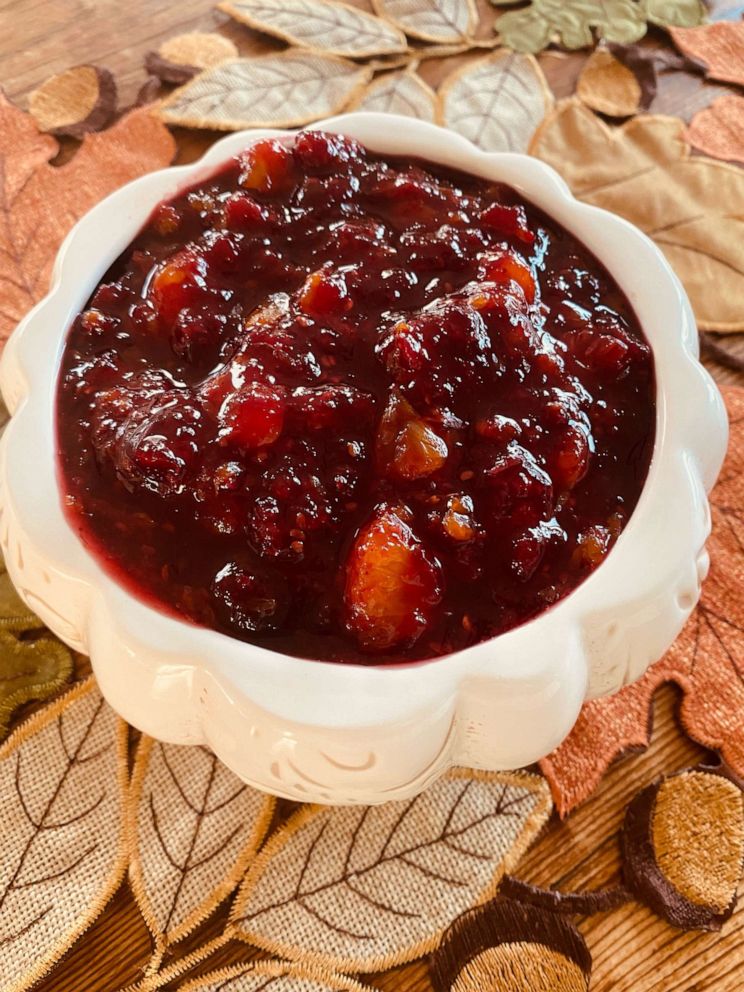 Ingredients
1 package of fresh cranberries
1 18oz jar of raspberry preserves
2 cans of mandarin oranges, drained
1/4 cup of orange juice
Directions
In a medium saucepan, bring the cranberries, orange juice and raspberry preserves to a rapid boil and stir well.
Once it comes to a boil, reduce heat to a simmer and cook for an additional 7-8 minutes while stirring often until thickened.
Skim the foam from the surface with a large spoon as needed.
Add the drained mandarin oranges and crush with a masher. Make sure to stir to incorporate thoroughly.
Allow the sauce to simmer for another 2-3 minutes and remove from the heat.
Let the sauce cool slightly and transfer to a serving dish. The sauce can be served warm, at room temperature, or chilled.
Apple Cranberry Crumb Pie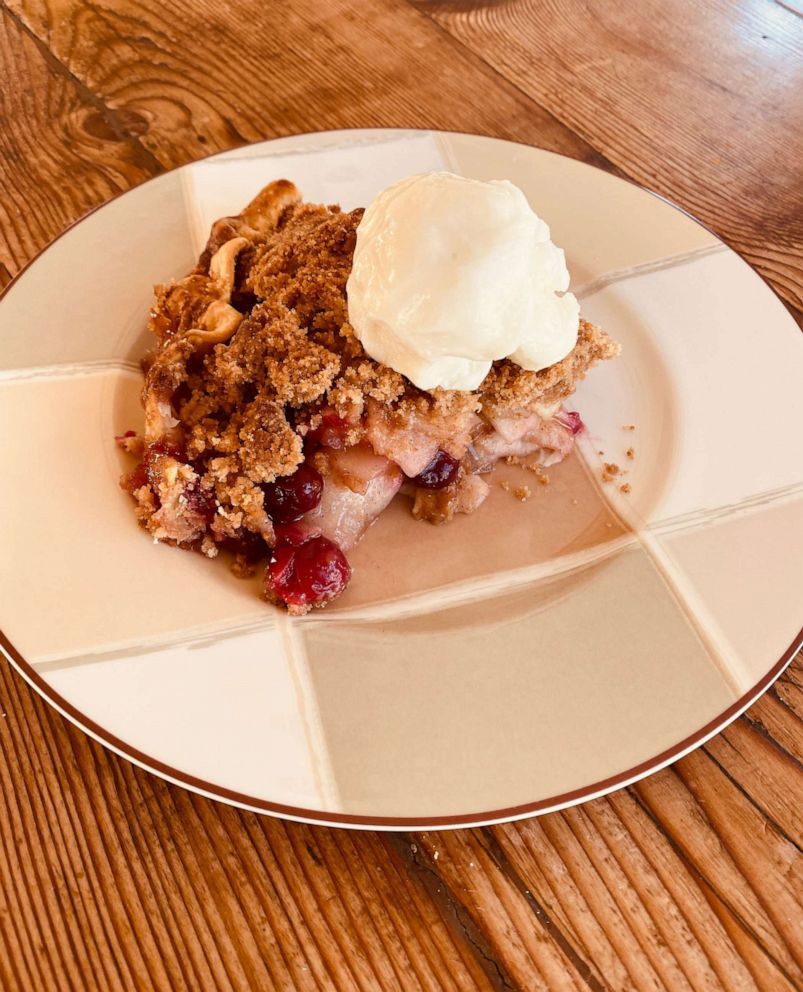 Ingredients
1 store-bought 9-inch refrigerated pie shell
2 cups of fresh chopped cranberries
8 cups of Granny Smith, Honey Crispy or Pink Lady apples peeled and thinly sliced
1/2 cup plus 2 additional tablespoons of sugar
2 teaspoons grated orange zest
2 teaspoons of cinnamon
1/4 cup all purpose white flour
Crumb Topping
1 stick salted butter softened, cut into 8 pieces, plus 1 additional tablespoon
1/2 cup sugar
1/2 cup of brown sugar
1 cup all purpose flour
1 teaspoon cinnamon
Directions
On a lightly floured surface, unroll the pie shell and fold in half. Place the folded pie shell in the pie pan and unfold the shell to fit the pan. Prick the bottom of the shell with a fork and set aside.
Place the apples in a large mixing bowl and add the rest of the dry ingredients. Toss the apples and dry ingredients until evenly coated.
For the topping, combine all your ingredients in a medium sized bowl and mix until well combined. Add the 8 butter pieces and mix well with your hands until thoroughly combined.
Pour the pie filling into the pie pan and spread evenly. Add the crumb toppings to the apple and make sure the apples are evenly coated.
Crimp the edges of the pie.Bake in a preheated oven at 375 degrees for 60-70 minutes until bubbly. Rotate the pie after 30 minutes in the oven.
Allow to slightly cool and serve with your favorite scoop of ice cream.
Chef Jason Goldstein of Chop Happy whipped up a batch of mashed potatoes and green bean casserole, then gave a spin on what to make with the leftovers.
Thanksgiving Leftover Shepherd's Pie
Servings: 6-8
Cook Time: 20 minutes
Green Bean Casserole Ingredients
2 pounds of green beans chopped into 2inch chunks 4 ounces of pancetta, chopped
3 tablespoons of butter
3 cloves of garlic
1 red onion, chopped
8 ounces of baby bella mushrooms, sliced 1 teaspoon of salt and pepper
1/4 teaspoon of red pepper flakes
1 can, 10.5 ounces of creamed mushrooms 4 tablespoons of sour cream
1 1/2 cups of gruyere cheese
1, 6-8 ounce can of fried onions
Directions
Place the pancetta in a medium saucepan with a teaspoon of oil and cook until crispy. Once the pancetta is crispy, remove from the pan and add butter, red onion, mushrooms, salt, pepper and red pepper flakes to the pan and cook for 3 minutes.
Add garlic cloves to the pan after 3 minutes and cook for an additional 30 seconds.
Add green beans to the pan and cook for an additional 2 minutes.
Transfer everything, including the pancetta to the casserole dish and add the cream of mushroom and sour cream, mix thoroughly.
Top the casserole with the gruyere cheese and cook in the oven at 375 degrees for 25 minutes.
Add fried onions after 25 minutes and cook in the oven for an additional 5 minutes then enjoy.
For the leftover shepherd's pie
Ingredients
2 cups of leftover green bean casserole 2-3 cups of leftover turkey
3 cups of leftover stuffing
Directions
Mix the leftover green bean casserole with turkey and place in the casserole dish.
Top the green bean and turkey mixture with the leftover stuffing.
Bake in the oven at 375 degrees for 25 minutes and enjoy.
Turning Mashed Potatoes into Leftover Handheld Pies
Serves: 5-7Cook Time: 20 minutes
Mashed Potatoes Ingredients
3 pounds of Yukon gold potatoes, chopped 5 garlic cloves
8 cups of chicken broth
2 teaspoons of salt
2 teaspoons of pepper
1 stick of butter
1/2 cup of sour cream
3 tablespoons of chives, chopped
Directions
Add the broth, potatoes, and garlic to a pot and bring to a boil for 15 minutes.
Drain the broth and let the potatoes and garlic sit in the hot pan to steam out the liquid.
Add the butter, sour cream, salt, pepper and chives to the pot and mash, making sure to not over mash the potatoes.
Leftover Handheld Pies
Cook Time: 20 minutes
Ingredients
2 cups of leftover turkey
2 cups of leftover mashed potatoes 1 cup of leftover cranberry sauce
2 cups of cheddar cheese
1 sheet of pie dough
1 egg beaten
Directions
Roll the pie dough out and using a small bowl or biscuit cutter, cut out circles.
Place a scoop of mash potatoes in each circle, leaving about a 1 inch border. Top with turkey, cranberry sauce and cheddar.
Fold over the edge of the pie dough and crimp the edges using a fork.
Place the pies on a parchment lined baking sheet and brush with egg wash.
Bake in the oven at 400 degrees on the middle rack for 15-20 minutes until the pie dough is cooked.