3 creators share Thanksgiving recipes that infuse heritage with American tradition
Recipes from The Korean Vegan, A Cook Named Matt and It's Lisa Nguyen.
Thanksgiving tables may look different in every household, but the family traditions that shape specific menus and dishes make each holiday meal unique and special.
Three YouTube shorts stars and food content creators -- Joanne Molinaro of The Korean Vegan, Matt Broussard aka A Cook Named Matt, and Lisa Nguyen -- came together to share a taste of their roots through modern recipes with "Good Morning America" for a fresh take on some Thanksgiving flavors.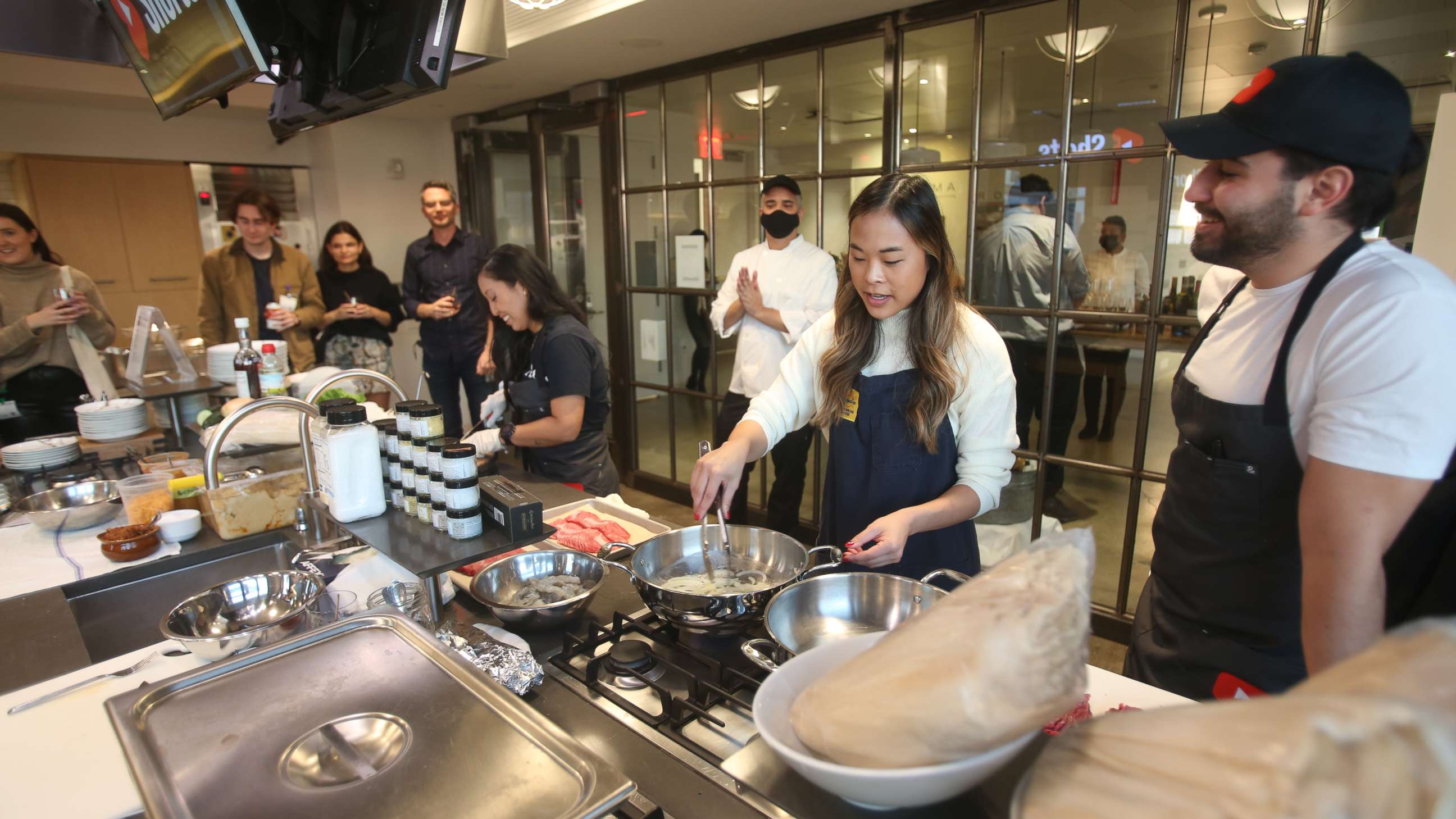 Molinaro and Broussard both created a vegan recipe -- sweet and savory respectively -- that tapped into the flavors of their family's cultures and would make even a diehard dairy fan dive back for a second helping.
"Matt showing me how to make the tamales that he grew up eating and the way that he likes to eat it is beautiful. That's one of the things that I feel like gets lost when we do creative projects on our own -- is the way these stories can connect us," Molinaro said. "Having a platform out there that is kind, intentional and understands creator economy and knows better than probably any other social media platform how to treat its creators and value and respect them is very important."
Nguyen shared the secret to a Vietnamese classic that keeps her family's hands and mouths busy.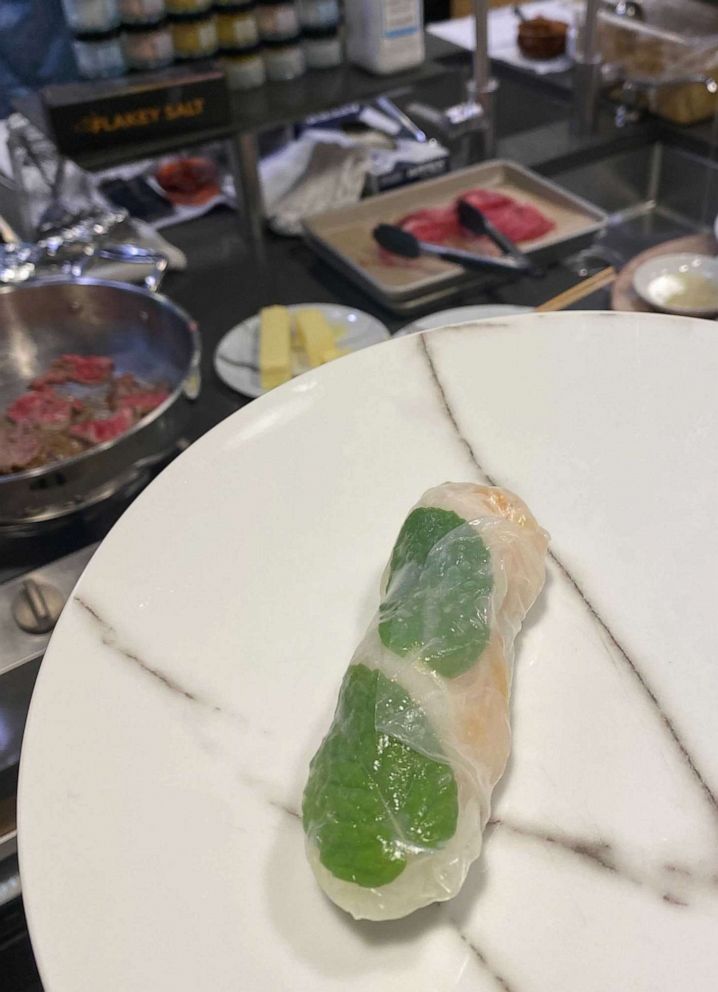 "Growing up, we didn't have the traditional Thanksgiving dinner, but we always had spring rolls. Everyone's able to sit around the table, make their own spring rolls, stuff their mouths," she said with a laugh, adding that "you can't get into those silly family arguments or have time to argue if your mouth is full of spring rolls."
The creators teamed up to demonstrate their recipes in-person ahead of Thanksgiving -- check out all three of them below.
Pecan Paht Pie
"Paht means sweet red beans in Korean," Molinaro said of the main ingredient in the recipe that she kept under wraps until her debut cookbook was released. "Thanksgiving in my house is always kind of a contentious time -- there's a group who wants traditional American fare and an older generation who wants the Korean classics -- I wanted to create a recipe that spoke to both sides of our family."
She continued, "Not only is the red bean paste far less sugary than the typical custard-like filling of a traditional pecan pie, I knew my family would instantly appreciate the familiar flavor. I presented my little pie that Thanksgiving, and since then, I have been asked to make it every year."
Serves: 8 to 10
Ingredients
For the pie crust:
1 1/2 cups (210g) all purpose flour (see note)
1 tablespoon sugar
1 teaspoon salt
2/3 cup (152g) cold vegan butter, cut into 1/2 inch cubes
3 to 4 tablespoons ice water

For the pie filling and topping:
3/4 cup (300g) brown rice syrup
6 tablespoons soy or oat milk
1 cup (320g) paht
1/4 cup (50g) light brown sugar
4 tablespoons (57g) vegan butter, melted and cooled
1/2 teaspoon salt
1 teaspoon vanilla extract 2 cups (220g) chopped pecans
3 1/2 tablespoons (35g) potato starch
1 cup (110g) pecan halves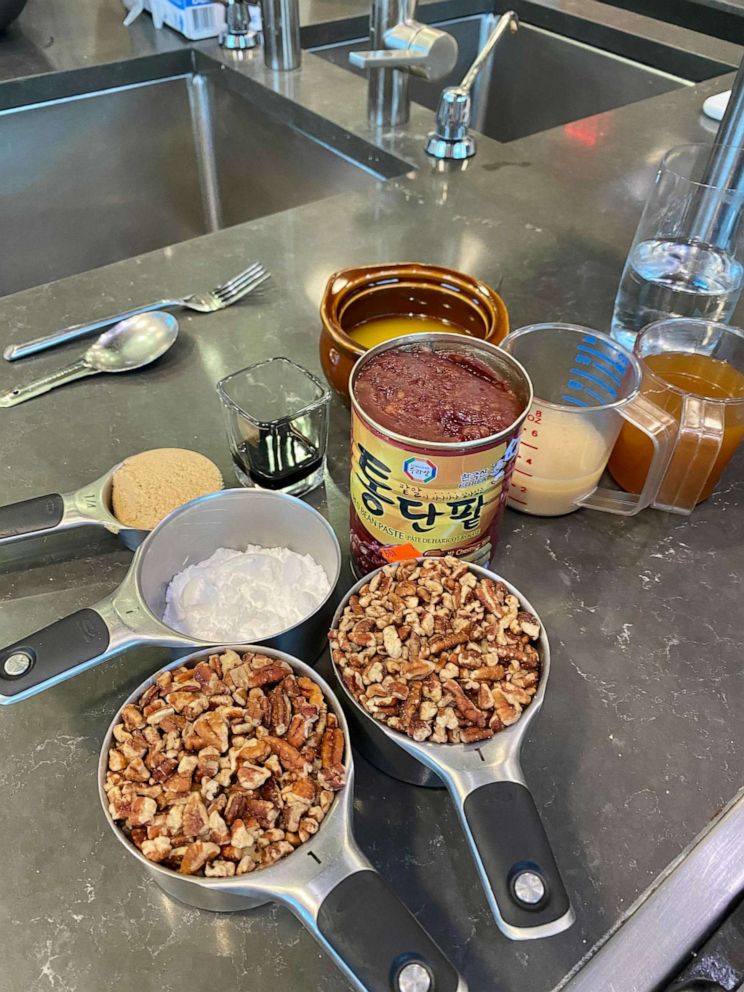 Instructions
1. Make the pie crust: In a food processor, combine the flour, sugar and salt and pulse while adding the butter, a few pieces at a time. Add the ice water, 1 tablespoon at a time, until the dough starts to form.
2. Shape the dough into a ball. Do not handle more than necessary. Wrap with plastic and refrigerate for at least 4 hours, but best if overnight.
3. Preheat the oven to 350 degrees.4. Make the pie filling and topping: In a medium bowl, combine the brown rice syrup, soy milk, paht, brown sugar, melted butter, salt, vanilla, chopped pecans and potato starch.
5. Place the pie dough between two sheets of parchment paper. Using a rolling pin, roll out the pie dough gently until it is large enough to line a 9-inch pie pan. Ease the crust into the pan and trim any excess dough at the edges with kitchen shears or a sharp paring knife. Pour in the filling. Top the filling with pecan halves.
6. Transfer the pie to the oven and bake until the pie filling sets (i.e., doesn't jiggle too much), 1 hour to 1 hour 15 minutes. Cool the pie on a wire rack for 2 hours before serving.

Vietnamese Spring Rolls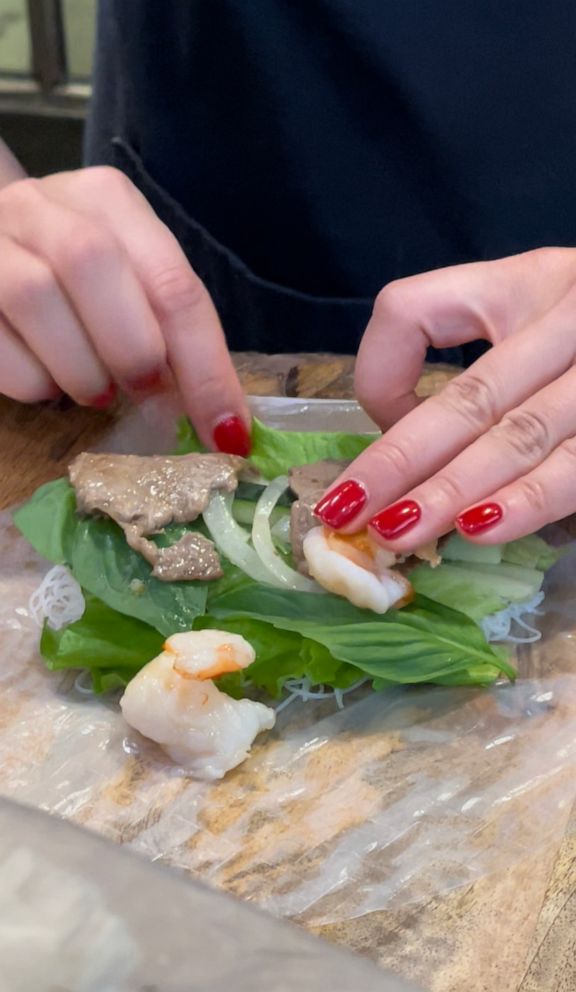 "Growing up, my family had Thanksgiving dinners, but we added our own tradition to it," Nguyen said. "The holiday is a time to spend time with family, and spring rolls were the perfect meal to share. My siblings and I would assist in the preparation of the meal, and then we would all sit down and cook the feast together."
Serves: 6 to 8
Ingredients
Dipping sauce:
2 cups warm water
5 tablespoons sugar
1/4 cup fish sauce
1/3 cup white vinegar
1 lime
10 cloves minced or crushed garlic
3 Thai chili peppers, chopped
For the spring rolls:
2 1/2 pounds eye of round steak, thinly sliced
1 pound shrimp, deveined and sliced in half
1 package of firm tofu, sliced
1 head green leaf lettuce
1 bunch Thai basil
1 bunch mint leaves
1 bunch cilantro
2 cucumbers, julienne cut
2 yellow onions, sliced
2 sticks of butter
1 package of rice vermicelli sheets, Bánh hỏi

Instructions
1. For the dipping sauce, combine warm water and sugar until sugar is dissolved. Then add the rest of the dipping sauce ingredients.
2. Plate the beef, shrimp and tofu.
3. Wash and plate the greens/vegetables.
4. Cook rice vermicelli sheets per instructions on packaging.
5. In a hot pan or electric skillet, add 2 tablespoons of butter. Once melted, add sliced onions. Then add beef, shrimp and tofu. Flip when needed until cooked fully.6. Wet rice paper in warm water.7. Add caramelized onions, greens/vegetables, rice vermicelli sheet and grab meat and/or tofu from skillet.
8. Roll the spring roll, and serve with the dipping sauce.
Vegan Squash Tamales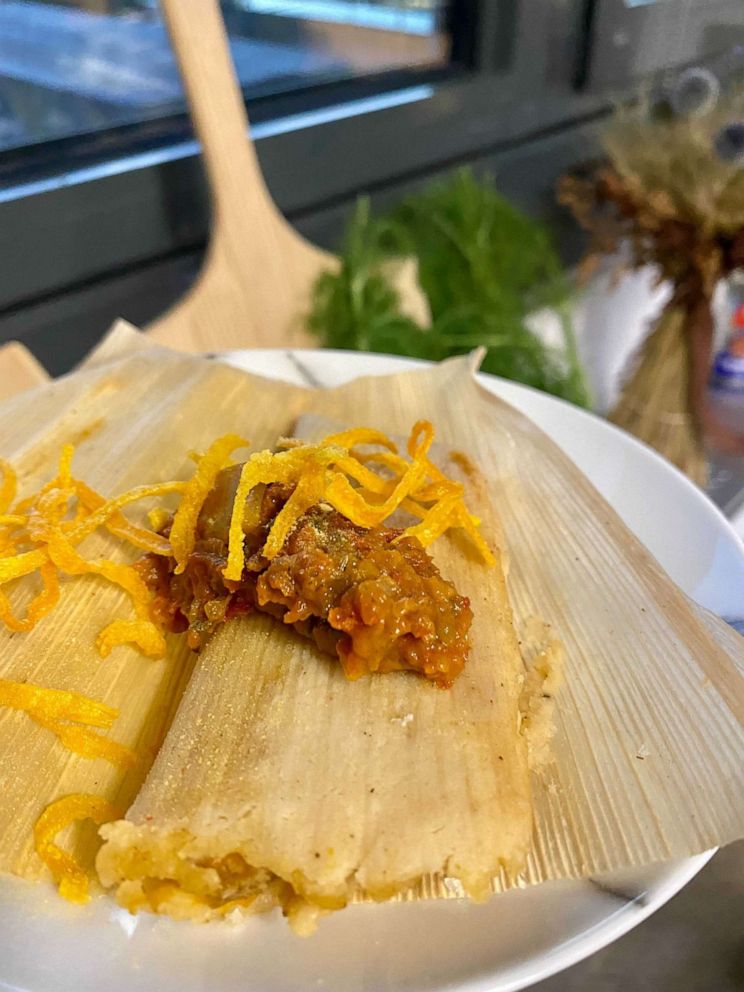 "In my family, Thanksgiving was always synonymous with tamales. For as long as I can remember, a local woman in my neighborhood went door-to-door selling homemade tamales during the holidays," Broussard said. "We would rush to buy them before they sold out. Then we'd sit down together to eat the great food and familiar company. The tradition is something I've continued to uphold, and this year, with a vegan interpretation that everyone can enjoy."
Serves: 8 to 10
Ingredients
For the dough:
3 cups of Masa Harina
1 cup of shortening
2 cups of vegetable chili stock
1 tablespoon of salt
1 tablespoon baking powder

For the filling:
1 spaghetti squash
Oil to coat
Salt, pepper to taste

For the 'cheese'
1 pint of butternut squash (roasted)
2 teaspoons of vegetable stock
1 package of soft tofu

Instructions
1. For the dough, start by blending together your Masa Harina, shortening, vegetable chili stock, salt and baking powder.
2. Once all ingredients are mixed thoroughly, cover the dough and move onto the filling.
3. The key to the filling is to roast the squash until tender. Add a layer of oil to coat the outside of the squash, and add salt and pepper to taste. This usually takes 15-20 minutes.
4. For the cheese, combine your soft tofu and vegetable stock and mix in a bowl with the roasted butternut squash. Slowly add additional vegetable stock until smooth.
5. Once your tamales are ready, drizzle the cheese on top of the dish (add as much as you like).
6. Enjoy.