Dolly Parton shares a taste of Dollywood Flower and Food Festival menu
Culinary Director Aaron Banks demonstrated two savory and sweet menu items.
Tennessee is home to a handful of national treasures but country music and barbecue reign supreme, especially at Dolly Parton's eponymous park and resort.
"Good Morning America" took a trip south on Wednesday to rise and shine at Dollywood and catch up with the country music superstar alongside her park's culinary director, Aaron Banks.
"We cheer him [on] all the time here at Dollywood because he makes sure all the food is great. Everybody loves it," Parton told Robin Roberts. "He's a great boss and has a lot of talent -- we're lucky to have him."
Banks kicked things off with his favorite dish at the park, barbecue brisket sliders.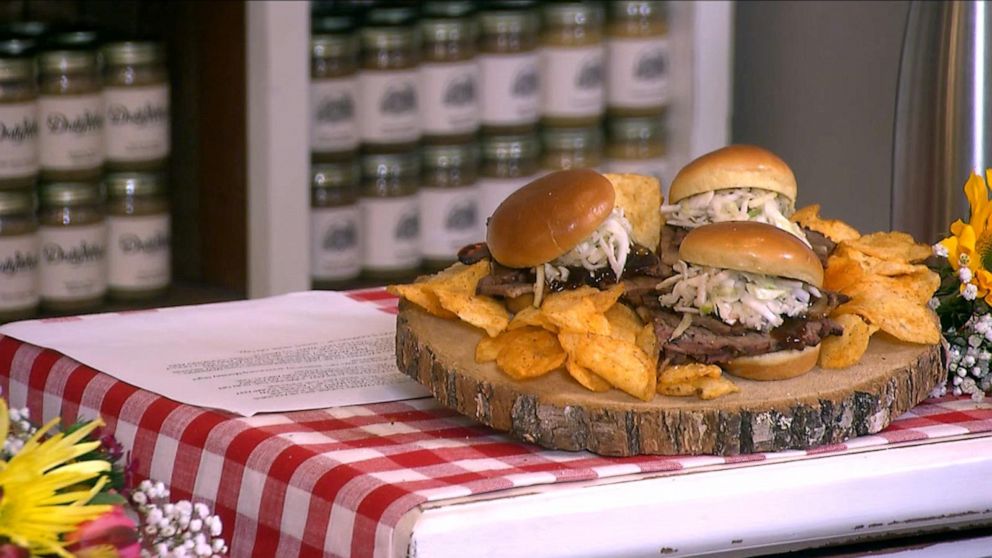 "It's incredible," he said of the smoked meat sandwich that's topped with a homemade BBQ sauce and apple and cabbage slaw. "We have our own Dollywood seasoning we put on it. We smoke the brisket for about six and a half hours. We hand slice it, then we build our sandwiches and our guests are just out of [their] mind about it."
Banks said another "fan favorite" is their New England-style lobster roll, which Parton added is served atop a big ol' buttered bun and stalk of celery. But they also make other savory hits like hand breaded fish and chips, a Cuban sandwich with plantain chips, Great Smoky Mountain paella and beef bulgogi nachos.
For dessert he and Parton whipped up a batch of their lavender honey mini funnel cakes.
Banks tops the swirled fried dough with powdered sugar, chantilly cream, a drizzle of lavender infused honey and a few fresh blackberries and blueberries.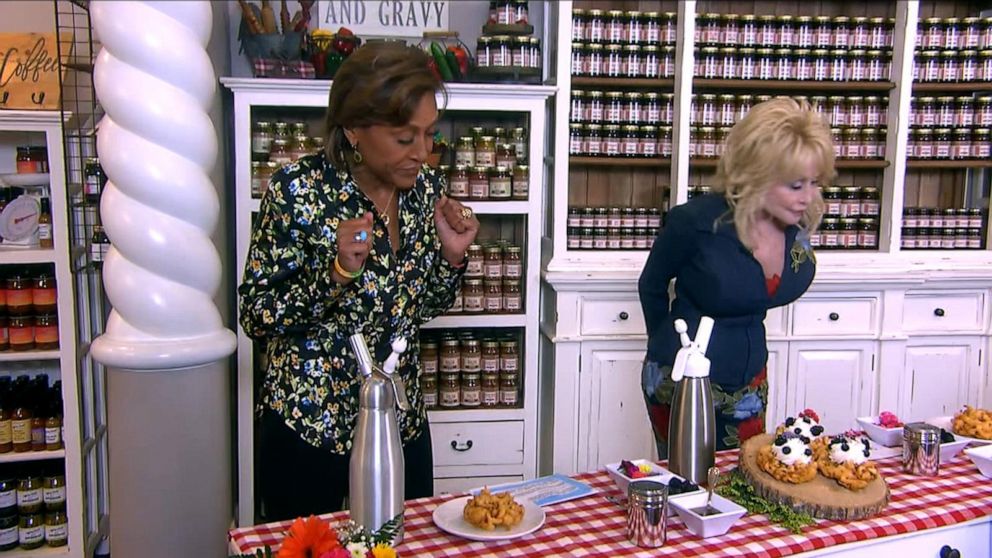 "Who wants healthy?" Parton joked as she helped make her own batch. "You think one berry is going to counteract this sugar? I don't think so," she said with a laugh joking with the chef and Roberts.
The park is in the midst of hosting Dollywood's Flower and Food Festival, which runs through June 7 as spring continues to blossom through the Smoky Mountains, where guests can enjoy more than half-a-million blooming flowers and snag a new dining pass for an unforgettable culinary journey.
All of the menu items created by Banks and his culinary team were inspired by spring in the Smokies.