What better time to fire up the grill than for Father's Day?
From vegetables and fresh fish to sweet seasonal stone fruits for dessert, check out these easy summer recipes that will get the whole family grilling and grinning.
Grilled broccolini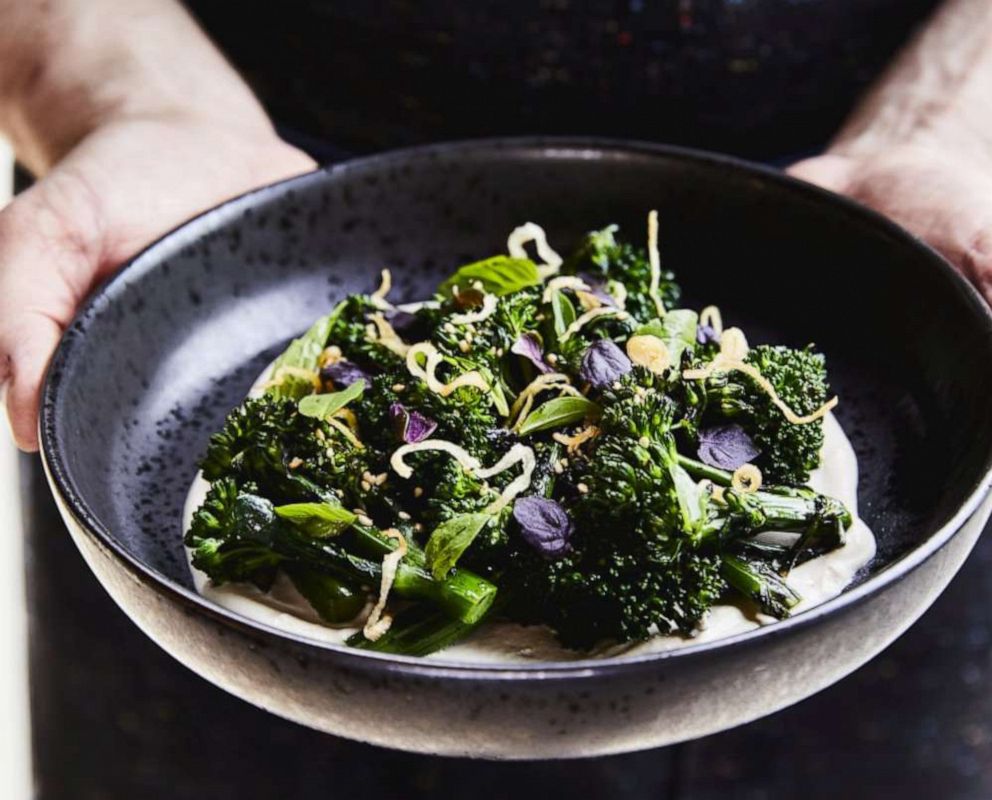 Executive Chef Chris Schaefer, a New Jersey native who grew up cooking with his family and now helms the kitchen at Geraldine's at the Kimpton Hotel Van Zandt in Austin, Texas, shared this simple charred side that can be done in less than 10 minutes and adds a bright ingredient to the grill.
Plus, Schaefer told "Good Morning America," you can garnish with preferred toppings to make the side custom for your friends and family. "At Geraldine's, I add yuzu-cashew butter on the bottom of a plate, top with the broccolini and garnish with serrano chilies and furikake," he said.
Ingredients
1 bunch broccolini
1/2 gallon water
Salt, pepper and olive oil (to taste)
Directions
Trim broccolini stems half-inch.
Bring half-gallon of salted water to a boil and add one bunch of broccolini.
Cook until tender then chill in ice water. Remove and drain. Refrigerate until ready to use. Can be prepared 48 hours in advance.
When ready to grill, make sure the grill is at its hottest to achieve a nice char on the broccolini. This will impact flavor. Be on the lookout for char marks, meaning spots that are getting dark but not burnt all the way around.
Remove and cut broccolini while it's still warm.
Toss with extra virgin olive oil, salt and pepper.
Grilled street corn elote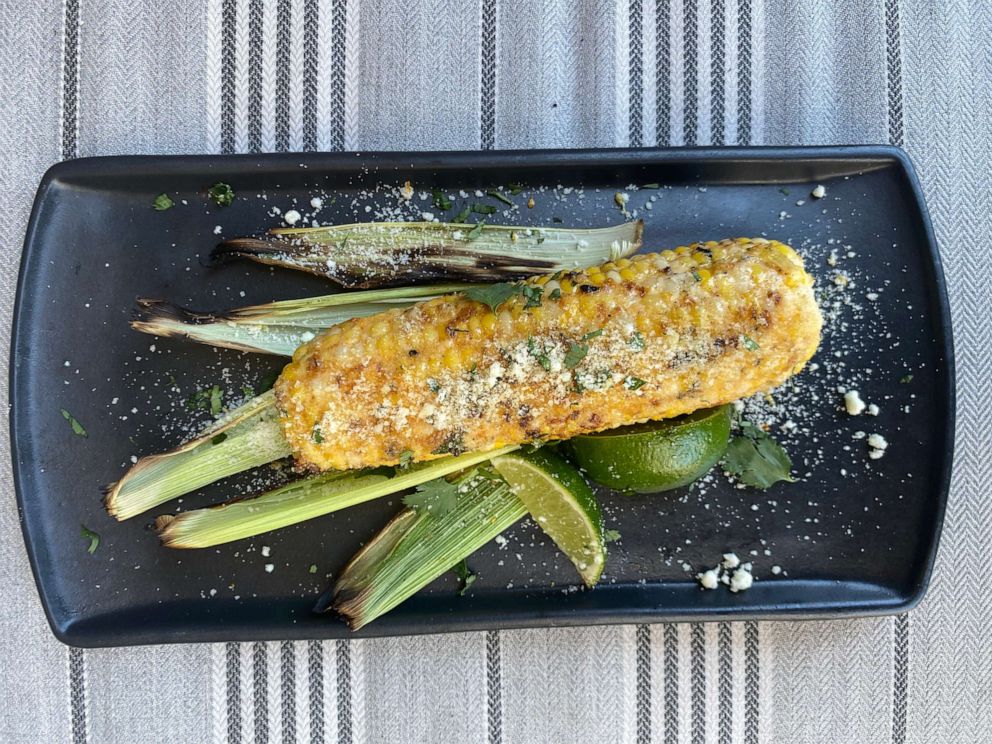 This staple BBQ side dish elevates the flavor of the charred kernels with a spicy and creamy finish that works on its own or as a topping in a salad.
Ingredients
4 ears of corn, shucked and silk removed
1/2 cup Duke's mayonnaise
1 tablespoon chipotle powder
2 tablespoon grated Parmesan cheese
Zest of one lime
Pinch of salt
1 bunch cilantro to garnish
1 lime sliced into wedges to garnish
Directions
Shuck corn until it's silk-free and clean.
Combine mayo, chipotle, parmesan, lime zest and salt.
Cover all of the corn with the mayo rub. Refrigerate at least one hour (can prepare a day in advance and sit in the refrigerator overnight).
Light your grill, after temperature has evened out (or put gas on medium), place your corn on the grill. It will grill relatively quickly, and you will need to move it around until it's nice and brown.
Remove from grill, garnish with remaining 1 tablespoon of parmesan and garnish with cilantro and lime wedges.
Recipe reprinted courtesy of Executive Chef Kristin Beringson at the Henley, Kimpton Aertson Hotel in Nashville.
Mark Consuelos' easy garlic and herb-grilled halibut skewers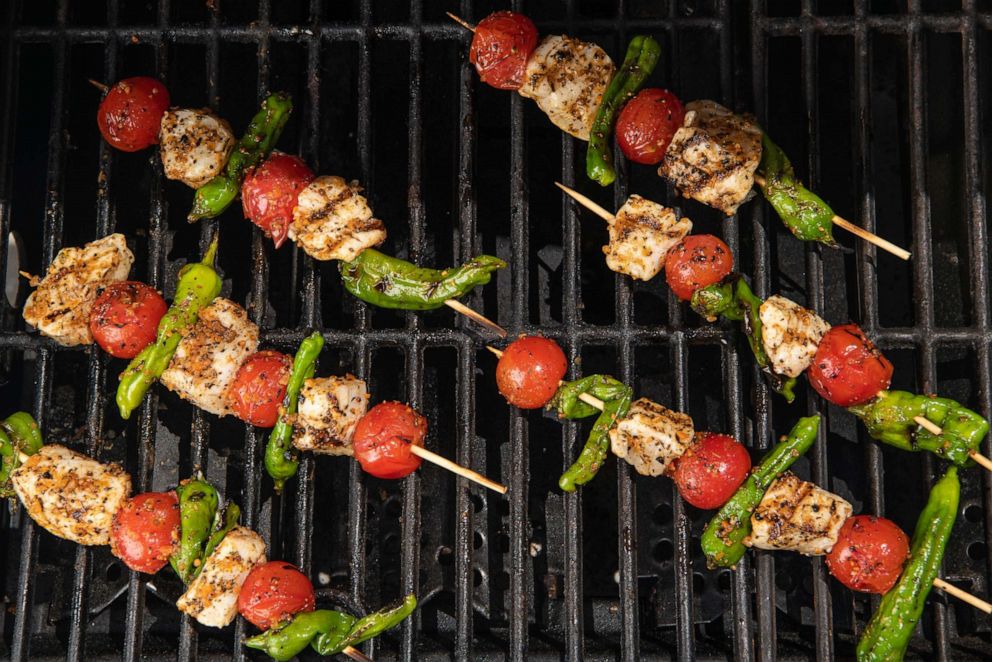 The actor and father of three shared his fool-proof, fast, easy and flavorful Father's Day recipe that makes a perfect grilled summer dish.
The recipe, he said, is ideal for grillers of any skill level, has just six ingredients and combines flaky halibut with some of the star's favorite seasonal produce like cherry tomatoes and mildly spicy shishito peppers, plus he amps up the flavor with Grill Mates' roasted garlic and herb seasoning blend.
Prep time: 10 minutesCook time: 8 minutes
Ingredients
3 tablespoons olive oil
3 tablespoons lemon juice
2 tablespoons McCormick Grill Mates Roasted Garlic & Herb Seasoning
1 pound halibut or swordfish steaks, cut into 1- to 1 1/2-inch chunks
12 heirloom cherry tomatoes
12 small shishito peppers
Instructions
Whisk oil, lemon juice and seasoning in small bowl. Reserve 2 tablespoons of the mixture for basting; set aside.
Alternately thread halibut, tomatoes and peppers onto 6 skewers. Brush evenly with remaining seasoning mixture.
Grill skewers over medium heat 6 to 8 minutes or until fish is cooked through and flakes easily with a fork, turning halfway through grilling and basting with reserved seasoning mixture.
Recipe reprinted courtesy of Mark Consuelos.
Grilled peaches with toasted walnuts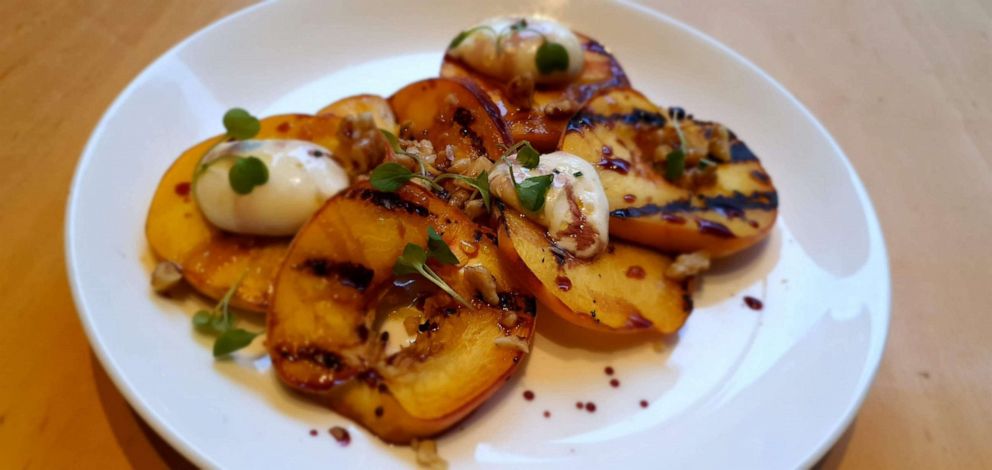 Robbie Meltzer, head chef at Jaleo in Washington, D.C., and father of 2-year-old Oliver, shared a grilled summer dessert perfect for a sweet end to any meal.
"Nothing feels more like summer than enjoying super sweet peaches. Grilling peaches makes them even more delicious, and it couldn't be easier," he told "GMA." "Goat cheese and toasted walnuts add the perfect salty balance to their natural sweetness."
Ingredients
1 peach
1 tablespoon toasted walnuts (recipe below)
2 tablespoons fresh goat cheese
1/2 tablespoon Tempranillo wine reduction (recipe below) - optional
Maldon salt (to taste)
1/4 oz extra virgin olive oil
Microgreens
1 tablespoon granulated sugar
3 tablespoons honey
4 oz Brandy
750 ml (approx. 3 cups) Tempranillo wine
3 cinnamon sticks
1/2 cup granulated sugar
1 vanilla bean
Directions
Slice the peach in half and remove the pit from the center.
After removing the pit, slice each half into 3 rounds for a total of 6 rounds.
Place the peach rounds on a plate, and spray with blended oil.
Sprinkle the sugar over top of the peaches, and transfer directly onto the grill, sugar side down.
Grill the peaches for 2-3 minutes, rotating the peaches a quarter turn to create grill marks.
Remove the peaches from the grill and arrange on a plate. Place crumbles of goat cheese on top of each peach round. Add toasted walnuts on top of the peaches.
Drizzle Tempranillo wine sauce on top of the peaches, followed by a drizzle of olive oil.
Garnish with sea salt and micro greens.
Toasted walnuts
1 lb walnuts, shelled
Preheat oven to 350 degrees. Arrange the walnuts on a baking sheet in a single layer. Bake in the oven for 8-10 minutes, turning halfway, until golden brown and fragrant.