Easy one-skillet white bean hash with eggs recipe uses up pantry ingredients
Chef Geoffrey Zakarian and his daughters shared the delicious dish with "GMA."
People are embracing cooking at home amid the coronavirus outbreak, and celebrity chef Geoffrey Zakarian has an easy, delicious dish that can cook up in no time.
Chef Zakarian joined "GMA" via FaceTime with his two daughters, Madeline and Anna, to help him cook up his simple one-skillet hash recipe.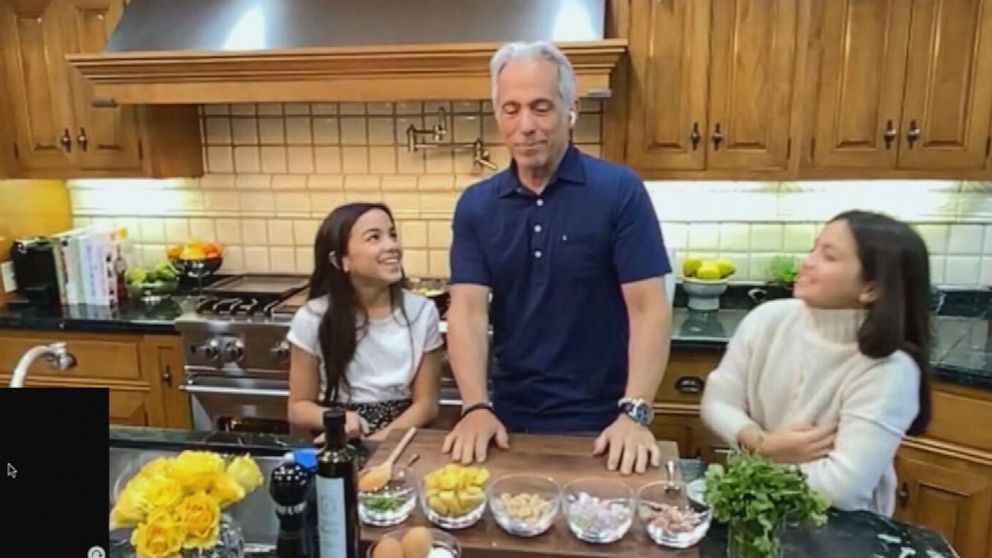 The chef and partner of Lamb's Club in New York City said this is a healthy meal that also serves as a fun family activity to do while everyone's hanging out at home.
Plus, he said "any of the ingredients can be substituted," to work with what people have on hand in the fridge or pantry.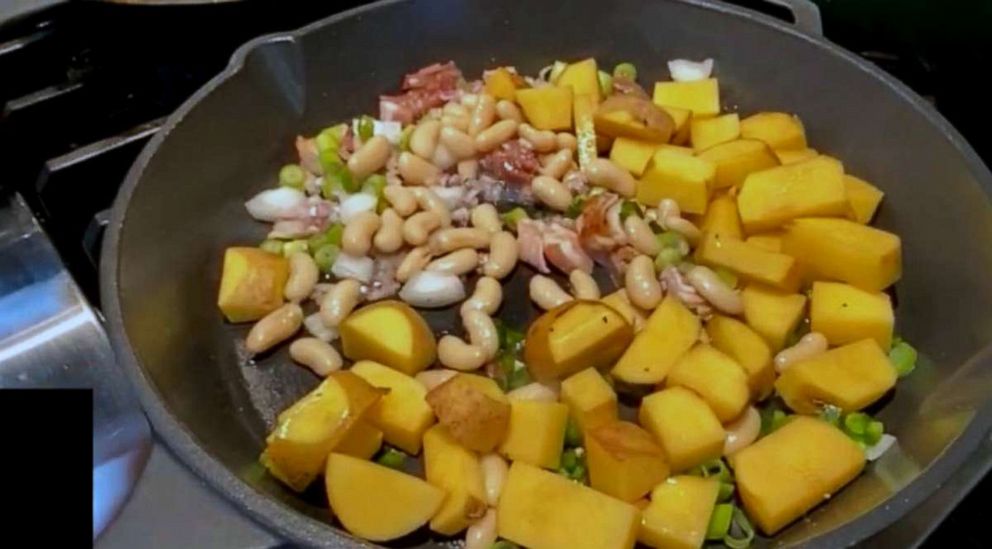 "You can use baked beans, black beans, white beans, whatever you have," he said. "It's all about the pantry right now -- just navigate your pantry."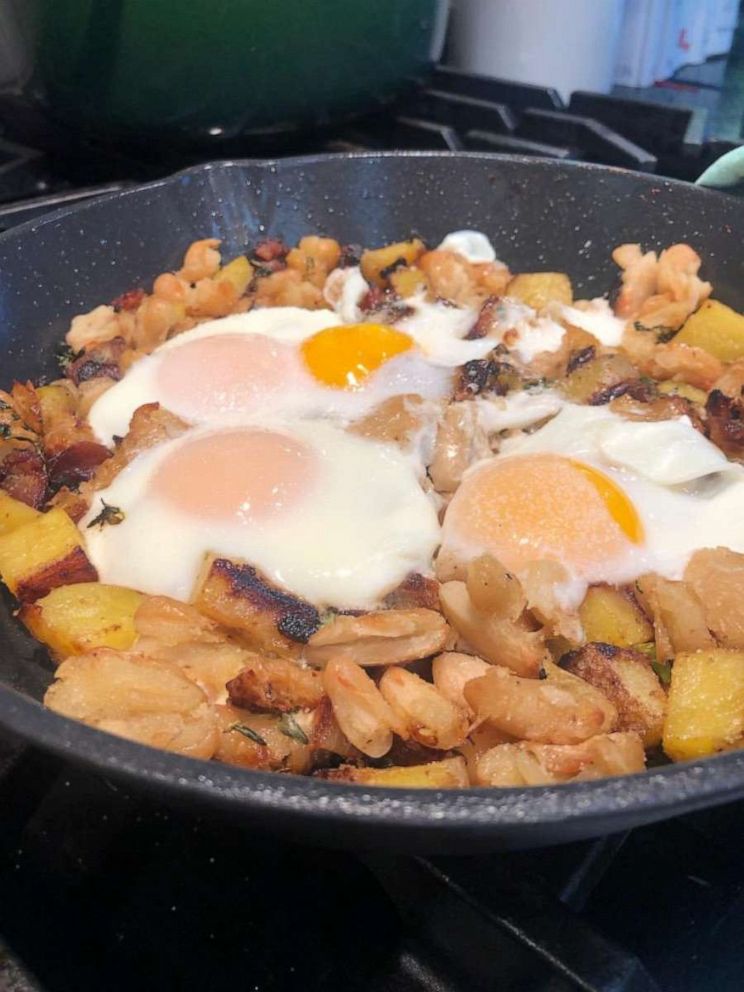 Check out his full recipe below.
White Bean Hash & Eggs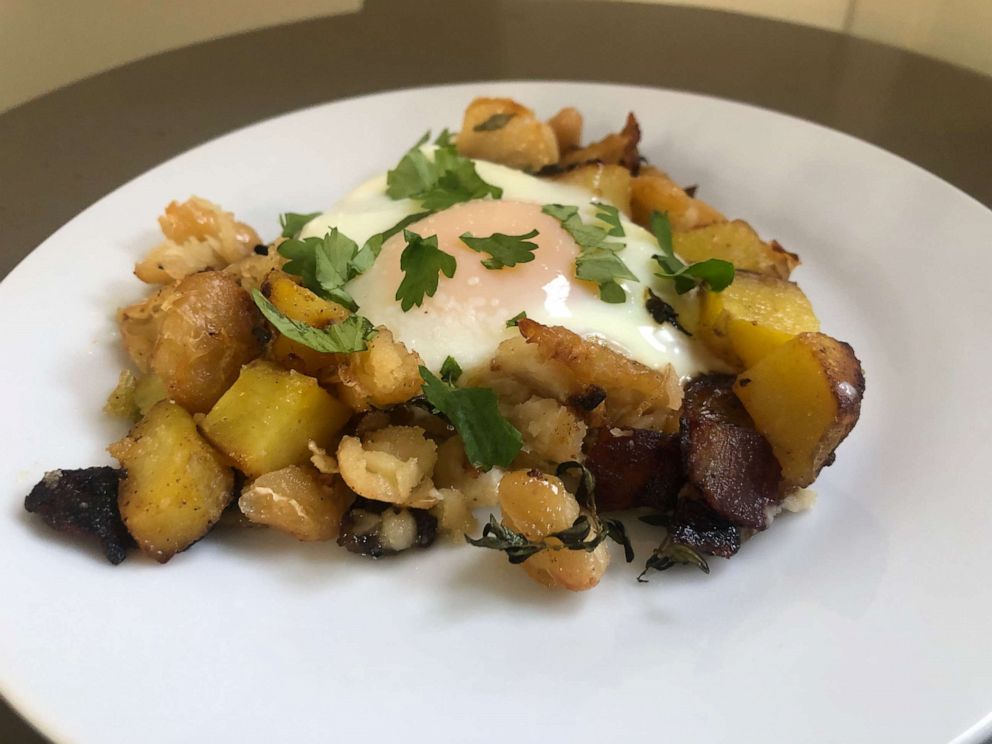 Ingredients
2 tablespoons (1/4 stick) unsalted butter
1 tablespoon extra virgin olive oil
2 ounces, bacon, diced
1 small onion, about 1 cup, diced
2 cups potatoes, washed and diced small
1 jalapeño, finely chopped, seeds removed, optional or dried red pepper flakes
2 cups canned beans (cannellini, butter, lima or other)
2 tablespoons fresh parsley (or dried)
1 tablespoon chopped fresh thyme (or dried)
4-6 eggs
Kosher salt & pepper

Directions

In a large cast iron skillet, over medium heat, add 1 tablespoon butter, the oil and the bacon. Cook and stir until the bacon begins to render its fat but is not yet crisp, about 3 minutes.

Add the onion, potato and jalapeño. Cook, stirring and tossing occasionally, until the vegetables are softened and the potatoes are browned and tender, about 10 minutes. Season with salt.

Raise the heat to medium-high and add the beans, scallions and thyme. Let the mixture sit in the skillet, without stirring, until the hash develops a crust on the bottom, about 2 minutes. Flip and stir and let it sit until a crust develops again, 2 to 3 minutes more. Stir in the parsley and keep warm.

Crack 4 to 6 eggs on top of potato mixture and place in oven for 5-10 minutes at 400 degrees F, depending on egg doneness preference.

Remove from oven and serve!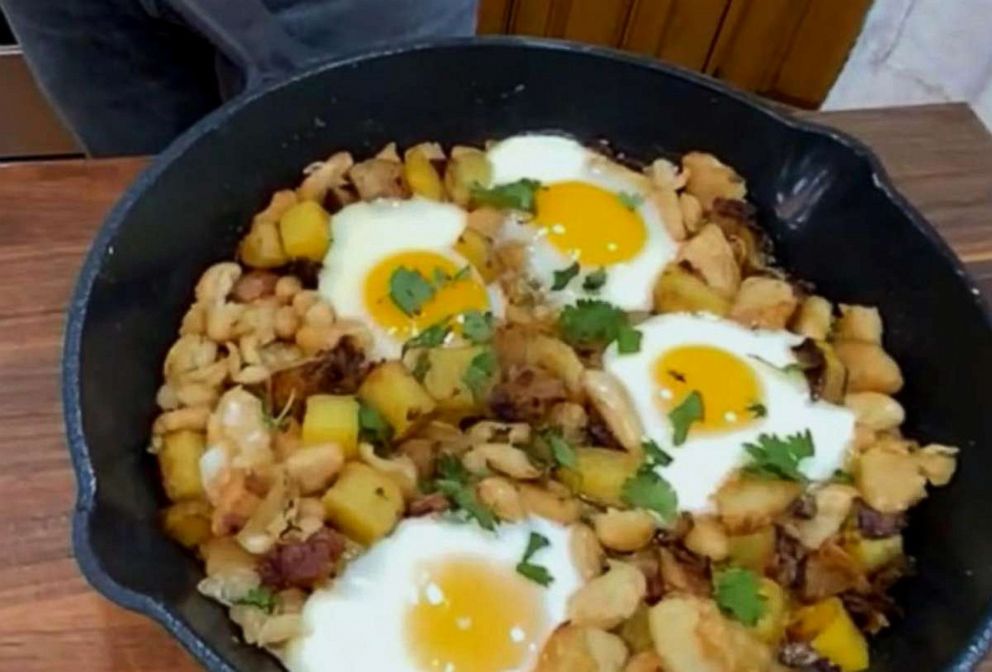 Chef GZ's Tips

1. Don't stir too much otherwise you will get mush.
2. Cast iron will help you develop a good crust because of its high heat conductivity and can then keep it warm on table when serving straight from oven.
3. Beans are a good choice to add to hash to help hold it together so that a crust forms.
4. Add other vegetables, like bell peppers, or fresh herbs if you have them on hand.
5. Watch eggs closely in the oven to cook to desired doneness.

How to help the hungry in need
Zakarian, who is on the board of the non-profit private food rescue organization City Harvest, said that during this unprecedented time there are still ways to help the New York community through food.
"Gov. Cuomo has designated City Harvest as an essential service during this pandemic -- it's just amazing that this has happened -- and it's really important to support them right now," Zakarian explained. "The best way to support them is to text LUNCH to 20222 and send a donation -- for people in need -- We have to get food where it's needed right now."