Feast your eyes on a beautiful tablescape that's easy to recreate at home this Thanksgiving!
Turkey will no doubt be the star of the dinner table, but with these tips and tricks guests will be oohing and aahing over the table itself before the food is even served.
Interior designer and HomeGoods style expert Jenny Reimold knows how to create a beautiful place setting for every occasion. She shared her tips with "GMA" to make sure that your Thanksgiving is simple, elegant and fit for a festive feast!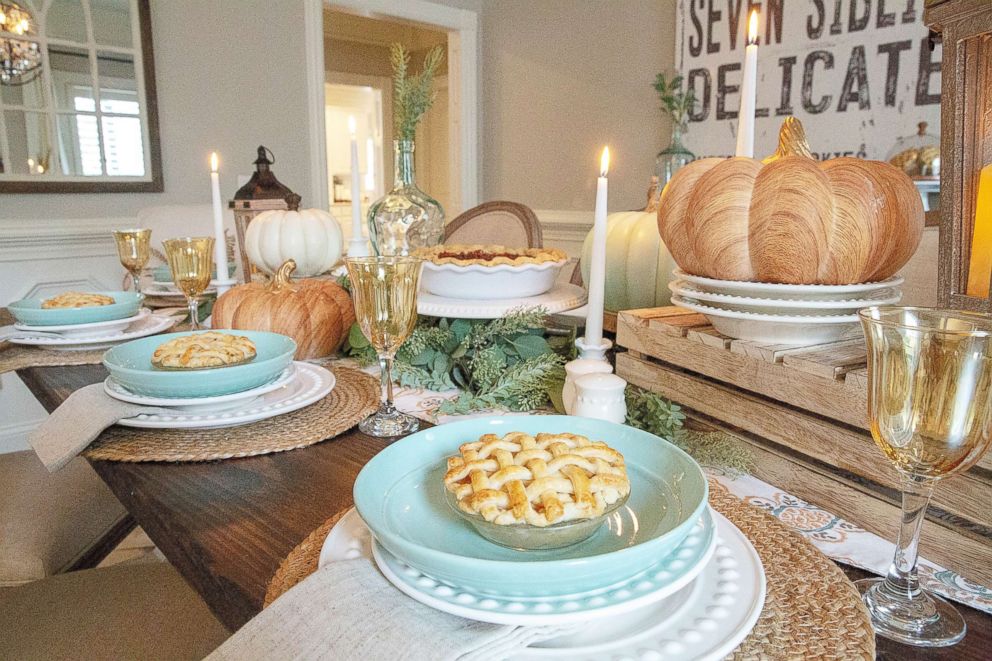 Set a simple foundation
My recipe for a great tablescape is the combination of a fun table runner, neutral placemats and white or ivory dishes. Layering these three basic elements make your table setting pop, and mixing textures creates a subtle and elegant look that serves as a great design foundation.
Add elements of height
I like to grab small, durable wooden crates, from HomeGoods and flip them upside down to build height. It's such an easy way to add dimension to my table. Then, I find various decorative pumpkins or florals to set on top.

Add some greenery
Don't use the kind that look overly fake. Try using a very soft, green garland, sprigs of Lambs Ear or olive branches to place amongst the crates and plates.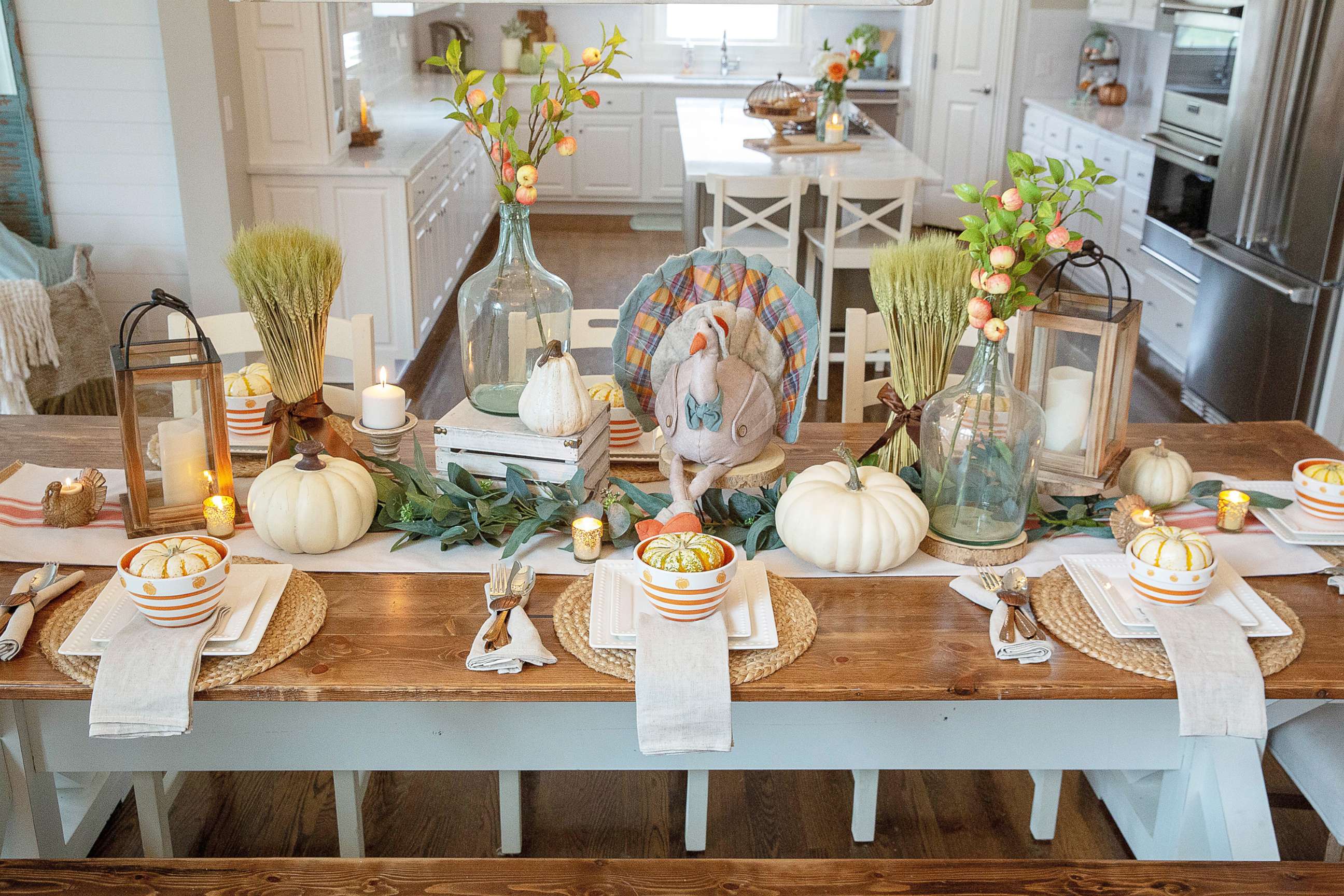 Add candlelight
I follow the rule that you should never have fewer than four candles on the table. Candles add a warm, soft light that makes your setting glow. I like to use different variations from battery-operated candles to taper or tabletop lanterns that you can find at HomeGoods.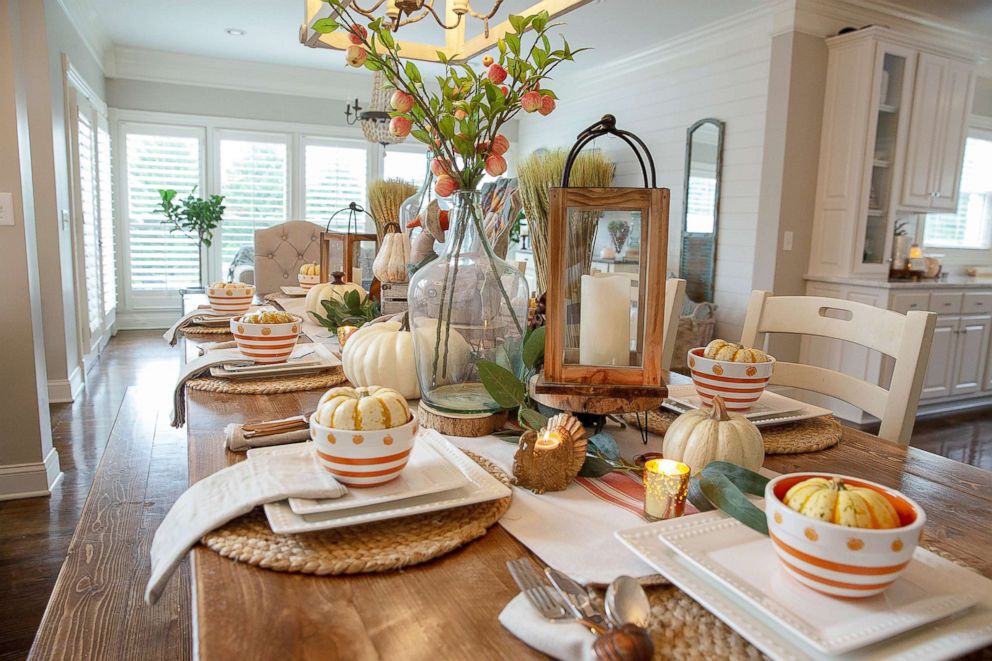 Mix in the festive elements
Lanterns, pumpkins, baked goods, bowls of apples -- anything that represents fall to you. Place some of these on the crates, some on the runner and spread them out -- but leave about six inches of runner at both ends of the table.

Spread it outA Thanksgiving tablescape is a balancing act. Make sure you space everything out, so it doesn't feel overcrowded and guests aren't blocked from seeing or talking to one another during the meal. I use my table runner as a guide and start decorating from the middle and end of the table when the runner is about six inches from each table head.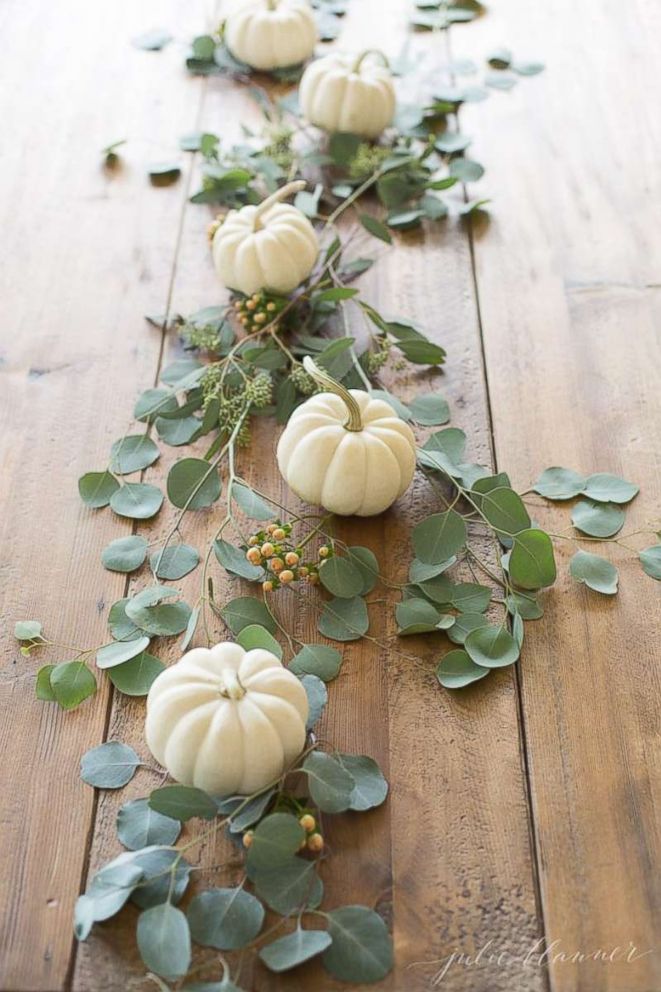 Lifestyle blogger Julie Blanner is constantly filling her feed with entertaining tips and tricks. This Thanksgiving she's sharing her top ideas for making a festive and functional DIY tablescape.
"I've always enjoyed creating a beautiful table, often pulling from existing resources, whether it be candles and platters we always keep on hand or repurposing those pretty pumpkins we all rush out to purchase in early fall. These DIY Thanksgiving centerpieces are simple in both the ingredients and the process."
What's the first thing to do when planning a tablescape?
Consider how the table will be used. Will you be serving food plated, family style or buffet? If you're serving family-style, leave plenty of room for dishes (you can even put empty platters in place to work around). I tend to create low lying centerpieces to encourage conversation without impeding people from seeing one another.
Are there different themes or color schemes people should follow?
Only your heart. There is endless inspiration at the grocery store. Pick your favorite fruits, vegetables or flowers or look to your own backyard and you'll find a theme that is easy to develop.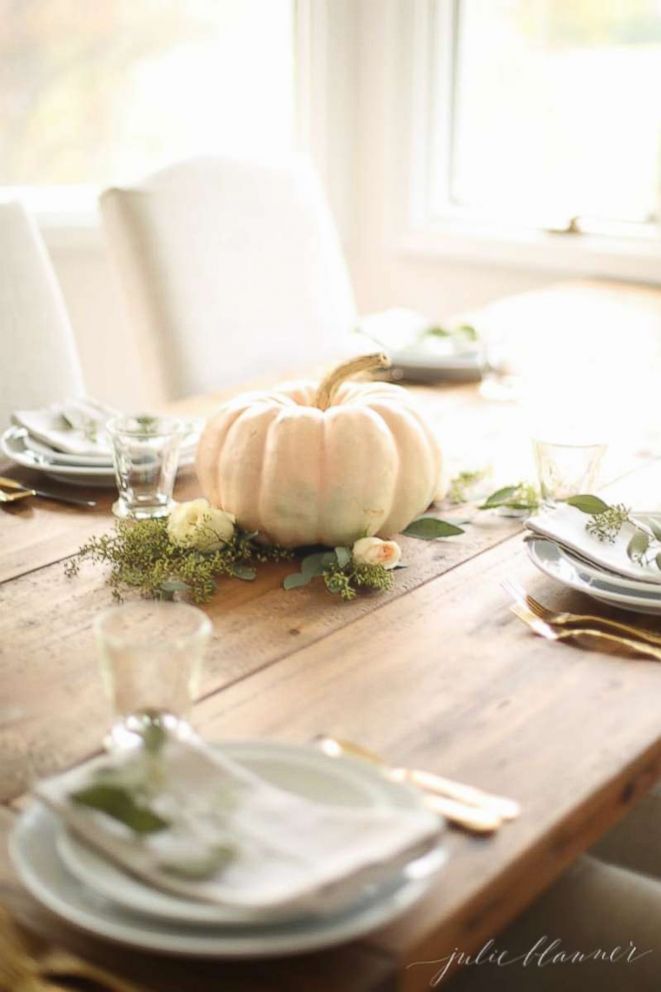 When do you purchase flowers and greenery for the table?
If possible, purchase your flowers a day or two in advance. Most stores will even allow you to order your flowers and will hold them for you. You can also refrigerate them until you're ready to use so they remain fresh.
Wheb should people arrange all the elements on the table?
Setting the table prior to the guests' arrival not only eliminates another layer of stress the day of, but looks beautiful too. If you're serving buffet-style and pre-set the table with utensils and napkins at each place setting, guests will have less to juggle. Incorporate activities like "Thankful For" Cards or a word search to occupy guests while you're putting the final touches on the meal.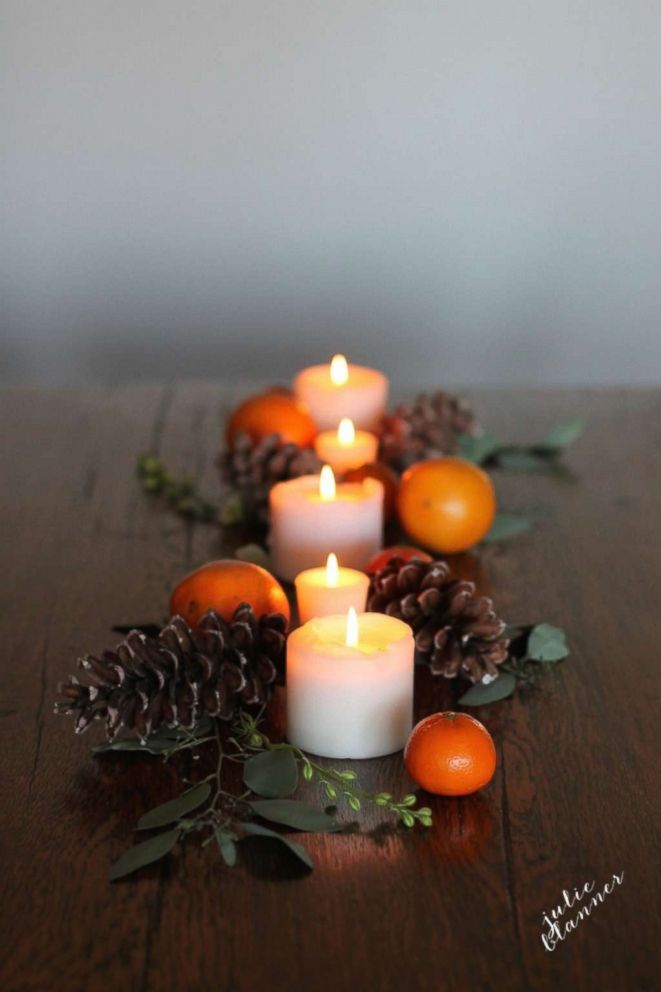 Any major things to avoid?
Centerpieces that impede eye contact.
Blanner said that doing your centerpiece in advance is the pro move!
"If you want to create your centerpiece in advance, choose pieces with longevity, like fruits, vegetables and greenery in lieu of flowers or use flowers in vases. Roses actually look their best on day two or three once they have the opportunity to fall into place."
Check out Blanner's easy 5-minute mini pumpkin tablerunner and other holiday table tips!
Jenny Reimold works with HomeGoods as a brand ambassador and style expert.