Stuffing is the superior Thanksgiving side dish, these recipes fit any flavor profile
Make room on the table, because you'll want a double batch of these dishes.
While some think Thanksgiving dinner would not be complete without turkey, true fans of side dishes know that stuffing is the clear holiday staple.
People of course love the various versions of potatoes or perfectly glazed and roasted vegetables, but something about the craggly, crunchy, moist, herbacious, nutty and sometimes sweet and savory blend of toasted bread, veggies and herbs is unmistakably made for Thanksgiving.
Whether you call it stuffing or dressing, eat it roasted inside the turkey or prefer to have it in a casserole dish to bake on its own, check out the handful of delicious renditions and full recipes below.
Wild Mushroom Stuffing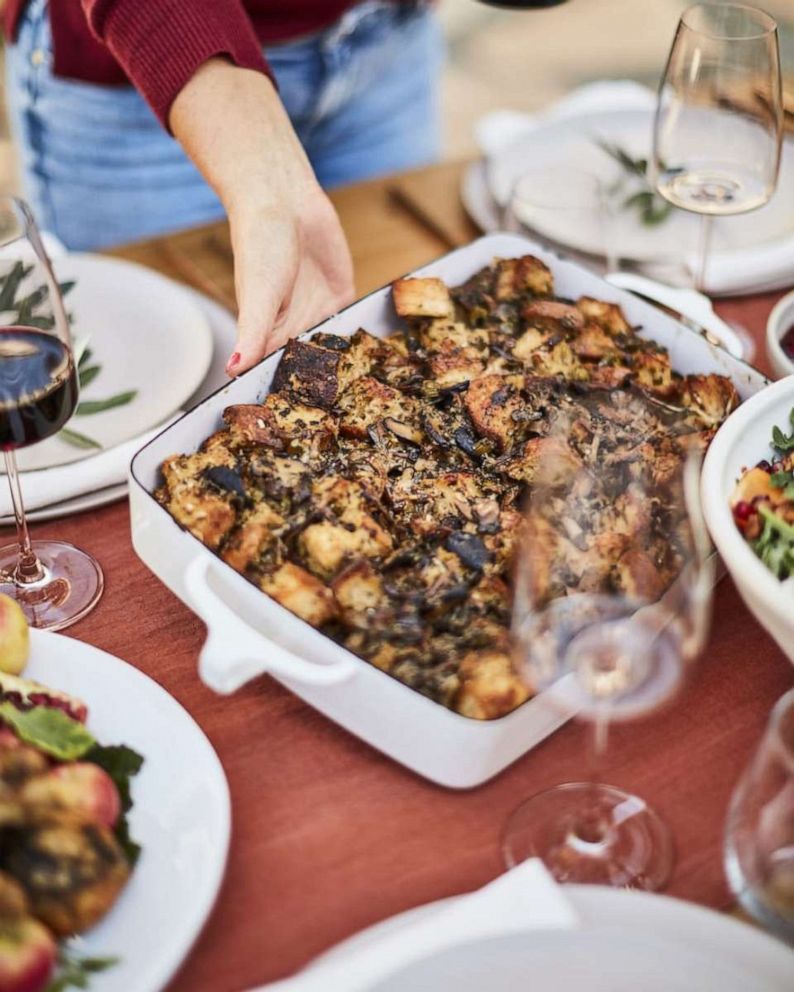 This wild mushroom stuffing is "What's Gaby Cooking" creator Gaby Dalkin's favorite part of the Thanksgiving meal. And for good reason.
Check out the recipe here that combines dried country loaf French bread with a whole pound of mushrooms and plenty of aromatic herbs. Plus, Dalkin shares plenty of additional tips to tackle the recipe like a pro.
Wild Rice Stuffing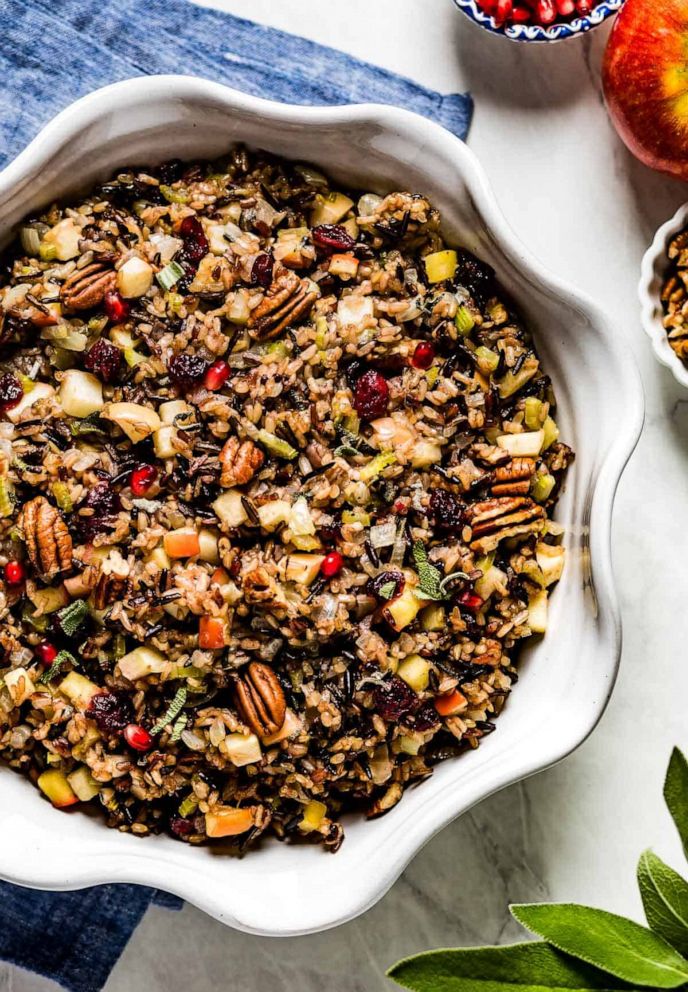 Food content creator Aysegul Sanford of Foolproof Living, shared this gluten-free holiday side dish option she said "is guaranteed to impress."
"Flavored with apples, sage, dried cranberries and pecans, this wild rice stuffing can be served as a true stuffing, a dressing or baked as a casserole dish," she explained. "It's made with a wild rice blend and it's the perfect gluten-free rice dressing for turkey."
Cornbread Stuffing, but Make It Taco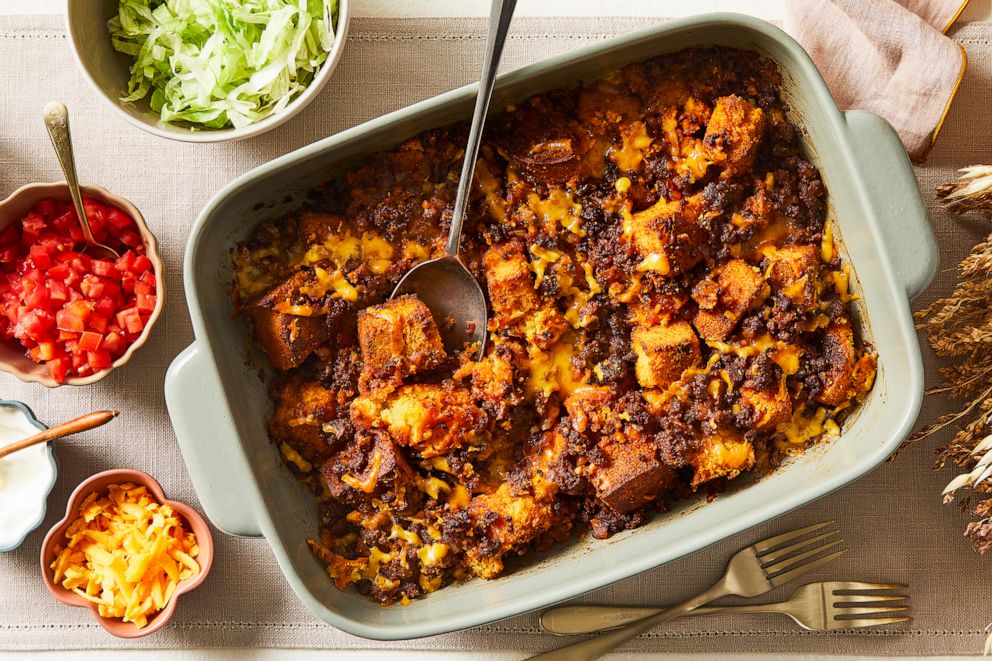 Sohla El-Waylly created this stuffing for all the Taco Bell lovers out there.
"Cornbread and ground turkey (or beef, pork, or even crumbled tofu) is showered in my patented Bell seasoning blend. The stuffing is baked until browned and served with all the fixins: sour cream, shredded lettuce, out-of-season diced tomatoes, and of course, cold shredded cheese. You can make a meal out of just this dish, or show it off at Thanksgiving," she wrote with the recipe.
Ingredients
2 teaspoons cumin seeds
2 teaspoons dried oregano
2 teaspoons smoked paprika
2 teaspoons Ancho chile powder (or another mild, smoky chile powder, such as chipotle)
2 pounds cornbread, cut into 1 to 1 ½-inch pieces (about 8 cups)
3 tablespoons neutral oil (such as sunflower or grapeseed), divided
1 1/2 teaspoons kosher salt, divided, plus more to taste
1 pound ground turkey, pork, or beef
3 to 4 cups chicken broth, divided
1 medium yellow onion, chopped
4 garlic cloves, chopped
3 tablespoons tomato paste
8 ounces (about 2 cups) coarsely grated cheddar cheese, divided
Diced tomato, to serve
Shredded iceberg lettuce, to serve
Sour cream, to serve

Directions

Heat oven to 325 degrees. In a small skillet over medium-high heat, toast the cumin and oregano until fragrant, about 1 minute. In a spice grinder, blitz the cumin and oregano until fine. In a small bowl, combine with the paprika and chile powder.

Spread the cornbread onto a sheet pan, drizzle with 1 tablespoon of oil, and toss to combine. Sprinkle with half of the spice blend, half teaspoon kosher salt, and toss to evenly coat. Taste and add more salt if needed.

Bake, tossing once midway through, until toasty and crisp, 35 to 45 minutes. Once the cornbread is out of the oven, increase oven temperature to 375 degrees.

Meanwhile, in a large skillet over medium-high heat, heat 1 tablespoon of oil until it shimmers. Add the ground turkey, breaking into crumbles with a potato masher or whisk. Season with the remaining 1 teaspoon of kosher salt and cook, stirring occasionally, until deeply browned, 8 to 10 minutes. Add ½ cup of chicken broth and use a wooden spoon to scrape up all the browned bits. Scrape the mixture and all the liquid into a large heatproof bowl and set aside.

Return the skillet to medium-high heat, add the remaining 1 tablespoon oil, and heat until it shimmers. Add onion, garlic, tomato paste, remaining spice mixture, and a big pinch of salt. Cook, stirring frequently, until the onion and garlic have wilted and the tomato paste looks darkened and sticks to the bottom of the skillet, about 5 minutes. Add half a cup of chicken broth and scrape the brown bits off the bottom of the pan. Simmer until reduced, thickened, and the fat starts to sizzle in the pan, about 5 minutes. Scrape this mixture into the bowl with the turkey.

Add the croutons to the bowl and mix well but gently to combine. Add enough broth to make the bread moist but not soggy (you may not need it all) and half of the cheddar cheese. Toss to combine, taste the mixture, and add more salt if needed. Transfer the mixture to a 3- to 4-quart casserole dish.

Bake until steamy and brown, 35 to 40 minutes.

Serve hot with diced tomato, shredded lettuce, sour cream, and the remaining shredded cheese alongside (like a taco bar!).

Brioche Chestnut Stuffing
Food writer, cookbook author and New York Times columnist Melissa Clark shared her classic recipe featured in the Sidesgiving collection of New York Times Cooking.
The eggy brioche bread and roasted chestnuts get seasoned with celery, onion and sage, and a touch of diced fennel to add both sweetness and depth.
Clark's version can be stuffed in a turkey, but she said "it's even better baked separately in a shallow casserole dish, so the top can get nice and crisp." Check out the full recipe here.
Pretzel and Sausage Stuffing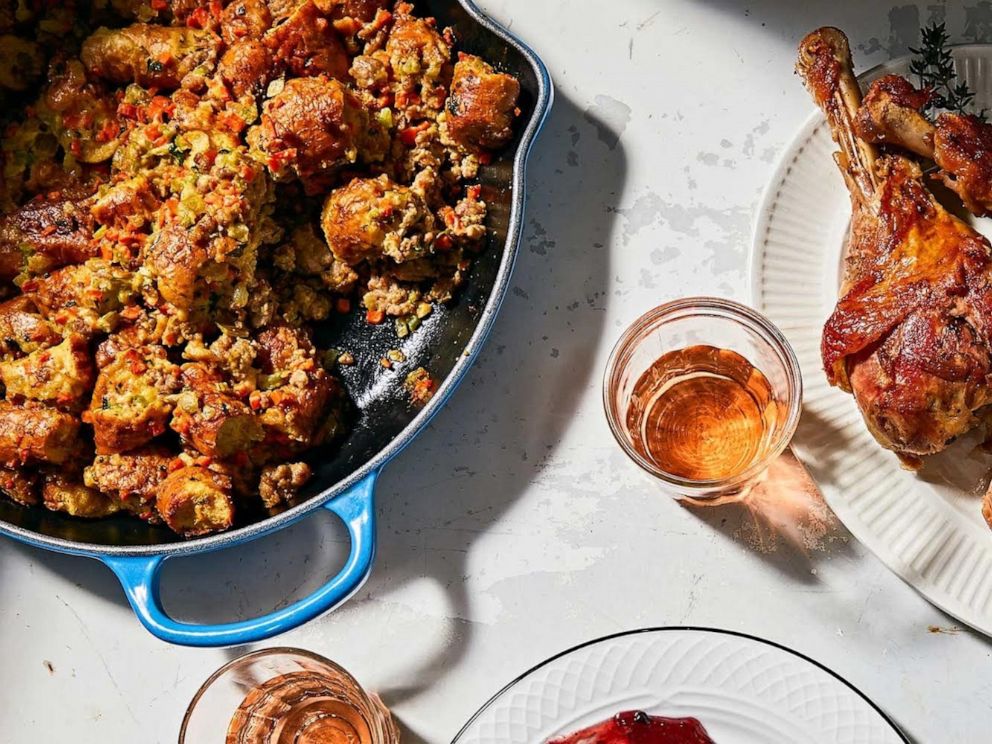 This twist on traditional stuffing from Funkenhausen Chef Mark Steuer in Chicago draws on his German heritage to reimagine his fondest meals and memories.
"The hearty casserole gets its satisfying chew from day-old soft pretzels. While excellent baked until crispy in a skillet or roasting pan, it also makes a fine stuffing for poultry or pork," he said. "If using as a stuffing for whole birds, I recommend adding the mixture to the cavity immediately before roasting."
Serves: 4
Time: 1 hour, 50 minutes

Ingredients
10 cups (1 lb. 12 oz.) day-old soft pretzels, cut in 1-in. pieces
2 tablespoons unsalted butter, plus more for greasing
1 cup (5 oz.) carrots, finely chopped
1 cup (4¾ oz.) celery, finely chopped
1 cup (5½ oz.) onions, finely chopped
Kosher salt
2 medium garlic cloves, minced (2 tsp.)
1/2 teaspoon poultry seasoning
1 tablespoon finely chopped fresh sage
1 tablespoon finely chopped fresh thyme
2 tablespoons chopped fresh parsley
1/2 teaspoon freshly ground black pepper
1 lb. bratwurst or other mild sausage, casings removed
2 large eggs, lightly beaten
1 cup chicken stock
One 11-oz. can condensed cream of celery soup

Directions

Preheat an oven to 350 degrees. Spread the pretzels out in a single layer on two large baking sheets, then transfer to the oven and toast until the pretzel pieces are until just lightly golden and crispy, 15-17 minutes. Transfer the pretzel pieces to a large bowl and set aside to cool to room temperature.

In a large skillet over medium heat, melt the butter. When the foam begins to subside, add the carrots, celery, onions, season lightly with koshers salt, and cook, stirring frequently, until the vegetables are tender, 12-14 minutes. Add the garlic and poultry seasoning and continue cooking until fragrant, 2-3 minutes more. Stir in the sage, thyme, parsley and black pepper, remove from heat, then scrape the mixture into the bowl with the pretzel pieces.

Wipe out the skillet and return it to medium heat. Add the sausage and cook, stirring frequently and breaking the meat apart with a wooden spoon until it is cooked through, 10-12 minutes. Transfer the sausage and any drippings to the pretzel mixture. Stir gently to combine, then add the eggs, chicken stock and cream of celery soup. Use a silicone spatula to fold the mixture together.

Butter a 12-inch cast iron skillet or roasting pan, then transfer the stuffing into it, pressing down gently with a spatula. Cover with aluminum foil, transfer to the oven and bake until heated through, about 30 minutes. Uncover and continue baking until golden brown and slightly crispy on the edges, 20-30 minutes more.
New England Sausage, Leek and Herb Stuffing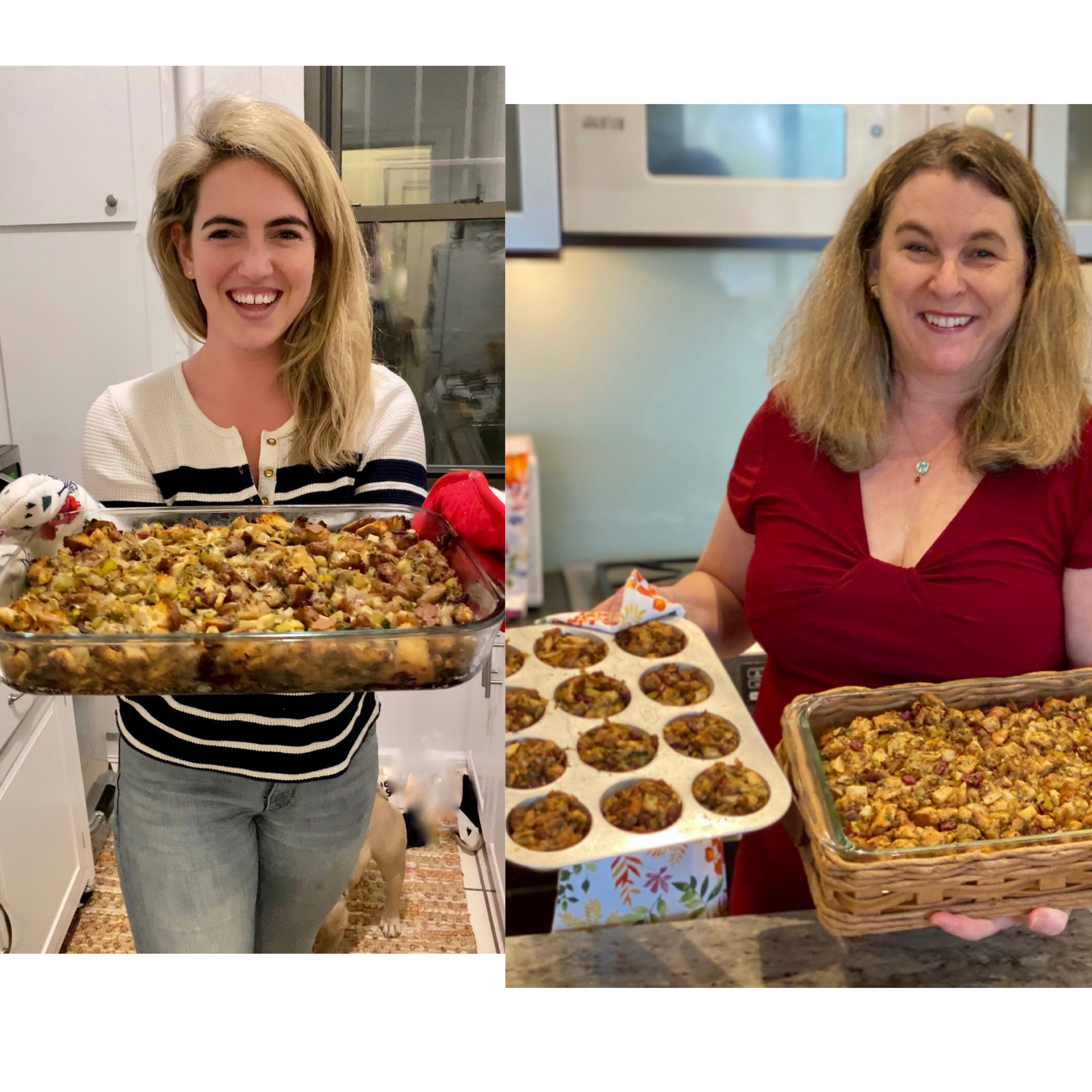 During the pandemic I recreated my mom's stuffing from across the country, a tradition I will practice again this year thanks to this full recipe. Not only is it delicious and easy to prep the filling a day ahead, it makes for the perfect leftover base or to add some moisture to a post-turkey day sandwich.
This story was originally published on Nov. 20, 2021.