Two national figures in breast cancer advocacy appeared on Good Morning America Tuesday morning to debate new recommendations by the U.S. Preventive Services Task Force that state women over 50 should have mammograms only once every two years instead of annually -- and that women age 40 to 49 should not have them at all.
The lively debate pitted Dr. Susan Love of the Dr. Susan Love Research Foundation, who supported the new recommendations, against Breastcancer.org founder and president Dr. Marisa Weiss, who opposed the change.
"I think the proposed changes in the guidelines represent a drastic step backwards," Weiss told Good Morning America's Robin Roberts. "These are old studies. These are old technologies. And the studies are using this old information to give future breast cancer guidelines for screening."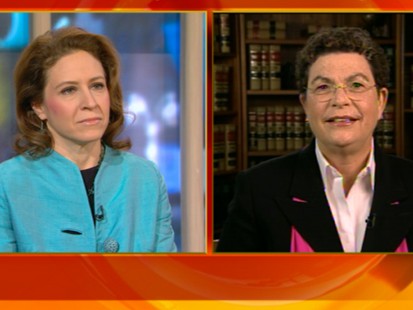 Love responded by noting the downsides of the screening procedure, which include an increased exposure to radiation.
"The issue is not depriving women of their God-given right to be radiated," Love said. "It's really, 'Let's not give them radiation if it's not really helping them. And let's find something better.'"
It was this statement that sparked one of the most heated exchanges of the segment which saw the two doctors debate directly with each other over the merits of mammography in young women compared to its risks.
In many ways, the debate reflected the nationwide dialogue over the new guidelines, released Monday. The recommendations are a stark deviation from the 2002 guidelines from the same panel that suggested women ages 40-49 should have mammograms every one or two years. Other medical organizations, such as the American Cancer Society, have stuck to the original recommendations that women in this age group be screened for breast cancer.
But even Roberts, who during the segment noted that her own breast cancer was missed by a mammogram, raised the question to Love of whether mammograms are the best solution for younger women.
"The problem is that we've oversold the notion of early detection," Love said. "What we need to be doing is not using a test that doesn't work and has risk [rather] than finding something that really does work."
The new recommendation is partly based on the idea that women younger than 50 have denser breasts that make cancer detection by mammography more difficult, leading to less-accurate results, ABC News' chief medical editor Dr. Tim Johnson said on a separate Good Morning America segment.
"There are a lot of mammograms, a lot of false positives, even treatments," Johnson said. "They're just trying to weigh the positive data against the negative."
How the Recommendation Was Developed
Anecdotally, most people in the United States can think of a woman they know whose breast cancer was detected through a routine mammogram long before she turned 50.
Many patient advocates wonder if money fueled the decision.
"I think a lot of it is about money, and we know that we need to make health care cuts, but this isn't the way we need to make money," Hillary Rutter, director of the Adelphi New York Statewide Breast Cancer Hotline and Support Program, told ABC News Monday.
But Dr. Diana Petitti, vice chair of USPSTF, said the task force never looked at costs in their research or their recommendations.
"The task force doesn't deal with insurance and coverage," Petitti said. "Cost was not a part of what the task force looked at."
Instead, the task force reviewed a number of studies to compile the benefits of mammograms, such as how many cancers were detected and how many lives were saved, and the harms of mammograms, such as how many false positives popped up, how many unnecessary tests were done and how much extra radiation women were exposed to during the false positive testing.
The task force then did calculations and mathematical models to see how these benefits and "harms" would change if women started getting routine mammograms at different ages and different intervals. Based on those results, Petitti said, the USPSTF made the recommendations as part of a five-year review cycle for current cancer screening recommendations.
"The recommendation was voted on almost a year-and-a-half ago," she said. "It is, in reality, entirely an accident that it is coming out on the heels of a lot of information about breast cancer screening, and certainly accidental in relationship to anything that's being talked about in politics."
Despite current politics and costs, Petitti said she hoped the recommendations would lead to "a better understanding" of the trade-offs in breast cancer screening.
"The reason to do it less often is to decrease the harms and the negatives -- false positive tests -- and the anxiety that goes along with it, the biopsies that will be done and the unnecessary tests," said Petitti. "Those harms and negatives are both common and serous."
While many women find the yearly mammograms a painful hassle they'd rather avoid, some debate the "harm" of a false positive.
"My evidence is anecdotal and there may be women who say, 'my goodness, I'm so upset that I went through that when I didn't have cancer after all,' but I've never heard a woman say that," said Margaret C. Kirk, president and CEO of the Breast Cancer Network of Strength.
"I've never heard from anybody who regretted it," she said.
In fact, the first thought on many women's minds once they heard the news was whether insurance would stop paying for mammograms before their 50th birthday.
Cancer Survivor Worries About Diagnostic Tests for Daughter
Andrea Evans, 54, survived several stage II tumors in one breast after being diagnosed by a routine mammogram at age 46. After a double mastectomy, doctors found a cancerous tumor in the other breast, which they had thought was tumor-free.
Although Evans does not have the two genes known to put women at a higher risk (BRCA-1 and BRCA-2) she does have a large family history on her father's side.
"My doctor thinks it is a gene, but it hasn't been found yet," Evans told ABC News Monday. "Even now, several years later, I could go back and be retested because they find new genes all the time."
Now Evans hounds her doctor to get her 24-year-old daughter screened, even though routine screening isn't recommended for her yet.
"I am constantly asking my oncologist if the recommendations have changed," Evans said. "Insurance companies won't pay for you to have a diagnostic test sooner unless there's a proven reason."
In a way, Evans is both right and wrong on insurance companies' obligations.
"In much of the country, insurance coverage for mammographic screening is mandated by law. For women in these areas, there will be no immediate change," said Dr. David Dershaw, director of Breast Imaging at Memorial Sloan-Kettering Cancer Center. "As the American Cancer Society has stated that this report will not result in any modification of its screening recommendations, hopefully insurance coverage will not be changed."
Would Insurance Coverage for Mammograms Change?
Forty-nine states mandate that health insurance companies cover routine mammograms. The laws vary from state to state on whether the insurance company pays all or part of the costs, but the vast majority require a baseline mammogram for an insured woman at age 35 and above, routine mammograms every two years for women age 40-49 and annual mammograms for women older than 50.
The law does not apply to millions of women who get insurance through an employer who is "self-insured," meaning the employer pays for the health care but a third party health insurance group manages the care.
Still, laws mandating mammogram coverage in all states, except Utah, pack a powerful punch. The USPSTF also recommends mammograms be performed on an individual basis, if the doctor recommends one.
Health insurance lobbyist group America's Health Insurance Plans, doesn't foresee a change in coverage soon.
"We don't believe that payment will vary depending on whether a woman who gets a screening is in the target age group or outside the target age group," said Susan Pisano, vice president of communications for AHIP.
What Insurers Will Do With New Mammogram Recommendations
Pisano predicts that health care groups will stop encouraging women in their 40s to get yearly mammograms and will refocus those targeting efforts -- such as sending reminder postcards to get a mammogram -- to women in their 50s. But that doesn't mean women in their 40s or younger would not be covered.
"Occasionally, a woman who is not high risk, and she's 32, wants it done," Pisano said. "In those cases, the woman might have a discussion with her doctor and talk about the risks and benefits. ... At the end of the discussion, if the doctor orders a mammogram for that woman, then it's typically covered."
Other Recommendations by the USPSTF
The task force also recommends against teaching breast self-exams for all women and said evidence was insufficient to recommend mammograms for women older than 74.
The recommendations were only for women considered to be at normal risk for breast cancer. Women who are at a known high risk -- for instance, women who tested positive for the BRCA-1 and BRCA-2 genes -- would not fall under the guidelines.
Family doctors often abide by the task force's recommendations in their practices, and insurance companies routinely turn to USPSTF -- a panel of independent medical experts -- to guide coverage plans.
ABC News' Reynolds Holding contributed to this report.
CLICK HERE to return to the "Good Morning America" Web site.