A 23-year-old Texas woman and her 88-year-old grandfather are both starting 2022 as new college graduates.
Melanie Salazar, of San Antonio, graduated from the University of Texas at San Antonio on Dec. 11 with a bachelor of arts in communications.
She did so at the same time as her grandfather, Rene Neira, who received a degree of recognition in economics.
"When we were on stage, I felt like I was overcome with emotion," Salazar told "Good Morning America." "Everything was silent. I didn't hear any clapping or applause but I was told that the whole stadium erupted."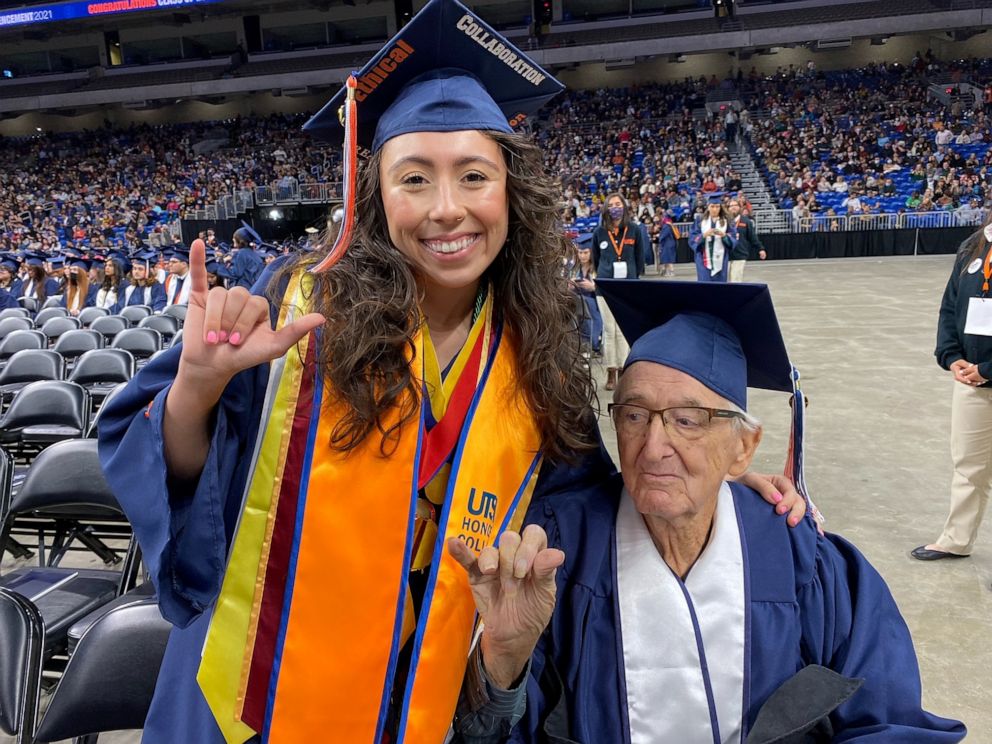 Salazar and Neira started their higher education journey together at a San Antonio community college, Palo Alto College, in 2016.
Salazar had just graduated from high school and Neira, then 82, decided to take classes to fulfill his lifelong dream of earning his bachelor's degree, according to Salazar.
"Since the 1950s, he has been working toward his bachelor's degree and it has been one of his life goal and dreams," she said. "But in the '50s he fell in love and got married and started a family, so he wasn't able to continue school right away."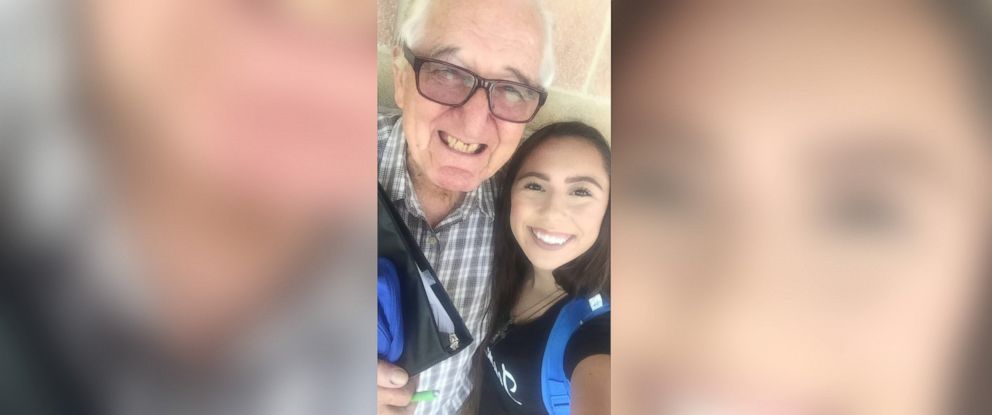 Salazar said her grandfather, who turned 88 on Dec. 17, would take a college class here and there when he could over the next few decades, in between balancing his roles as a husband, a father of five and a community activist, as well as his job at a local bank.
In 2017, they both enrolled at the University of Texas at San Antonio, where they never had a class together but would carpool to school and study together, according to Salazar.
"We would get lunch together and be in the library together and just work silently side-by-side," she said, noting she often helped Neira navigate doing schoolwork online. "There were also many times where I drove him to school during the seasons when he didn't have his car."
"I was also the president of a club at school for a while and there were times when he would come to my club meetings," Salazar added. "That was really special because I could always show him off and shout out that my grandpa was there."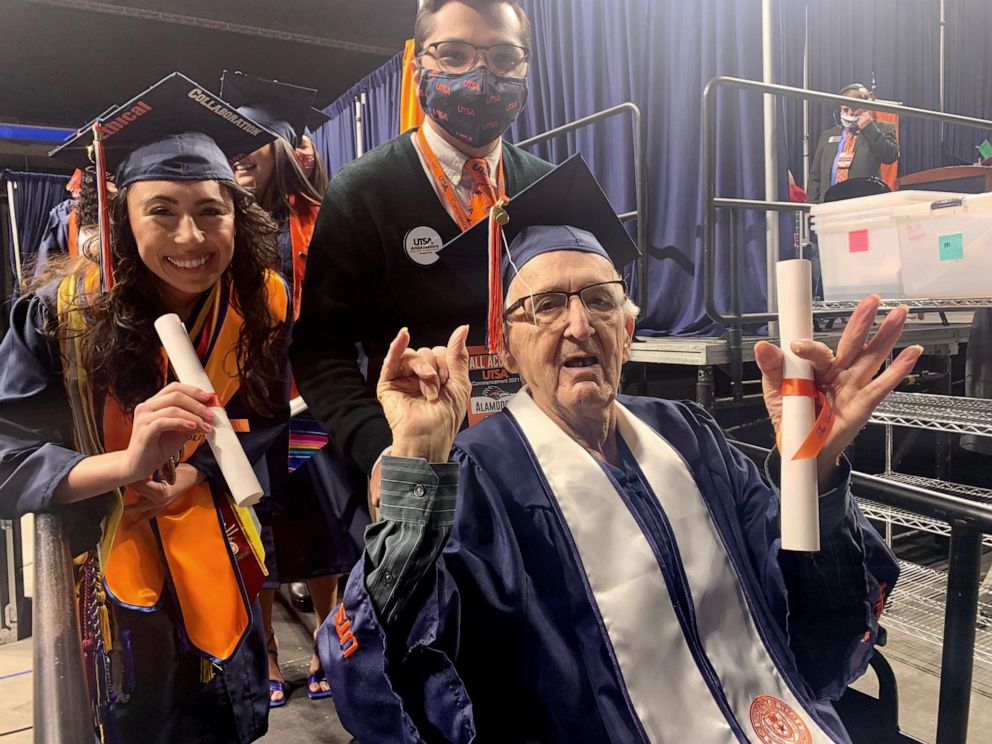 Just before the coronavirus pandemic, Neira suffered a minor stroke and had to take a medical leave of absence from school. When the pandemic forced classes to be held online, Neira continued his leave of absence because of his health and the difficulty of navigating classes online, according to Salazar.
As graduation day approached in December, Salazar said she and her family asked university officials to grant Neira a degree of recognition, which they did. Over the past year, Neira's health has continued to decline and he now has difficulty speaking, according to Salazar.
"It was the week of graduation that we were told that he would be able to graduate," she said. "We were really pushing for it because we were hoping, since his health is declining, that he could have that memory before he passes."
In addition to his job at a local bank, Neira, whose parents immigrated to the U.S. from Mexico, was active in the San Antonio community, particularly in the Chicano movement and in building up the economy of the city's South Side, according to Salazar.
"I definitely have been inspired by my grandfather," she said. "Through hearing loss, not having a car, taking public transportation, advocating for himself on campus, I really admired his ganas, which is like strength or perseverance, to keep going no matter what."
Salazar, who plans to work for a nonprofit, said she credits her grandfather's lifelong love of learning with keeping him feeling young and engaged in the world for so many years.
When Salazar told Neira that they were graduating together, she said he worried that he would take the spotlight away from her in her graduation moment.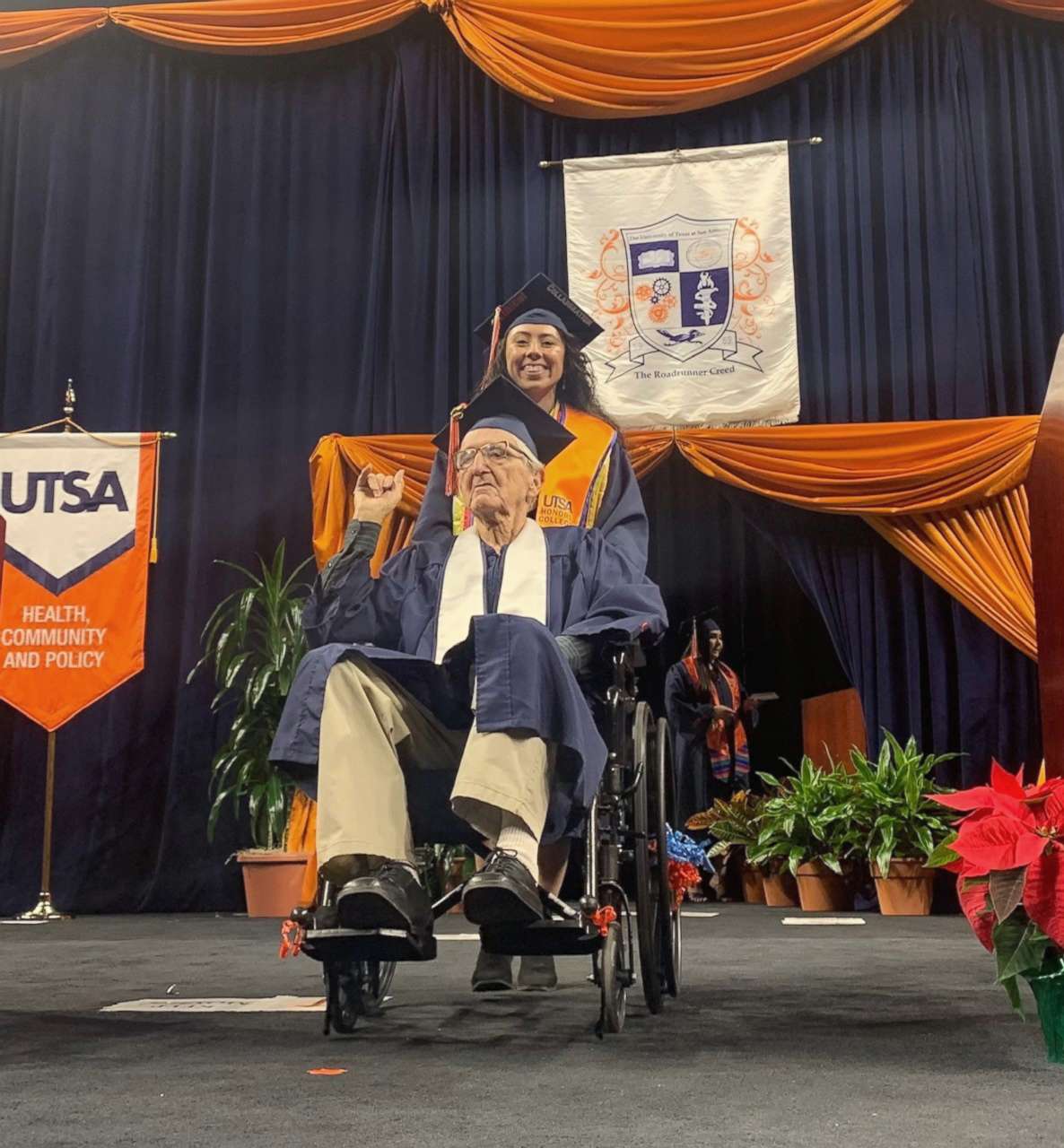 "I told him, 'This is our moment. I want to share it with you,'" she recalled. "I'm so proud of my grandpa and I'm so thankful I was able to have this moment, this memory, with him."