6 DIY hacks to transform your outdoor space into the hangout spot of summer
DIY guru Brit Morin shares tricks to spruce up your outdoor space.
DIY guru Brit Morin, the founder and CEO of Brit + Co, shared her favorite hacks on "Good Morning America" to uplevel up your outdoor space. Read below for her hacks and to learn about how to make each project yourself.
Looking for an excuse to spend more time in your outdoor space? If you aren't already, you should be! Outdoor time is so important (especially for those wiggly, energized kiddos) and it's high time to transform your backyard into the hangout spot of the summer.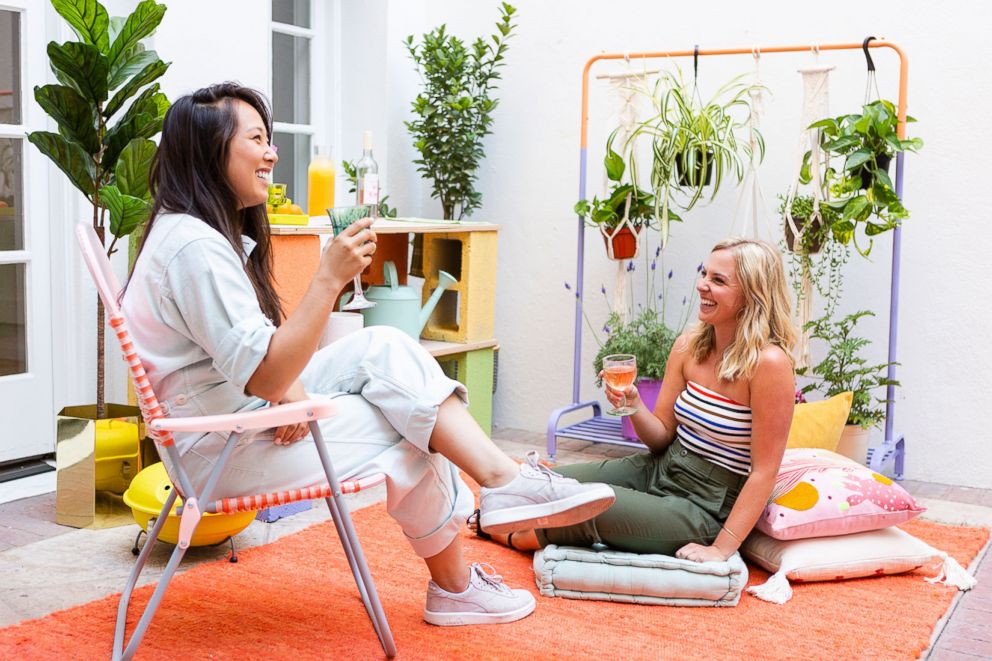 Turn any pillow into an outdoor pillow
OK, this is one of my favorite DIY secrets -- fabric seal makes just about any textile weather-resistant. That means that the indoor pillow you have your eye on is just one or two coats of fabric seal away from being outdoor-friendly. Get the deets below!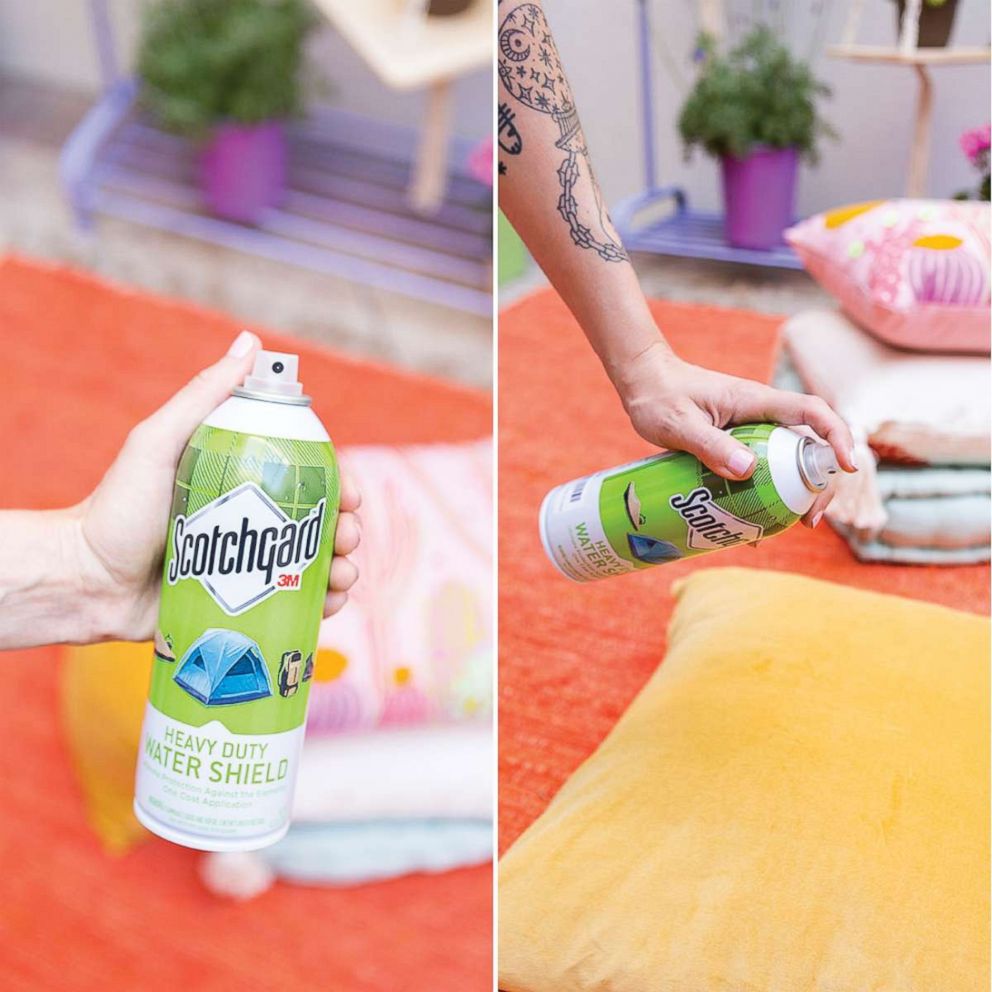 Materials + tools:
Fabric Seal
Any pillow (Psst: the less porous the fabric, the better)

Instructions:
Spray the fabric seal in a sweeping motion 6-8 inches away from fabric. Cover fabric uniformly.
Let dry for two to six hours.
For extra protection, apply a second time. Ta-da!

Try a DIY cinder block bar
Outdoor furniture can cost a pretty penny, we know. Why not try a simple, affordable and homemade cinder block bar instead? This baby can function as a bar cart, a grill prep surface, or a gardening station. No glue or toolbox required, but a bit of heavy-lifting is necessary. Head to your local lumber yard and build this three-in-one piece for under $25.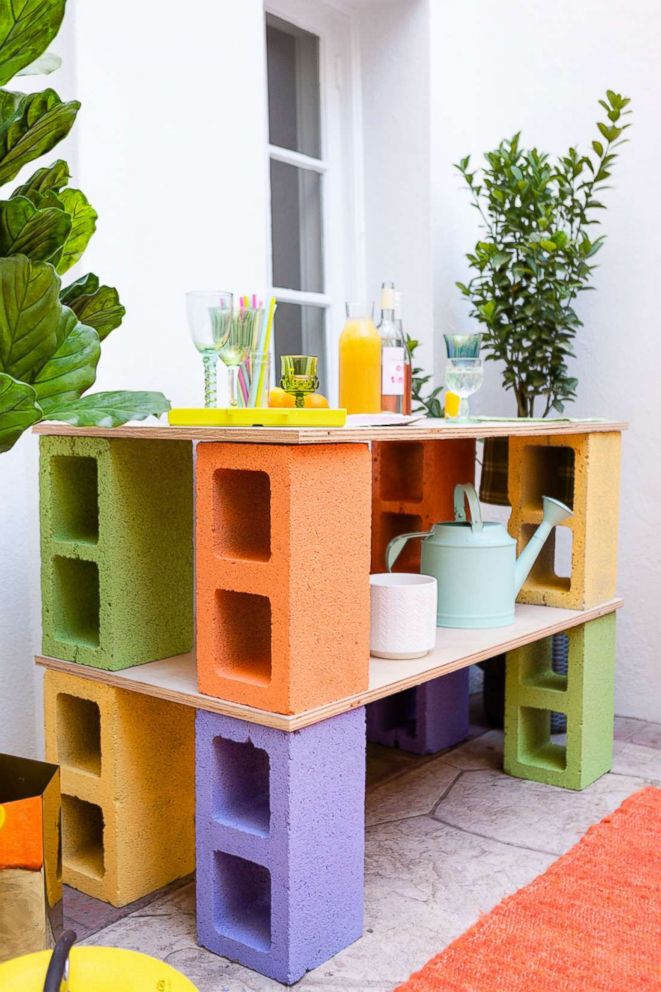 Materials + tools:
Cinder blocks
Sturdy wood flats

Instructions:
Lay two or four cinder blocks as a base.
Top with the wood surface.
Lay the remaining cinder blocks directly above the first level of blocks.
Top it off with the second wood surface.

Learn more about this project with our full tutorial.

Make homemade (and kid-friendly) bug repellent
Keep pesky pests out of the picture with this simple, two-ingredient DIY bug repellent. The secret? Essential oils! I've rounded up my four go-to combos that are kid-friendly and super effective at keeping bugs at bay.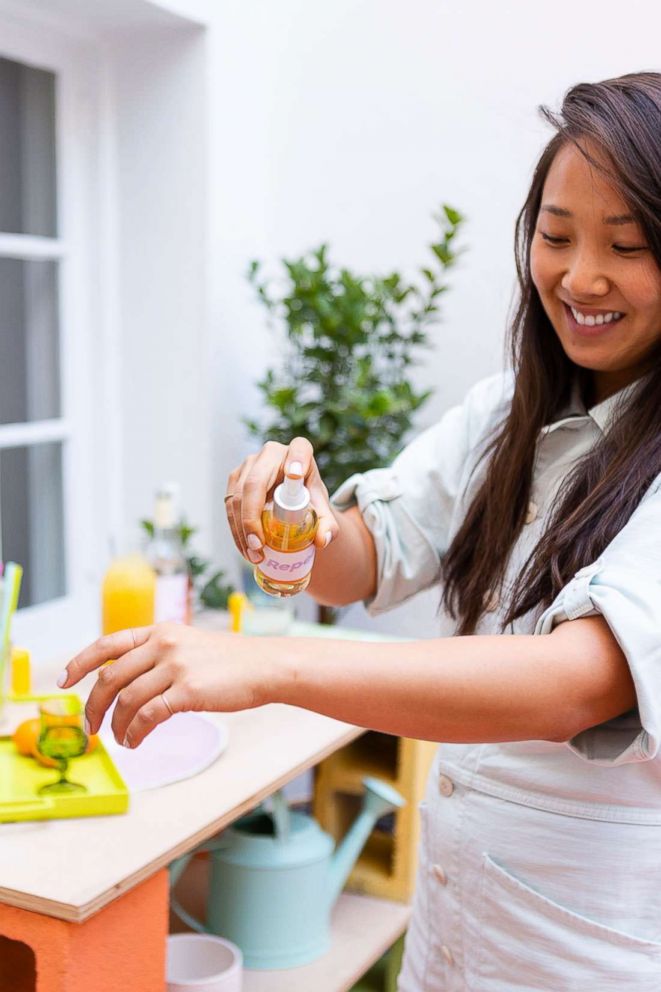 Materials + tools:
24 drops (aka 1/4 teaspoon) of the essential oil of your choice:
Lavender essential oil (mosquitoes, flies + ticks)
Lemon essential oil (repels mosquitoes + ticks)
Geranium essential oil (repels mosquitoes, flies + ticks)
Spearmint essential oil (repels mosquitoes, flies + ticks)
~4 oz Witch Hazel
Small spray bottle (~4 oz)
Mini funnel
Sticker labels

Instructions:
Fill the bottle with about 4 oz of witch hazel
Top it off with 24 drops (aka 1/4 teaspoon) of one essential oil
Label it!
Shake before use.

Bonus: Looking for a long-term solution to repelling bugs from your backyard? Keep mosquitoes, flies, and ticks out of your garden by planting lavender, geranium or spearmint.
2 Crazy simple, non-toxic ways to clean the grill
Yep, we have two chemical-free ways to clean up that grimy grill. You just need a ball of tin foil or a leftover onion. Scroll on to learn more.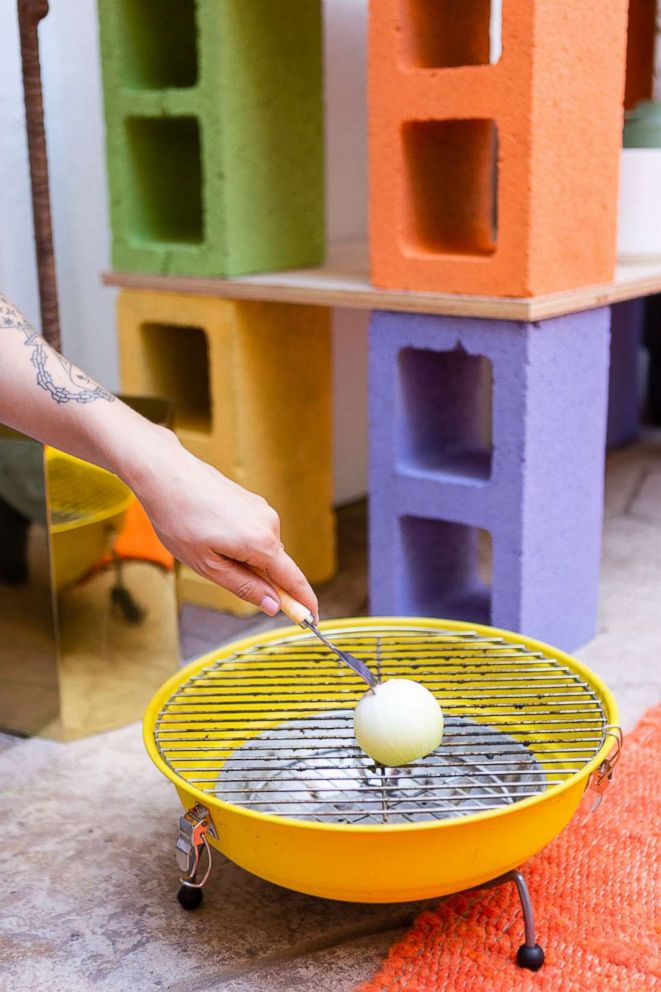 Using an Onion
Materials:
White onion
Fork or tongs

Instructions:
Cut into a white onion, then place a fork in the back to make a handle. If the grill is very hot, we suggest using tongs in lieu of a fork.
Rub the onion, cut side down, on the still-hot grill.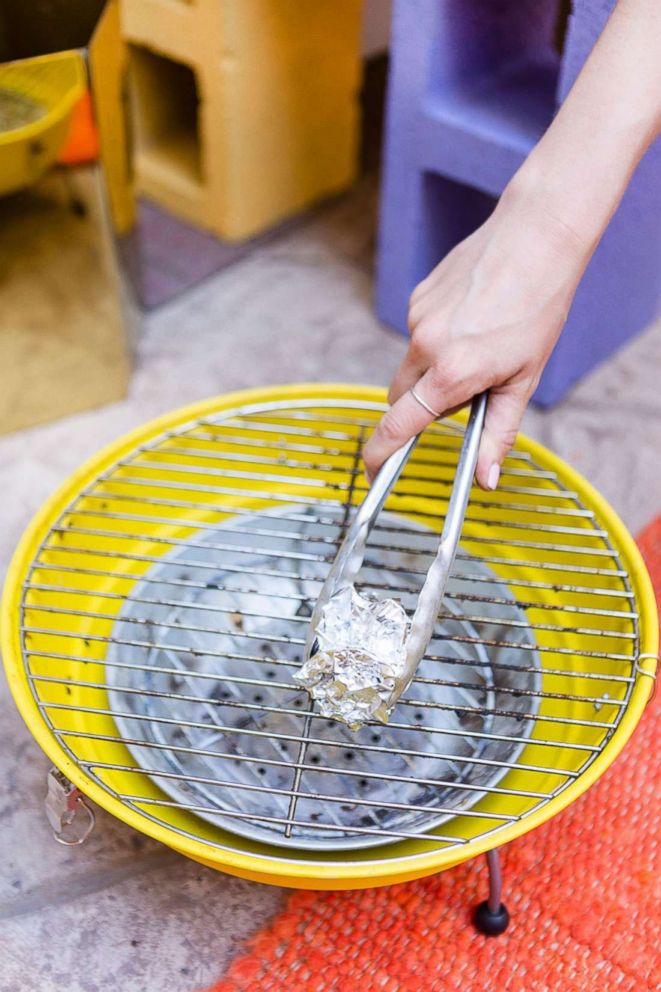 Using Tin Foil
Materials:
Tin Foil
Barbecue Tongs

Instructions:Roll a bunch of tin foil into a ball.Holding the foil ball with your barbecue tongs, scrape the still-hot grill grates.
Turn a clothing rack into a hanging planter
You can make a vertical garden in no time with a clothing rack. It's a brilliant solution for folks with limited outdoor space (I'm lookin' at you, urban dwellers).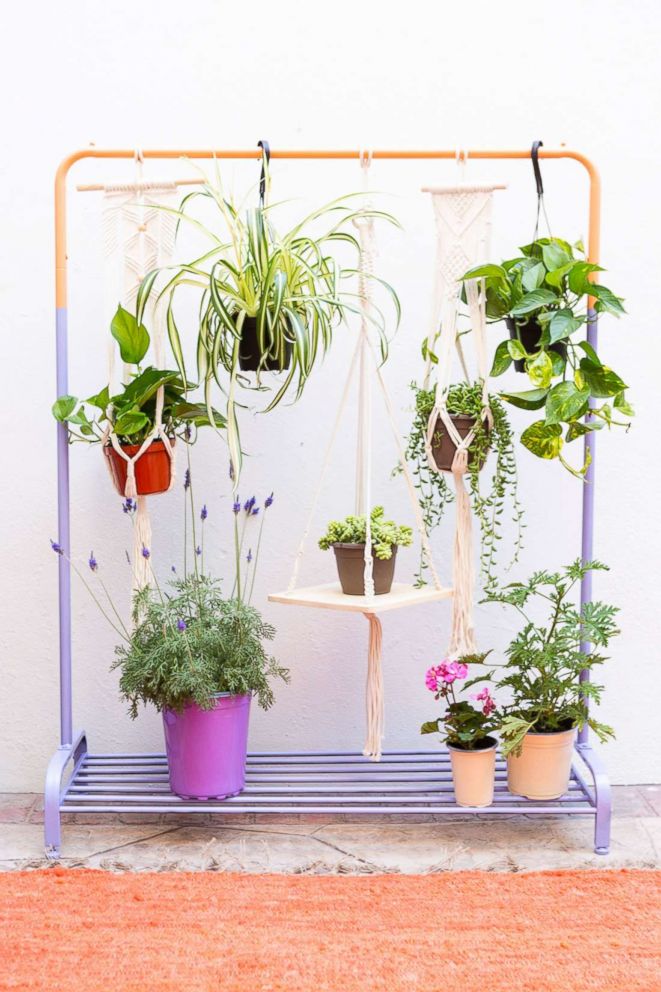 Materials:
Clothing rack
S hooks
Hanging macrame planters
Potted plants

Instructions:
Place the S hooks on the top bar of the clothing rack, then hook in your hanging planters.
Carefully insert the plants into the hangers.

You can find the full tutorial right over here.

Polish weathered wood with coconut oil
Coconut oil does it, again! Breathe new life into your old, weather-faded wood with this affordable, toxic-free and food safe alternative to wood polish.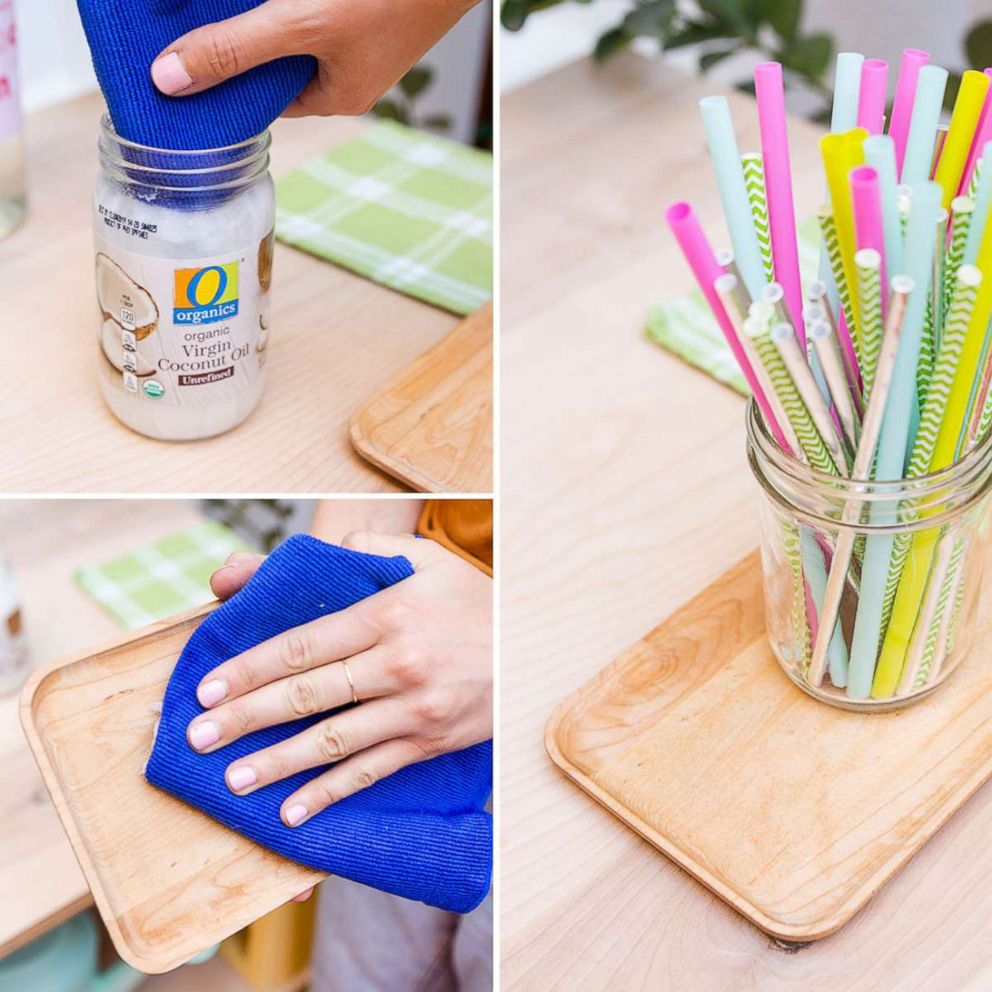 Materials:
Coconut oil
2 microfiber cleaning cloths

Instructions:
Rub coconut oil into wood surface with one microfiber cloth.
"Buff" it with the other dry, clean microfiber cloth.
Let dry for 45 minutes. Ta-da!
Optional: Seal the wood with furniture wax.

Psst: If your wood furniture is sealed with any sort of varnish, you'll likely need to sand it off before applying the coconut oil.
There you go -- six simple and savvy ways to make your outdoor space your go-to hangout spot all season long. Happy summer, friends!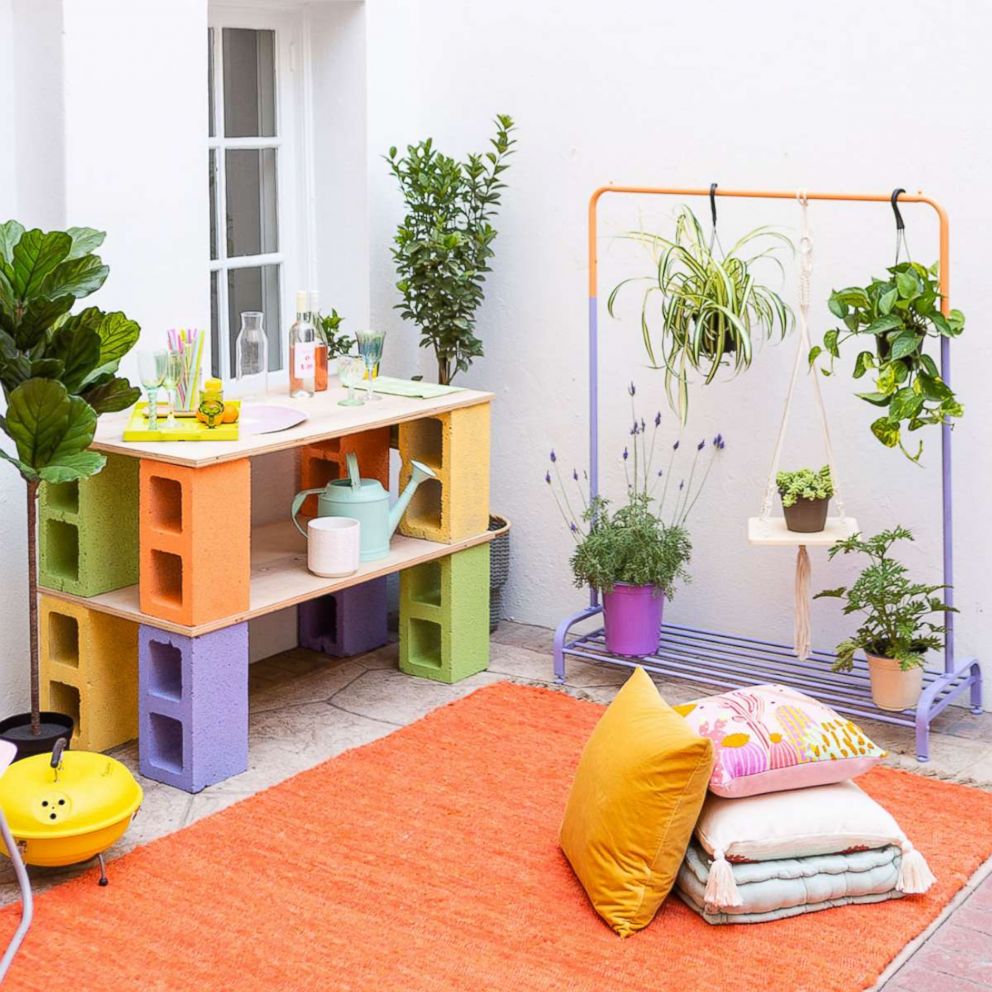 What are your go-to tricks to uplevel your outdoor space? Share with me on Twitter or Instagram @brit.