In an election year that saw a record-breaking number of women and women of color candidates run, it appears Congress will likely have a somewhat more diverse makeup in 2021.
Cori Bush, a progressive activist who unseated a longtime Democratic incumbent in August in Missouri's 1st Congressional District, won her general election race Tuesday, making her the first Black woman to represent Missouri in Congress.
Marilyn Strickland, the two-time former Democratic mayor of Tacoma, Washington, won her race in Washington's 10th Congressional District, making her the first African-American member of the Washington state delegation and the first African-American from the Pacific Northwest in Congress, according to her campaign.
Strickland and Young Kim, a Republican who holds a very narrow lead over the Democratic incumbent in California's 39th Congressional District, could also be the first Korean-American women to serve in Congress.
"I would say that more women are feeling comfortable running for office and it is exciting to see so many women of color step up," Strickland told "Good Morning America" the morning after the Nov. 3rd election. "I think the more that we see folks running for office, the more that we see people holding office, the more encouraged people are."
"Historically women often have to be coaxed into running for office, and so the fact that people are stepping up and that they have some support is really important," she said.
As election results continue to come in -- with several House races involving women candidates still outstanding -- at least 50 women of color will serve in the U.S. Congress in 2021, surpassing the previous record of 48, set in 2019, according to the Center for American Women and Politics (CAWP) at Rutgers University.
At least 115 women of color ran for Congress in 2020, an election year beset by racial unrest and the coronavirus pandemic, which has disproportionately impacted people of color.
On election day, 115 women of color will be on the ballot for House seats — a record for American politics. Deborah Roberts spoke with 8 of those women across the aisle in a roundtable discussion.
Overall, at least 141 women will serve in the 117th Congress, surpassing the record of 127 women serving in Congress that was set in 2019, according to CAWP.
New Mexico is sending three women to Congress, making it the largest all-women delegation in U.S. history, according to CAWP.
What will be different in the next Congress, is that more of the women in Congress will be Republican women, notes Debbie Walsh, CAWP's longtime director.
"As much as 2018 was this record year [for women], it was also a year that was all about Democratic women, and this year has been, from the beginning, a story that has had a partisan tilt, and this time on the Republican side," she said. "As of right now, the Republican women have beat their record for new women elected."
There will be at least 12 new Republican women serving in the U.S. House of Representatives and one new Republican women in the U.S. Senate, with Cynthia Lummis projected to become the first woman to represent Wyoming in the Senate.
"I think that what we saw this cycle was a concerted effort on the part of Republican women activists to make sure that they were recruiting and supporting and funding Republican women who were running," said Walsh, who noted the work done by Republican Rep. Elise Stefanik and organizations like Winning for Women and View PAC on the right. "It speaks to, this doesn't just happen, that there has to be intentional work done and a commitment to seeing more women in order for that to happen."
This year, 94 Republican women were nominees for U.S. House, an 81% rise from 2018. On the Democratic side, 204 women were U.S. House nominees in 2020, a 12% increase from their previous high set in 2018, according to CAWP.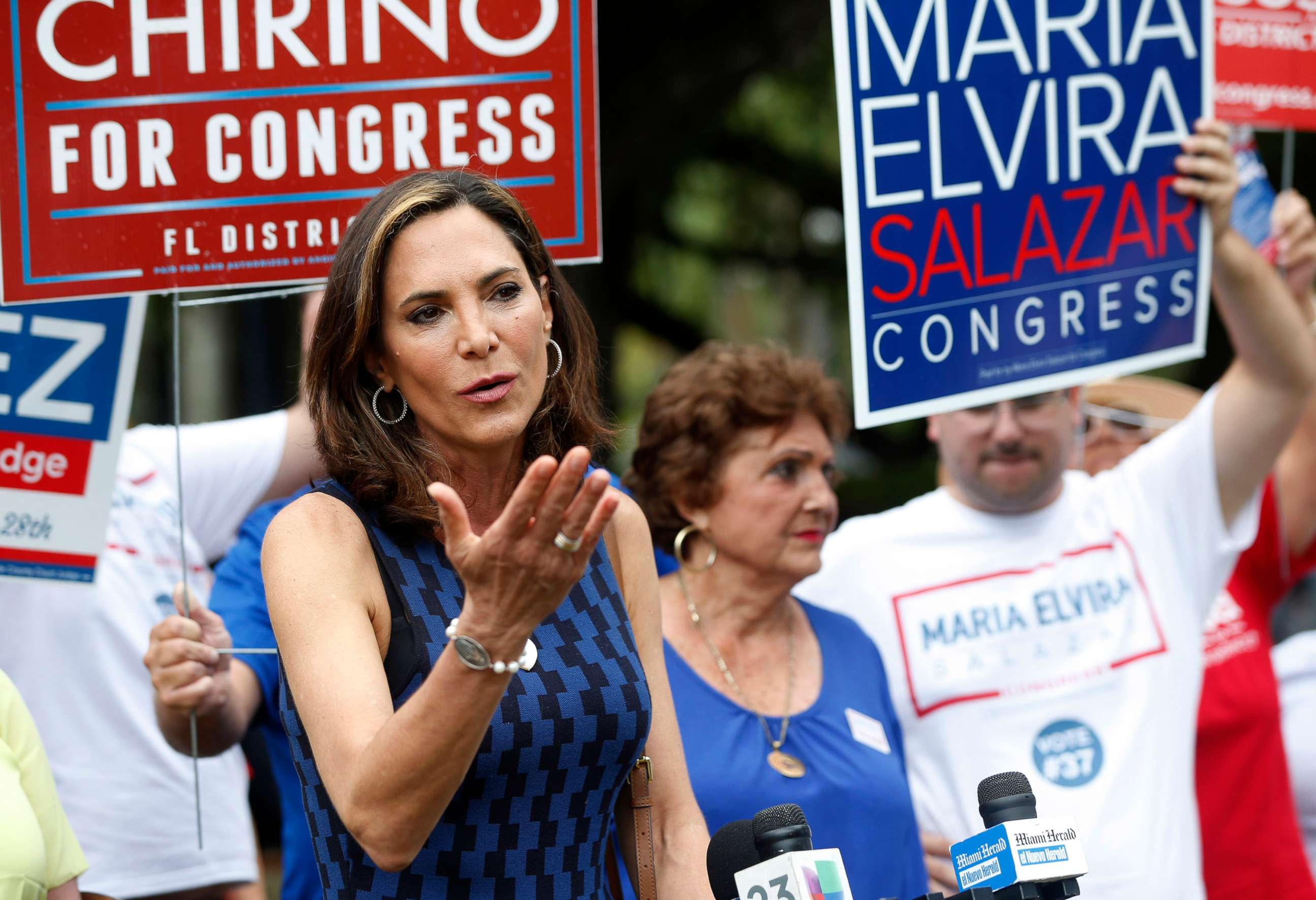 Republican activists credit their efforts on the ground, not the Republican Party leadership, with getting women on ballots and winning races in this year's election.
"The party didn't do any of this," said Meghan Milloy, founder and executive director of Republican Women for Progress, a PAC formed after the 2016 election to help elect Republican women. "They're going to claim a victory by saying, 'Look at us, this is the most Republican women we've ever had,' and they should not be taking any credit because they didn't do anything."
"It is truly from the boots on the ground, from View PAC and from groups like ours, that have truly tried to follow in the footsteps of what the Democrats have been doing for so long with groups like Emily's List and others that have really been prioritizing women forever," she said.
Milloy and Kodiak Hill-Davis, Republican Women for Progress's political director, as well as Walsh, all say that even with Republican women candidates' gains in the 2020 election, they are still far behind in parity, both with Republican men in Congress and compared to Democratic women in Congress.
At least 30 Republican women have won their Congressional races this cycle, the most since 2006, while 92 Democratic women have won their races, nearly 10 seats shy of their record, according to CAWP.
"I think it's really important and it can't be said enough that where the House Republican Conference started the cycle was 13 Republican women in the conference, two of whom were retiring. That is an extremely low baseline," said Hill-Davis. "We've made some extraordinary gains, but we were also coming from such a deficit that I don't think it's comparable to the Blue Wave that Democratic women saw in 2018, but it is meaningful progress toward a much more equitable situation across the House and Senate Republican conferences."
It does appear that while Strickland and other women newcomers are joining the Democratic caucus in the House, the caucus could be losing other women candidates that were part of that Blue Wave of women who won in 2018.
Among them, first-term congresswoman Donna Shalala who lost to Republican candidate Maria Elvira Salazar, a Cuban-American, in Florida's 27th Congressional District.
Rep. Kendra Horn, a Democrat who won a traditionally Republican district in Oklahoma in 2018, lost her House race to another woman, Republican Stephanie Bice.
"If all the Democratic women who lose are ones who got elected in 2018, it is not completely surprising that there would be some drop-offs in this class in that so many of these women flipped districts from red to blue," said Walsh. "What we knew about this cycle was the key for the Democratic women was they had to defend themselves in some really vulnerable districts, and that first re-election is the hardest."
Strickland, of Washington state, won her first Congressional election in a district that is not minority-majority, something she views as "breaking another barrier."
"I will make history as the first African-American member of Congress from the Pacific Northwest and the first Korean American woman, and I'm not representing a district that's a minority-majority," she said. "In many ways this is also breaking another barrier because it shows that the people of the 10th Congressional District are looking for proven leadership, are looking for competence and they have put their faith in me."
"I'm hopeful because I see that with every successive election cycle, you see more women stepping up to run for office, you see more women of color and end of a day that is good for democracy," Strickland added.