The U.S.-North Korea summit gives Dennis Rodman, one of few Americas to meet with Kim Jong Un, "a little more shine of a light" for his efforts to "bring peace between the two countries," the former NBA star and somewhat informal ambassador to the North told "Good Morning America" Tuesday.
"I just feel like that it [the meeting] almost didn't happen you know, but I'm glad it did. I guess it gave me a little more shine of a light as far as like knowing the fact that I did something pretty, pretty historical as far as like bringing awareness to North Korea and some of the issues that's over there," Rodman said.
He added: "People thought that I was trying to overstep my boundaries, thought I was a dignitary, an ambassador, human relations or something like that. But I was trying to be someone that brings peace between the two countries."
In the interview with "GMA" co-anchor Michael Strahan, Rodman, who is often criticized for his cordial relationship with the North Korean leader, praised his improbable friend.
"I like the guy," Rodman, 57, said. "I like the culture and he gave me the opportunity to get to know him. He's a genuine guy."
"He actually cares about what goes on in the world. I don't look at him as a dictator," he added. "I look at him as more like a person who really wants to try to blend into the world."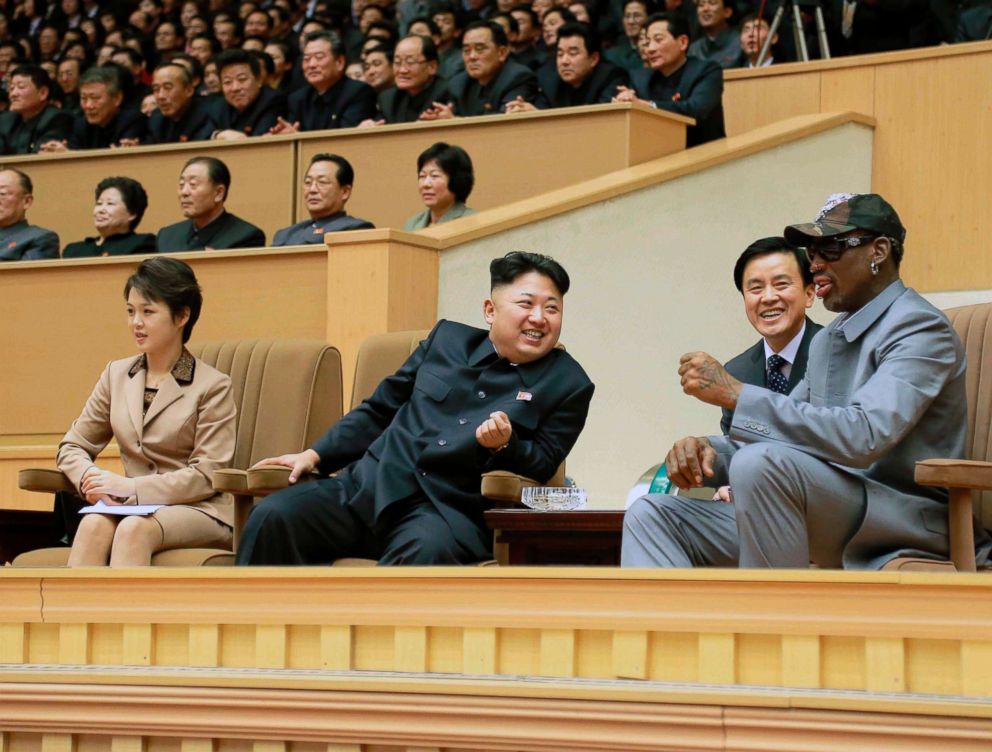 The former reality-TV star seemed to turn a blind eye to the perceived human rights violations committed in the isolated authoritarian state, including "an almost complete denial of the right to freedom of thought, conscience and religion" and the use of prison labor camps, deliberate starvation, executions, and other methods of torture to deter dissent, according to a 2014 United Nations report.
"I don't know anything about him being a dictator," Rodman said Tuesday. "I've never seen that side of North Korea."
"My heart's never been in hatred and I hope this is a great start for Trump and Kim Jong Un. I hope people can put this behind," he added.
"I'm so thankful and fortunate we didn't talk about politics. I think that would have ruined our friendship that we have right now."
After years of building a friendship with Kim through multiple visits to Pyongyang and their shared love of basketball, Rodman suggested that he played a supporting role in laying the groundwork that ultimately led to the summit by bringing "awareness" to North Korea.
"I've said it from day one: I think the fact that people really didn't realize what I was actually going to North Korea for," he said. "People thought that what I was doing was more of a joke more of a stunt, more of a publicity stunt pretty much, and I was just trying to spread the word, the fact of why I was going over there because I like the guy. I like the culture and he gave me the opportunity to get to know him."
He also appears to be the only person who has personal relationships with both leaders at the high-stakes summit. Adorned in a "Make America Great Again" hat, the early Donald Trump supporter who endorsed then-candidate Trump in July 2015 in a tweet, delivered his full support for the president, telling ABC News, "Trump can have all the credit. I just want them to talk."
Rodman has known Trump since appearing on the reality-TV show "Celebrity Apprentice," and said he spoke to White House press secretary Sarah Sanders before the summit.
Sanders called to convey that "Trump was very pleased with the things that I've been saying about our country and about him," Rodman said.
As one of the most notable visitors in recent years to North Korea, Rodman is aware of his role as an informal diplomat but insisted he "never wanted to step on anyone's toes" during this historic moment.
"I'm just trying to speak just love throughout no matter what the situation is and I never wanted to step on anyone's toes," he said. "It's a great, great step in moving forward in the world and I hope that we can continue this and I think it's a great, great opportunity for the world to see what's going to happen."