As millions of students head back to school, some parents are taking aim at hazing on college campuses to curb alcohol-related deaths.
Evelyn and Jim Piazza are among the parents who helped initiate a national Anti-Hazing Coalition after their son, Penn State student Timothy Piazza, died following an alcohol-fueled party and hazing ritual known as the "Gauntlet" on Feb. 2, 2017.
After 19-year-old Piazza, who was heavily intoxicated, fell down the stairs at the Beta Theta Pi house, fraternity members carried him upstairs and placed him on a couch, poured water on his face and slapped him in an attempt to wake him up, according to a grand jury report that cited evidence including surveillance video, witness testimony and phone records.
By the time 911 was called the next day, Piazza's skin had turned gray and his breathing was labored. He died two days later of traumatic brain injury.
The tragedy inspired the Piazzas to work with other families who have experienced a similar loss, they said.
"Nowhere in a fraternity or a sorority creed or motto does it say to haze, hurt or demean anybody," Evelyn Piazza told "Good Morning America."
The Piazzas helped start the new coalition which includes organizations that represent dozens of fraternities and sororities.
"We believe through the interactions that we've had that there's a real sincerity to make a difference," Jim Piazza noted.
The alliance is pushing for new legislation to increase criminal penalties for someone who forces a student to consume alcohol during an initiation. It also wants to educate parents about the deadly impact of hazing and address the topic with high school students.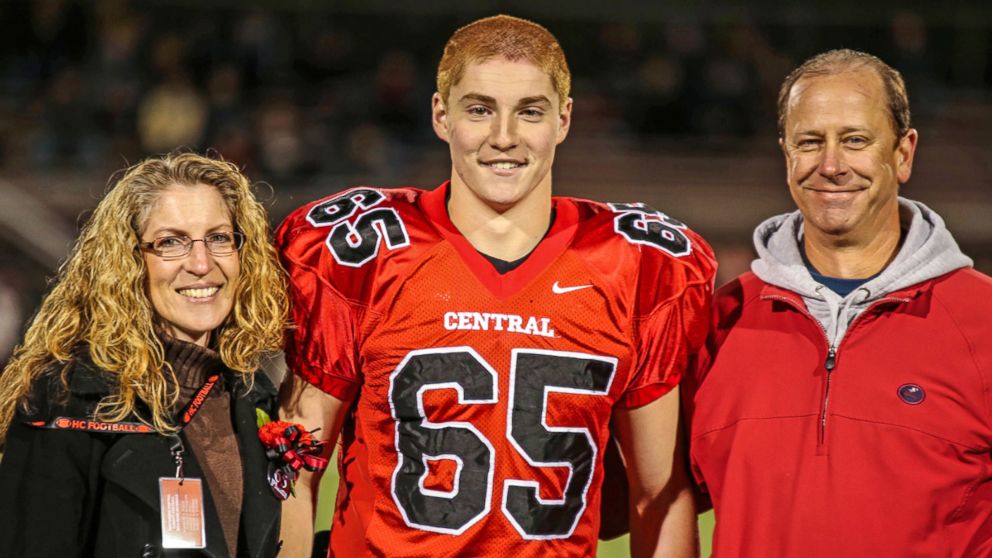 "It's a cultural problem because somewhere along the line, hazing got to be equated with tradition," Evelyn Piazza explained.
The Piazzas and other parents whose children were killed during fraternity hazing incidents are partnering with the North American Interfraternity Conference's president and CEO, Judson Horras, as well as Carle Jones of the National Panhellenic Conference.
"Their organizations together represent nearly 100 fraternities and sororities nationwide," according to The Associated Press.
The new coalition plans to have parents like Evelyn and Jim Piazza speak to as many as 25,000 college students this academic year about the dangers of hazing and to have members of Greek societies speak to high school and middle school students, the AP reported.
"This is the first time that fraternities and sororities have partnered with parents, and the Piazzas and the other families have been very gracious," Jones told "GMA."
"It's a wider coalition than just fraternities -- this is really about getting at the problem in society," said Horras, who told the AP that by next year, hard liquor of 15-proof or more will be banned from all Interfraternity Council frat houses.
ABC News' Julia Jacobo contributed to this report.