Starbucks ordered to pay over $25 million to white former manager who claimed racial discrimination
Former employee Shannon Phillips filed a lawsuit against Starbucks in 2019.
A New Jersey jury ruled unanimously in favor of a former Starbucks employee who sued the company for wrongful termination, claiming that she was fired for being white.
Shannon Phillips, a former regional director for the chain, claimed in a lawsuit first filed in 2019 that "her race was a determinative factor" in Starbucks' decision to fire her in the wake of a 2018 racial firestorm.
After a six-day trial, the jury returned a verdict, ordering the coffee giant to pay $25.6 million in settlement money, including punitive and compensatory damages, according to Phillips' attorneys.
In April 2018, two Black men -- Donte Robinson and Rashon Nelson -- were arrested while waiting for a business meeting after an employee called 911 and accused the men of trespassing after they refused to make a purchase or leave the store. The arrests sparked nationwide protests and prompted Starbucks to close some of its stores for a day for racial bias training.
Robinson and Nelson reached a private settlement with Starbucks, as well as with the city of Philadelphia, which vowed to pay the men each $1 and promised a $200,000 investment into programs that support aspiring young entrepreneurs, according to the Philadelphia Mayor's Office.
Less than a month after the arrests, Phillips was notified of her termination, despite claiming that she wasn't at the store that day and was not involved in the arrests in any way.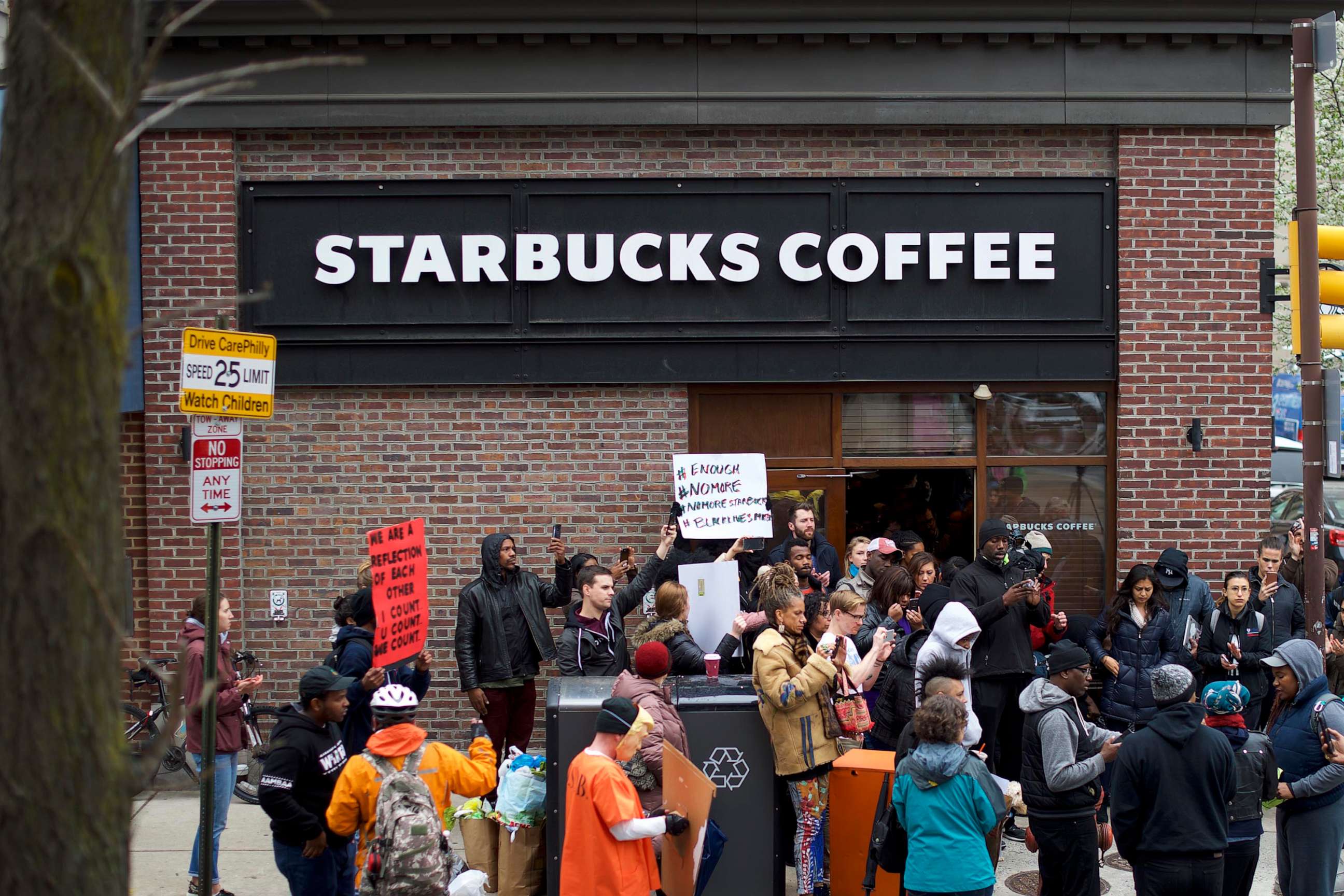 According to court documents, Starbucks claimed Phillips "appeared overwhelmed, frozen and lacked awareness of how critical the situation was for Starbucks and its partners" and that "all actions taken by Starbucks with respect to Ms. Phillips were for legitimate, nondiscriminatory, non-retaliatory reasons."
Phillips, who had been employed by Starbucks for nearly 13 years at the time of her termination, claims she "actively worked" on "crisis management" efforts and "took steps to ensure that the retail locations within her area were a safe and welcoming environment for all customers, regardless of race," according to her 2019 civil complaint.
Attorney Channa Lloyd, an ABC News contributor and a managing partner of The Cochran Firm, told "GMA," "Starbucks wasn't necessarily under legal pressure but they were under public pressure to act and to show that they were open to everyone of every race and origin and to show that they were not going to allow racism to foster within their organization."
During the trial, key testimony came from a Black district manager at Starbucks who testified via Zoom that he thought Phillips' race played into Starbucks' decision to fire her and that his race was a reason why he was not terminated, according to a statement provided to ABC News from Phillips' attorney.
Phillips' attorney also told "GMA," "Starbucks chose not to terminate the District Manager of the store where the arrests took place, who was Black, but instead terminated his White supervisor, Ms. Phillips."
"Other companies are definitely going to have to be much more thoughtful and clear about why they're exercising terminations when they're faced with this type of situation," Lloyd added about the impact of the settlement decision.
ABC News reached out to Starbucks but the company declined comment.