Robin Roberts' makeup artist Elena George shows you how you can get beauty on a budget. George took Allure magazine's drug store challenge and has compiled a list of great beauty products with small price tags.
All of the items cost less than $10.
Take a look below at the products she picked out with her savvy shopping skills and click here to check out more beauty steals from Allure magazine.
Maybelline New York Instant Age Rewind Liquid Foundation
Price: $7.75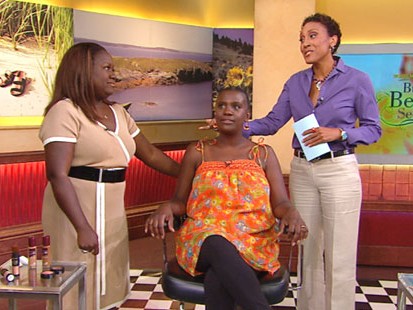 George says you shouldn't be afraid to get your foundation in one shade darker because it gives you a little extra color.
Cornsilk Translucent Powder
If you're worried about what powder works well with foundation, then look no further. George says Cornsilk Translucent Powder will set your foundation. She likes it because it works with any skin tone.
Black Radiance Shimmy Shimmer Illuminating Powder in Golden Glow
Price: $4.99

Are you looking for the secret behind Hollywood stars' golden glow? Try Black Radiance Shimmy Shimmer Illuminating Powder In Golden Glow to get the look. George says this product was the secret behind stars like Jennifer Lopez's famed golden glow.
Iman Luxury Blushing Powder Blush Duo in Allure Color
Price: $9.99

This inexpensive blush will allow you to contour with the darker color and highlight with the lighter color within in the compact.
The Eyes Have It for Under $7
Revlon Colorstay 12 Hour Eyeshadow Quartet in Copper Spice
Price:$6.99

George says putting the lightest shade from the compact in the corner of your eye will help to open them up.
Jordana Easyliner Retractable Pencils In Blue, Purple, & Seagreen
Price: $1.99

With colors like blue, purple and seagreen, you should have fun with this pencil.
Luscious Lips for Less
Revlon Beyond Natural Cream Lip Gloss in Peach
Price:$7.99

George says she likes this lip gloss because it is a hybrid between a gloss and a lipstick. She has used it on Robin and models that have appeared on the show. It is a universal shade for the lips that looks good on everyone.
Revlon Colorstay Overtime Lipcolor in Timeless Nude
Price: $9.99


George likes this product because it lasts all day. You can even go to sleep in it, and it'll still be on in the morning.
Click here to see the inexpensive beauty items Diane Sawyer's makeup artist picked.