There will be no shortage of glamour on Prince William and Princess Kate's four-day royal tour of Norway and Sweden, with several glittering receptions on the schedule.
Interested in
Royal Family?
Add Royal Family as an interest to stay up to date on the latest Royal Family news, video, and analysis from ABC News.
Princess Kate stepped out at a black tie dinner at the British ambassador's residence Tuesday night wearing a floral dress by the designer Erdem in gold and blue, the colors of the Swedish flag. She completed the look with a pair of chandelier drop pearl earrings that once belonged to Princess Diana.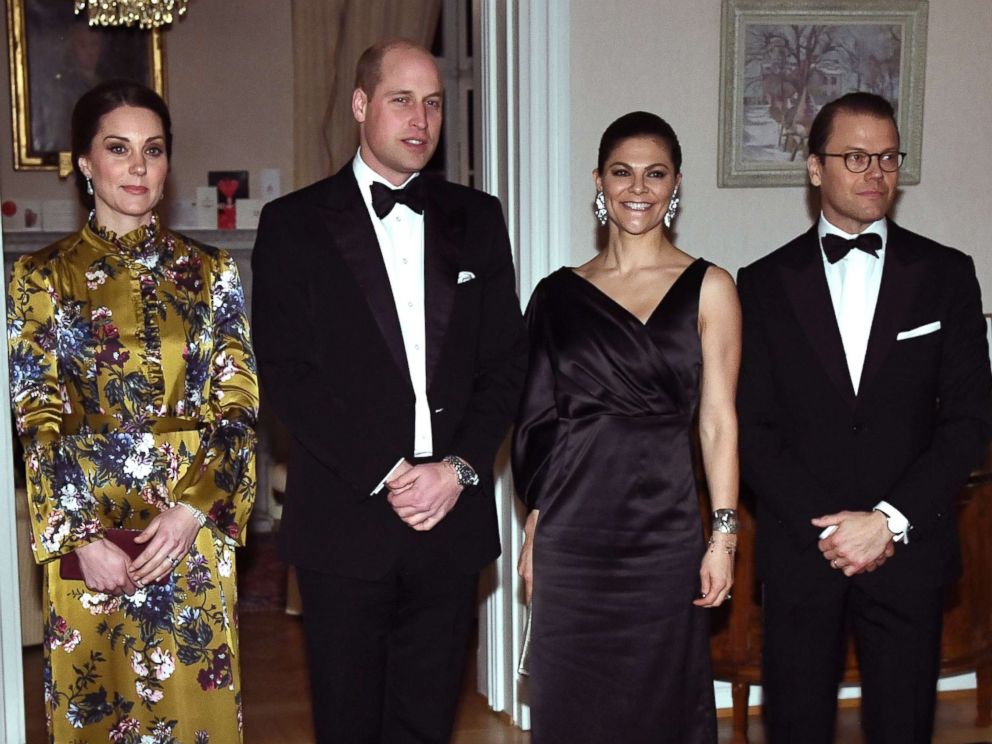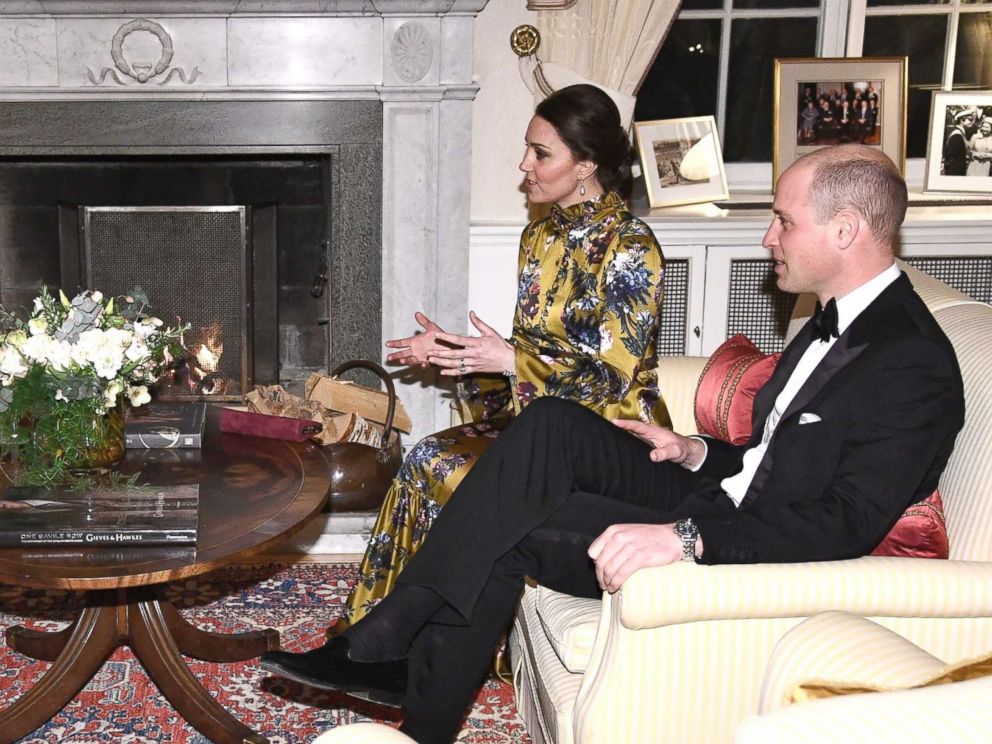 It was Kate's third outfit change of the day and two women behind the scenes are among the style team who helped make it possible.
The duchess's trusted stylist, Natasha Archer Jackson, helps Kate make all of her fashion choices, from clothes to jewelry. She ensures the duchess's outfits strike the right note, showcasing a mix of favorite U.K. designers and local talent to honor her hosts.
Earlier in the day, Kate tipped her hat to the Swedes, wearing a burgundy sweater from Swedish brand Fjallraven and a shearling coat from Burberry U.K., which she paired with Canadian Sorel winter snow boots.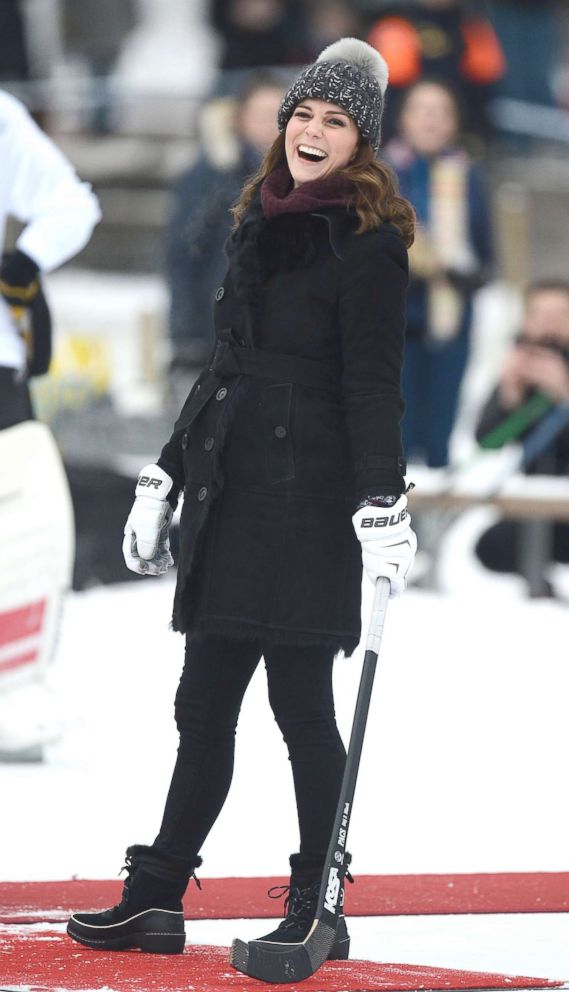 Kate, who is pregnant with her third child due in April, barely showed her bump while joining King Carl Gustav and Queen Sylvia of Sweden for lunch in an evergreen dress by Catherine Walker, one of go-to designer's beloved by Diana, the late Princess of Wales.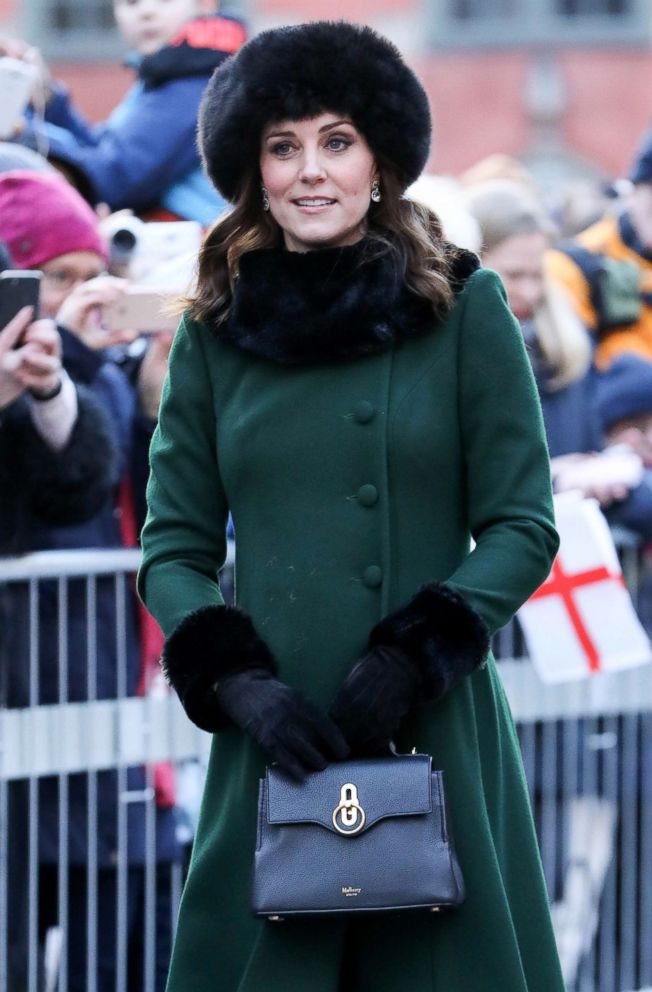 Today, on the second day of the trip, Kate stepped out in Stockholm wearing a red and white houndstooth coat by Catherine Walker, a dress by Alexander McQueen, and in a nod to her hosts, earrings by Swedish designer in2design.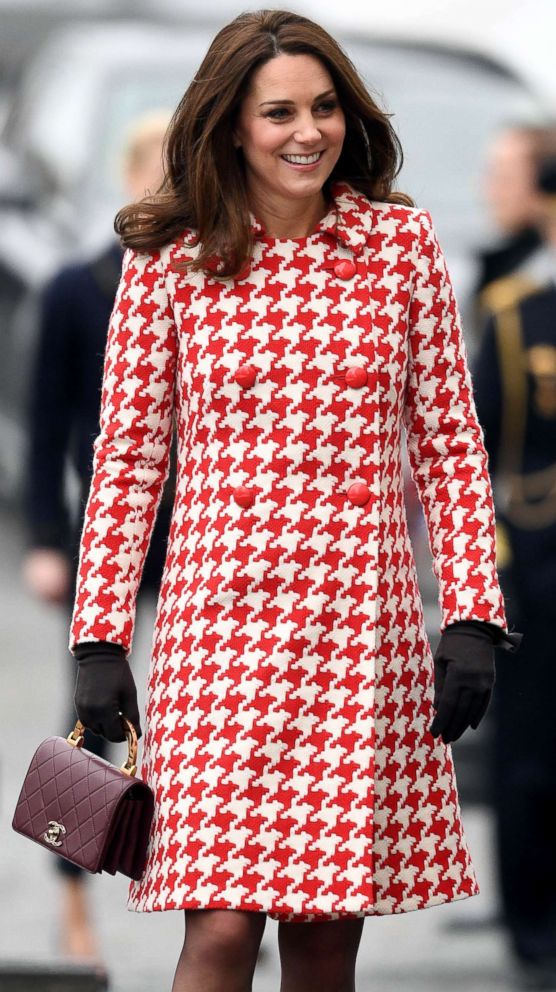 TRH hear more about the Youth Aware of Mental Health (YAM) programme, a project for 14 – 16 year olds which promotes increased knowledge about mental health through dialogue and role-play. pic.twitter.com/Ups5QF0l6Q

— Kensington Palace (@KensingtonRoyal) January 31, 2018
A glimpse at Princess Kate's hairdresser's tool kit
Princess Kate's personal hairdresser Amanda Cook Tucker also gave the public a rare glimpse of what it takes to get the Duchess of Cambridge's much-admired hairstyle, posting a photo of her beauty kit on social media. Cook Tucker's travel kit included 13 different hair brushes, various ironing and curling tools, along with Kate's favorite Elnett hairspray, which retails for $8.50, and Kiehl's cream to keep her locks shiny and free from frizz.
Cook Tucker, who cut both William's and Harry's hair for many years as children, often accompanies Will and Kate around the world, and has been at Kate's side styling her hair at some of her most important moments, including when Kate appeared outside the hospital after giving birth to each of her children.
No tour would be complete without a royal walkabout, and William and Kate charmed the crowd in Stockholm. The Duke and Duchess of Cambridge were given a present for their dog Lupo, a Swedish glove to wipe his paws. William revealed it would come in handy since "the dog always comes in with dirty paws."
While on tour, Kate and William will be able to enjoy a few child-free date nights since their children, Prince George, 4, and Princess Charlotte, 2, are at home so they don't miss school. Charlotte recently started her first year of nursery school while Prince George attends St. Thomas Battersea in London.
The children have already mastered the diplomatic charm offensive with two tours together under their belt. In Germany and Poland this summer and in Canada last year, Prince George and Princess Charlotte showed they have mastered the royal wave and curtsy.