The body of an 8-year-old boy who disappeared Saturday night near Olympia, Wash., has washed up on a remote beach, officials said Thursday.
Pierce County Sheriff's Office spokesman Ed Troyer said the body had been identified as 8-year-old Azriel Carver, who went missing with his mother, Shantina Smiley, according to ABC News affiliate KOMO News in Seattle, Wash.
Troyer said the Pierce County medical examiner needs to determine the cause of death.
The search for Smiley and Carver had taken an ominous turn when an area resident found debris along the edge of the pond where Smiley's partially submerged van was found Sunday.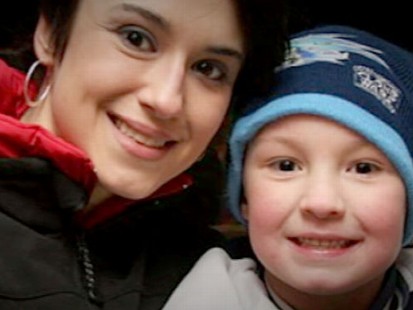 Deputies are still out searching the beach in both directions for any sign of Smiley, 29. A Coast Guard craft and Pierce County sheriff's boats are out searching the waters around the island.
The fiance of the missing mother, who vanished five days ago with her young son, had identified articles that washed ashore Tuesday at a pond as belonging to them.
Thurston County Sheriff's Lt. Chris Mealy told ABC News that Robb Simmons, Smiley's fiance, told investigators that Smiley's son had asthma and used an inhaler. Simmons also identified the smaller of the two shoes and the orange ball as belonging to Azriel, Mealy said.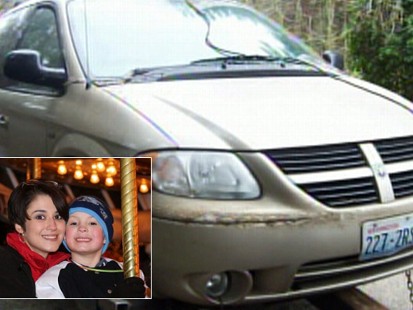 In addition, the lieutenant said that at about 8 p.m. Saturday night, when Smiley disappeared, she stopped at a store and bought a bottle of wine. Earlier this week, Simmons told "Good Morning America" that Smiley was a recovering alcoholic who'd had a relapse last week.
He said investigators have also focused their efforts on vetting tips and other relevant leads.
Among the leads to emerge was the report from Charles Grimmer, who lives a half a mile from the beach where Smiley's van was found in the water. Grimmer reported that someone had knocked loudly and repeatedly on the garage door about 1 a.m. Sunday, Mealy told ABC News.
Grimmer said he activated the home's alarm system, then went to the front door and looked outside, but he could see no one. After his wife called the sheriff's office, investigators came to the home with bloodhounds. Mealy confirmed that a search dog failed to pick up a scent at the home.
Shantina Smiley's Family Fears She Was Too Trusting
Smiley and her son were last captured on surveillance video around 10:30 p.m. Saturday after a series of strange events in which Smiley fell down in a parking lot, bought a corn dog and left it behind, knocked on a stranger's door for directions and then went the wrong way.
The area where her van was found partially submerged at the end of a narrow dirt road was difficult for police to find, even in the daylight.
Taylor Williams, who lives at the home where Smiley stopped for directions around 10 p.m. Saturday, said Smiley didn't appear to be drunk or otherwise impaired, but seemed nervous and looked as if she'd been crying. She told the family she'd left the highway to find her son a bathroom.
"We could be the last people to have seen her. Like, ever," Williams said. "I really hope that's not the case."
Smiley's actions on Saturday night seemed to suggest she was disoriented as she headed farther and farther from where she was supposed to be.
Her minivan, with the doors open and no one inside, was pulled from the water on a Puget Sound beach Sunday. Mealy was baffled how Smiley's car ended up in a pond at the end of a tiny road through the woods.
"I couldn't even find the access road, and it was light out," Mealy said. "You really have to know where it is. It's the kind of road you don't want to take because it's so steep and narrow."
"It's very rare for someone who doesn't know the area to wind up where her van wound up," Mealy said.
Smiley and Azriel set out around 5 p.m. Saturday from their home in Silverlake, Wash., to Smiley's stepfather's home 120 miles south in Castlerock, Wash.
Investigators found Smiley's wallet, ID card and credit card in the van but no purse. There were also no overnight bags in the van, despite the fact that Smiley and her son were planning to go away for the weekend.
The Mysterious Disappearance of Shantina Smiley and Her Son
Divers searched the pond for two days but didn't find anything. Asked whether it's possible that they got lost in the nearby woods, Mealy said there were too many houses with porch lights on for them to not have been able to get help.
Her bizarre journey is documented by a series of surveillance cameras. Smiley and her son were spotted shortly before 8 p.m. at the Handy Pantry Food Store in Olympia where surveillance video captures them making a purchase. Police say that is where Smiley bought the wine.
At 9:08 p.m. Smiley and her son pull into the Martin Way Diner where they ordered a corn dog to go. Surveillance video from the diner caught Smiley leaving the restaurant after paying, tripping and falling in the parking lot, and then getting up and driving away with her son. They never returned for the corn dog.
Mealy said surveillance video also recorded Smiley and her son on the northwest side of Olympia peering into the windows of the Gull Harbor Market at 9:55 p.m., which was closed.
Smiley and her son kept driving, but away from the freeway. At 10 p.m. Smiley knocked on the door of a private residence where an elderly couple invited her and her son in and allowed Smiley to use the phone.
"The elderly couple gives the kid a piece of pizza, and Smiley calls her grandfather and says that these people are going to give her directions and that she got lost, but will be on her way," said Mealy.
The directions the couple gave Smiley to get back to the freeway are "not at all complicated," according to Mealy, who said the freeway is very well lit and would have been hard to miss.
Instead of taking the couple's directions, Mealy went in the opposite direction, again being recorded on the surveillance camera of the closed market.
"It would be obvious with anyone with any sense, but then again, I don't know what her state of mind is, that you weren't heading toward the freeway," said Mealy.
"Unfortunately, the next thing we know is that we're recovering her van from a private beach at 11:15 a.m. the next day," he said.
ABC News' Brian Cohen contributed to this story.