Unfasten Your Seat Belts! Tired of gas prices, traffic and kids screaming in the backseat? Whether you're looking for a romantic, family or exotic getaway, we've got America's best summer hot spots where cars are literally banned from the roads.
Best Romantic Getaway
North Captiva Island, Fla.
A four-mile-long crescent off southwestern Florida, North Captiva Island has an exclusive feel and a simple soul. Visitors arrive hauling a week's worth of groceries and then disappear into rented beach houses in the scrubby, coquina-shell-covered landscape. North Captiva was once part of larger Captiva Island until storms in the 1920s severed the landmass. Families, honeymooners and sand castles dot the public beach, but walk far enough into Cayo Costa State Park and the beach is all yours. Dolphins frolic close to shore, and gopher tortoises burrow in the sand. Part of the beauty of the island is that there are no hotels. You can book a beach house through the North Captiva Island Club Resort, from $1,200 for a week.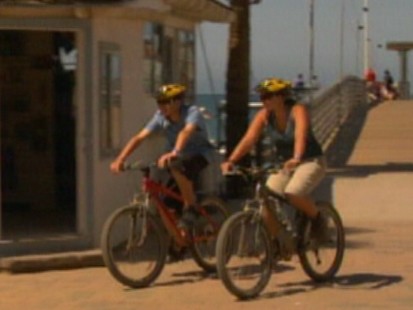 Best Family Getaway
Mackinac Island, Mich.
Michigan's Lake Shore Road, along the perimeter of Mackinac (ma-ki-nah), is the only state highway that doesn't allow cars. Yet it's still busy on summer days: Tandem bikes and horse-drawn carriages, including some fringe-topped surreys, create a symphony of spinning wheels, clomping hooves and dinging bells. The route is one of the main draws for visitors because of its views of Lake Huron and the Straits of Mackinac. The Harbour View Inn has pillared porches and plenty of floral prints, from $129. Save room for a box of fudge from Murdick's, the most popular souvenir on the island. It's the reason locals call tourists "fudgies."
Best Outdoor Getaway
Catalina Island, Calif.
The car is king in California, but golf carts rule the streets of this island an hour by Catalina Express ferry from Long Beach. Rent your own golf cart and do the loop up to the Wrigley Memorial & Botanical Garden, landscaped with native plants. Carts aren't allowed in the interior, where 200 buffalo roam, but Discovery Tours offers trips to the region. Since 1896, the Hermosa Hotel has had the cheapest lodging on the island, from $45.
Best Exotic Getaway
Daufuskie Island, S.C.
Daufuskie Island has a unique Gullah population. They're descendants of African slaves who brought with them such traditions as sweetgrass basket weaving. The live-and-let-live vibe is on full display at Marshside Mama's, which serves a delicious low-country gumbo to whoever traipses in—locals, visitors, even the occasional dog. Stay at the Daufuskie Island Resort, from $169. The resort's plantation-style mansion and oceanfront cottages are spread across 1,200 of the island's 5,000 acres.
Best Guys Getaway
Smith Island, Md.
The five-square-mile speck is an active fishing community, and evidence of the islanders' livelihood is everywhere. The daily ferry to Ewell docks right by Ruke's Seafood Deck, known for its crab cakes. Nearby, the Smith Island Cultural Center displays tools of the crabbing. In the town of Tylerton, accessible only by boat, women pick crabmeat from their husbands' haul to sell at the Smith Island Crabmeat Co-op. If you're not ready to rejoin civilization in Ewell, the Inn of Silent Music overlooks the sound, from $110. The Smith Island Cake was just declared Maryland's official state dessert.
Best Remote Getaway
Monhegan Island, Maine
The tiny island 10 miles off Maine is home to about 60 residents, who love living in a place so remote that medical care comes via helicopter. Three ferry companies operate in the summer from Port Clyde, New Harbor and Boothbay Harbor. Once on land, you can stroll to where you're staying—just toss your luggage onto your inn's baggage truck. One of the most scenic B&Bs is The Island Inn, on a bluff over the harbor, from $130. There are plenty of things you can't do here: Cell phone service is iffy, Wi-Fi is nonexistent and bikes are banned from the more than 17 miles of hiking trails. What is plentiful, however, are the birding opportunities on a Puffin Watch cruise.
Best Travel Back in Time Getaway
Chautauqua, N.Y.
When the sounds of the Chautauqua Symphony reach your inn's porch, it's time to stroll over to the amphitheater for a few hours of Mozart or ballet. Cars have never been allowed in the town, which was designed as a walkable community just outside Jamestown. At its heart is the historic Chautauqua Institution, an education center that's only open in the summer, with workshops by the likes of Garry Trudeau and Joyce Carol Oates. Try The Maple Inn, from $80. The genteel haven has 750 acres of lawns, a lake and a daily farmers market. Until last year, alcohol was also a no-no, so people sipped it out of teacups and called it "Chautauqua tea." Even though the ban is over, residents still sit on their front porches and drink their evening cocktails out of teacups.
Best Day-Trip Getaway
Bald Head Island, N.C.
Bald Head has a rowdy past as a pirate hideout, but the island has since become a vacation haven. Over 80 percent of the island's 12,000 acres is conservation land. The Bald Head Island Conservancy leads nature hikes and special walks to sea-turtle nesting sites.
Best Historical Getaway
Tangier Island, Va.
The three-mile-long island in the center of the Chesapeake Bay feels like a world of its own. Residents—who speak with a distinctive Cockneyish accent—navigate the narrow lanes either on golf carts or on bikes to visit neighbors and chat over the ubiquitous white picket fences. The new Tangier History Museum provides a closer look at island life, including Tangier's role in the War of 1812, when British forces used it as a staging ground. Complimentary kayaks are available for paddling along the water trails. Or try your hand catching peeler crabs on an overnight Honorary Waterman's Tour.
Best Art Getaway
Halibut Cove, Alaska
The boardwalk along Halibut Cove, about six miles from Homer, is lined with stores and art galleries, and more than half of the 23 residents are artists. But there's nothing snooty about this scene—the artists often mingle with out-of-towners at Nardelli's, the cove's floating espresso bar. Halibut Cove is part of Kachemak Bay State Park, so there's plenty of wildlife to view, including humpback whales. As the name implies, Halibut Cove is a popular fishing spot, too. Accommodations are expensive, so your best bet is to stay in Homer, a 30-minute Danny J ferry ride across the bay. "When the tide is low, you can walk pretty far out and dig for your own shellfish," says Dawn Schneider, general manager of the Land's End Resort, where all 114 rooms have private balconies, from $79.