Mom battling COVID-19 complications meets newborn son after more than 60 days
Autumn Carver, a mom of three, has been hospitalized with COVID-19 since August.
An Indiana mom who underwent an emergency cesarean section while hospitalized with COVID-19 met her infant son for the first time more than seven weeks after giving birth.
Autumn Carver, 34, held her son, Huxley, for the first time on Oct. 19, in the same Indiana hospital where she gave birth on Aug. 27, in an emergency C-section while 33 weeks pregnant.
"It was very emotional, for myself and of course her parents and of course for Autumn," her husband, Zach Carver, told "Good Morning America." "It's why she is fighting so hard, so she can get home to our kids."
Autumn Carver, a mother of three, was hospitalized for COVID-19 the day before she gave birth, and was put on a ventilator.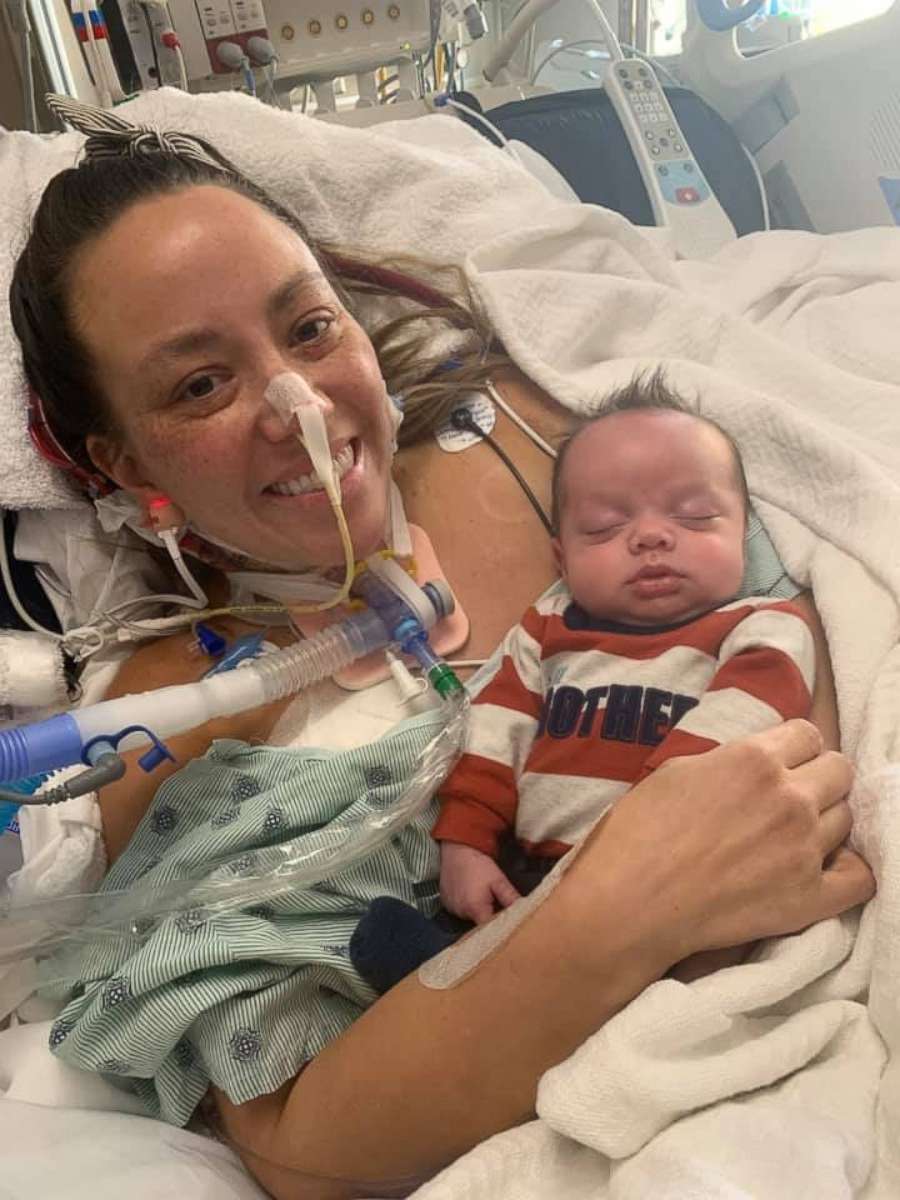 Shortly after Huxley was born, Autumn was also placed on an extracorporeal membrane oxygenation, or ECMO, machine, which removes carbon dioxide from the blood and sends back blood with oxygen to the body, allowing the heart and lungs time to rest and heal.
She has remained sedated and on both devices since, but began to turn a corner in her recovery earlier this month when doctors began to wean her off sedation, according to her husband.
"Now she is getting stronger every day," said Zach Carver, adding that his wife is now able to stand and work with physical therapists.
"It's been great to talk to her every day and talk about what she wants when she gets out of here," he said. "She said she wants to see our kids, our families first, and then she said she wants a large Diet Coke from Chick-fil-a. That's what she is craving."
Autumn Carver has improved to the point that she was able to be transferred to a larger medical center, and is scheduled to have the ECMO machine removed on Friday, according to Zach Carver.
"We went from she's going to die, to she's going to need a full lung transplant to she's going to go home," he said. "It's an absolute miracle."
Autumn Carver had no preexisting conditions and was doing CrossFit workouts right up until she started feeling COVID-19 symptoms, according to her husband. Her last words before she was sedated were that she thought she was going to have a boy, he said.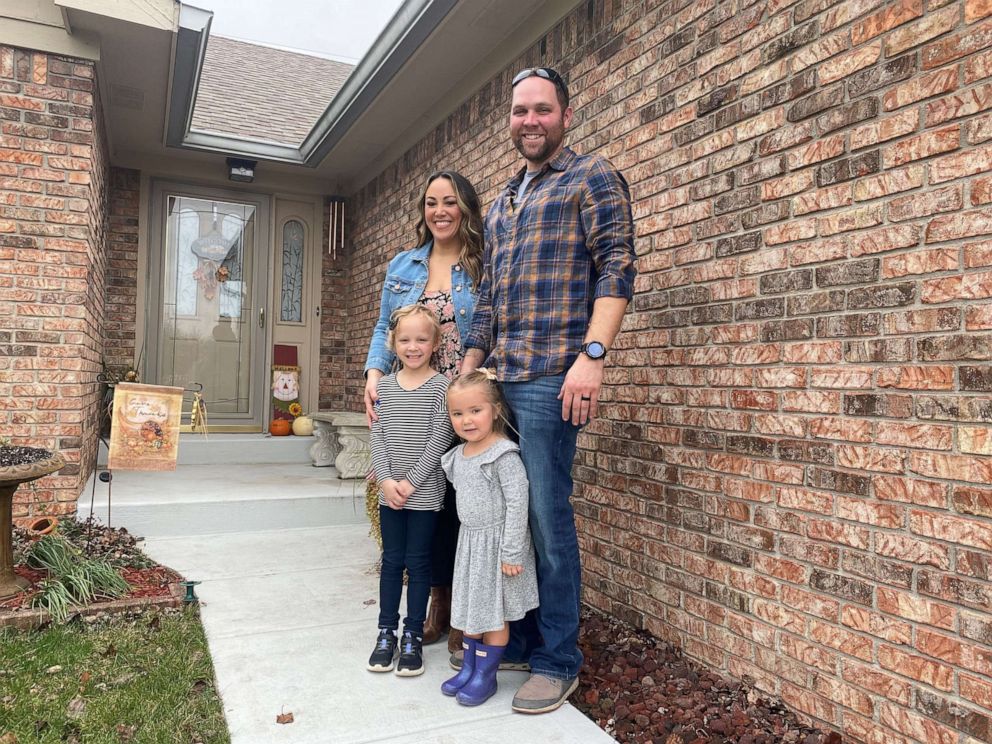 At the time that she contracted COVID-19, Autumn Carver was not vaccinated against the virus, according to Zach Carver, who shares updates about his wife on Facebook.
"We have had three miscarriages and saw a risk for us and we got advice not to get the vaccine," he said. "She made the decision and I supported her 100%."
In late September, the U.S. Centers for Disease Control and Prevention issued an "urgent health advisory" calling on pregnant people and people who were recently pregnant or are trying to get pregnant to get vaccinated against COVID-19, noting the virus causes a two-fold risk of admission into intensive care and a 70% increased risk of death for pregnant people.
In its new recommendation that all pregnant people get vaccinated, the CDC pointed to data showing there is not an increased risk for miscarriage among people who receive a COVID-19 vaccine.
Both the Pfizer and Moderna vaccines use mRNA technology, which does not enter the nucleus of the cells and doesn't alter the human DNA. They are the first mRNA vaccines, which are theoretically safe during pregnancy because they do not contain a live virus.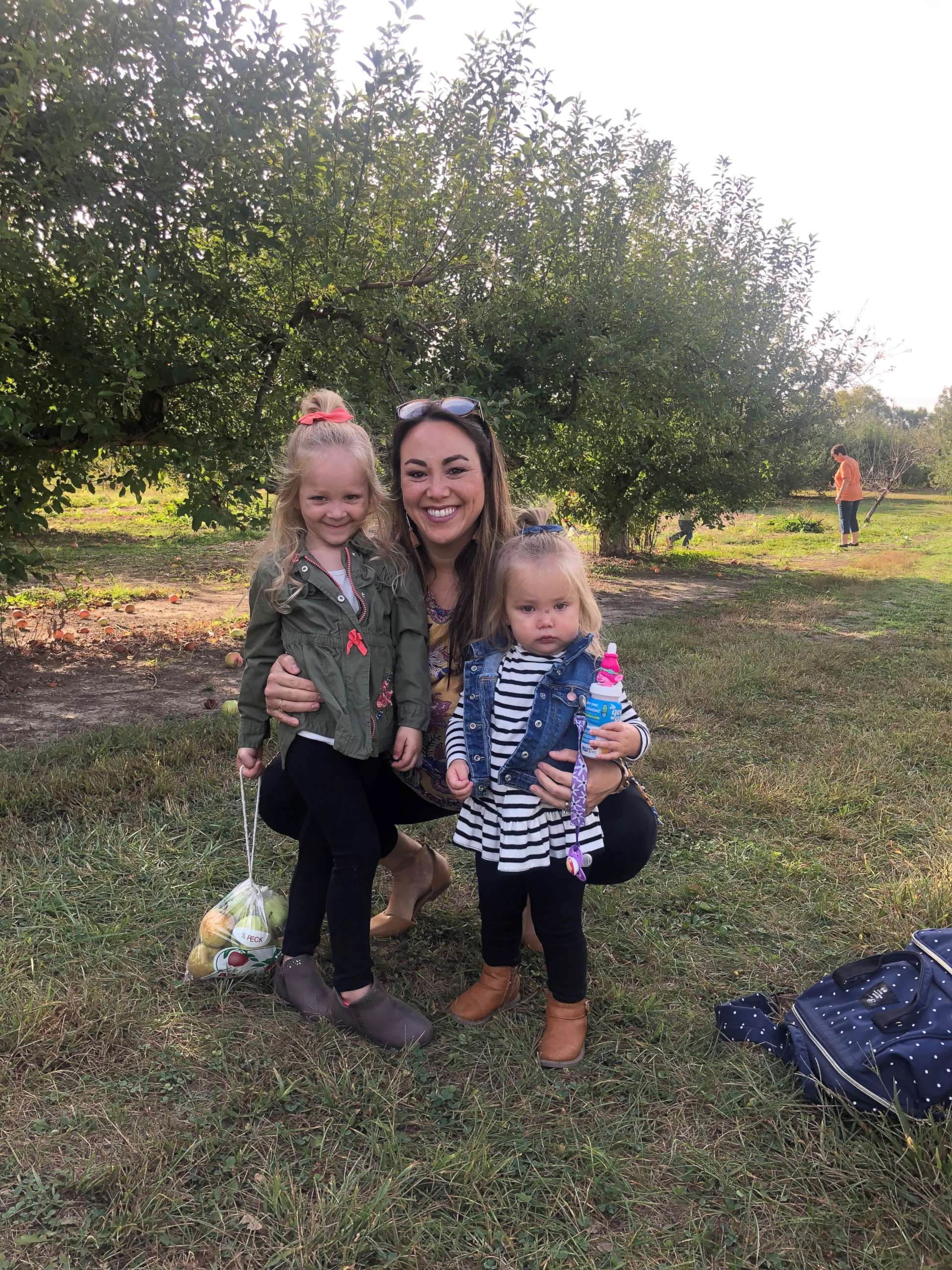 Zach Carver said his wife does not remember most of the journey she has been on since being hospitalized in August. He said she will likely need many more weeks of therapies at possibly different hospitals to recover and rebuild her strength, but he is thankful she is alive.
"She's going to ultimately walk out of the hospital, wherever she goes," he said. "It's a miracle and we appreciate all the continued prayers and support and positive thoughts towards her, and we thank God for it too."